It can be real easy to jump from Halloween decorating right into Christmas, especially if your Halloween decorating is appropriate for the full Fall season. However, it is nice to give special attention to Thanksgiving as well. That is why I put together this collection of rustic Thanksgiving craft ideas. All of these crafts are perfect for Thanksgiving and some are good for the entire year.
Thanksgiving Craft Ideas
Find ways to decorate your table and other areas of your home to make a festive ambiance for your guests this year. It's nice to have decor in the home that reminds us to be thankful.
Thanksgiving Blocks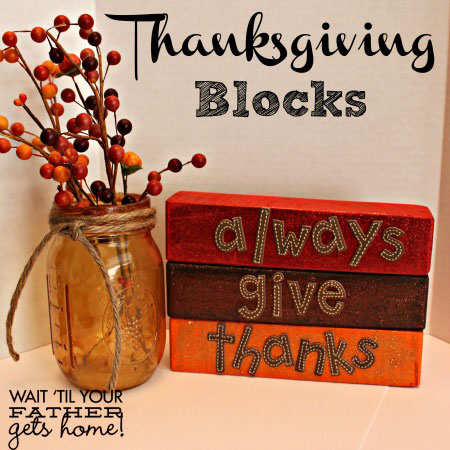 SOURCE: Wait Til Your Father Gets Home
These Thanksgiving blocks make a nice accent, as well as a pleasant reminder, that can be placed anywhere.
Gold Leaf Decor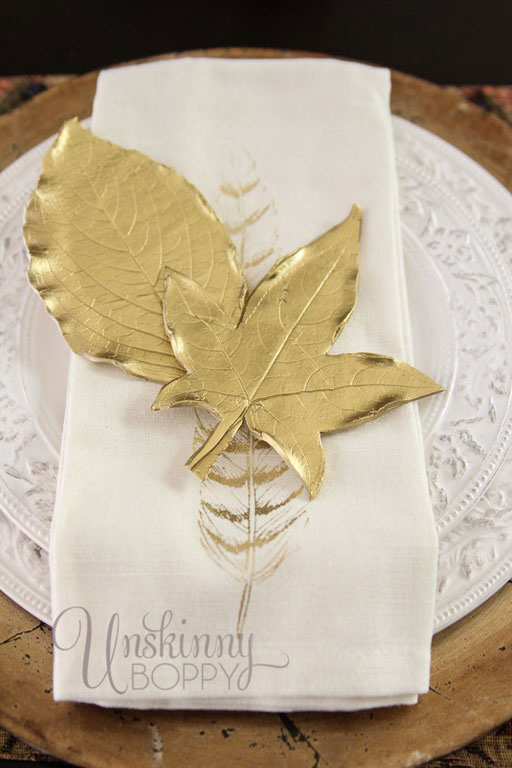 SOURCE: Unskinny Boppy
Create beautiful leaf embellishments using polymer clay and gold spray paint. The touch of gold will add a nice amount of elegance to your Thanksgiving table. Unskinny Boppy shows how easy this is to do using natural leaves as a guide.
Give Thanks Tags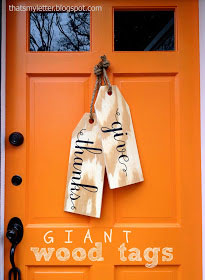 SOURCE: Give Thanks Wooden Tags by That's My Letter
Instead of hanging a wreath on your door to greet your guests, consider making these unique wooden tags with a "Give Thanks" message. See how That's My Letter easily put together this arrangement. This is a great message to have on your door all year long.
Thanksgiving Candle Craft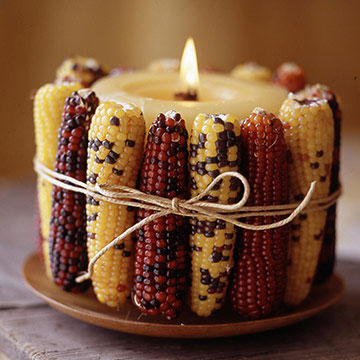 SOURCE: BHG
This Thanksgiving candle craft is made festive with the colorful ears of corn.
Thankful Photo Display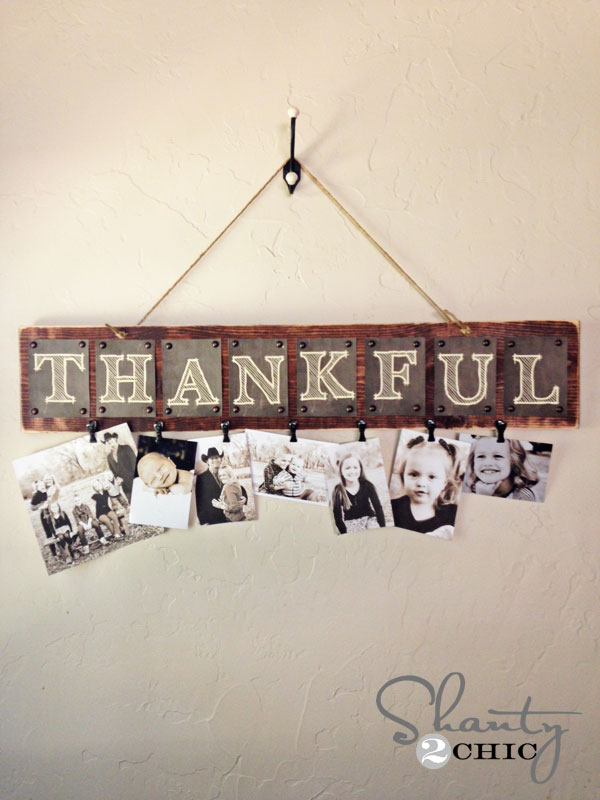 SOURCE: Shanty 2 Chic
I love this one! A photo display board spelling out the word "Thankful" seems very appropriate for the Thanksgiving holiday!  The best part about this Thanksgiving craft is that Shanty-2-Chic is providing free printables for all of the letters used in this project.
Thanksgiving Centerpiece Idea

My Thanksgiving centerpiece was easy to put together with a burl wood base and a gold tray filled with Fall embellishments.
Check out more Thanksgiving Crafts for a festive and decorative holiday.
I hope you have been inspired!