Summer holidays are a great time to do some outdoor entertaining. Decorating for these outdoor festivities can be either elaborate or simply understated. For the 4th of July, I like ideas that are fairly simple. Stars and stripes along with red, white and blue embellishments are all that is really needed.

It was easy to add some patriotic flair to my little bistro table. A lantern with blue glass looks more patriotic with some red berry garland placed around it. Since the table is small, I didn't need to do anything more. Of course, my stars and stripe coffee mug is perfectly at home here for my morning coffee.
I came up with a collection of more 4th of July ideas that will definitely set a patriotic mood to your outdoor decorating.
Round-up Of 4th Of July Ideas
A Patriotic Picnic Table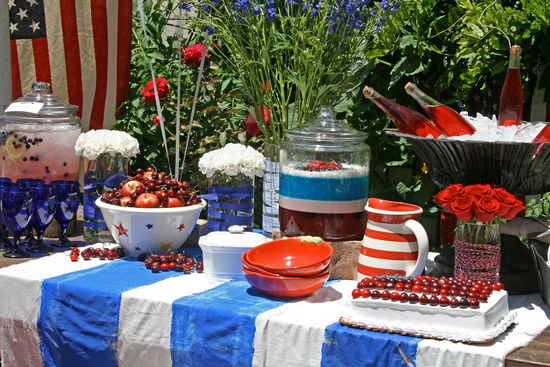 I want to be invited to this party! The whole menu and display is completely festive for the 4th of July. I love how the glass vases are wound with ribbon or string to coordinate with the decor. Because everything is color coordinated, the whole table looks festive.
Decorate With Red And White Stripes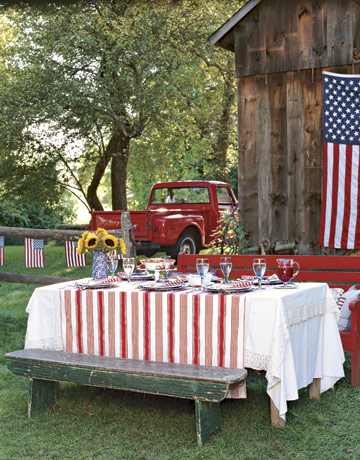 Here is an example of some rustic understated simplicity. The red and white stripes make quite a statement with the flag hanging on the barn wood. Of course the red bench and truck add quite a bit to the setting too!
Rustic 4th Of July Wreath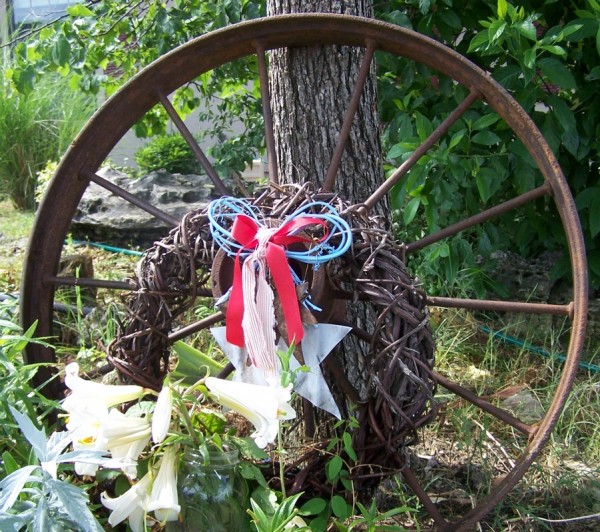 This unique rustic wreath with red, white and blue embellishments is a nice way to welcome guests in to your outdoor party. All you need is a grapevine wreath and some red, white, and blue ribbon.
Patriotic Drink Serving Idea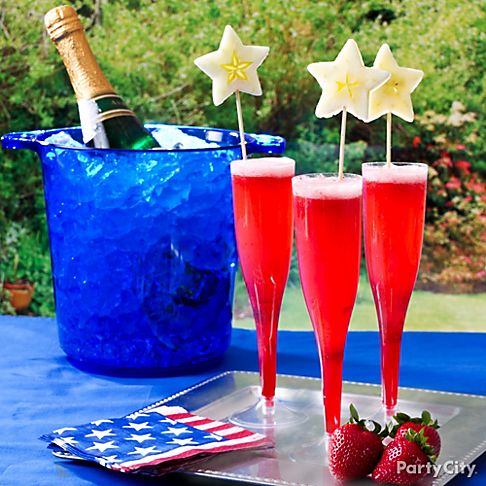 A perfect way to decorate and entertain is to serve your drinks in festive stemware! A blue ice bucket and some star fruit are perfect additions.
4th Of July Mason Jar Luminaries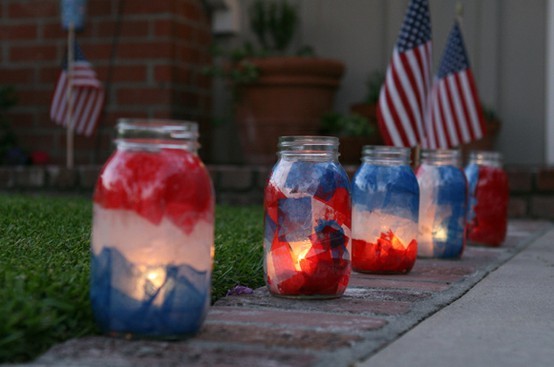 Welcome guests by lining a sidewalk or driveway with festive luminaries. This is a fun mason jar craft that is super easy to make.