You know it's truly summer when the 4th of July hits. With warm temperatures and a celebratory mood, people head to the beaches or parks to enjoy the patriotic holiday adorned in their best red, white and blue. Many of us enjoy gathering up our friends or family for an outdoor barbecue as a perfect kick-off to other fun Independence Day activities. If you are looking for some creative 4th of July ideas, I have put together a collection of easy outdoor decorating ideas, 4th of July crafts, patriotic recipes and other fun activities to spark your interest.
While planning the menu and the activities may be the top priorities, no holiday party is complete without the appropriate festive decorations. Displaying the American flag is a must and can be done in a lot of creative ways. Here are all of the 4th of July ideas to ensure a successful party. Then, all you have to worry about is scheduling in events like parades and fireworks to complete the day.

4th Of July Outdoor Decorating Ideas
1. 4th Of July Flower Container Planting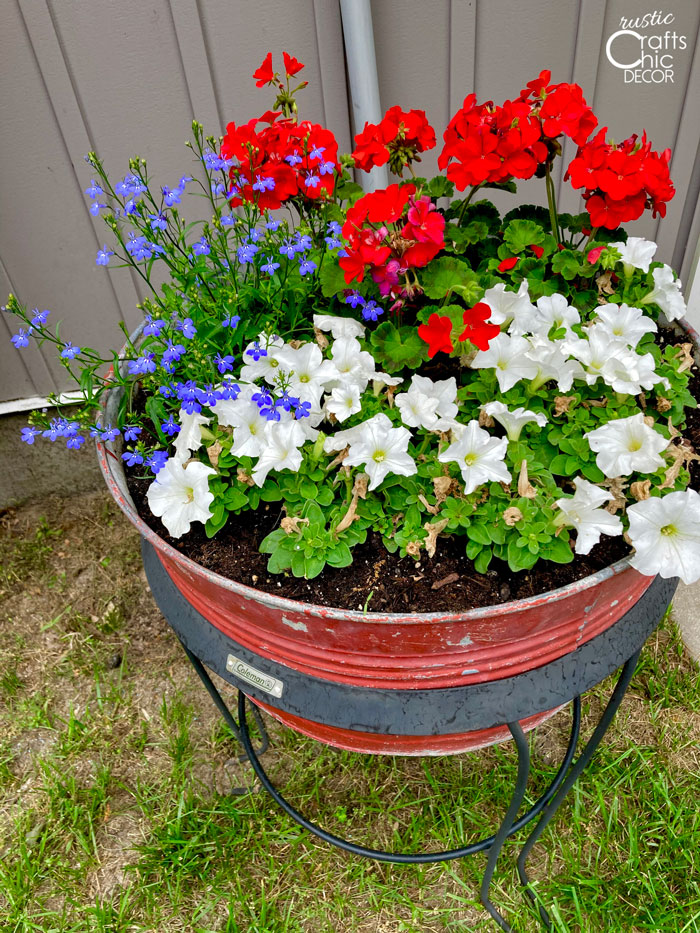 Besides displaying traditional flags and my DIY driftwood flag, I thought I would also create a flower planting that somewhat resembles the flag. At least I got the red, white, and blue in there! The nice thing is that flowers should last all summer and it's always appropriate to display the colors of the flag.
What I love about planters is that you can use pretty much any container to plant your flowers. I had this old vintage tub that was already a festive color of red. To give the tub a little height, I placed it in a beverage cooler stand that we had. It just happened to fit in there perfectly!
2. Festive Lantern Decor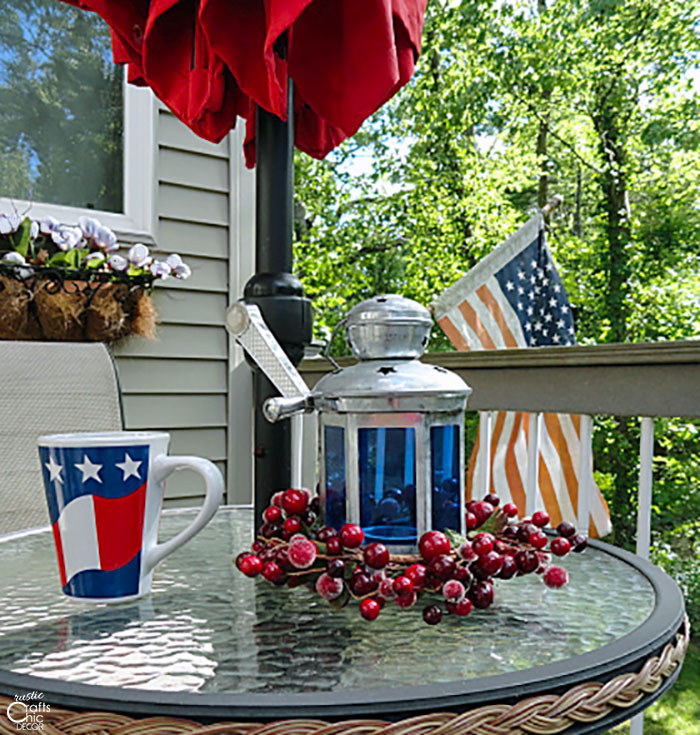 Lanterns are fun to decorate with, especially when combined with red, white, and blue. Use new or vintage lanterns for fun groupings. You can also paint old lanterns if you don't have the right color.
If you like the look of lanterns, make sure to see my post on rustic decorating with lanterns. There are plenty of ideas for both new and vintage lanterns.
3. Patriotic Steps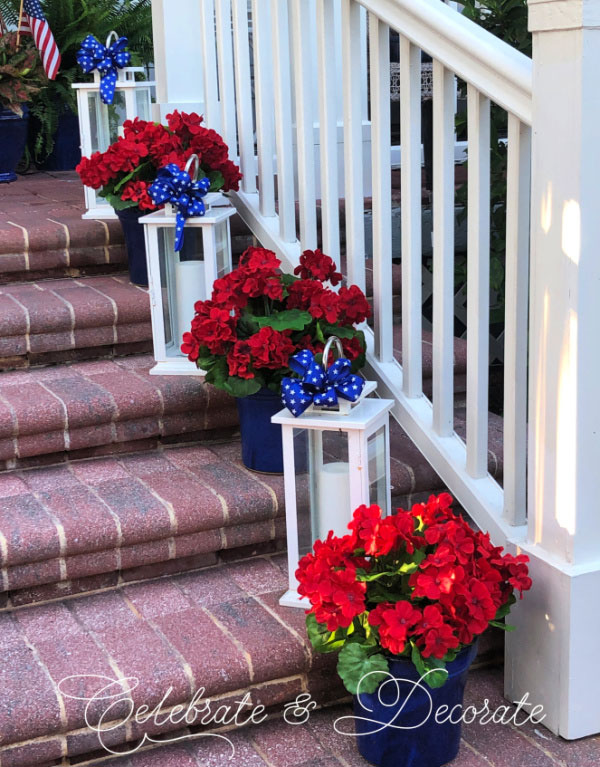 Welcome your guests in style by dressing your porch steps in red, white and blue.
4. DIY Patriotic Pinwheels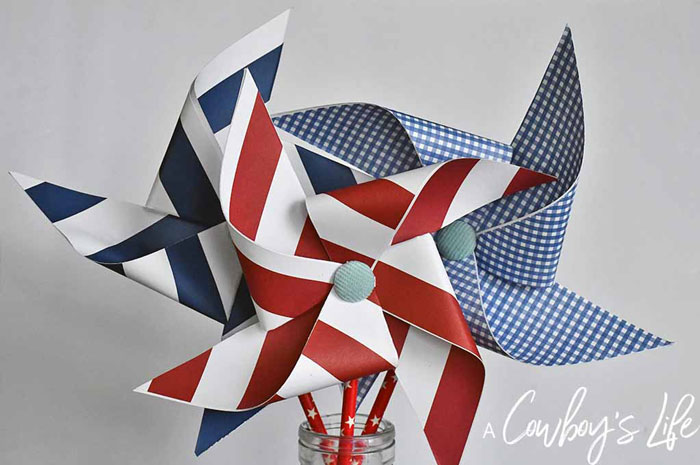 My granddaughter loves pinwheels which got me thinking about making some for the yard. I found this easy tutorial which makes whipping up a few a breeze. By using craft paper and straws, the pinwheels are very inexpensive as well. It would be fun to border a sidewalk, driveway, or patio with these.
5. 4th Of July Mason Jar Luminaries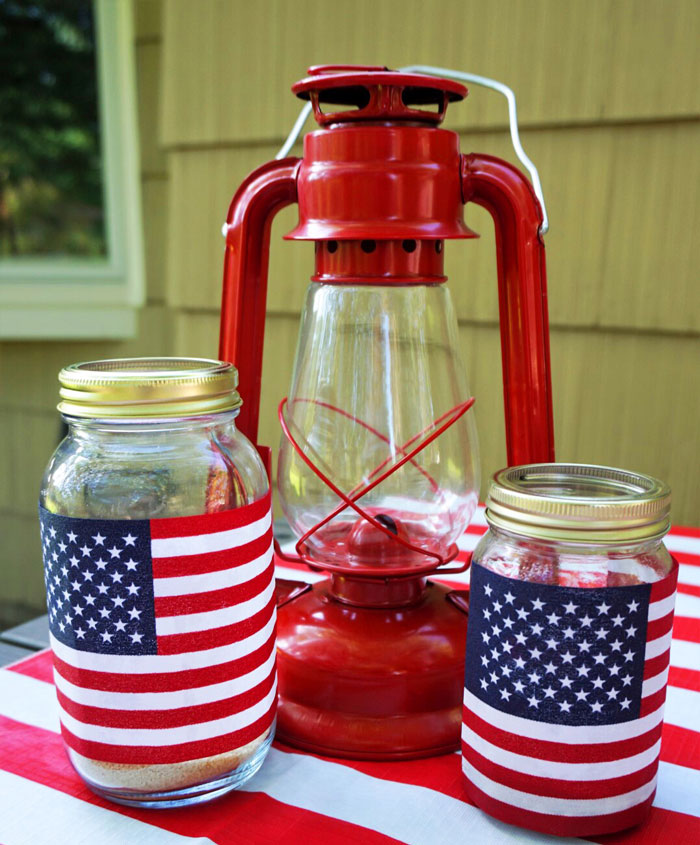 Another easy craft is to make some festive luminaries with mason jars. Place them on tables or on the ground to light the way. I love how they are paired with a vintage-style lantern on this outdoor table.
6. Creative Ribbon Flag
7. Patriotic Red, White and Blue Candle Holders
8. DIY Rustic Flags
9. 4th Of July Planter Rockets
10. Pool Noodle Firecrackers
11. Patriotic Star Porch Decor
12. DIY Wooden Firecrackers
13. DIY Vintage Firecrackers
14. Fabric Scrap Flags
15. DIY Patriotic Lanterns
16. DIY No Sew American Flag
17. 4th Of July Garland
18. Patriotic Farmhouse Stars
19. DIY American Bells
20. Simple Patriotic Pillow
21. DIY Americana Stars
22. Old Picket Patriotic Tags
23. Red, White and Blue Luminaries
24. Flag Wreath
25. Rustic Patriotic Banner
26. Patriotic Plank Art
27. Patriotic American Flag Banner
28. Toilet Paper Roll Rockets
29. Homemade Firecracker Decoration
30. DIY Americana Baseballs
4th Of July Activity Ideas
31. American Canons Outdoor Game
32. 4th Of July Parade Wands
33. Ring the Flag Toss
34. Printable 4th Of July Bingo
35. Patriotic Bucket Ball
36. Knock Over Patriotic Cans
37. 4th Of July Tic Tac Toe
38. Patriotic Marshmallow Launchers
39. 4th of July Balloon Dart Game
40. Free Printable Red, White and Blue Scavenger Hunt
Patriotic Recipe Ideas
41. American Flag Fruit Pizza
42. Red, White and Blue Mixed Berry Yum
43. American Flag Taco Salad
44. Patriotic Mini Cheesecakes
45. No Bake Fireworks Oreo Cheesecake Bars
Red, white and blue sprinkles make any dessert festive.
46. Patriotic Trail Mix
47. American Flag Charcuterie Board
Use blueberries as stars and then create red and white stripes with a variety of snacks like cheese, strawberries, pepperoni and crackers.
48. Red, White and Blue Snack Mix
Snack mixes are an easy grab snack that works at any party. Using all red, white and blue make it super festive for the holiday.
49. Red, White and Blue Fruit Salad
50. 4th Of July Torte
An almost no-guilt dessert filled with strawberries, blueberries and angel food cake. Layered with white chocolate pudding and whipped cream, this dessert is so fresh and light. It's perfect for a hot day outside.