To create a rustic style dining room, you may want to start with the main focal point….your table.  A wonderful distressed wood table will set the tone for the whole room.
I have found several tables that will be sure to inspire you.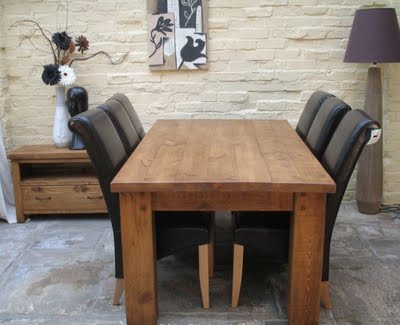 I like this heavy and simple wooden table with the chic looking leather chairs.

This table is very similar but when combined with the white chairs it just appears lighter and fresh.

An antique farm table would be a perfect choice for a rustic dining room.  I love the combination of finishes in this example.  Combining the black chairs with the stained wood table top and white legs makes for an interesting setting.

Distressed white is a great color for a rustic table, especially with this natural wood top….very shabby chic!

Sometimes you just need a very large table and you don't want to spend the very large price tag.  Homes.comhas a great plan for making your own affordable rustic dining room table.  This table was modeled after one seen at Restoration Hardware and Pottery Barn.  Also, a great way to fit alot of people around the table afford-ably is to build a bench.  Benches are quite popular in rustic dining sets and are made sturdy and eye appealing.

You can't get much more rustic than a log table.  This small set is perfect for a cozy dining area.

A lot of the rustic dining room tables are either rectangle or square in shape.  However, I found this great looking oval solid douglas fir table that would look great in a rustic dining room.
Hopefully these ideas have inspired you as you decorate your dining room.  What size and shape table do you like and how many people would you like to seat?  Leave your comments below!
Happy decorating!