To create a rustic style dining room, a great place to start is with the table. A wonderful distressed wood table will help to set the tone for your entire room. Instead of purchasing a new table, you can easily make your own with a good plan. These DIY farmhouse tables all have plans that are easy to follow. Even if you're not experienced with furniture construction, a farmhouse table is a pretty basic design for first time construction.
How To Build A Farmhouse Table
All of these plans are pretty similar but each has it's own unique design tweaks. Once you choose a farmhouse table design that you like, you can build it as is or tweak it even more for a custom fit and style. For instance, if you choose a plan for a six foot table but only want one that is five feet, just modify the measurements and follow the same construction instructions. The following DIY farmhouse tables include my favorite plans and designs.
If you would prefer to modify an existing table that you have, see these kitchen table makeover ideas. You can easily change the style to be more rustic farmhouse.
Ana White Farmhouse Table Plans
This first farmhouse table is perfect for the beginner. It has a very simple design but packs plenty of farmhouse style.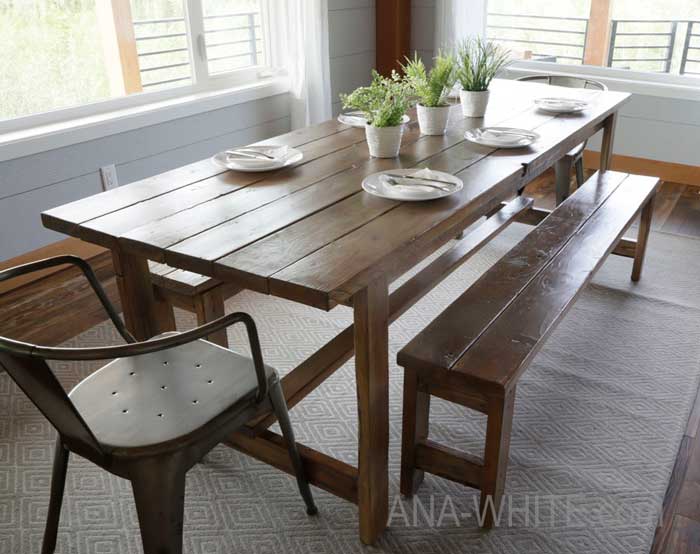 The only tools that you need for this basic table are a drill and a saw. I love that the entire table is made from 2×4's and 2×6's. You can even get the wood cut to the lengths that you need right at a building supply store. If you do that, then you only need a drill for turning in the screws. Check out the easy free plan for all of the details.
Shanty 2 Chic DIY Farmhouse Table
This next farmhouse table is similar in design to the first but has chunkier legs and some industrial metal accents. A jig is also used to make pocket holes for the screws. The easy to follow instructions are available in both a written plan and a handy video tutorial.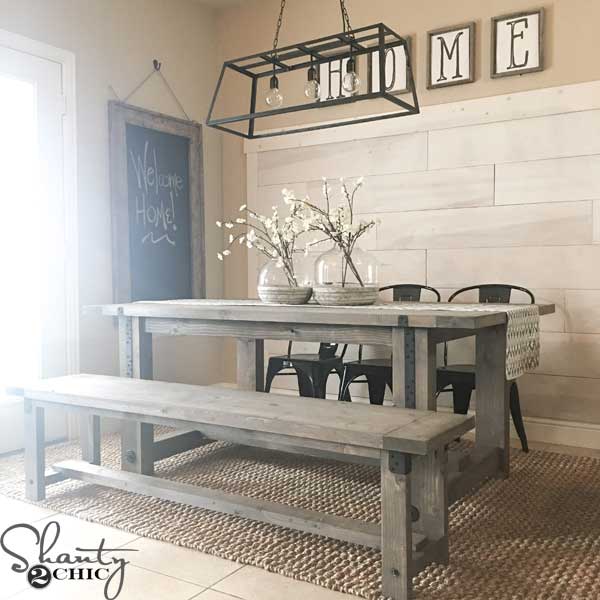 The industrial metal accents give this farmhouse table a unique look that pairs especially well with metal dining chairs.
Honey Bear Lane DIY Farmhouse Table
Like the previous two plans, this farmhouse table is a simple design that is easy to construct. The difference with this plan is that it uses 4×4's for the legs to give them a beefier look. You can also see how you finish the table can really change the look. The white frame constrasts nicely with the stained top.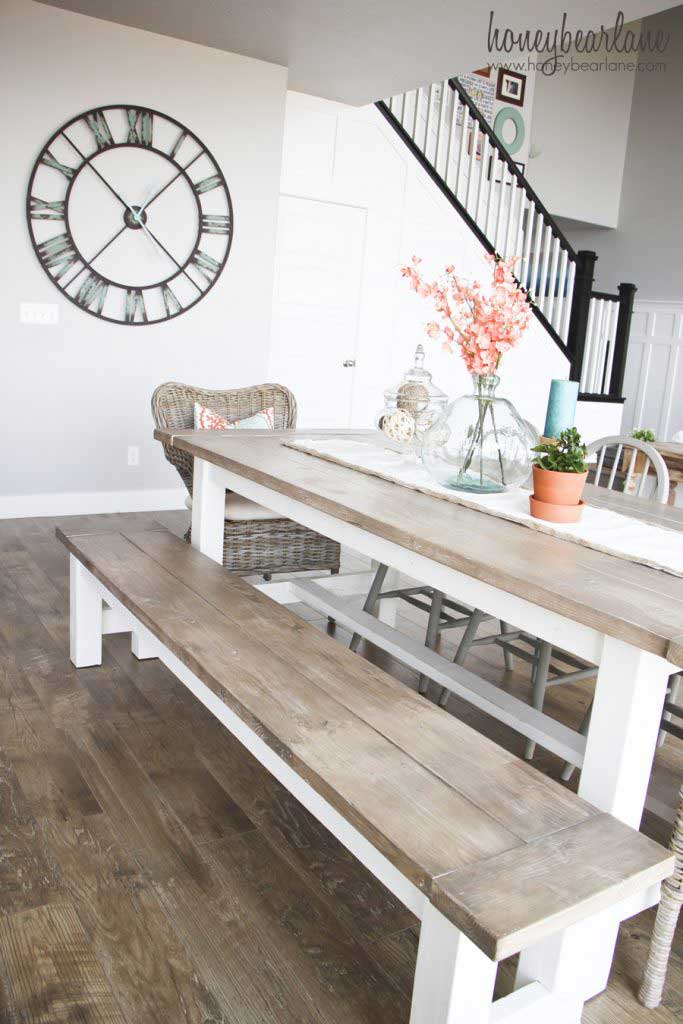 Cherished Bliss X Frame Farmhouse Table
For a look that only looks more complex, try this plan with the popular X frame. Some angled cuts are are the only extra skill requirements.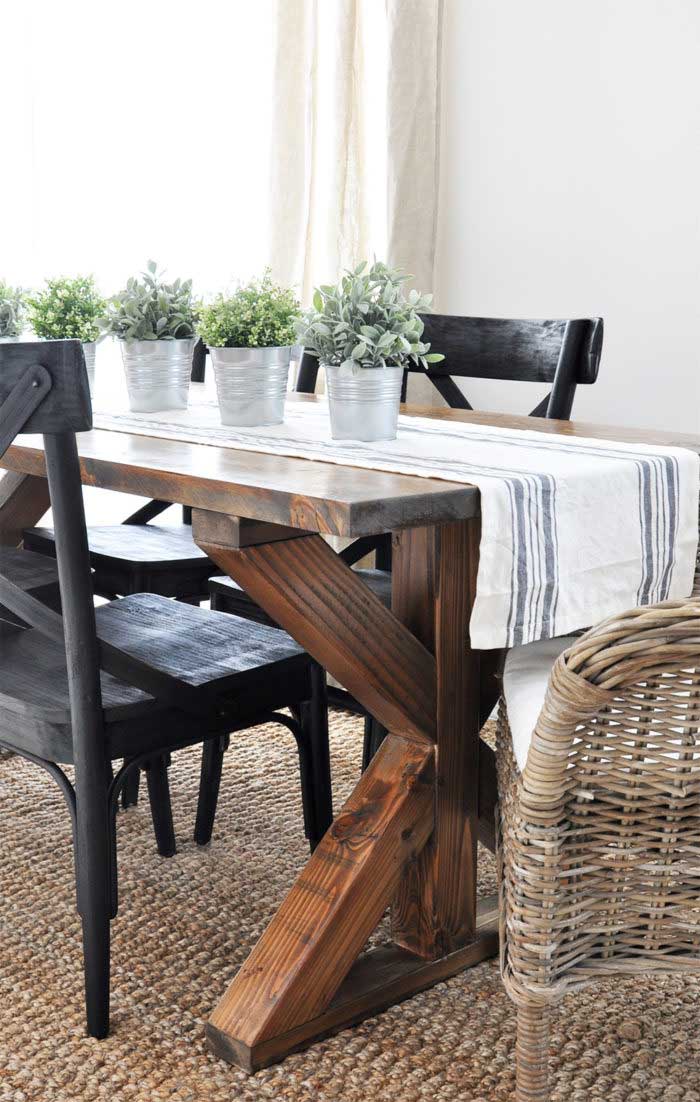 The beefy X supports are made with 4×4's and a metal pipe runs from side to side giving this table a fun industrial element as well.
Decor And The Dog Table Plan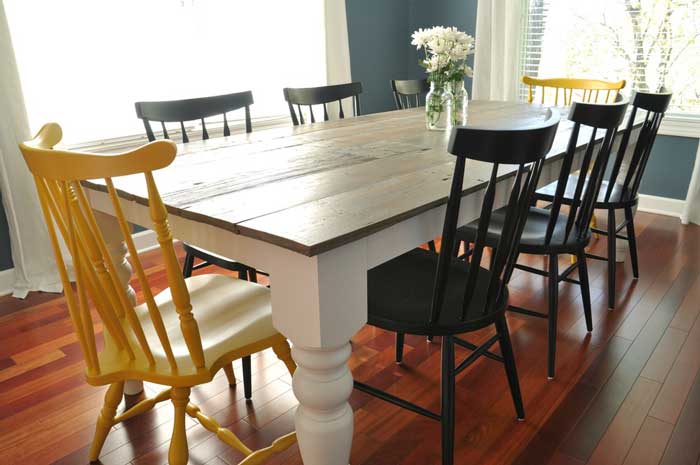 What sets this farmhouse table apart from the rest are the large ornate table legs. Table legs like these can be purchased from a wood supply store. Even though this plan looks more detailed, it's actually not. It's just a matter of attaching the table legs instead of 4×4's or 2×4's as the legs.