I don't know about you, but I get so inspired with furniture makeovers. An update to old furniture not only creates a fresh look but it also extends the life of a piece. For the budget conscience, this makes a lot of sense. Today I'm going to focus on kitchen tables. It's easy to change the look of a table simply with new paint or stain. However, changing the legs or even the tabletop can really freshen things up. These kitchen table makeover ideas might just inspire you to keep an old table instead of buying new.
How To Makeover A Kitchen Table
Modernize A Tabletop With Concrete
If you like a modern rustic look, adding some concrete is a great way to go. And, concrete is a fairly new trend that is expected to be hot this year. When it comes to concrete, you may automatically think of kitchen counters. However, accessorizing with concrete pieces is also gaining popularity. In fact, putting concrete on an old tabletop is a fantastic way to give a modern update to an outdated kitchen table.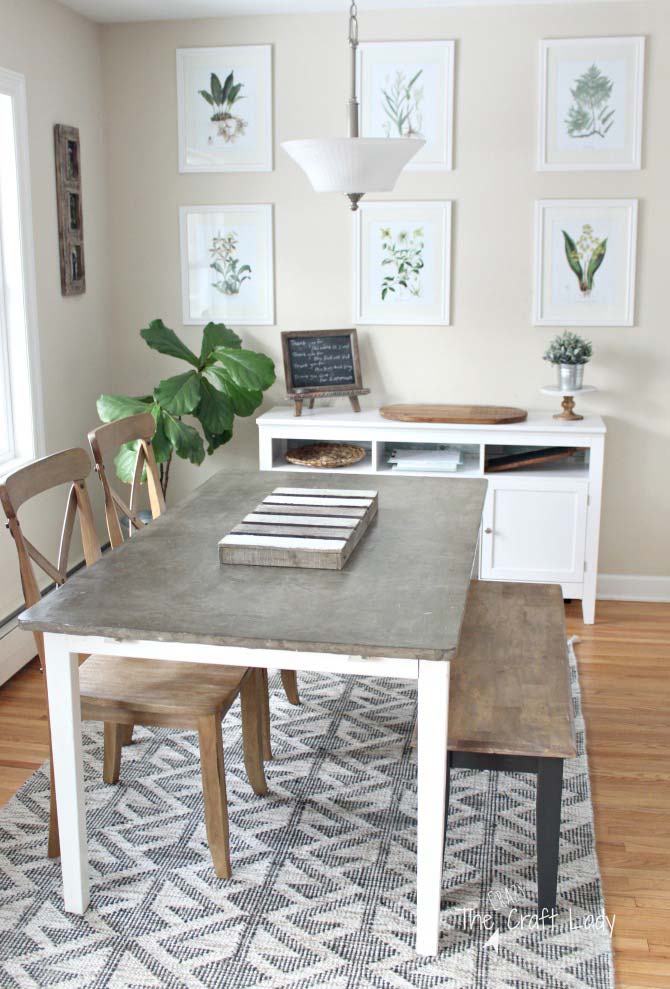 This previously wooden Ikea table didn't match the chairs and bench. To give it a light rustic look that would complement the seating, concrete was applied to the old top. Since concrete has an upscale look to it, this kitchen table makeover successfully upgraded the look. The concrete that was used for this project was Henry Feather Finish Floor Patch.
Give A Kitchen Table A Soft Weathered Look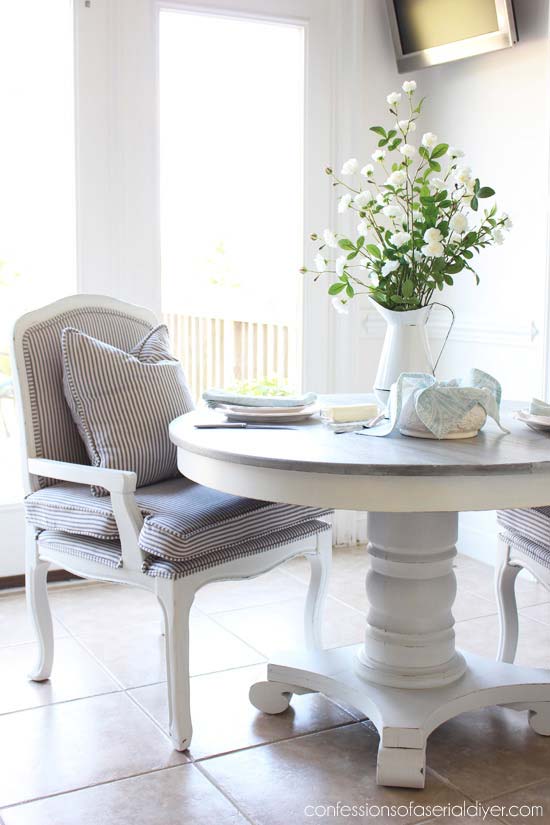 Can you believe that this beautiful table was a thrift store find and makeover? The original look was an outdated stain color with lots of fading, cup stains, and general abuse. This new soft look is nothing like the original. The white paint on the base has just the right amount of distressing. And, that tabletop! After the top was sanded, a weathered wood accelerator was put on. The final finish is a watered down white enamel paint. I love how you can see the wood grain under the light wash of paint.
Update An Old Kitchen Table With New Legs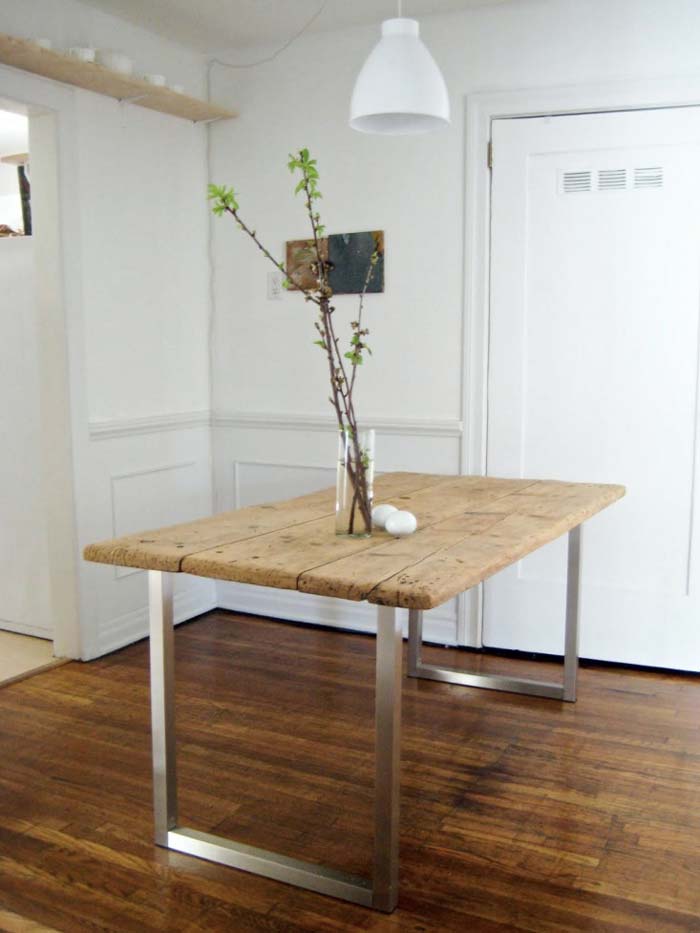 This kitchen table makeover is one of my favorites for a modern rustic look. The very old and rustic tabletop came off of a vintage walnut table found on Craigslist for a steal of a deal. Instead of keeping the original rustic wood legs on the table, it was given a modern edge. The replacement metal legs were actually purchased from Ikea so the entire table cost much less than it looks.
Use Plumbers Pipe For Table Legs
Another idea to give modern style to an old table is to switch out the legs for plumbers pipe.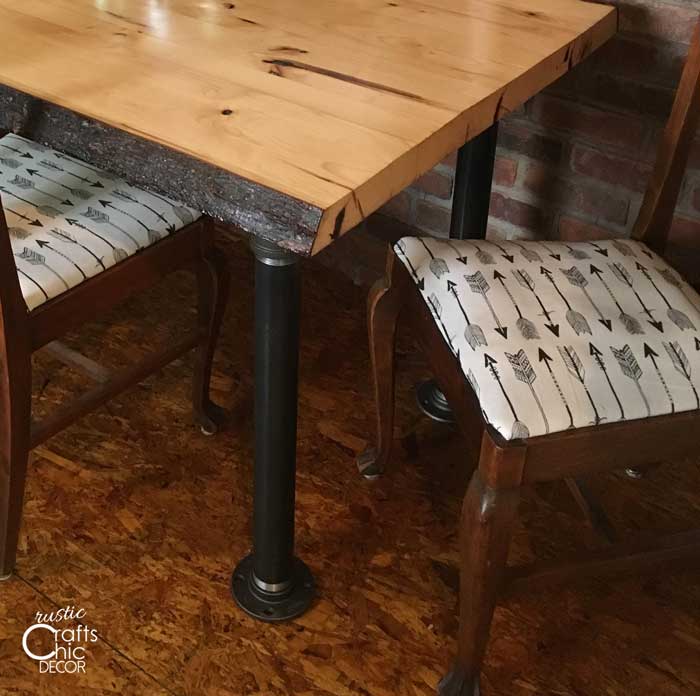 My husband and I made this kitchen table from scratch. The wood top came from a huge hickory tree that needed to be cut down at my in-laws. To turn it into a table we took the tree logs to a mill for cutting. I wanted nice thick slabs with a live edge for our cabin kitchen table. To keep the tabletop looking as natural as possible, I simply finished it with Tung oil – lots of coats!
Since I wanted to add a little industrial rustic styling to the table, we went with black plumbers pipe legs. This is an easy way to update any kitchen table.
How To Add Plumbers Pipe Legs To A Table
Figure Out Leg Height – First, figure out how tall you want your table to be. A standard table is approximately 30 inches from top of table to floor. Adjust your measurement for the thickness of your tabletop. If you currently have a table with the legs still on it, then just measure from the tabletop bottom to the floor before disassembling.
Purchase The Plumbers Pipe Parts – Then, purchase two flanges and one section of pipe for each leg. Because the pipe screws into the flange, there is a little give in measurement. Basically, the pipe plus the two flanges should equal your leg measurement.
Attach The Legs To The Table – Prepare where you want the legs to go. This is easy with a table that you just took the legs off. But, if you want to make any adjustments, you can do it now. Screw one flange to the bottom of the tabletop for each leg. Then attach each pipe to the other flange by turning it into place. You may need to use a pipe wrench for this. With the tabletop still upside down, twist each leg into the other flange at the tabletop bottom.
Make Final Adjustments – Put the table in place and adjust each leg until the table is level.