I was given a cool old drawer that once belonged in a large dresser. I'm not sure what happened to the dresser but I have to assume it was in bad shape. Anyway, the drawer is in good condition so I need to find a use for it. My plan is to put castors on the bottom and use it for under the bed storage. However, there are lots of other ways to repurpose drawers that I could consider.
I have reused other drawers in my home and love the rustic vintage decor that they add to my spaces. My favorite drawer is an old metal one. I use it to display and store a few of my wine bottles.

SOURCE: Upcycling Ideas For The Home
A long narrow drawer like this would also be good to use as a planter or just for holding small potted plants. The other way that I have used an old drawer is to make one into a little side table for my craft room.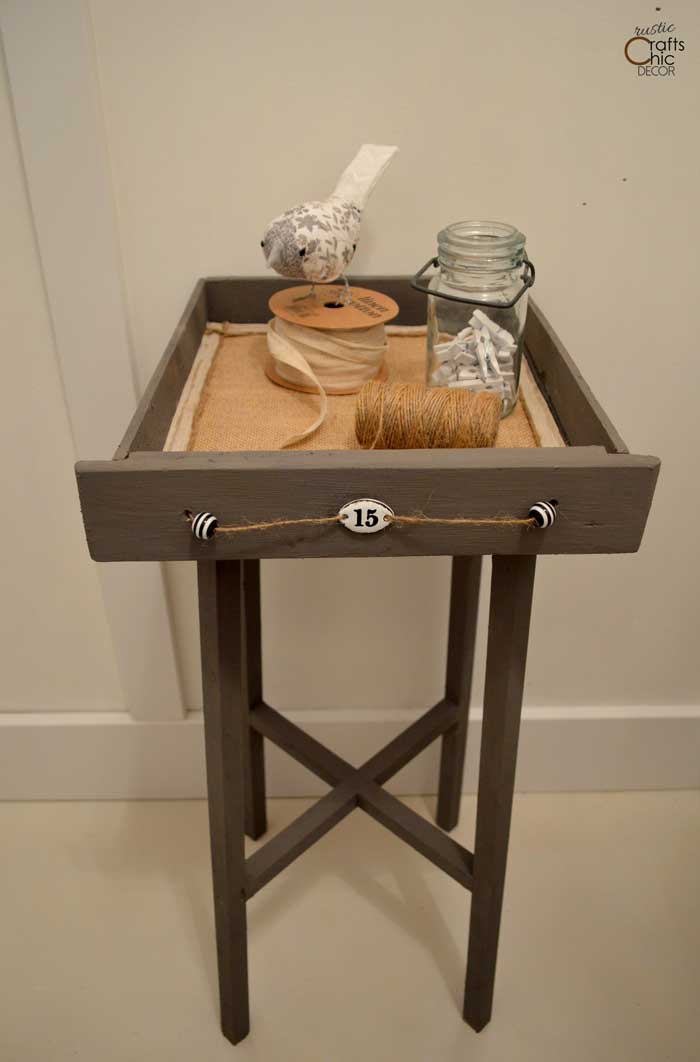 SOURCE: Ikea Table Hack From A Plant Stand
Besides using an old drawer for this little table, I also made use of an Ikea plant stand that I had. The plant stand makes the perfect legs for a drawer table.
More Repurposed Drawer Ideas
If you have an old dresser, you may also be inspired by these ways to repurpose drawers for other uses. You can also repurpose a dresser without the drawers!
Here are some creative ways to use old drawers in your home decor.
Drawer Planter

SOURCE: Redoux Interiors
I mentioned using a single drawer as a planter. However, you get an even more creative look when you stack a few drawers together. This colorful display of flowers is enhanced with the drawer faces each painted in it's own cheery color.
Under Bed Storage With Drawers

SOURCE: Tinker With This
I love the idea of underbed storage and definitely dislike the idea of plastic bins….if it is going to show at all. That is when an old drawer is a perfect solution for underbed storage that shows. Just add four casters to each drawer for easy rolling and you are all set.
Here is another photo that shows the castors a little better: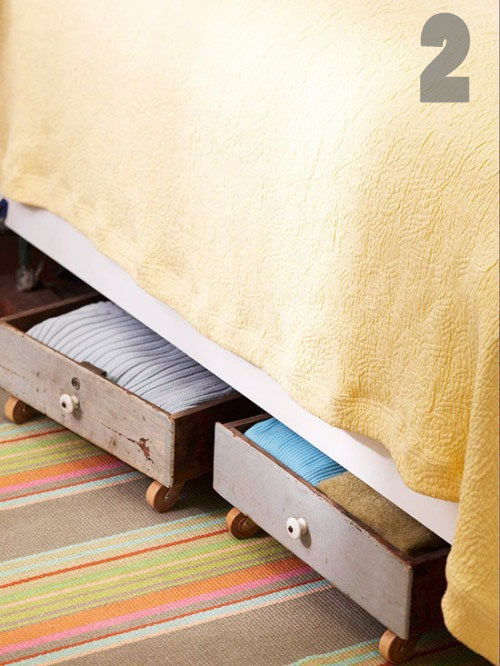 SOURCE: Picklee
I really like this idea for repurposing drawers. The underbed storage is great for storing extra blankets or clothes.
Drawer Wall Shelves
Another fun idea is to use old drawers as wall shelves that double as picture frames.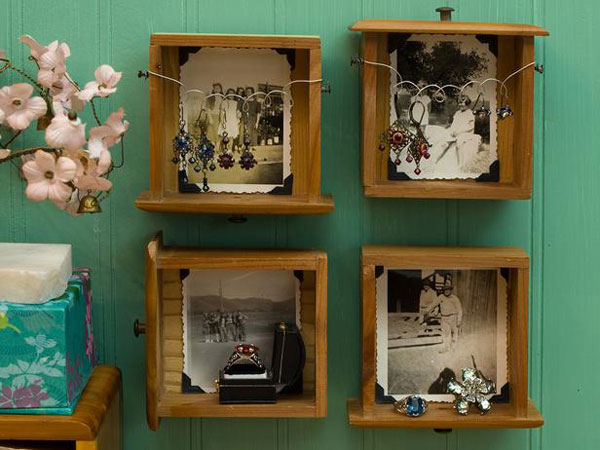 SOURCE: HGTV
This arrangement was used in a bathroom for holding jewelry but it would look great anywhere for displaying vintage finds. The vintage photo backdrops gives them a special appeal.
You could also mount small drawers to the wall, at the back, instead of the bottom, for handy wall storage containers. This would be great to do in a craft room, kitchen, or bathroom for storing small supplies.
Drawer Side Table

SOURCE: Beyond The Picket Fence
This colorful side table is one of my favorites! It is similar to the one I did but the bigger drawer allows for more storage. I love the hinged top, that was made for the drawer, which allows for the storage to be hidden underneath. The colorful paint on this is just so fun and unique.
Drawer Dog Bed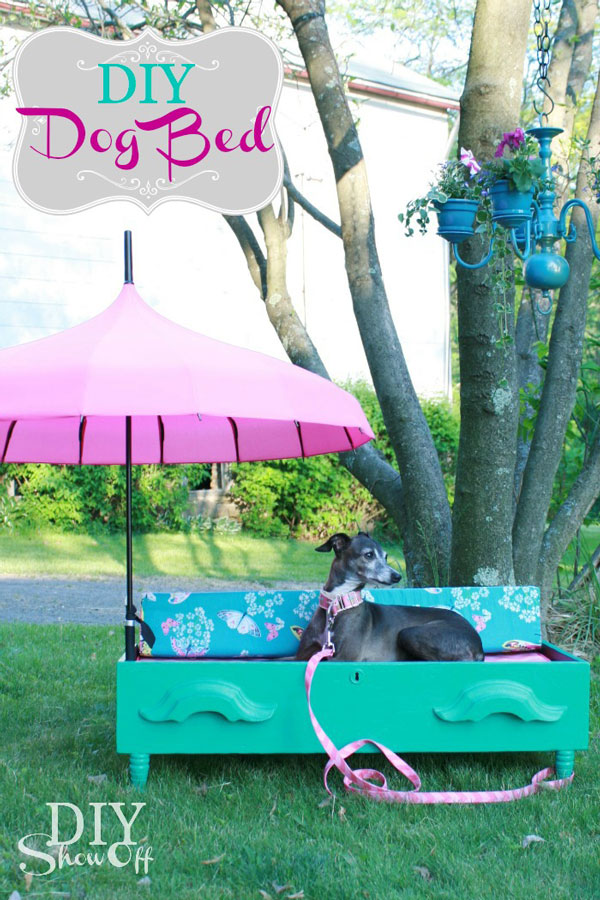 SOURCE: DIY Showoff
Okay…this is just waaaay too cute! What pet wouldn't love their own fancy bed like this one?
Drawer Headboard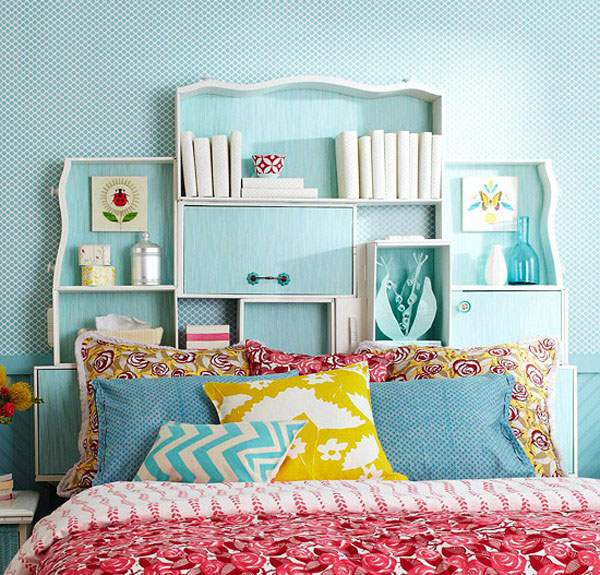 SOURCE: BHG
Coming up with unique headboards are always a fun challenge. This idea takes a bit of careful planning with the layout to get a design that looks as seamless as this one but it would definitely be worth the effort.
Drawer Ottoman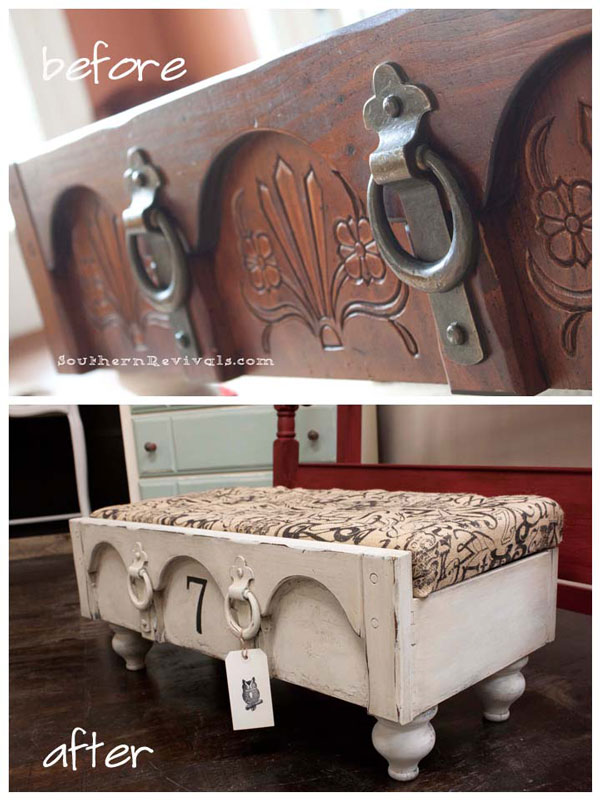 SOURCE: Southern Revivals
How often could you use another ottoman to rest your feet on? A large drawer can be easily converted into a stylish ottoman with the addition of feet and a nice comfy cushion.
I hope you have been inspired!