If you are decorating on a budget or simply just don't like seeing things go to waste, you'll love these upcycling ideas for the home. I try to upcycle whenever I can and find it very rewarding. When you can give new life to an old item, it's a win win. You not only eliminate waste, but you also get some new decor for your home. When I was looking for ideas to share with you, I realized that I upcycle a lot! A lot of what I upcycle are pretty common items. It will get you thinking about what you may have laying around in your basement or attic!
Creative Ways To Upcycle
Use An Old Yardstick As A Hanging Rod

I had some old yardsticks laying around that were serving no purpose at all. Whenever I need to measure, I use a tape and if I need a long straight edge I use a level What I did discover that I needed was some kind of hanging bar to hook small buckets on in my craft room. Since the yardstick wasn't designed to fit into the brackets I have, I had to glue the yardstick to the inside of the brackets to hold it up straight. Otherwise, the yardstick would have hung at an awkward angle and wouldn't have worked with my hooks.
For more ideas on what you can do with yardsticks, check out the upcycling ideas on my post: ten cool yardstick crafts.
Make Place Card Holders From Old Silverware

Old silverware is pretty to look at but not so practical to use for it's intended purpose. Instead of keeping my vintage silverware hidden away in a box, I decided to make use of them. So, I made elegant place card holders with some of the forks. To see how I did this, see my post: upcycled vintage silverware crafts. You will also find many more upcycling ideas using old silverware.
Upcycle An Old Book Into A Fun Picture Frame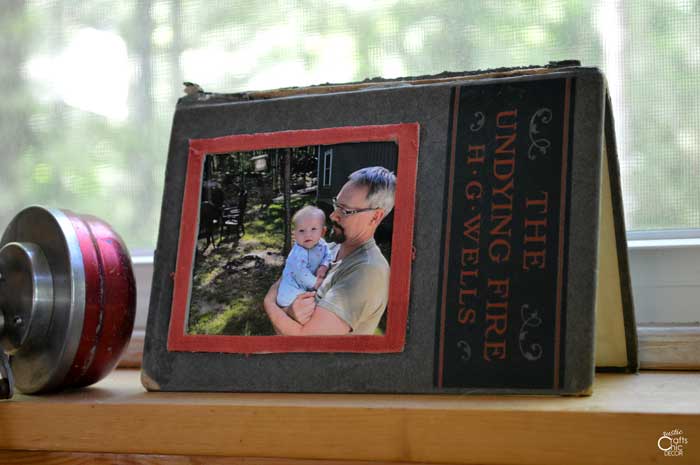 TUTORIAL: DIY book picture frame
Old books have a lot of cozy charm to them. That's why they are so popular in rustic decorating. A stack of books on a table or showcased on a shelf is always a warm and cozy accessory. However, if you have a lot of old books, you may want to make use of them in other ways. I made this book picture frame from an old book that was falling apart anyway. Since I'm always looking for unique ways to display my photos, this project was a definite win win.
Make Placemats From Old Coffee Sacks

TUTORIAL: How To Make A Placemat Using Old Burlap Coffee Sacks
The burlap from old coffee sacks have such cool graphics. I wouldn't think that coffee sacks are something that most people have just laying around. However, you can pick them up pretty cheap from flea markets or antique malls. The end result is still a fun placemat made for a fraction of the cost of buying new. Sometimes I shop flea markets with the specific intent of upcycling whatever I find.
Turn A Kitchen Sifter Into A Pendant Light

I actually went out and bought this old kitchen sifter as well. It wasn't my first intention. I had gone shopping for industrial looking pendant lights for over our small table. Since a lot of options were very expensive and not quite what I was looking for, I had to get creative. When I found this old sifter in an antique store, I just knew it was the perfect look for a pendant light shade. It wasn't hard to put together and the cost of an old sifter was much less than a brand new light fixture.
A Porch Pillar Section Makes A Great Candle Holder

Sections cut from an old porch pillar make interesting rustic decor. All I did to turn this into a candle holder was glue a glass plate to the top. For more upcycling ideas, check out my post: upcycled crafts using fence posts or pillars.
Make A Small Table By Upcycling A Drawer

TUTORIAL: Ikea Table Hack
I don't remember where this old drawer came from but it was just taking up storage space in my home. The reason I hadn't thrown it out was because I had a feeling I could make something with it. When I realized that I needed just a little more table space in my craft room, I thought about that drawer. At first, I wasn't sure how I was going to get lets on it to make a table. However, then I thought about an unused Ikea plant stand that I had and a light bulb went off. I could put the two things together! So, I actually upcycled two things at once. Not only did I free up some storage space but I also gained the table that I needed. I love these situations!
Make A Shelving Unit With Canoe Panels

For some reason, we have a lot more canoe paddles at the cabin then we do canoes! A couple of the short paddles were just what we needed to make a shelving unit in our rustic bathroom. Canoe paddles make great shelving units, wall art, or even headboards. See all of the upcycling ideas using canoe paddles at my post, rustic decorating with canoe paddles.
Get Creative With An Outdoor Shower

We were at a canoe rental place one summer and saw a canoe set aside that was in pretty rough shape. It was obvious that it wasn't being used for canoeing anymore. So, my husband being my husband, went inside and asked if he could buy it. The answer was yes and the price was cheap so this canoe was getting a new life!
Since we had an area outside for a shower, we figured it could use an enclosure. We didn't want to build walls and totally frame in the shower area. All we were after was a little privacy shield in the more open areas. So, my husband cut the canoe in half and used the two halves for shower walls. The shower area is on an elevated deck so he attached the canoes by screwing them into the 4×4 post deck supports.
Upcycling Ideas Without Modification
Sometimes all that is needed for upcycling an item is to find a new use for it without making any changes to it.
Use A Vintage Paper Holder To Hold Paper Towels

A vintage paper holder and cutter is an ideal item to hold paper towels with. Really any kitchen rolls like tin foil, waxed paper, or plastic wrap would be great to use in this.
Use A Narrow Drawer To Hold Wine

Since I didn't quite have enough room in my wine rack for all my bottles, I was looking for another storage idea. I didn't want to just set the bottles on my counter on their own. This rusty metal old drawer works great for holding three bottles of wine. Putting the wine in the drawer makes them look more contained and decorative.Plus, it adds a nice amount of rustic industrial decor to my counter. Small old drawers would also make great containers for plants.
Store Shoes On The Rungs Of A Ladder

Having a small space means getting creative with storage. This is where upcycling a ladder comes in handy. Heeled shoes hook nicely to the rungs, especially on a metal ladder like this. There are other unique upcycling ideas for shoe storage. Check out my post, DIY shoe racks.
Upcycle A Step Ladder Into An Outdoor Side Table

Old wooden step ladders maybe aren't the most reliable for climbing on. However, using one as a small table is a new functional and decorative use. If you are using it outside, you will just want to seal it with an outdoor polyurethane.