If you are decorating on a budget or simply just don't like seeing things go to waste, you'll love these upcycling ideas for the home. I try to upcycle whenever I can and find it very rewarding. When you can give new life to old things, it's a win-win. You not only eliminate waste, but you also get some new things for your home. When I was looking for ideas to share with you, I realized that I upcycle a lot! And, a lot of what I repurpose are pretty common items. It will get you thinking about what you may have laying around in your basement or attic!
You may be wondering what types of old things are the best items to upcycle. I can tell you that pretty much anything can be repurposed into something new. Things like old furniture, clothes, jewelry, and kitchen accessories are just a few examples of what you can upcycle. This doesn't even include all of the trash items that can be repurposed. If you want to know what to do with throwaway items, like cans, bottles, or even plastic bags, definitely check out all of my posts on recycled crafts. My favorite is turning a wine bottle into a rustic vase.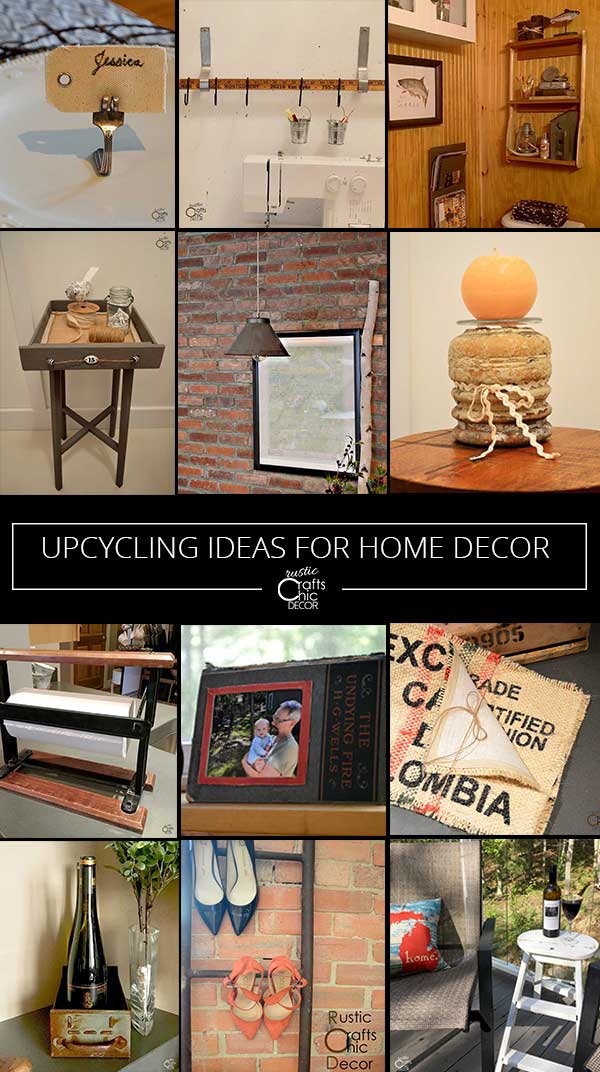 Upcycling Examples
Because I am constantly giving old things new life, I have lots of upcycling ideas that you can try. Hopefully, these examples will get you thinking about how to reuse your own old stuff!
Old Door Chalkboard Sign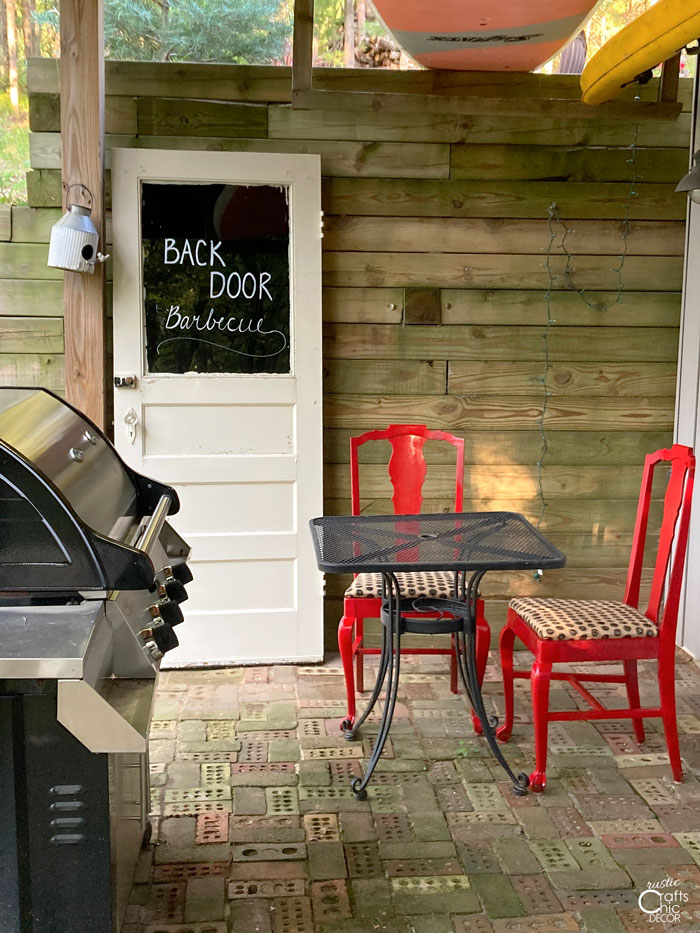 If you've ever remodeled an old house, you may have a gold mine of upcycling possibilities. Old doors, windows, heat registers, shutters, and more can be turned into decorative and useful things for your home. I turned this old door into a fun chalkboard sign for our outdoor patio. However, you could also use an old door as a tabletop or a bench.
Turn An Old Window Into A Decorative Backdrop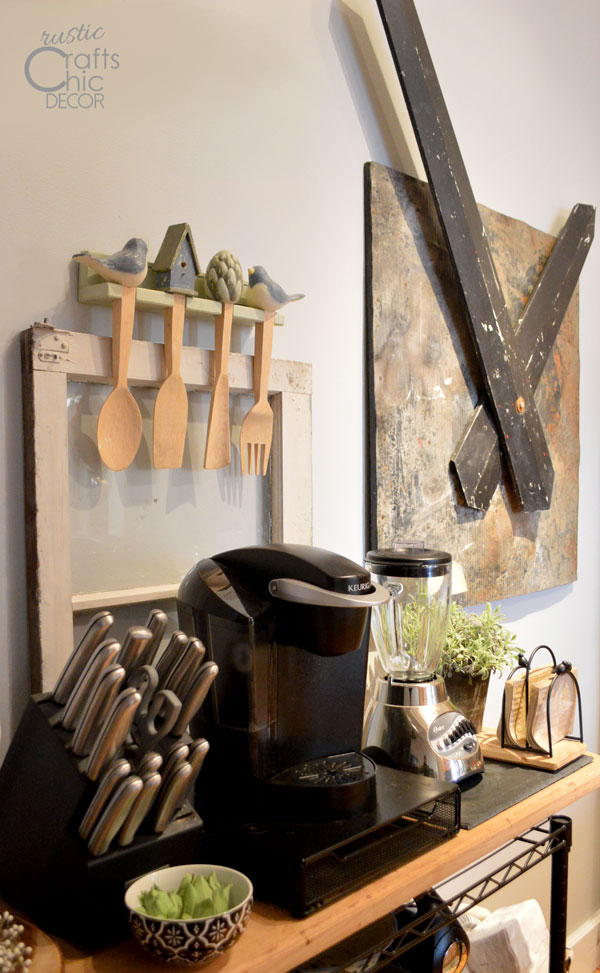 Some upcycling ideas are so simple. I used this old window to add substance to my hanging spoon rack. However, if you thought that was all you could do with an old window, you have to check out these 50 ways to repurpose old windows. You'll be amazed at all that you can do with a simple old window!
Heat Register Clip Board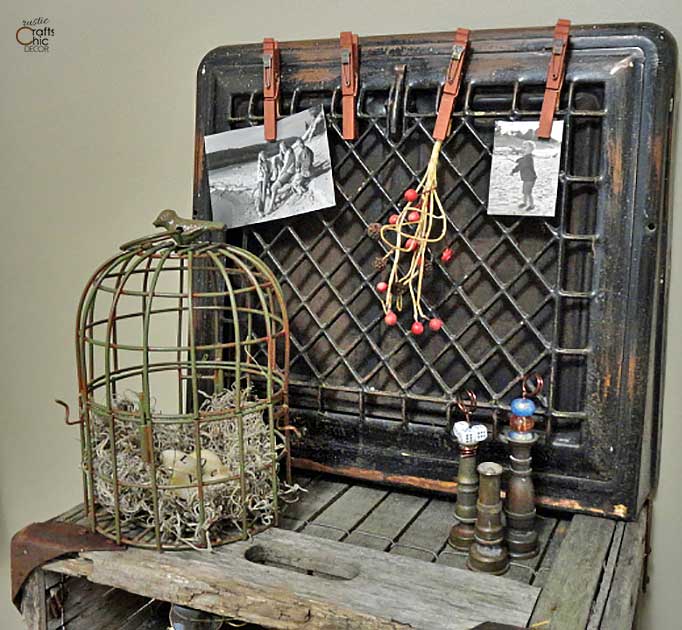 Don't you just love the look of old heat register covers? Add some warm and creative decor to your home by turning a heat register into a handy clipboard for your home office.
Turn An Old Dresser Into A Home Bar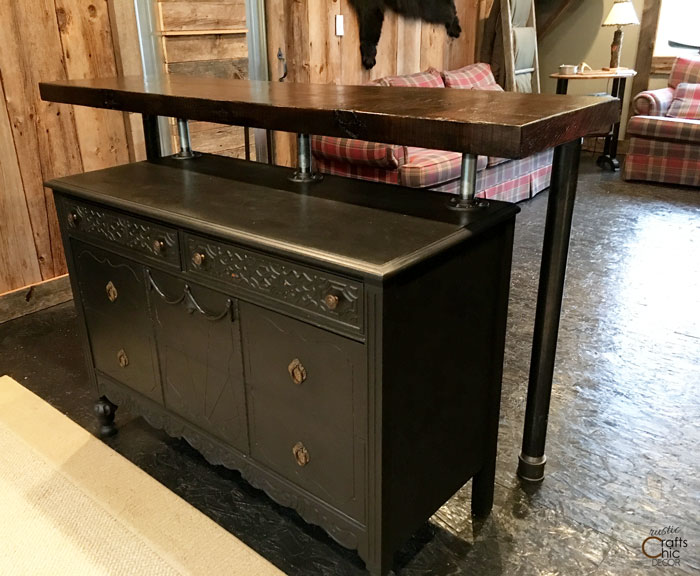 I really like upcycled furniture projects! Furniture can be a hard thing to get rid of when it has good bones. We didn't need this dresser anymore for use in the bedroom but I've always liked the look of it. Since we wanted to add a bar area in the upper level or our garage, I decided to upcycle it into a home bar. Now I get to enjoy the piece in a whole new way. To see the details of this makeover project, go to DIY Home Bar From An Old Dresser.
Upcycled Vase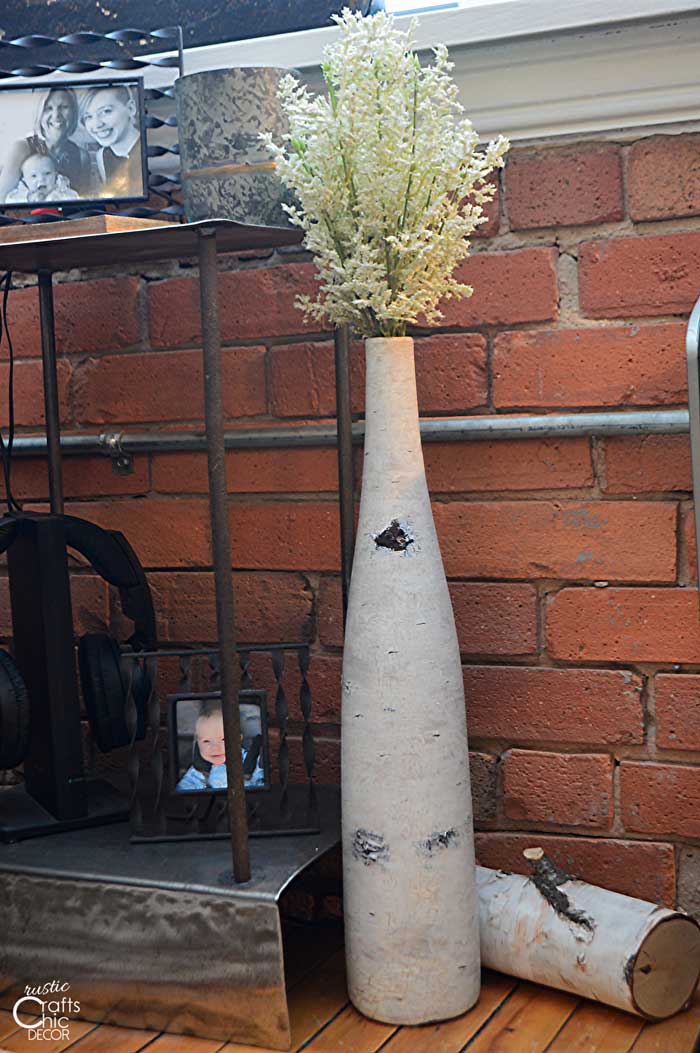 I had an old vase that was totally not my style anymore. It was shiny black and gold and I thought I was going to have to donate it. What I did like about it was its size. So, I decided to upcycle the modern vase into a new rustic vase by painting it to look like birch bark. This is my favorite home decor project and I'll probably use the painting technique on other items that I can upcycle. See how to paint anything to look like birch bark if you want to turn something into a rustic style.
Vintage Brooches Become A Bridal Bouquet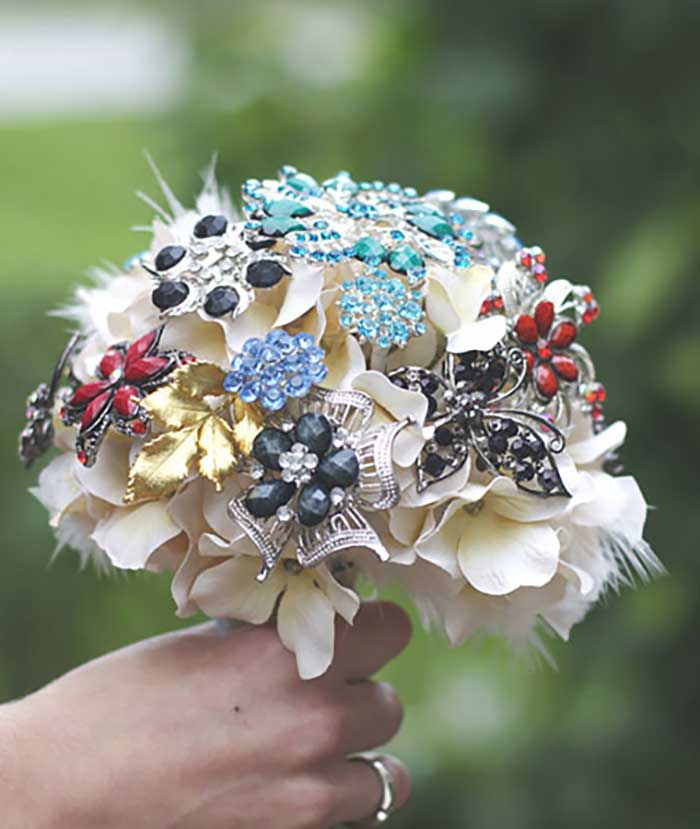 Probably the most rewarding upcycling project that I ever did was making bridal and bridesmaid bouquets for my daughter's wedding. I used old brooches from my mother-in-law's collection. She had a ton of old jewelry! Anyway, the brooches were a nice substitute for fresh flowers for a vintage-style wedding. If you are someone you know, wants to make these bouquets, see how on my upcycled jewelry post.
Paint Pail Easter Basket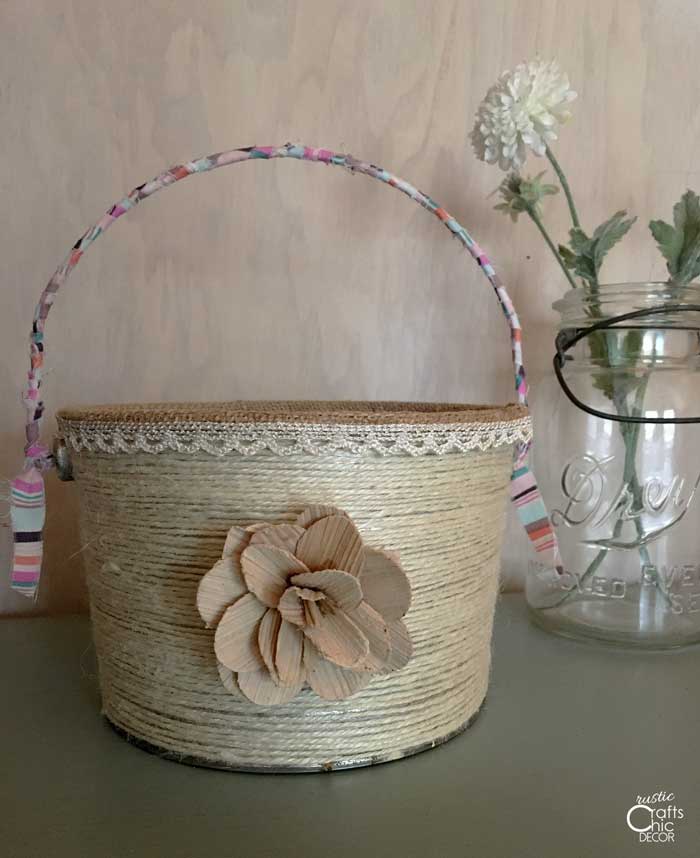 My granddaughter needed an Easter basket and I had an old paint pail. That really doesn't sound like a nice gift to give such a little sweetheart. However, with a little work, I turned the paint pail into a cute Easter basket and she loved it! This was definitely a trash-to-treasure project.
Coffee Cup Cozy From An Old Sweater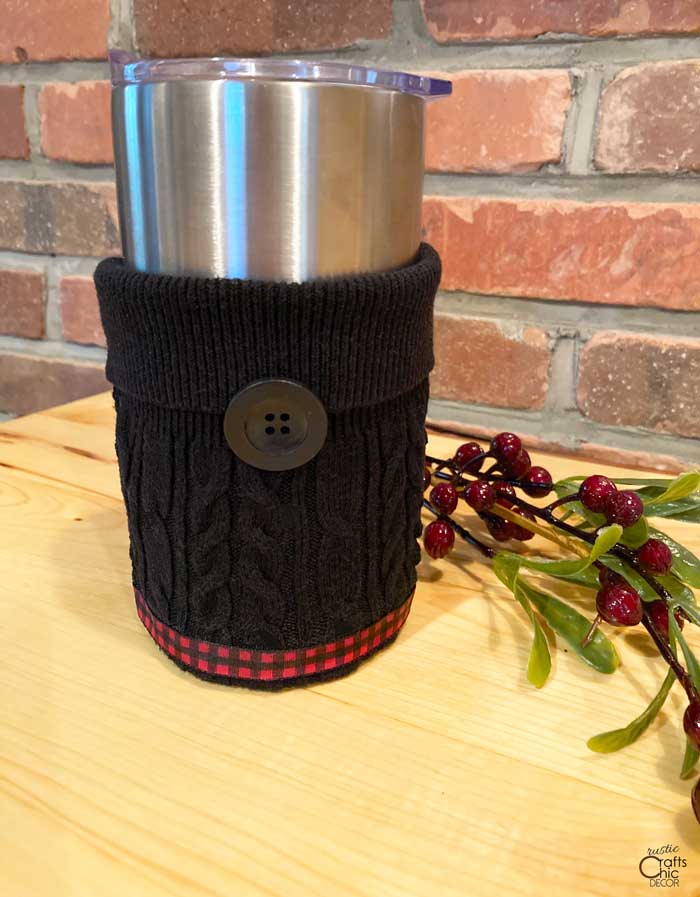 Upcycling old clothes is always very rewarding too. I always hate when a favorite sweater gets stretched or stained. At least when you can turn clothes into something new it doesn't feel like all is lost. This coffee cup cozy was easily made with the sleeve of an old sweater.
Old Crate Planter Box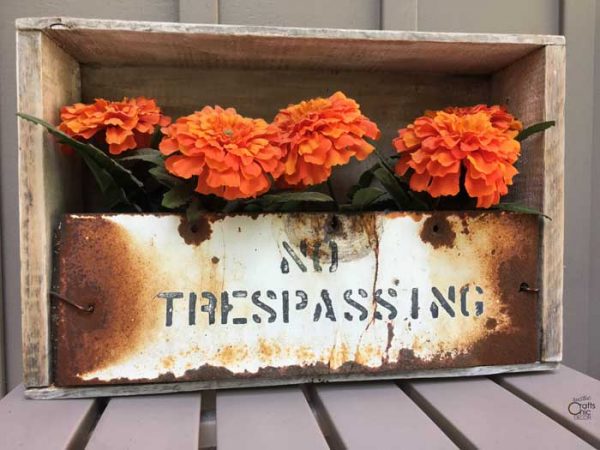 Old things like crates and rusty signs can sometimes go together like peanut butter and jelly. I made a quirky little planter box by combining an old crate with a rusty no-trespassing sign.
Use An Old Yardstick As A Hanging Rod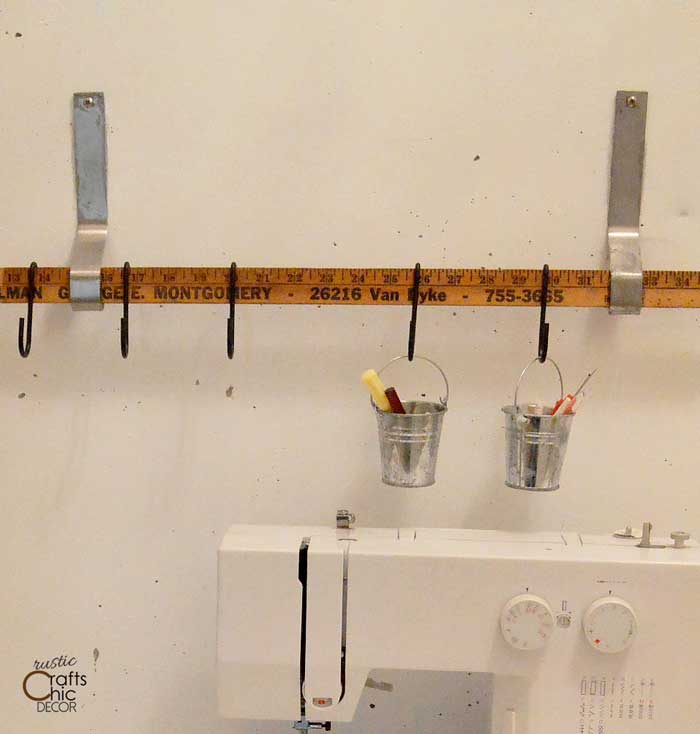 I had some old yardsticks laying around that were serving no purpose at all. What I did discover was that I needed some kind of hanging bar to hook small buckets on in my craft room. Since the yardstick wasn't designed to fit into the brackets I have, I just had to glue the yardstick to the inside of the brackets to hold it up straight.
Make Place Card Holders From Old Silverware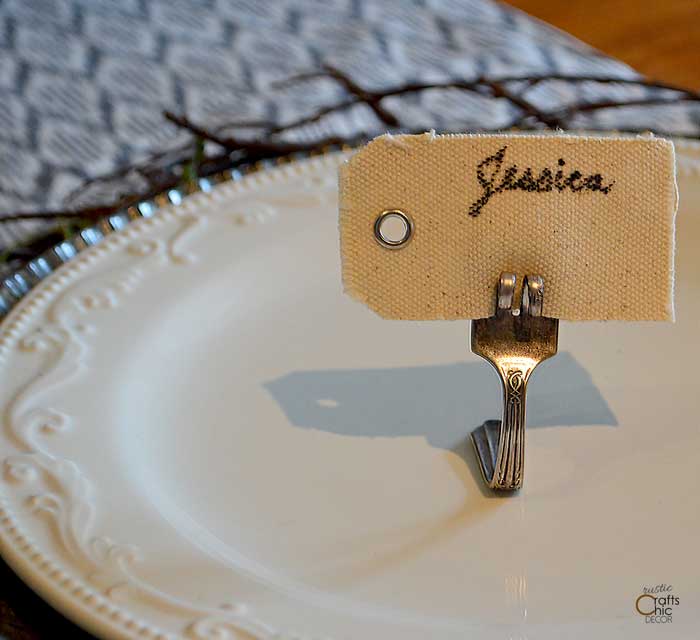 Old silverware is pretty to look at but not so practical to use for its intended purpose. Instead of keeping my vintage silverware hidden away in a box, I decided to make use of them. So, I made elegant place card holders with some of the forks. To see how I did this, see my post: upcycled vintage silverware crafts. You will also find many more upcycling ideas using old silverware.
Upcycle An Old Book Into A Picture Frame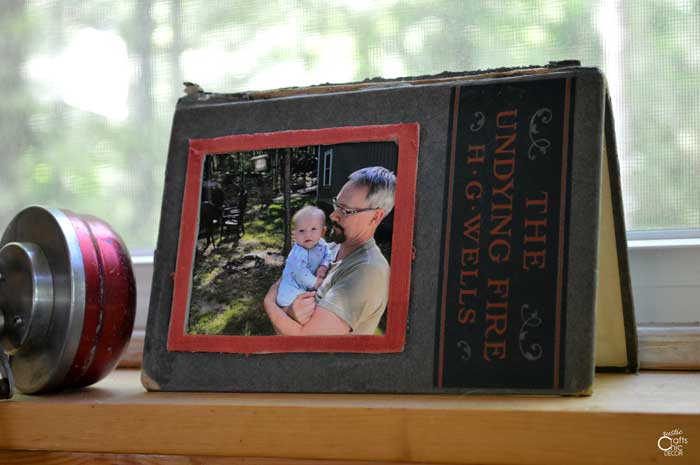 Old books have a lot of cozy charm to them. That's why they are so popular in rustic decorating. However, if you have a lot of old books, you may want to upcycle one for another purpose. I made this book picture frame from an old book that was falling apart anyway. It was a rewarding upcycling project because I can still enjoy the look of an old book but now it also holds a family picture!
Make Placemats From Old Coffee Sacks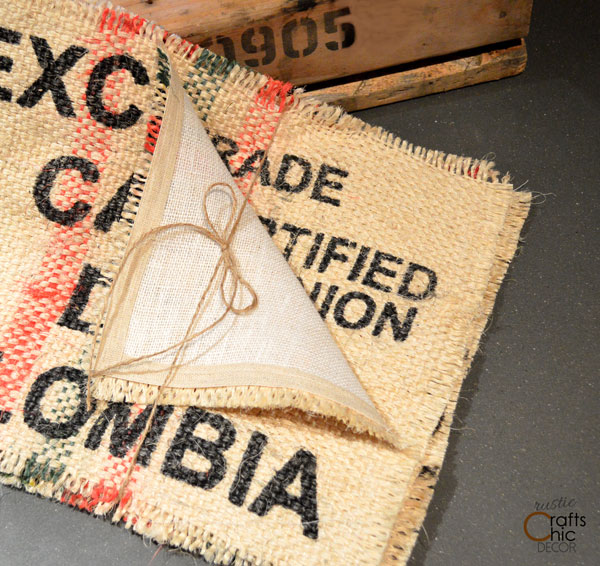 The burlap from old coffee sacks has such cool graphics. I wouldn't think that coffee sacks are something that most people have just laying around. However, you can pick them up pretty cheap from flea markets or antique malls. The end result is still a fun placemat made for a fraction of the cost of buying new. Sometimes I shop at flea markets with the specific intent of upcycling whatever I find.
Turn A Kitchen Sifter Into A Pendant Light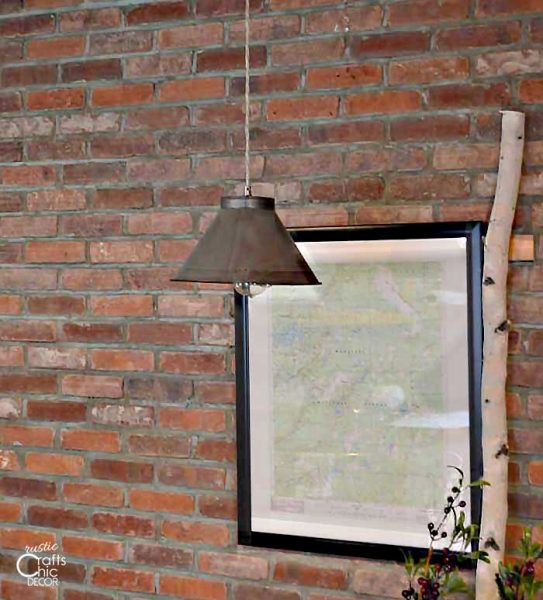 I actually went out and bought this old kitchen sifter as well. It wasn't my first intention. I had gone shopping for industrial-looking pendant lights for over our small table. Since a lot of options were very expensive and not quite what I was looking for, I had to get creative. When I found this old sifter in an antique store, I just knew it was the perfect old thing to upcycle into a pendant light. It wasn't hard to put together and the cost of an old sifter was much less than a brand-new light fixture.
Old Porch Pillar Into A Rustic Candle Holder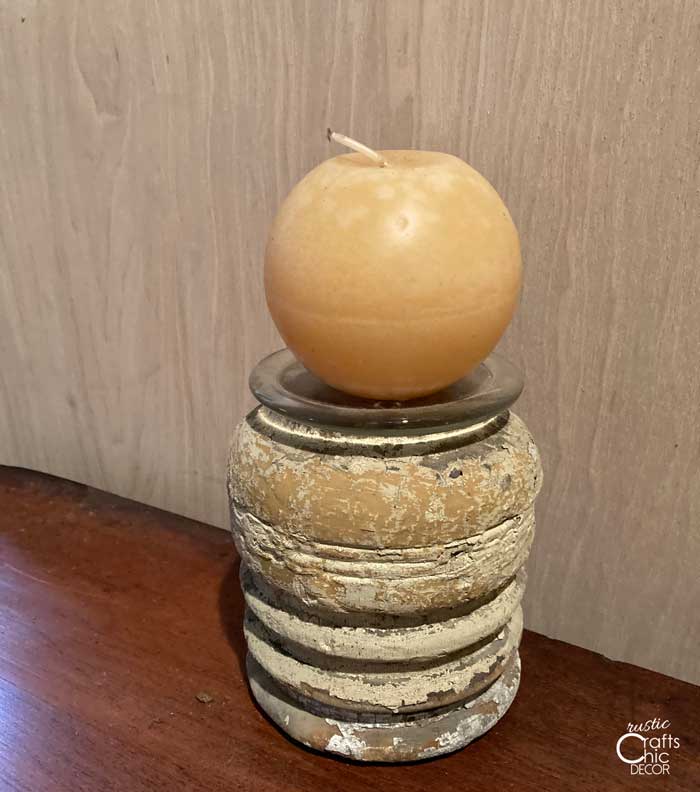 Sections cut from an old porch pillar make interesting rustic decor. All I did to turn this into a candle holder was glue a glass plate to the top. For more upcycling ideas, check out my post: upcycled crafts using fence posts or pillars.
Old Drawer Into A Crafty Table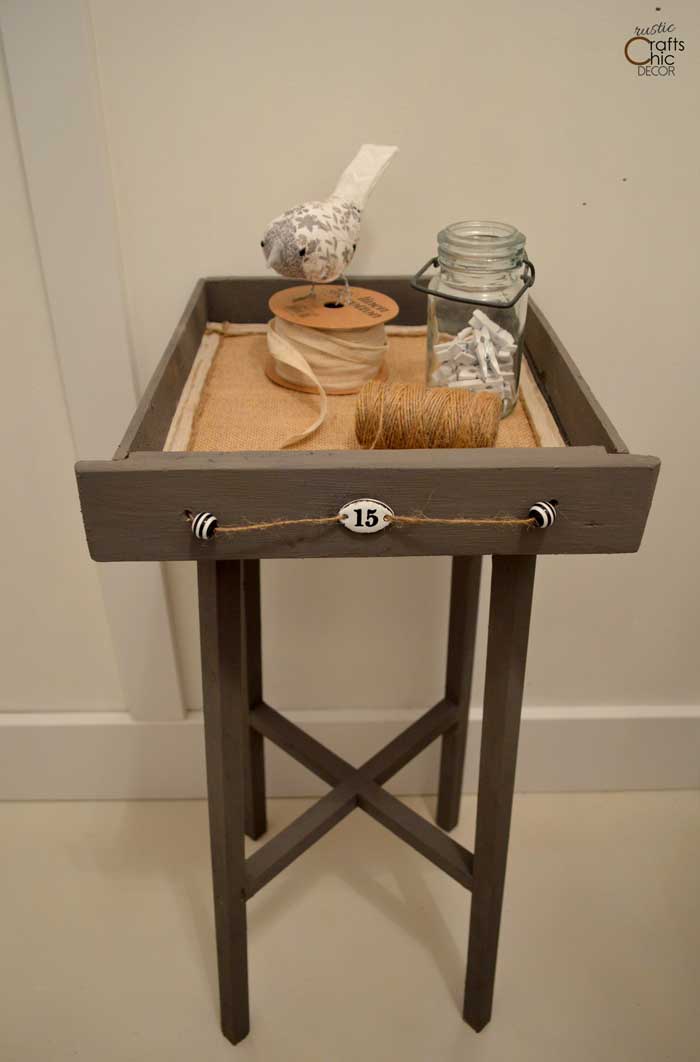 I don't remember where this old drawer came from but it was just taking up storage space in my home. The reason I hadn't thrown it out was because I had a feeling I could upcycle it in some way. When I realized that I needed just a little more table space in my craft room, I thought about that drawer. I added it to an old plant stand and a table was born from the upcycling of two old things!
Canoe Paddle Shelving Unit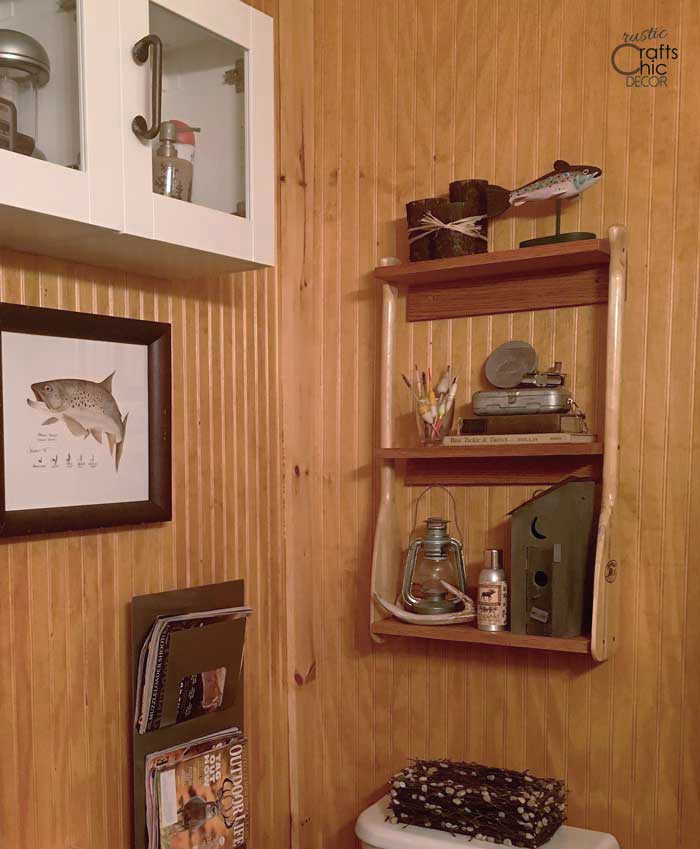 For some reason, we have a lot more canoe paddles at the cabin than we do canoes! A couple of the short paddles were just what we needed to make a shelving unit in our rustic bathroom. Canoe paddles make great shelving units, wall art, or even headboards. See all of the upcycling ideas using canoe paddles in my post, rustic decorating with canoe paddles.
Outdoor Shower Made From A Canoe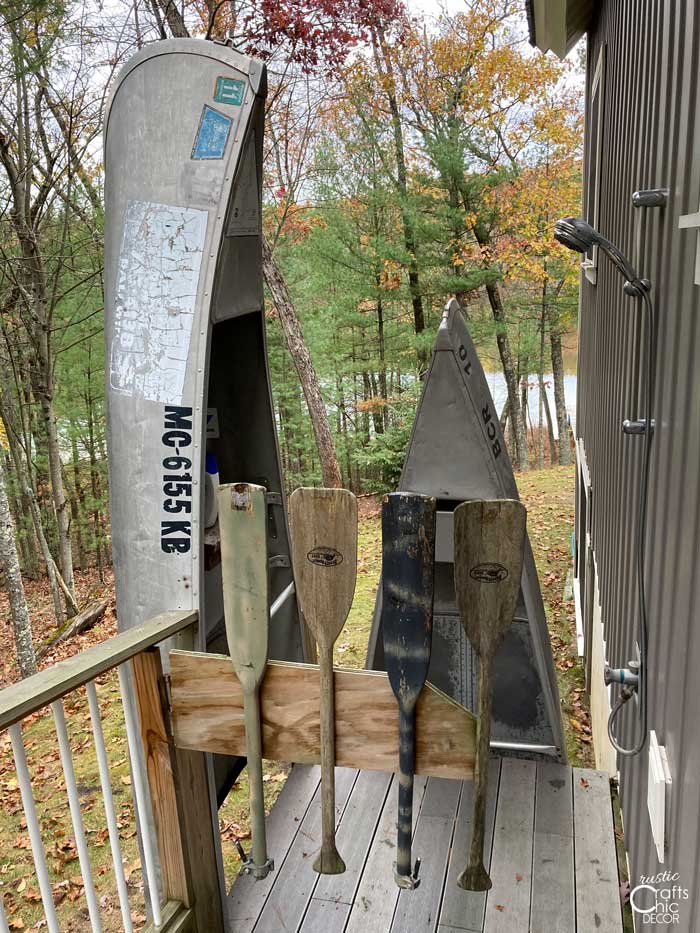 An old canoe, that had seen its better day, got a new life as our cabin outdoor shower. We cut the canoe in half, made a gate with canoe paddles, and hooked up the outdoor shower line! And, if you thought that was the only way to upcycle an old canoe, the next example may surprise you more.
An Old Canoe Upcycled As A Firewood Holder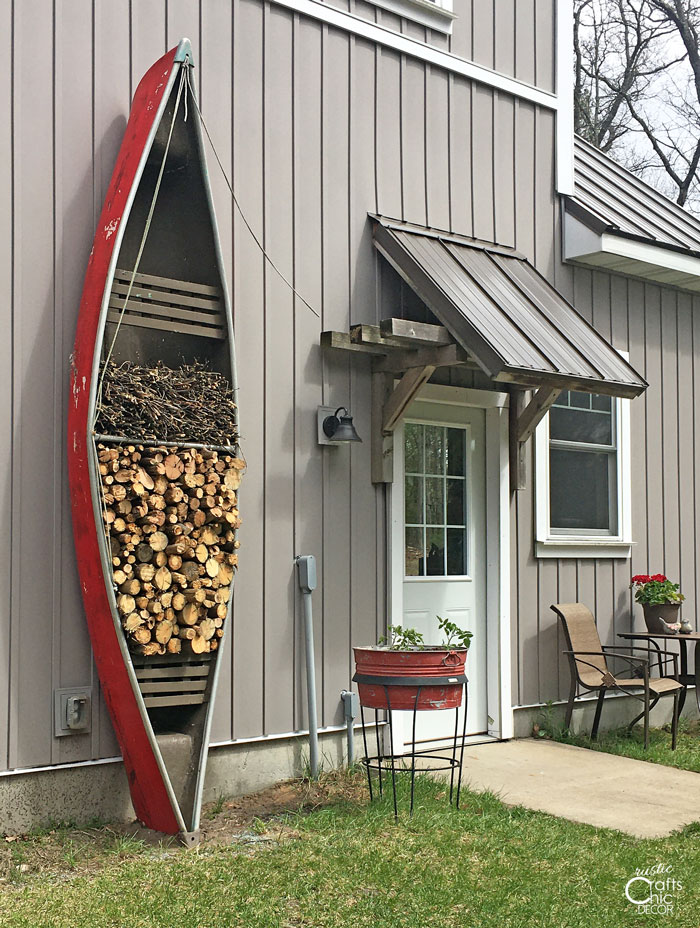 All we did for this upcycle project is secure the canoe to the side of the garage. Then, we just stacked our wood and kindling inside the canoe!
Upcycling Ideas Without Modification
Sometimes all that is needed for upcycling something old is to find a new use for it without making any changes to it at all. These easy upcycling ideas will get you thinking!
Use A Vintage Paper Holder To Hold Paper Towels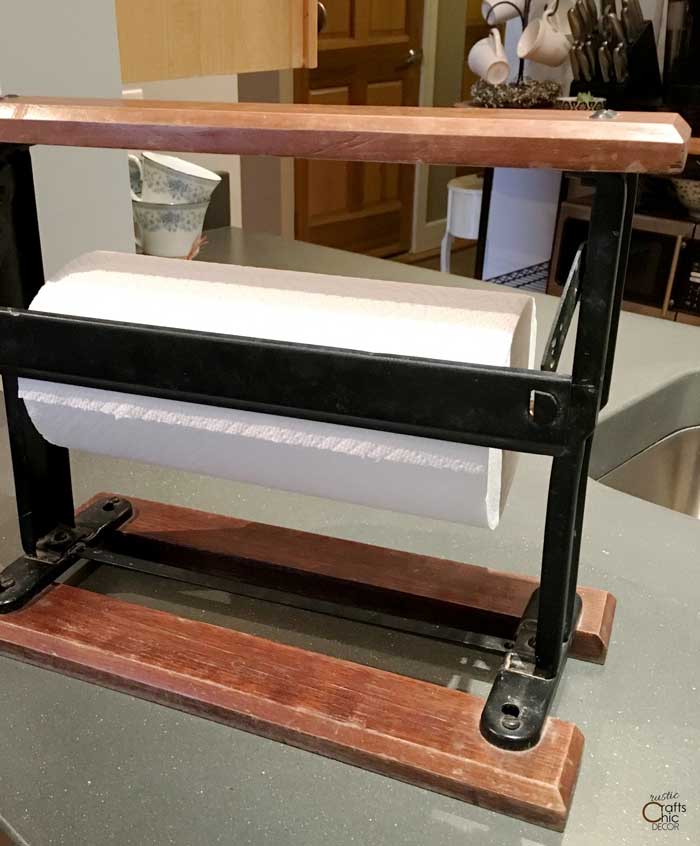 A vintage paper holder and cutter is an ideal item to hold paper towels with. Really any kitchen rolls like tin foil, waxed paper, or plastic wrap would be great to use in this.
Old Wheel Photo Holder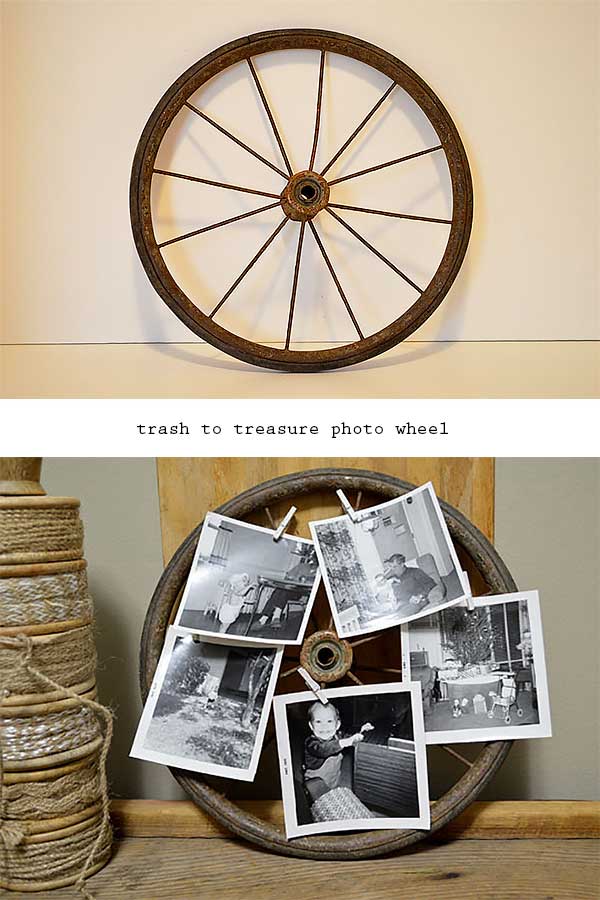 Even an old spoked wheel can serve another purpose. I upcycled this photo wheel to hold some old family pictures. You could also use it to clip notes to. It's a fun decorate way to repurpose something old.
Old Metal Drawer Wine Bottle Holder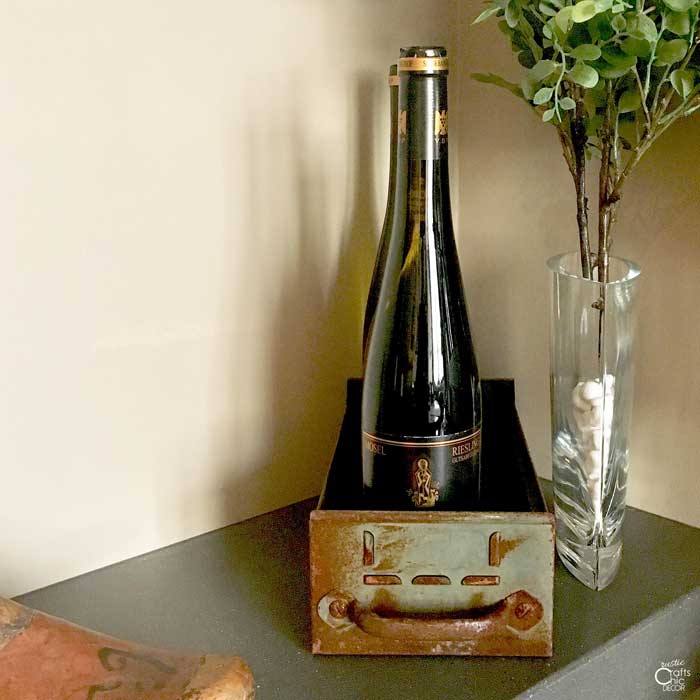 An old metal drawer can be upcycled into a decorative wine bottle holder. Or, use one to hold potted plants. Old things like a random rusty metal drawer don't have to go to waste!
Old Ladder Shoe Storage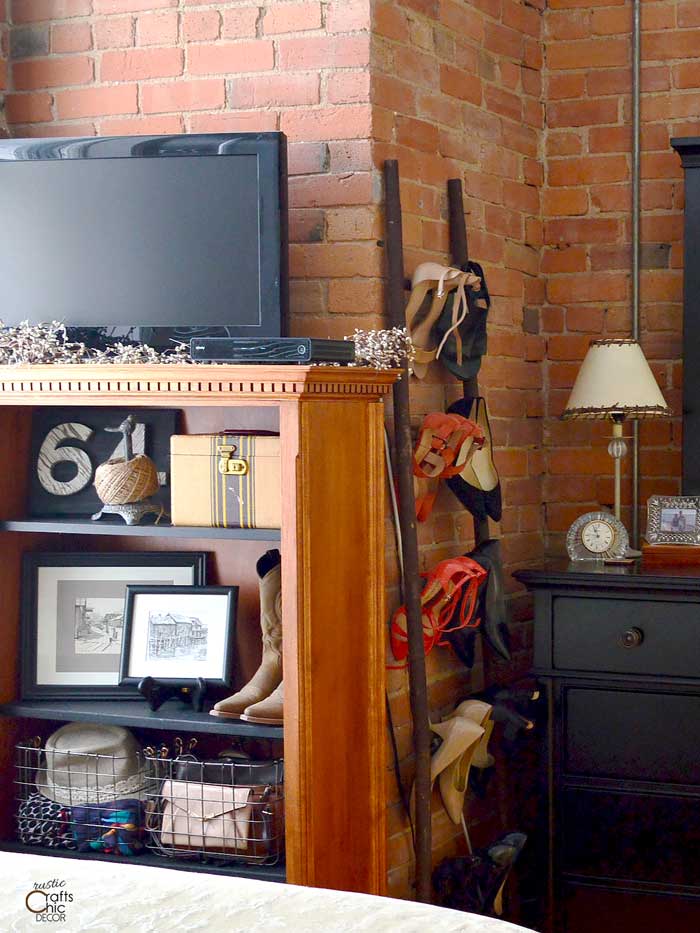 Having a small space means getting creative with storage. This is where upcycling a ladder comes in handy. Heeled shoes hook nicely to the rungs, especially on an old metal ladder like this. There are other unique upcycling ideas for shoe storage. Check out my post, DIY shoe racks.
Turn An Old Step Ladder Into A Side Table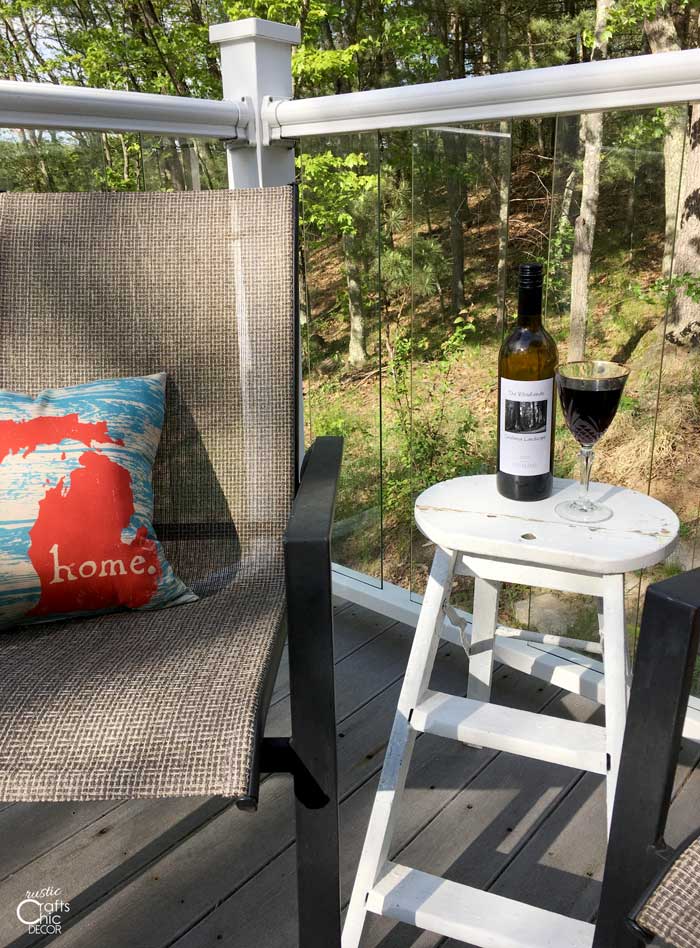 Old wooden step ladders maybe aren't the most reliable for climbing on. However, using one as a small table is a new functional and decorative use. If you are using it outside, you will just want to seal it with an outdoor polyurethane.