It occurred to me the other day, that right now people may be getting a lot of in home deliveries. That means we could all be getting a little overloaded with cardboard boxes. Since I like to upcycle so much, I figured it would be good to put that cardboard to use. That is why I put together this collection of creative ideas. You might be surprised when you see all of the things to make out of cardboard boxes!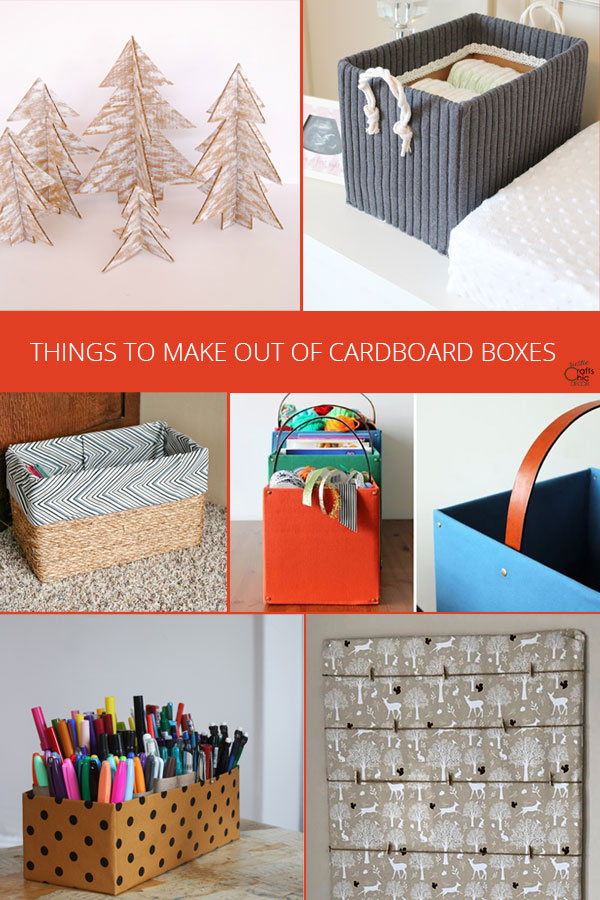 I have always liked upcycling shoe boxes because they are a manageable size and typically have covers. However, shipping boxes I hadn't given much thought to before. At least not since I was a kid. I remember loving to play in big boxes and there are actually a lot of cool toys that you can make with boxes.
Other than toys, there are also plenty of things that you can make for the home. In fact, you may want to check out my collection of cereal box crafts. Many of the same ideas can be applied to cardboard boxes. The nice thing about cardboard shipping boxes though is that you can make things of bigger size.
DIY Cardboard Box Storage Containers
One of the most obvious uses for cardboard boxes is to store stuff in. However, storage boxes don't have to be boring. And if you want to have visible storage, all you need to do is cover those boxes in fabric. Then, just add other embellishments to up the style factor.
Classy Totes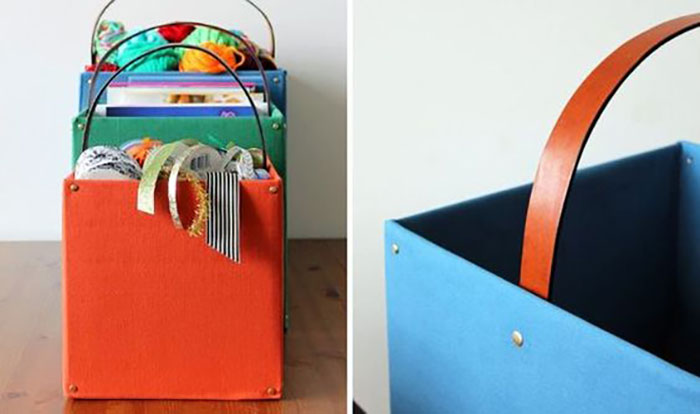 Plain bright colored fabrics are great for making cheerful storage totes. By adding a leather handle, you get a smart tote instead of just a basic box. Don't have any leather? Think about upcycling an old belt!
Stylish Bins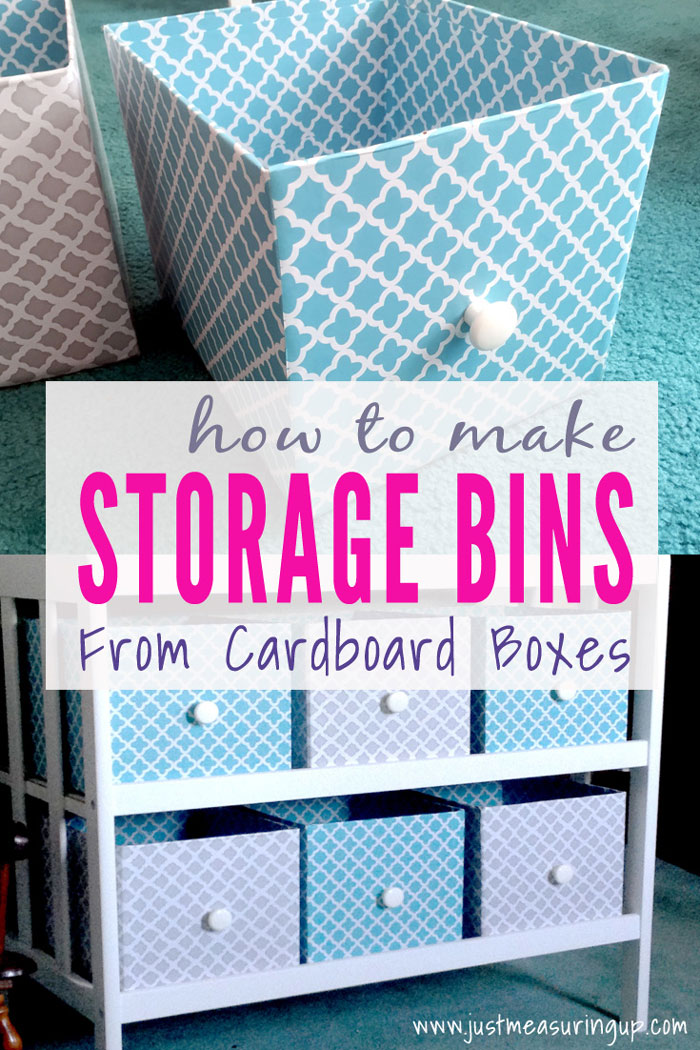 Create decorative storage bins with the help of fabric and some cabinet knobs. I always like to store my old knobs when I replace them. That way, the old knobs can be reused in a project like this.
Warm And Functional Basket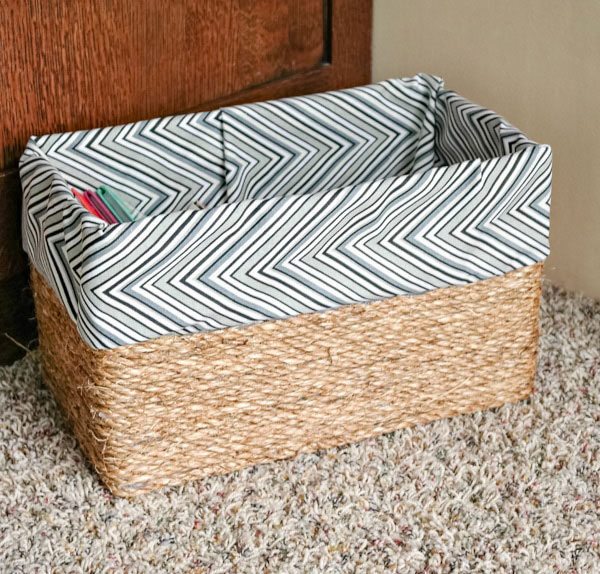 Instead of covering a box with fabric, you can wrap it in twine for a totally different look. Then, add a fabric liner in the pattern of your choice. Baskets are handy for almost any spot in the home.
Dress A Box In A Sweater

Here is an idea if you don't have fabric or twine in supply…..or even if you do! You can create a warm and cozy storage box by covering it in an old sweater. Add some ribbon trim to cover the sweater edge and add some rope handles. You end up with a super stylish box for storing your necessities.
Handy Craft Caddy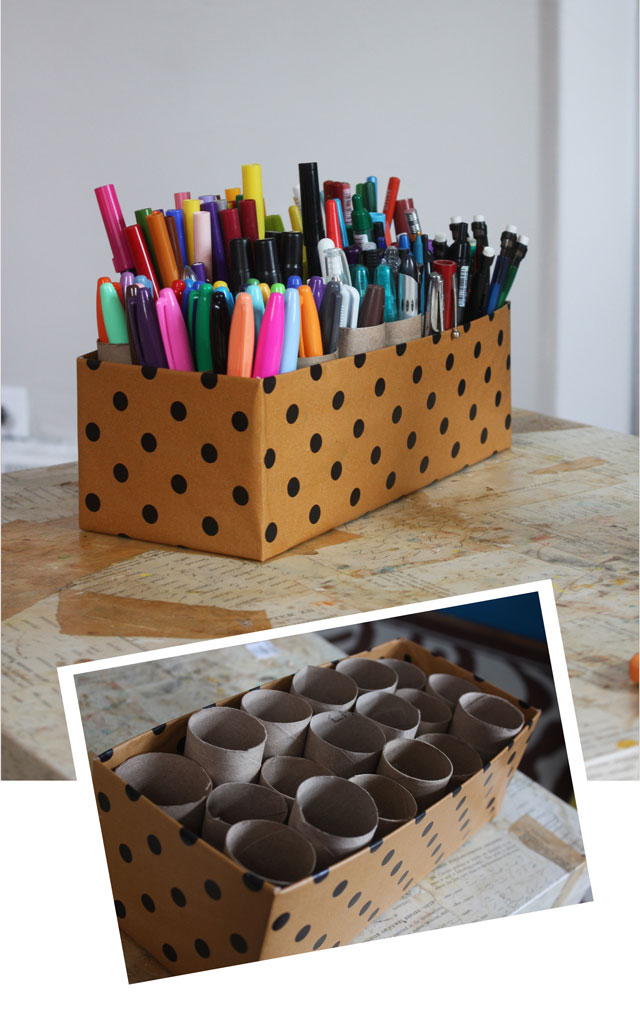 Decor Made Out Of Cardboard Boxes
You can also actually make some decorative items out of boxes. Maybe you want some seasonal decor or something to dress up the kids room. These creative ideas will inspire you to cut up your boxes.
Festive Christmas Trees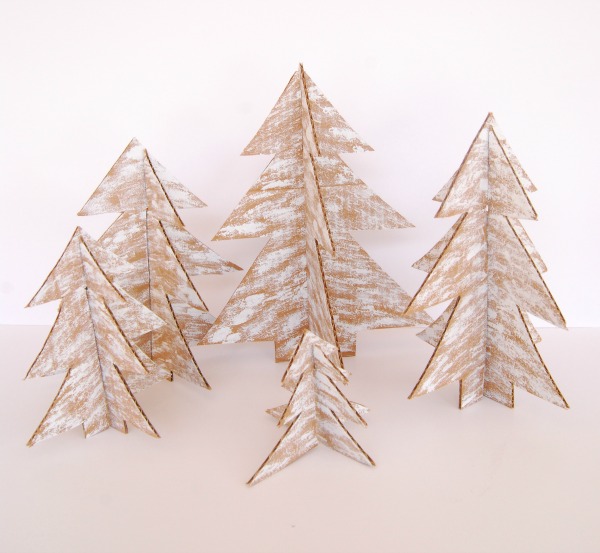 You can never have enough Christmas decor and this forest of trees is perfect for a tabletop. It's an easy craft that will turn one of those ugly boxes into something pretty and festive.
Ikea Inspired Memo Board

This cute memo board was made to look like one sold at Ikea. All you need is a large rectangle of cardboard. Then, cover the cardboard in your favorite fabric. Add twine and little clothespins to clip photos or artwork.