Over the years I have collected several different vintage wooden spools. Most of them have been old thread spools but I have also found some taller wooden bobbin spools. These are especially fun to decorate with and I came up with a wooden spool craft that turns a spool into a rustic chic flower holder.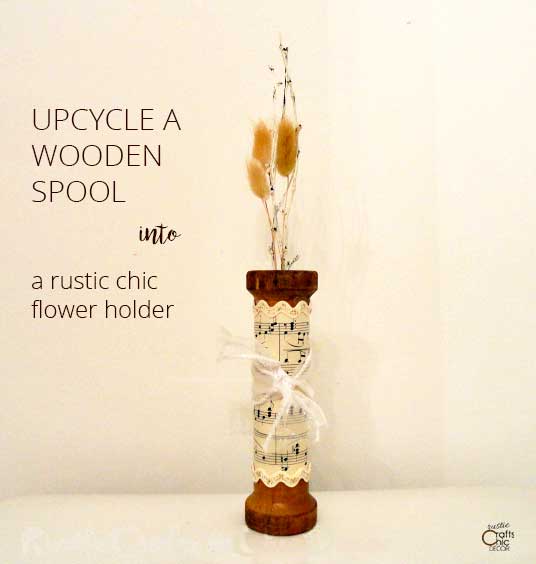 Although wooden spools have enough character to simply display as is, it's sometimes fun to add a little more to them. For one of my spools, I simply attached a circular pine coaster to the top and used it as a candle holder. You can see that at my post on decorating a mantel with vintage treasures. Also, check out my wooden thread spool crafts to see how I used some of the smaller spools for photo holders or even hooks on the wall.
As I sat staring at my current wooden spool, I decided to give it a more shabby chic look. My first thought was to wrap the spool in some decorative paper. I have all kinds of patterned craft paper but it was the vintage sheet music that caught my eye. That led me to think about old book pages as well but in the end I decided that the sheet music was the cheery look that I wanted.
So, I gathered up all of my materials and quickly went to work at putting it all together. The result is a shabby chic flower holder that I can place on a mantel or shelf.
Wooden Spool Craft
Materials List
vintage wooden spool
vintage sheet music
spray adhesive
decorative ribbon
birch branches
dried florals
white paint
tacky glue
Mod Podge decoupage
soft paint brush for decoupage
stiff small paint brush for paint
Wooden Spool Craft Instructions
Wooden Spool Craft
Cut sheet music to size

First, determine the height that you want your sheet music to take up on the spool. Then measure and cut the page at that height.
Roll this section of sheet music around the wooden spool with a slight overlap. Make a small mark where you need to cut. Unroll the sheet music and place a straight edge at your mark. Draw a straight line and then cut the sheet music on the line.

Attach the sheet music to the wooden spool


Spray the back of the sheet music with your adhesive and then apply it to the spool.

Protect the paper with decoupage

Once the sheet music is applied, seal and protect it with a coat of matte finish Mod Podge. Just brush it on with a soft paint brush. Let it dry for about a half an hour.

Add ribbon trim

Cut two sections of ribbon to trim the top and bottom edges of the sheet music. Glue them in place with tacky glue. Tie another sheer ribbon around the middle of the spool.

Fill the top hole with branches and florals

Fill the top hole with any stems that you would like to showcase. I used birch branches and dried florals. To give a little more chic look, I first painted the branches with white paint. I gave them a light coat so that some of the dark branch showed through in spots.
Rustic Chic Flower Holder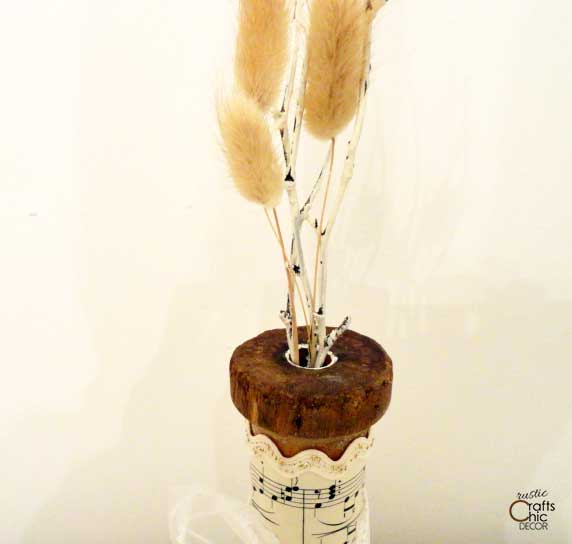 The hole in the top of a vintage bobbin wooden spool is large enough to fit several thin stems or branches. Depending on the size of the spool that you have, the hole at the top might be big enough to insert a small glass bud vase or test tube for fresh flowers.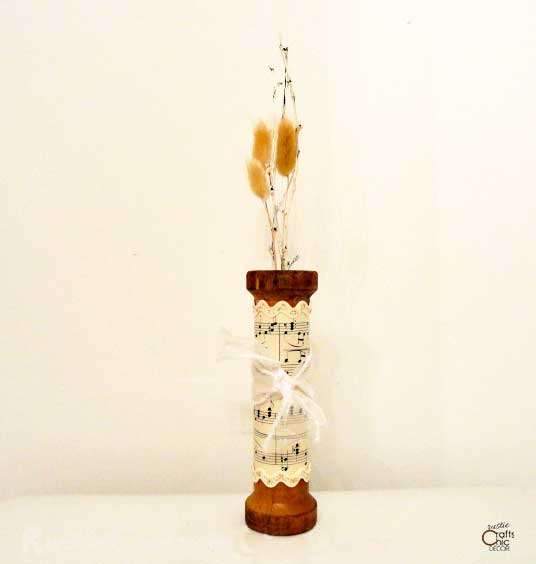 If you don't have sheet music or you want a more rustic look, you could also wrap the spool with twine. It would have a fun look while also acting as storage for your twine. You can still put florals in the top to enhance the look. I did something similar with one of my thread spool photo holders. Instead of keeping the spool plain, I wrapped my twine around it for storage. It made some fun decorative storage for my craft room.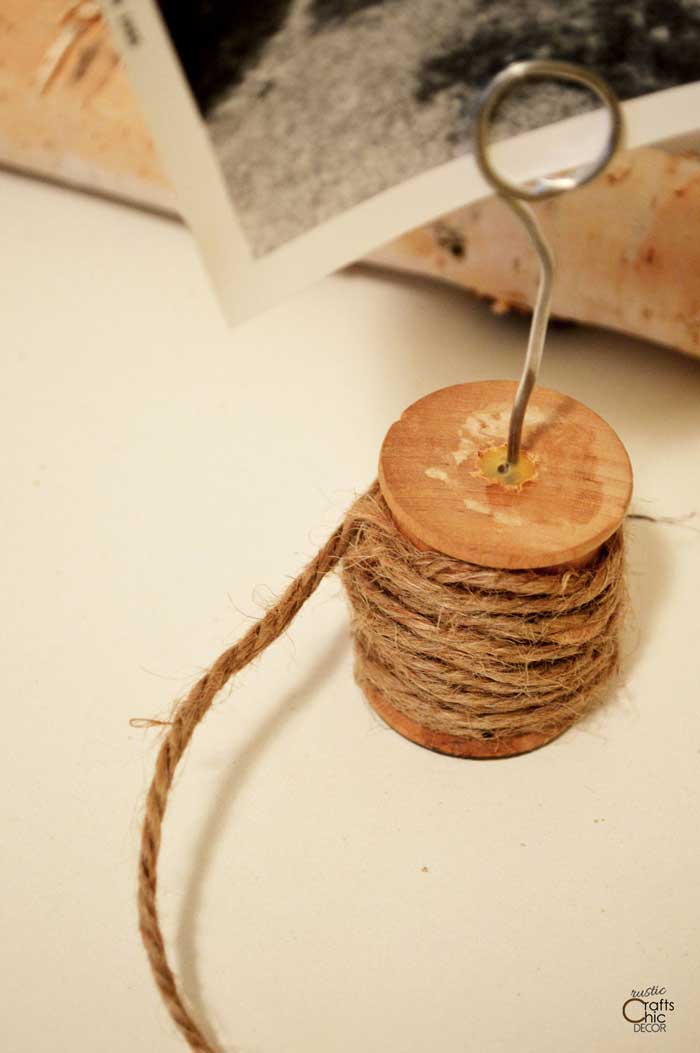 For more ideas on decorative storage for the craft room, check out my post Get Organized With Homemade Storage.