Do you ever have a hard time pinpointing your exact home decor style? I know I do. Although I love rustic and vintage, I also really appreciate colorful and artsy decor pieces. These fun accessories just make me feel happy. My favorite combinations are mixing colorful art with warm antiques. Although, sometimes my antiques are actually the colorful objects. Either way, I would call this mixing of styles vintage eclectic. Here you will see how I used this style throughout my loft.
Examples Of Vintage Eclectic Style
Whatever are your favorite vintage pieces, the key is to display them in ways that make you happy. It's what makes your home unique and totally you. These examples are what puts a smile on my face.
Playful Billiard Ball Display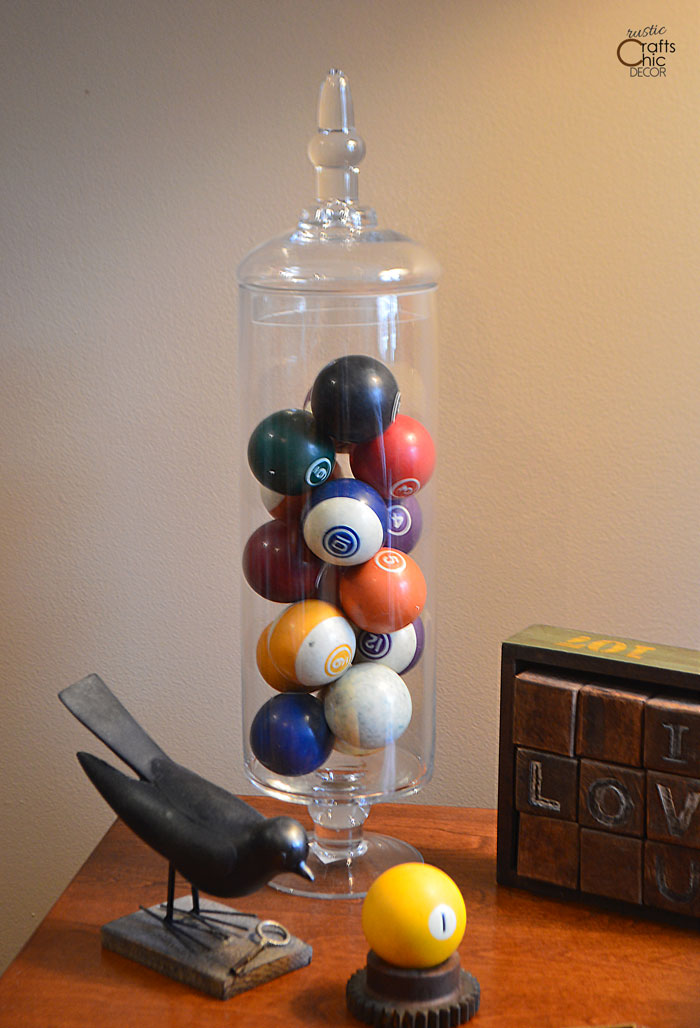 So, it all started with the one yellow billiard ball. My husband found it outside an old bar that was for sale and brought it home for me. I don't think that was stealing? The bar had been empty for decades. Anyway, of course I liked it because it was unusual to decorate with. I've had it setting on the old rusty gear, which is pretty unusual in and of itself.
I later found a whole set of old billiard balls for sale at an antique store and quickly snatched them up. The vision I had was to display them in a tall glass container. Since I didn't have the container, I went shopping for one. The funniest part for me is when a woman, behind me in the check out line, commented that she loved the pretty vase. Then she asked what I was going to do with it. When I told her I would fill it with old billiard balls, I could see the look of startlement cross over her face. However, she politely replied, although a little hesitantly, "oh that sounds nice". Yeah, I get that sometimes…
For more inspiration for vases, see these unique vase filler ideas.
Vintage Eclectic Centerpiece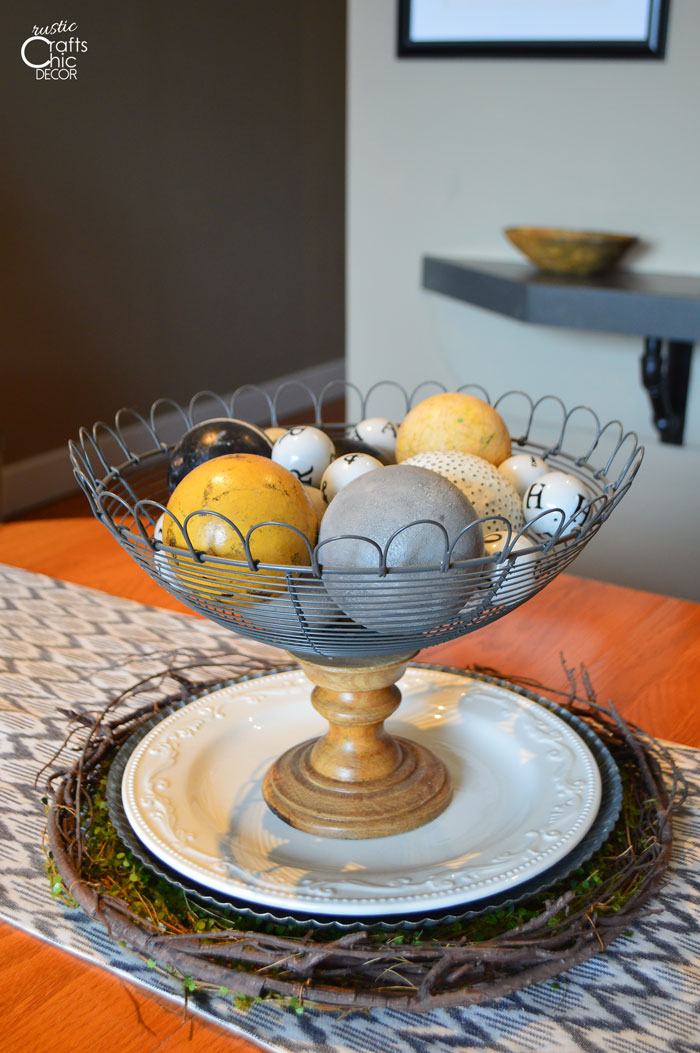 So, for me, it doesn't stop at billiard balls. I like any interesting decorative balls. My centerpiece contains quite a mix. There are vintage croquet balls along with modern concrete and fun letter balls. Although I don't have a problem with putting fruit in that bowl, it is the expected. Part of what makes my style eclectic is doing the unexpected.
These centerpieces without flowers provide lots of inspiration for unique centerpieces.
Have Fun With Art Pieces
Display unique art with vintage pieces for a totally original display. What I like about displaying art, is that you typically don't see a particular art piece in every other home.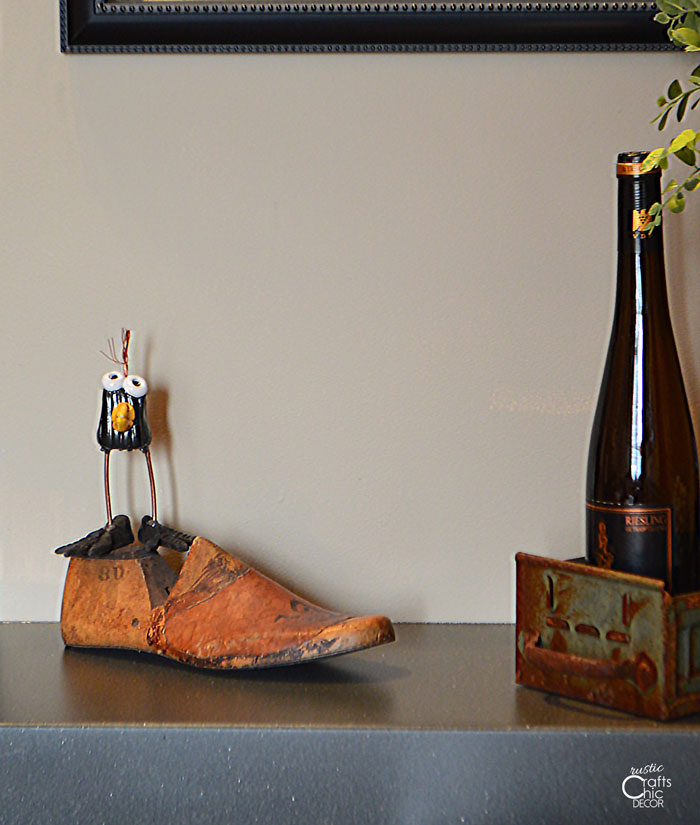 One of the things that I love to do, while on vacation, is to visit the local art galleries. Sometimes…..okay a lot of times, what draws my attention are the funny or quirky pieces. This little bird is one of them. I have a couple of more traditional bird figurines at our cabin but I thought this one was perfect for the city. Since this one has such big feet, I placed him on a vintage shoe form.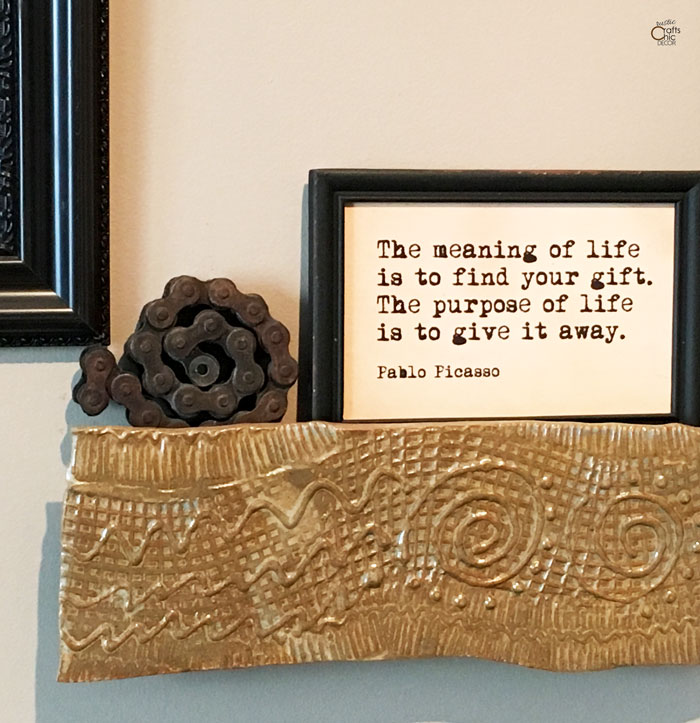 Another piece of art that I picked up along the way is this fun shelf/ledge. I really like the fun design with all of the swirls. On its own, it looks a little more modern than my usual decor. However, I combined it with a rusty coiled up chain and a vintage inspired print to give it a rustic edge. Depending on how salvaged metal is displayed, it can be both rustic and artsy at the same time. My husband welded this old chain together in a coil. I placed it on the art ledge to complement the coils and swirls.
For more inspirations, see how decorating with architectural salvage can also give you that vintage eclectic look.