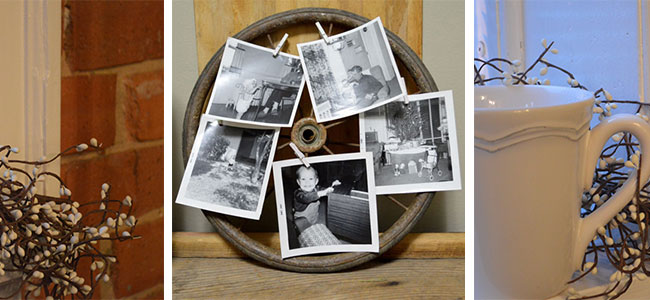 Craft Room Designs
To be a functional work space, a craft room should be well organized with a great layout.  Often times, a room designated for crafts is on the small side but a good design can make the space work.
For my own craft room, I used a lot of homemade storage, from recycled materials, and I up-cycled some old furniture to hold all of my supplies.  You don't have to spend a lot of money to create an organized room.
You can see my craft room here and here.
That is a frugal, yet effective, way to design a craft room.  There are, however, some fantastic craft room designs that are put together with a bigger budget.  I found some of the best craft room designs which I would like to share with you.  These are sure to inspire you to design your own space.  You may even find that you want to incorporate some of the dream designs with the more frugal ideas!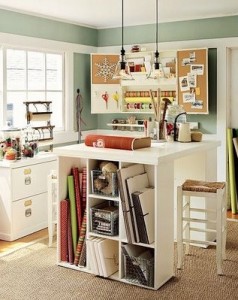 I like the layout of this first craft room with the center island work table.  The side cubby storage is super handy as well.  If your space is large enough, this would be a fun design.  You could really use any kind of table for the center island.  The overhanging pendant lights add the necessary task lighting.  This craft room design came from Oh Happy Day.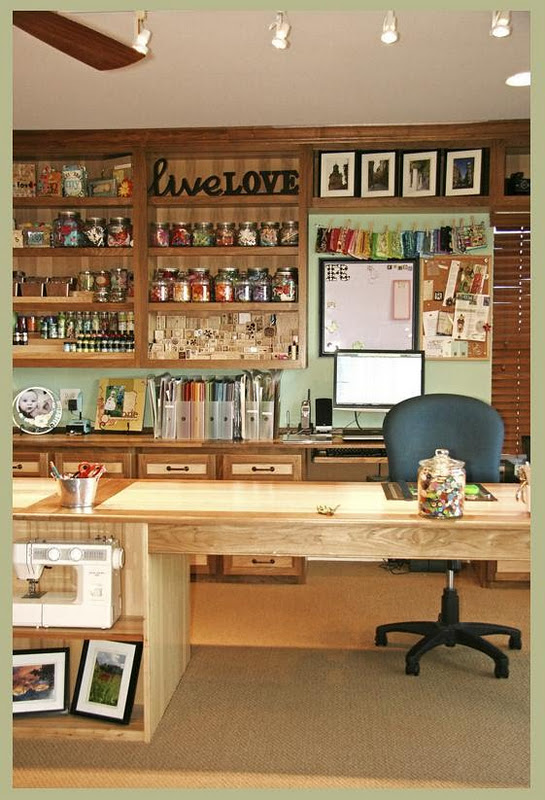 RoomsOfInspiration.blogspot.com brought this inspiring craft room idea.  I love the warm cabinetry.  It is a place I would definitely want to come and work.  All of the shelving provides a great amount of storage space.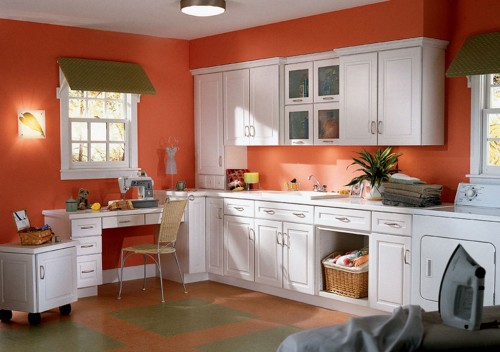 This craft room by homehousedesign.com is a great sewing and laundry room combined.  If you do a lot of sewing, it makes sense to combine the two rooms.  There is always washing and ironing of fabrics that needs to be done with a sewing project.  The color on the walls of this room is so vibrant and inviting as well.  It is good to think about color when you are designing your room.  Pick a color that inspires your creativity and that invites you in.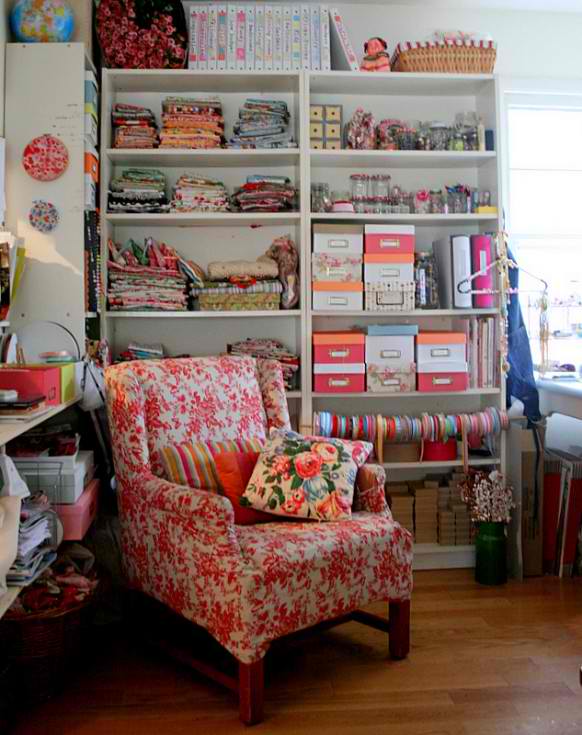 One of the things I like about this room from Nest Pretty Things is the big floral chair.  The craft room is well organized so when it is time to just sit and think of that next project that chair looks pretty inviting.  I can picture just sitting there and gazing at all of those well organized supplies, being spurred on to create something new!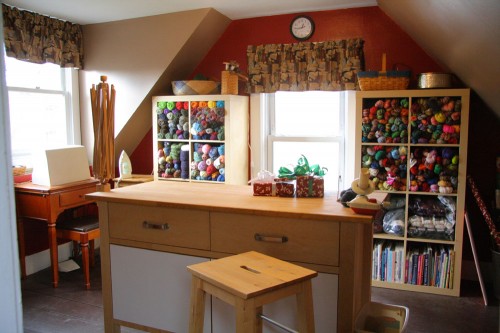 This last craft room by Carole Knits is a fun makeover to see!  It combines everything that I love in a craft room.  There are frugal recycling  parts with old furniture along with some brand new storage pieces.  A center island provides some additional storage.  And, there is a big comfy chair to sit in and get inspired!  I also love the angled ceiling lines and warm colors.
Now you can start thinking about your own space and what ideas you my want to incorporate into your craft room design.
Happy organizing!