Never throw out your trash because you may be able to create something wonderful from it instead!  Seriously, there are some items that are worth saving to use in craft projects.  Today's feature comes from Southern Flair Crafts and is a great tissue box craft that is worthy to use as some very stylish and chic home decor.
Tammy up-cycled an ordinary tissue box and made it into an adorable basket for storing wash clothes.  She wrapped the box in jute and made a liner out of a scrap piece of canvas drop cloth – more recycling!!
The result is a box that looks like a store bought basket and is perfect for storing rolled up wash clothes: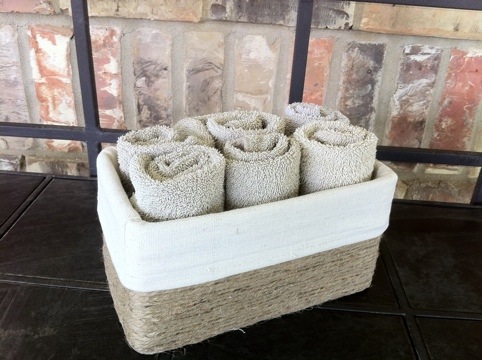 Click on the photo to see exactly how Tammy accomplished this transformation.  This was a low cost craft that didn't skimp on style!
Thank you Tammy for your inspiration!
Happy Crafting!