Whenever you have a large group over for dinner, it is nice to have place cards to assign seating.  Thanksgiving is probably the most popular time for having a large dinner party.  To make a festive dinner table, you can get creative with your place card holders.  I came up with a very simple design using pine cones purchased from a craft store.  I also found several other ideas to inspire you for decorating your Thanksgiving table.
All of the ideas that I found can be created in very little time but will add a nice amount of impact to your place setting.  To create the pine cone place card holder, you just need a handful of pine cones, some floral wire and a little paint.  If you collect your own pine cones, you will want to bake them in the oven at 200 degrees for a couple of hours, before using them, to dry them out.  I purchased a bag from Joann on clearance which is a good option too.
First, I just painted the wings of the pine cone with silver acrylic paint.  I still wanted a lot of the natural brown to show.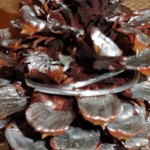 I clipped about an eighteen inch section of silver floral wire, with wire snips, and wrapped it around the middle of the pine cone a couple of times.  Then, I brought the remainder of the wire straight up the back of the pine cone.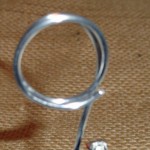 Next, I formed a circle with the wire and wrapped it two full times, clipping the leftover wire at the bottom of the second circle.  The place card will fit between the two circles.  That's it!
Here are some other ideas I found: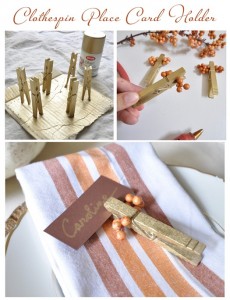 I thought these clothespin place card holders were such a cute and simple idea.  Centsational Girl shows how to whip these fun little clips up in no time!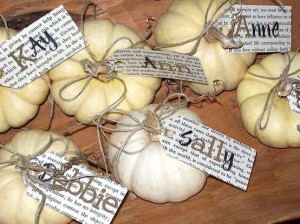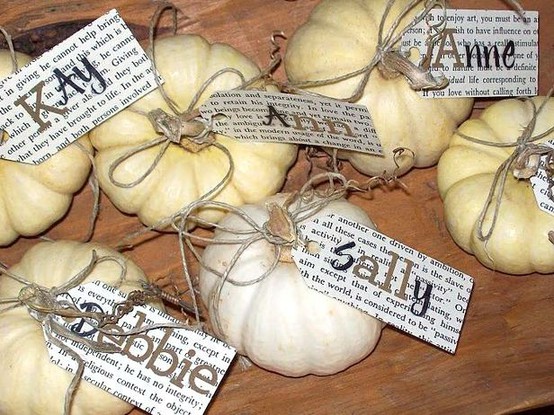 I love this idea from HGTV.  Some fresh miniature white pumpkins and homemade tags tied on with jute string and you have a perfectly shabby chic theme going for your table.  The neutral coloring will go with any color place setting too!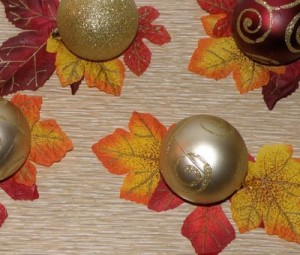 This idea by My Frugal Family is perfect for using up some of your leftover Christmas balls.  I also love this look for those of us who combine holiday celebrations.  Our family is celebrating both Thanksgiving and Christmas together this year and this decor would be perfect.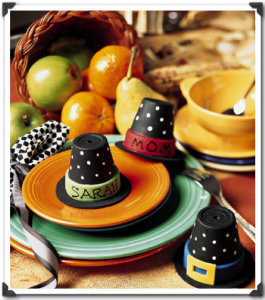 For a little more whimsy, these fun pilgrim hats by Mrs. Design Her add just the right touch of color and festivity to your Thanksgiving table.  You can't get much more into the Thanksgiving spirit than with pilgrim hats!  See how she puts these together with miniature flower pots.
Some other ideas for place card holders would be to simple cut a slit in a wine cork and place some decorative paper in the slit maybe with the person's name written in gold ink.  You could also use natural leaves that have been spray painted with names written on the top or paper cut out leaves simply placed on each plate.
Hopefully you have been inspired!  The nice thing is that these can be created ahead of time leaving you free to handle the dinner preparations later.
Happy Crafting!