Our cabin sits in the middle of the woods in northern Michigan and looks down on a serene fishing lake.  We have very few neighbors and instead see all kinds of wildlife including deer, raccoon, squirrels, birds, turtles, and even some cute little Geico looking lizards.
The cabin is in an area where my husband has been hunting for years and one of the reasons for building the cabin was for him to finally have a decent place to stay during his hunting excursions.
However, we also wanted a vacation home to enjoy the peaceful surroundings and also visit the surrounding areas that we love so much that are close to Lake Michigan.
So…we knew we wanted to have the cabin style be rustic.  The woods pretty much demanded it!  But, we also wanted to give it a cottage-y feel as well that was a little more light and airy for all of the Summer time vacationing we would be doing up there.
I knew I couldn't go all out chic with too much white and frill…..way too much testosterone during the hunting season for that!  But, I did manage to get our interior wood walls whitewashed and added a few other chic touches!
Here is a little of my rustic chic decor: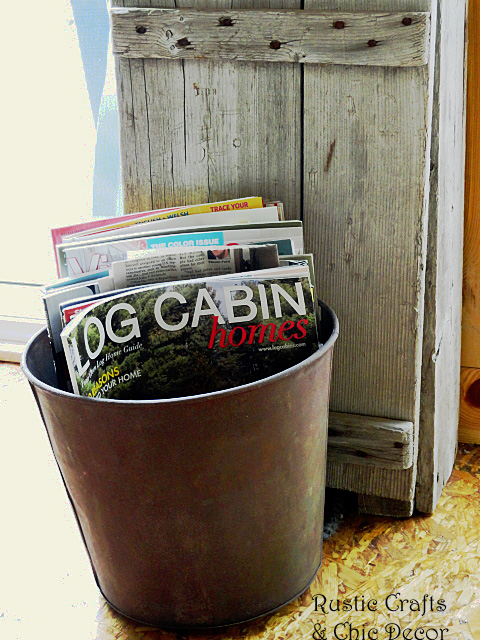 I picked up an old wooden ammunition box from an antique store and leaned it up between our two sliders.  The rusted bucket came from another antique store…..I collected a few of these!………..which I use to store a little reading material.  I can also fill the bucket with wildflowers in the Summer.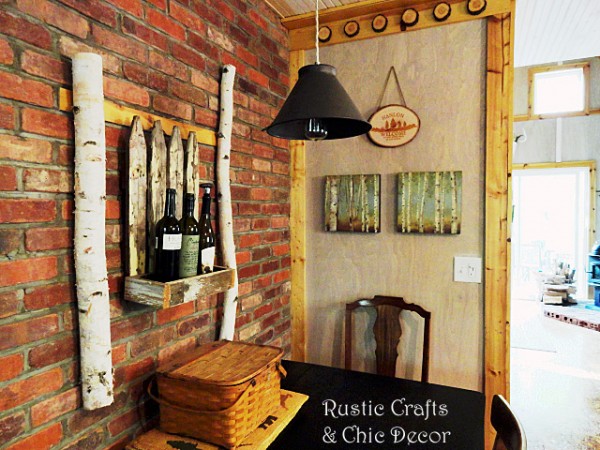 There is a cafe that we go to in Newaygo that is in a renovated building with exposed brick walls.  I loved the look and wanted to re-create the feel in our dining area.  You can see how I did the brick here.  The wall art was easy to make with a couple of birch logs and an old distressed planter box.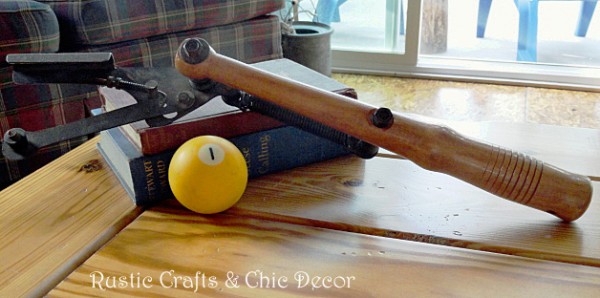 I added plenty of old books stacked here and there around the cabin!  An antique skeet shooter and a random billiard ball in bright yellow adds a little whimsy.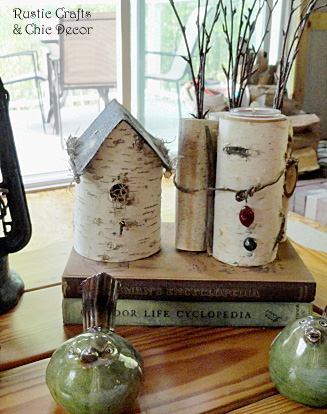 I had plenty of homemade birch accents to decorate and lighten the area with.  The birdhouse tutorial can be found here and the centerpiece here.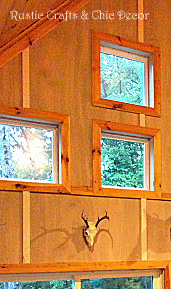 Instead of having traditional trophy mounts on the wall, I suggested having some European mounts for a more chic look.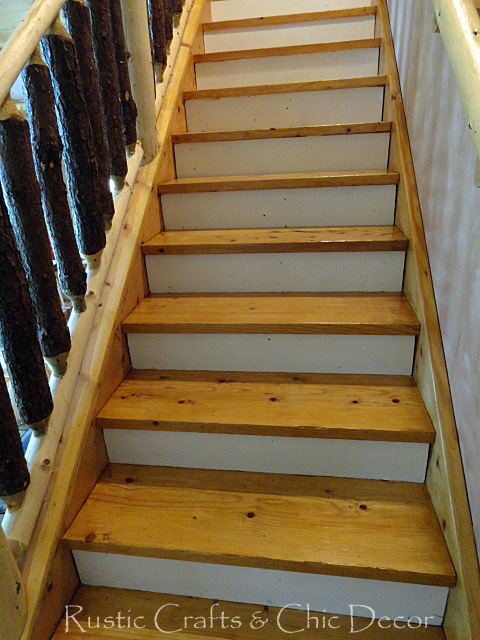 I stained the stair treads but painted the risers white to lighten and brighten the area even more.  See more here.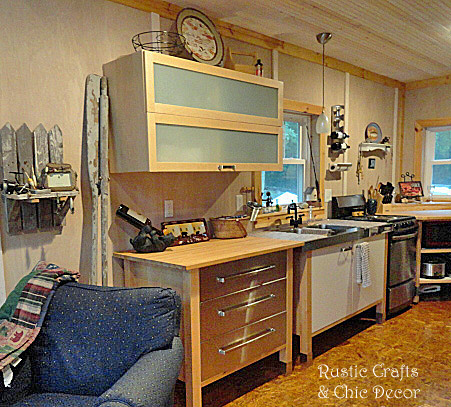 And finally, I really wanted a light and bright kitchen so I white wash pickle stained the pine ceiling as well as the walls in here.  The rest of the pine ceilings in the cabin are stained a honey pine color.  I also went with light cabinets and the stainless steel adds a little more chic.
Would this be rustic enough for you?  How about chic enough?
Happy Decorating!