Whether you collect vintage silverware or have spare odds and ends laying around, there are now many creative ways that you can use and display them.  I, for one, always like the look of a piece of vintage silverware but have never quite known what I would do with it if I bought it…..that is until now!
I happened to have some type of small serving spoon on hand that was very old and pretty cool looking with it's wooden handle.  Instead of just keeping it tucked away, I decided to make a wall hook out of it to use in our cabin kitchen.
With a hammer, I pounded the spoon end forward until it resembled a hook…..no I didn't….I tried to do that!  With a normal piece of silverware it is usually fairly easy to manipulate the shape with the soft pounding of a hammer or other tool.  However, this particular piece was made out of a heavier metal.  So…I pounded lightly at first and then when it wasn't bending much I gave it a good WHACK….and it cracked off.
Luckily, I have this wonderful E6000 craft glue that didn't let me down.  I was able to glue it back together at a 90 degree angle at get the result I was after in the first place.  First I applied a little glue, painted over the seam with a graphite colored paint and then put a thicker layer of glue over the paint.  Now it just looks more like a raised glossy stripe.
I added typewriter keys to the handle to spell out the word "hang"….in case I forget what I made the hook for!  Then, I mounted the spoon to a thin painted board for easy hanging on the wall.
Here is the full picture: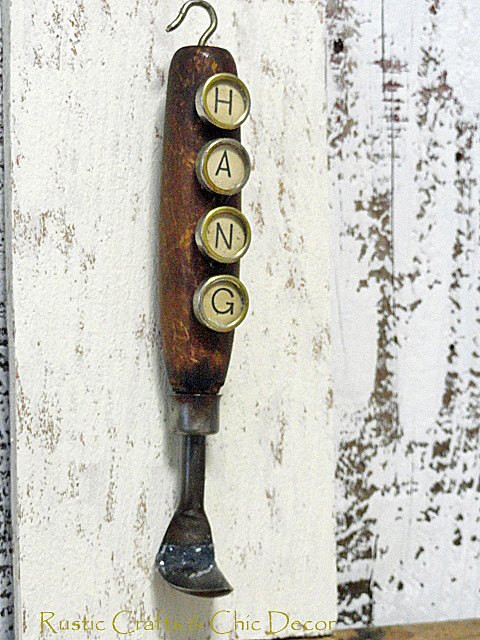 Here are some more silverware crafts that I found to inspire you.  Click on the photos for the tutorials or more information.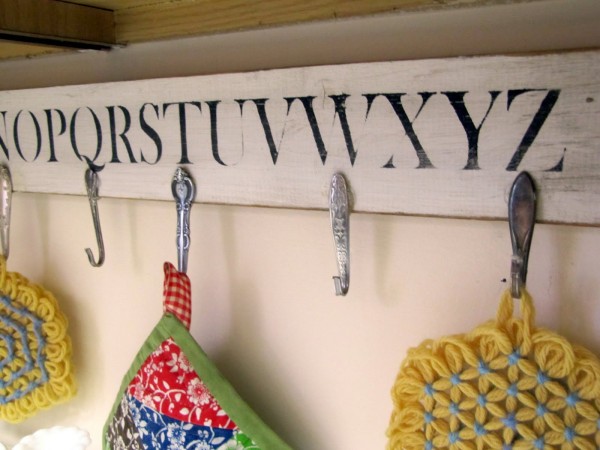 The handles of silverware on the most decorative and ornate part so it makes sense to clip off the actual utensil and use the handles for fun hooks in the kitchen.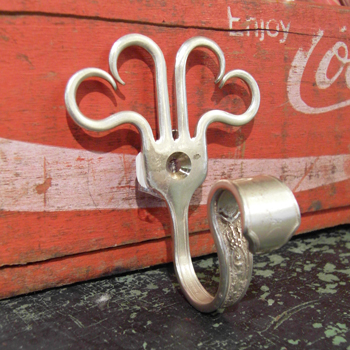 Here is a great looking whimsical wall hook crafted and sold by a local artisan, to me, from Ann Arbor, Michigan.  This is such a fun idea to shape the fork tines into a pair of hearts!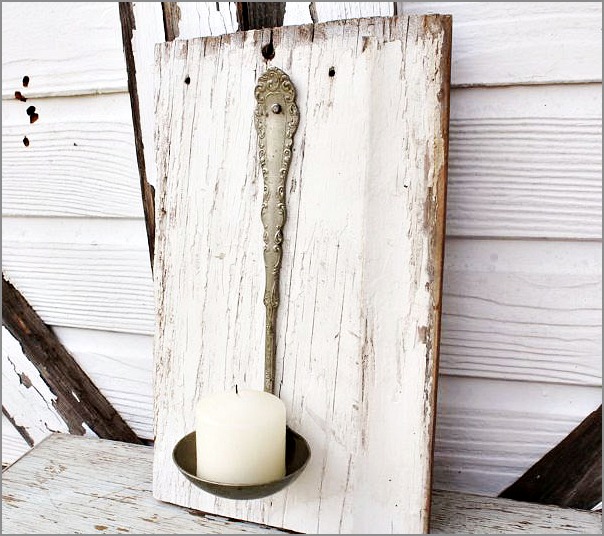 How about using a vintage ladle for a unique wall candle holder?  The ladle will catch any dripping wax and the look is so wonderfully rustic chic.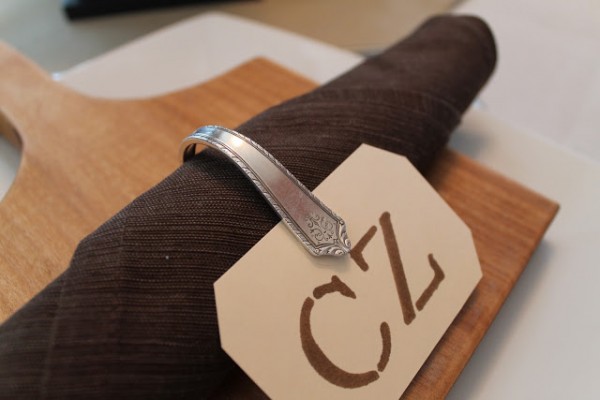 Set an elegant table using silver napkin rings crafted from silverware!  Whether you pair them with fine china or a more rustic setting, the look will be appealing.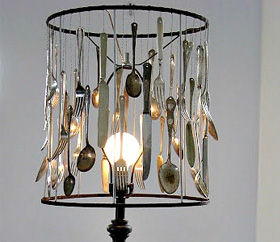 If you simply want to show off and display your collection of vintage silverware in a unique way, then shed some light on it in the guise of a lampshade!
You could also use this same concept for a chandelier: