Today I am featuring 18 creative and useful milk jug crafts that you can use around the house. These will make you think twice before throwing away your plastic jugs. There is so much I love about recycled crafts. You save room in the landfills, you get a brand new upcycled item, and the cost of the crafts are pratically free.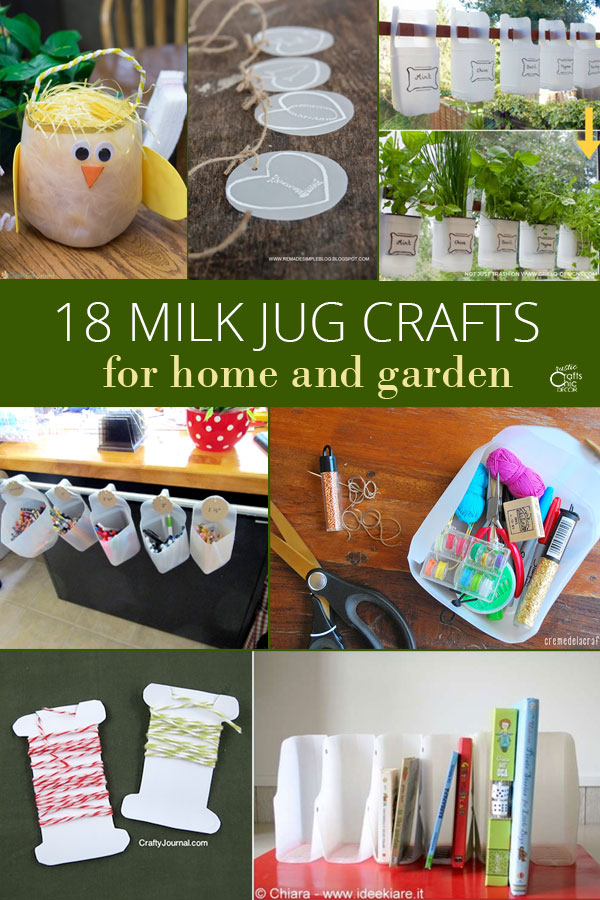 You may not think that there is that much that you can do with an empty milk jug. As a matter of fact, it took me quite while to come up with this creative collection. However, I am pleased that I found so many tutorials for both practical items and those that are purely decorative. Hopefully, you will be as pleasantly surprised as I was with the ways to reuse empty milk jugs.
Besides milk jugs, you might want to recycle old jars for craft projects as well. You can do so much with so called trash items. Even old nuts and bolts can be put to creative use. On top of that, I have even found lots of creative ideas for plastic bags. But for now, we will focus on milk jug crafts.
Milk Jug Crafts For The Craft Room
I'll start with the ideas for one of my most favorite rooms in the house, the craft room. There are different ways to store craft supplies and even a handy supply itself that you can make.
Lunch Box Or Craft Storage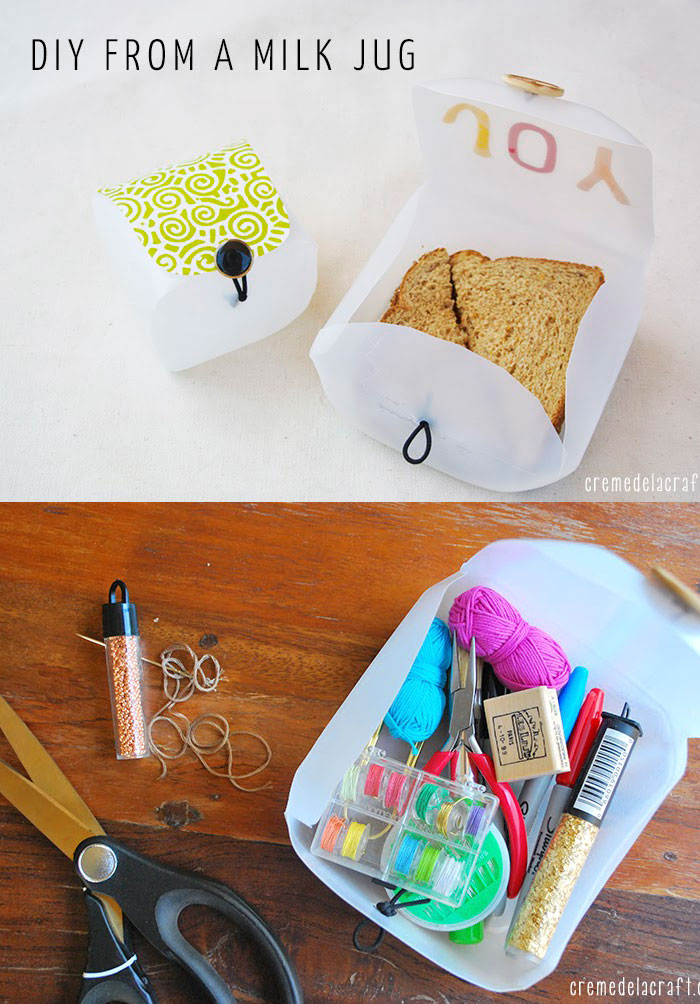 This handy storage container looks nothing like a milk jug. In fact, I feel like I've seen similar containers for sale in the stores. I love the idea of using these for craft supply storage. However, they can be used for storing so many other things, including a small lunch!
Hanging Craft Storage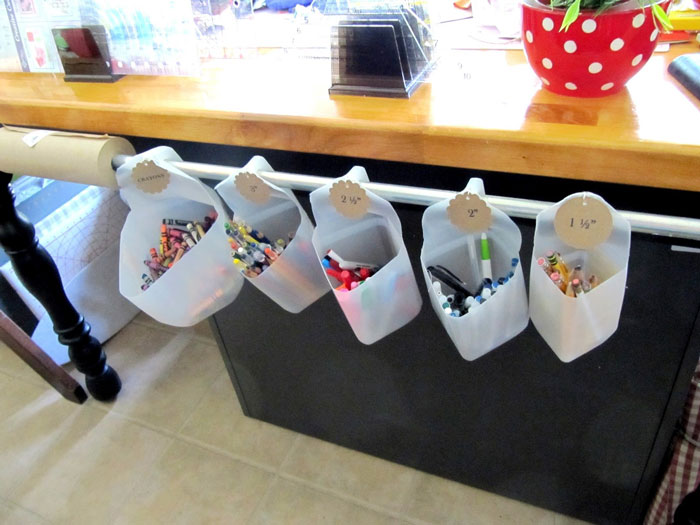 Milk jugs are also great for creating hanging storage bins. The handle easily slips over a rod. I like how this rod is right at desk top level for easy access.
Milk Jug And Box Storage Cubbie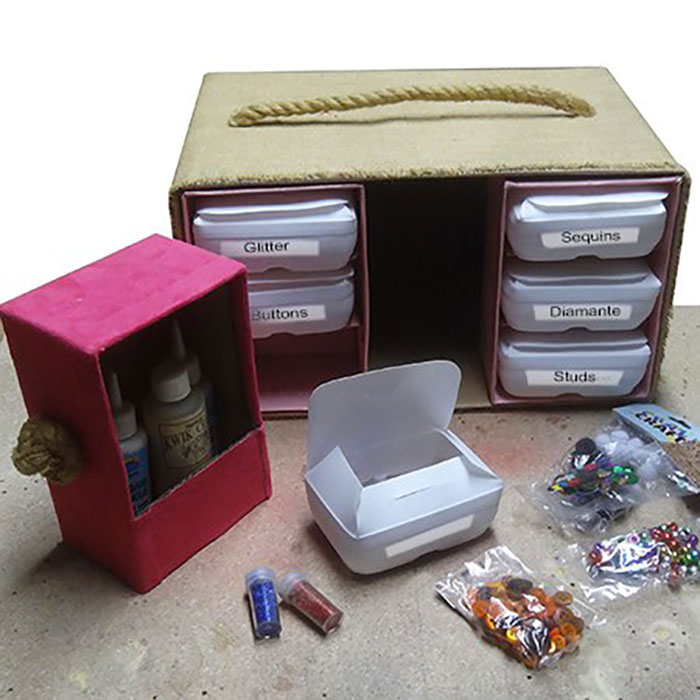 Here is a clever project that uses both milk jugs and cardboard boxes. The little storage containers fit perfectly in the handmade cardboard bin. This is one of those projects that I wouldn't have thought possible with recyclable items!
Stencils Made From Milk Containers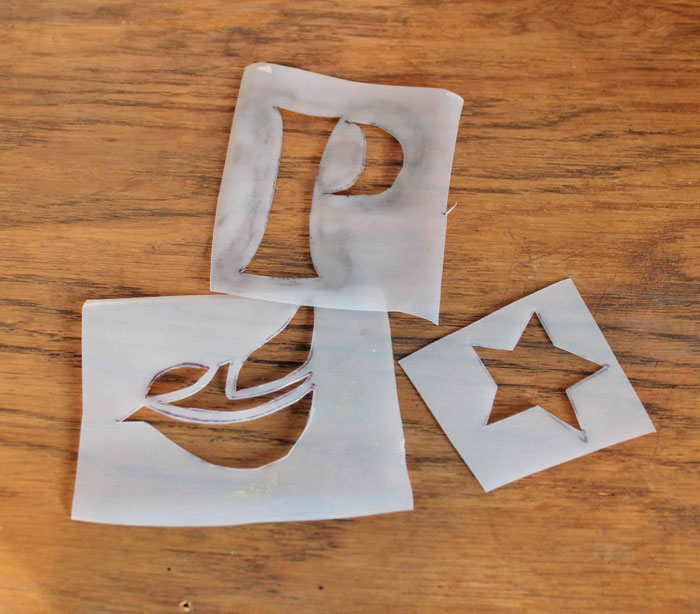 Stencils are a brilliant way to reuse milk jugs! With the plastic, they can be reused over and over. Just trace a design onto a cut out square, cut it out, and you're good to go.
Milk Jug Bakers Twine Bobbins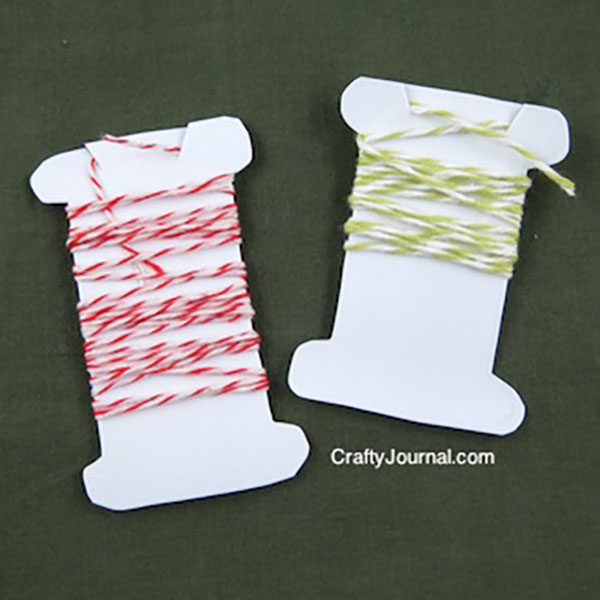 You can also easily cut out some handy bobbing for storing twine or yarn. It's a great way to organize and keep all of your strings from getting tied up in knots.
Decorative Milk Jug Crafts
Milk jugs don't have to be used just for storage purposes though. You can actually create some decorative things for your home. Check out these creative ideas for inspiration.
A Rustic Bunting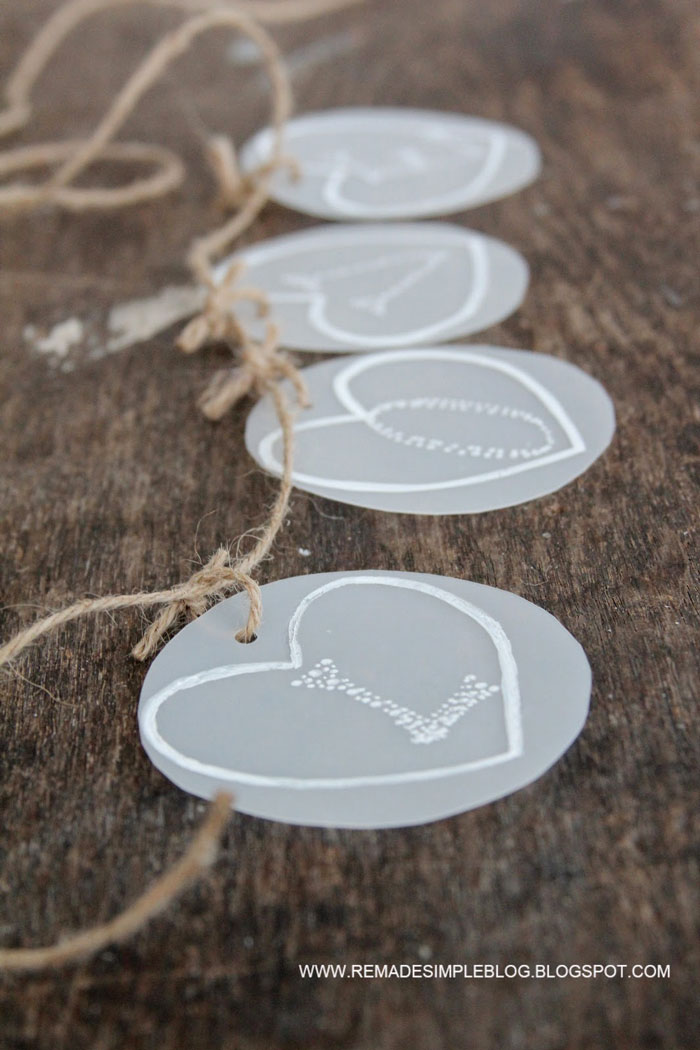 A bunting or banner is one decorative way to reuse milk jugs. Since the plastic from a jug is nice and sturdy, it works well for creating a banner design. I especially like the look backed with dark wood.
Flower Votive Candle Holders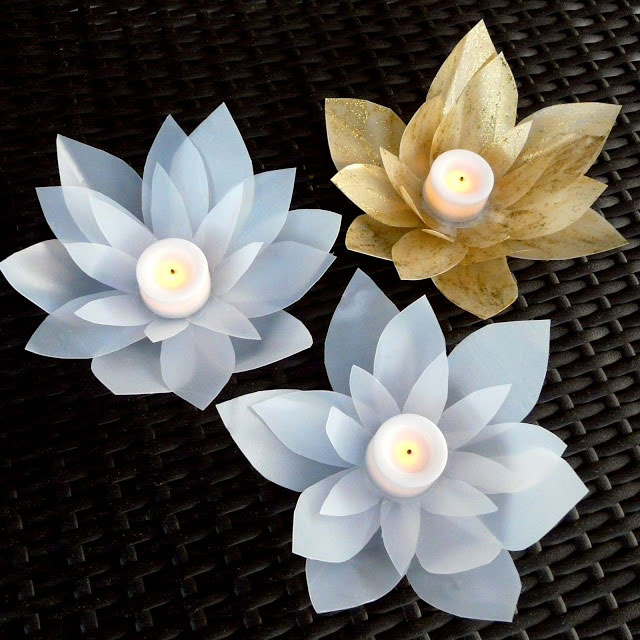 For a little outdoor patio lighting, create your own lotus candle holders for the center of a table. You can create a variety of looks by either keeping the flowers white or painting them to go with your color palette.
Clever Book Holders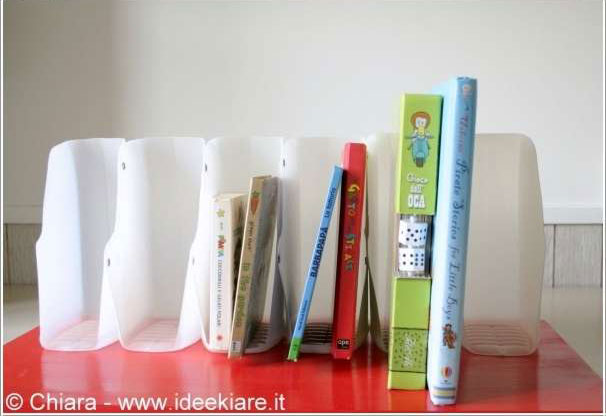 Hold books up with mini bookshelves made from milk jugs. Storing just a few books together, keeps them from all falling down in a pile.
Milk Jug Easter Baskets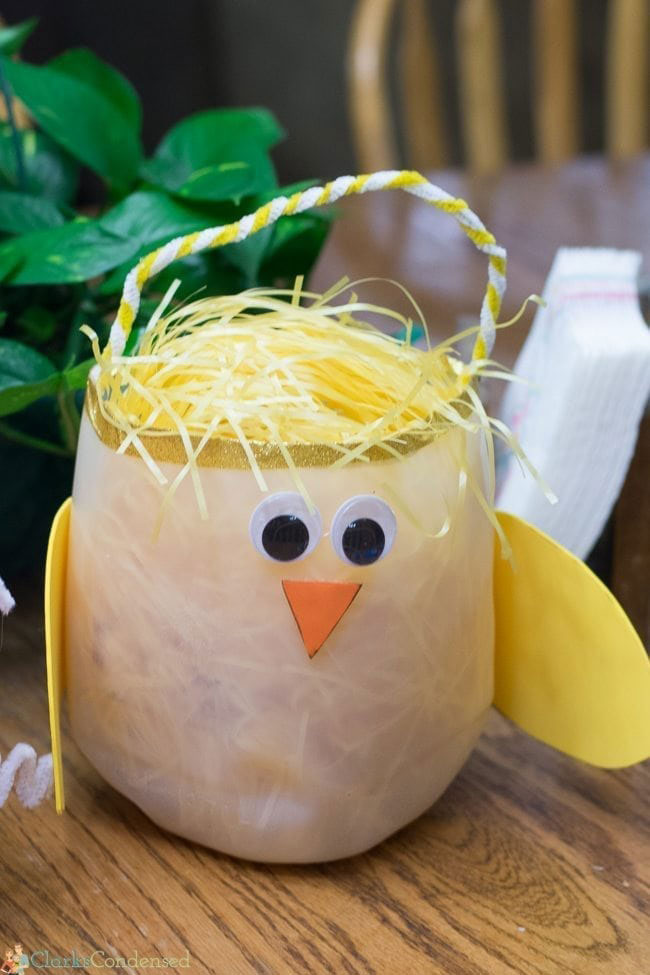 If you don't want to spend money on expensive Easter baskets, you can just make your own from a milk jug. The look is just as cute if not more cute than what you can purchase in the store.
Plastic Jug Southwestern Skull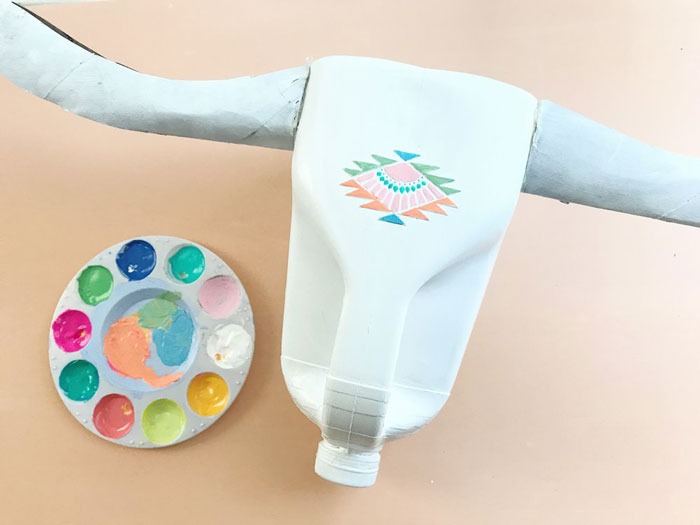 This decorative cow skull was actually made from a plastic iced tea jug. However, you could make something similar with a milk jug. I love the creativity with this one!
Tools Made From Milk Jugs
There are so many clever household tools that can be made from milk jugs. Here are just a few that will get you thinking!
A Handy Shovel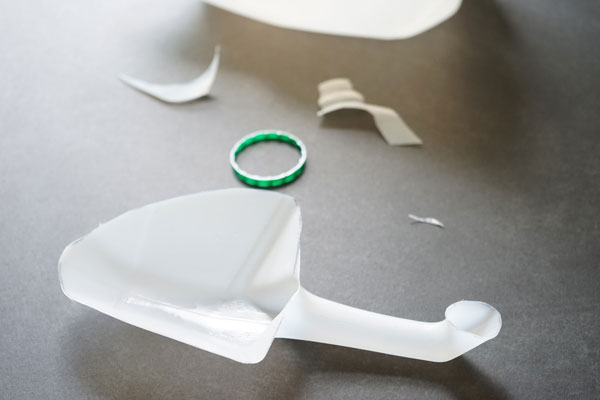 You could use a small shovel or scoop like this for scooping out a cleaner like powdered laundry detergent. However, it is also perfect for using outside. Kids can scoop sand or you could use it for scooping small amounts of fertilizer.
Easy Watering Can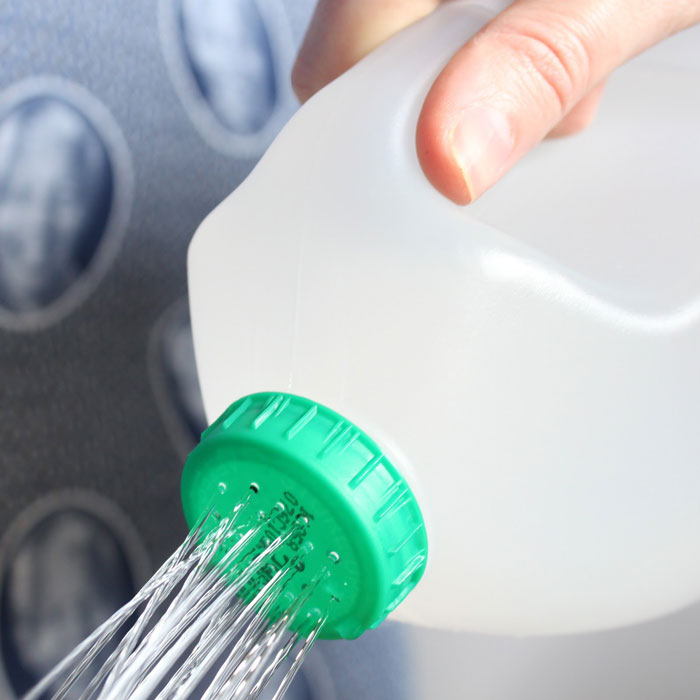 A watering can is a super easy way to reuse any milk jug. All you have to do is poke holes in the cap. Make a few for different areas of the house, inside and out, so you'll always have one on hand.
Unique Plastic Joiners Mallet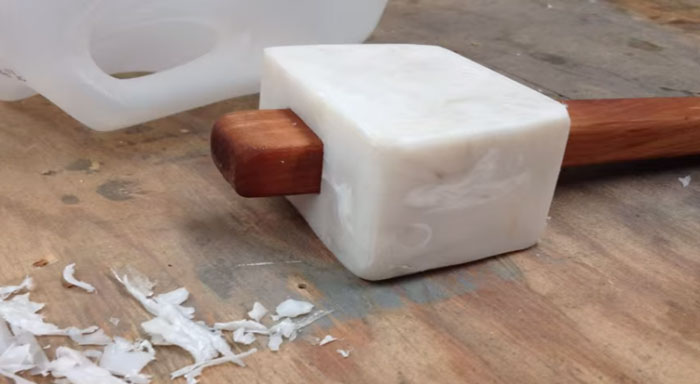 By melting down the plastic from a jug, you can form it into a block to make a handy mallet.
Paint Tray With Handle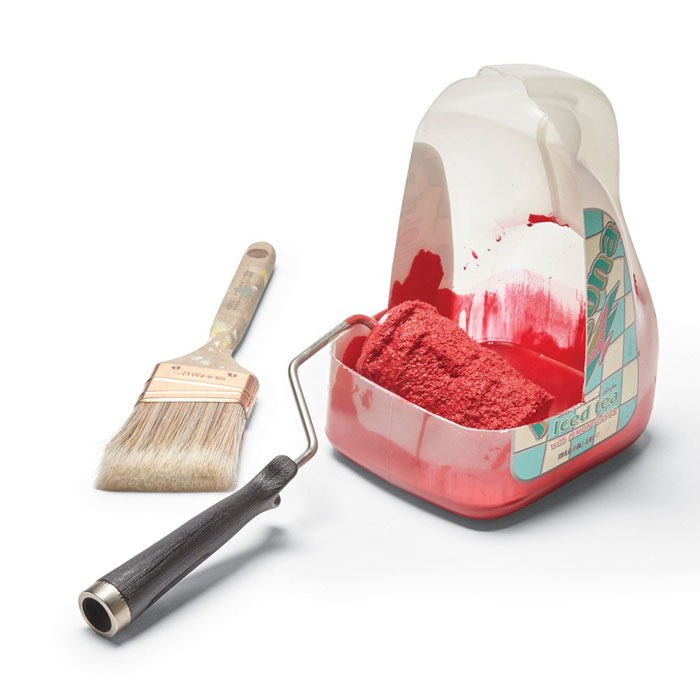 Normally, mini paint trays can be a little awkward to carry around. That is why I love this idea for using a milk jug. Not only do you get a handle for carrying but the back side is tall which eliminates some messes.
Milk Jug Crafts For The Garden
Just like inside the house, there are several creative and useful ways to reuse milk jugs outside. From bird feeders to planters to even a little decor, there are all kinds of fun things to try.
Milk Jug Bird Feeder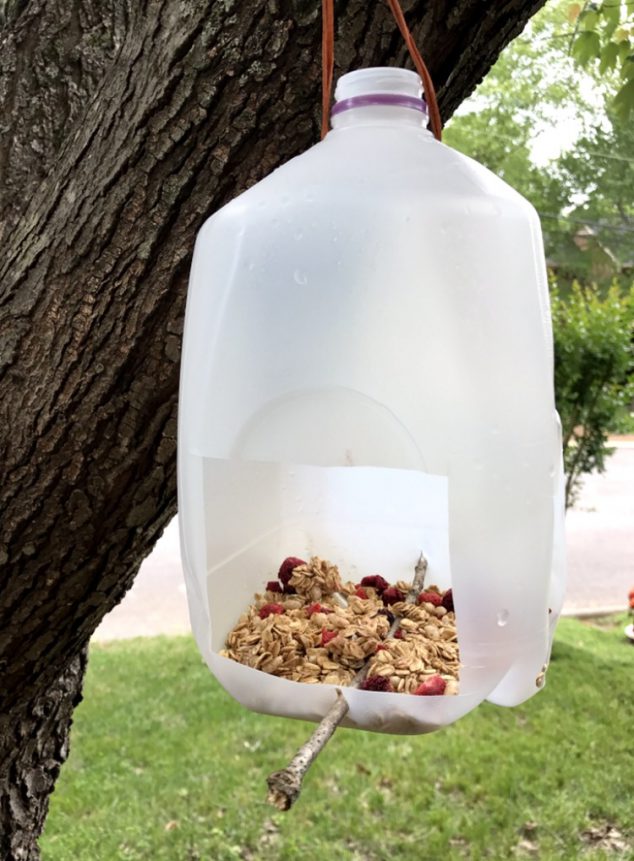 Create an opening in a milk jug to provide access to see. Then, make a perch out of something like a branch and wait for the birds to come flocking in. If you don't want the look of a plain feeder, just paint the jug or add other decorative accents.
Milk Jug Planters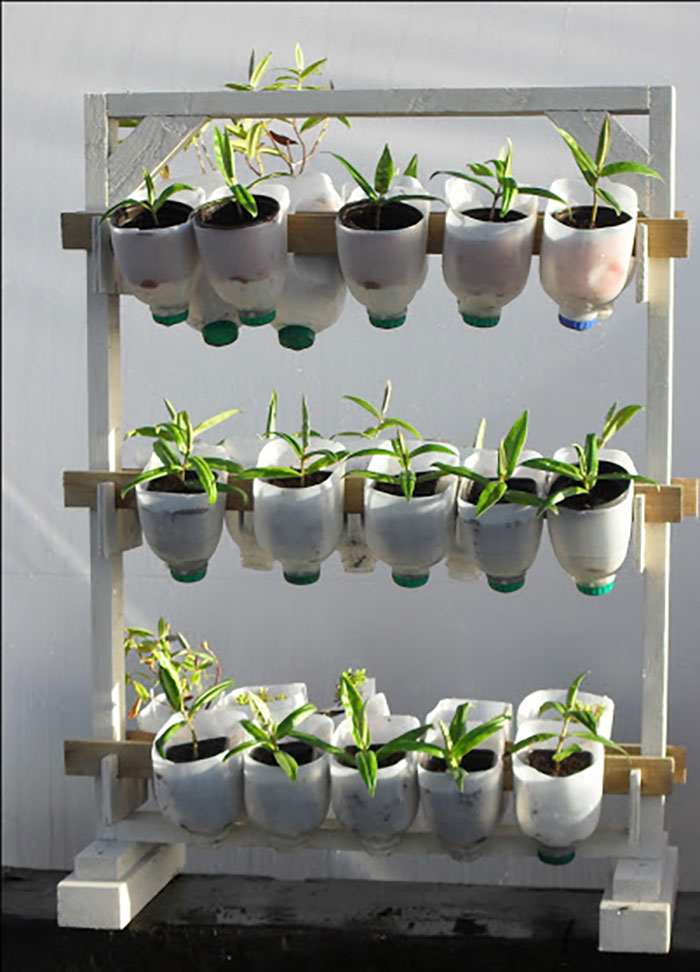 If you don't have a space for a traditional garden, then use a rack like this one. Then all you have to do is hang milk jugs from the handle and use them for planters.
Bird Made From Milk Jug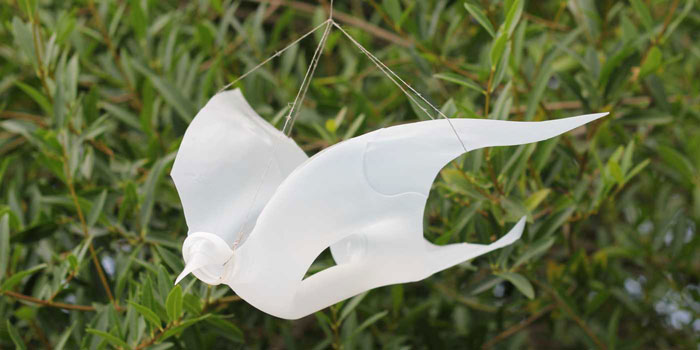 Add a little decor to your garden by making small birds out of milk jugs. Hang them from trees and bushes wherever you need a little more interest.
Milk Jug Herb Garden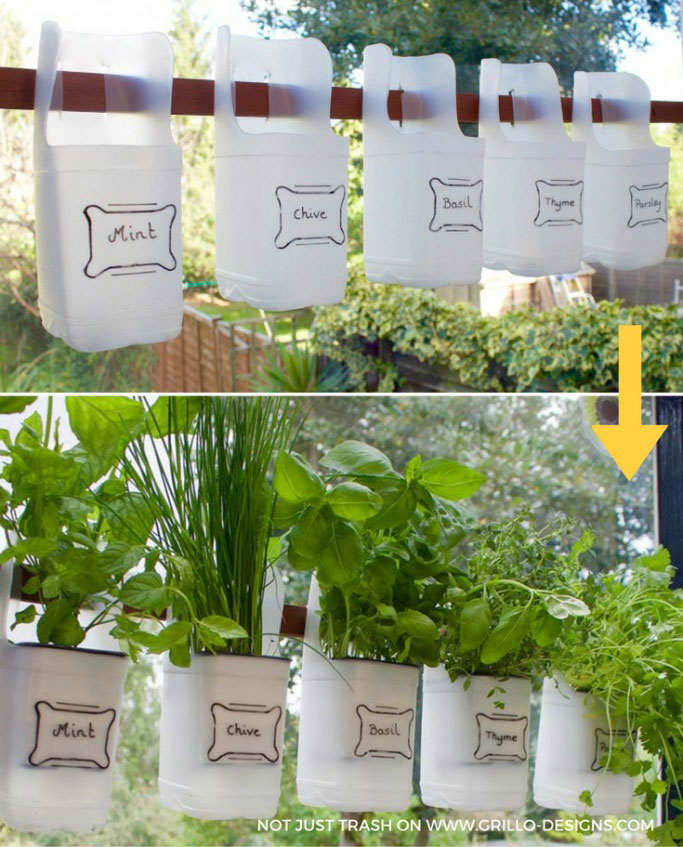 Here is a similar idea to the planter rack garden. However, instead of using the jug handles for hanging, a slit is cut through the back of the jug for weaving onto a rod. Small milk jugs are great to use for an herb garden.