With the popularity of HGTV's Fixer Upper, farmhouse style decorating has been all the rage and it's no wonder. The combination of clean chic and warm rustics, give the farmhouse look it's desirability. White shiplap walls are a perfect backdrop to worn vintage accessories and rustic salvaged wood. To get the look yourself, I've come up with some DIY farmhouse decor projects that you can try. It can be as easy as picking up some flea market finds and repurposing them in a new way!
I don't live on a farm. In fact, I live in the middle of the city. However, this doesn't stop me from incorporating some farmhouse decor into my industrial loft. In fact, the farmhouse look blends well with almost any type of house.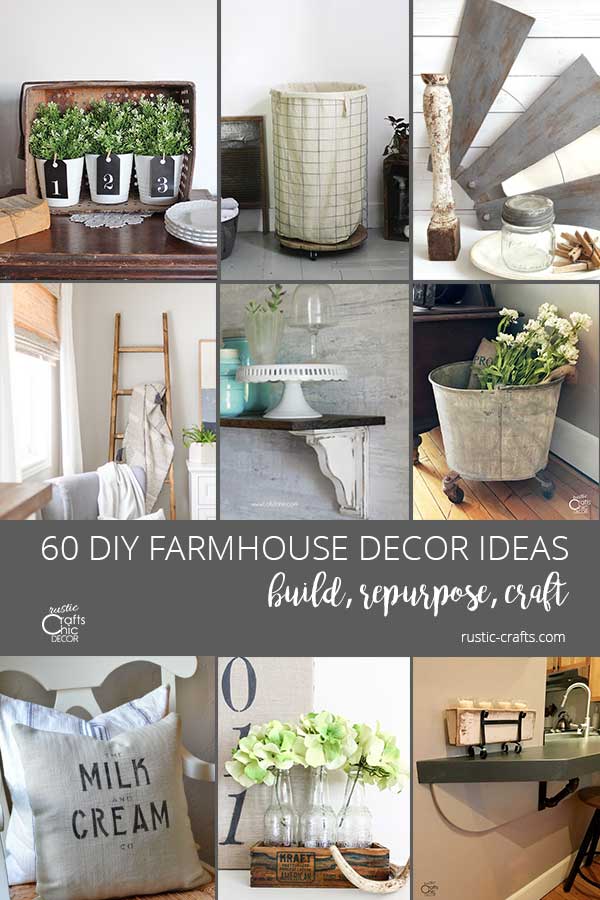 Because I know that I'm not the only one who loves farmhouse style decorating, I thought I would share this collection of rustic decor ideas that work to easily create a farmhouse look. And luckily, you don't have to spend a fortune on these DIY projects. You can create a warm and comfortable home, on a budget, by using salvaged or repurposed items. What better way to add rustic charm! You'll also want to check out how to decorate with antiques in the kitchen and find out how to incorporate a farmhouse sink into a bathroom. Who says you need to use things exactly as their intended purpose!
Farmhouse Style Vintage Mop Bucket Upcycle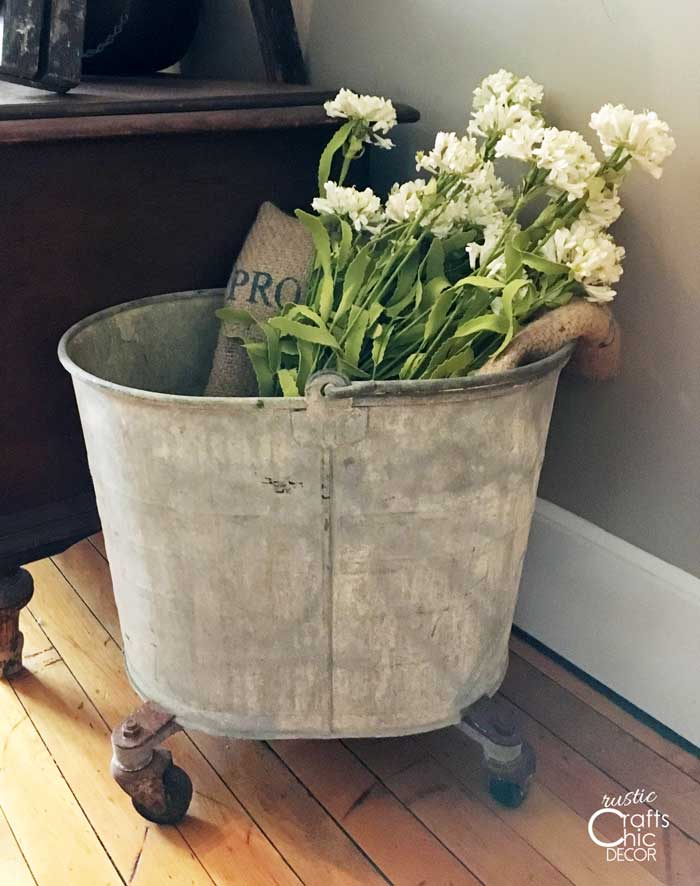 Although this old mop bucket was probably used for more industrial purposes than in an actual farmhouse, the styling makes it perfect for farmhouse decor. Since a popular material used in farmhouse decorating is galvanized metal, the bucket works well to add that particular element. And, of course, the rusted metal castors add just the right amount of rustic goodness. Simply fill the bucket with flowers and use it as a vase. That's much more fun than slopping around mop water!
Rustic Wooden Bench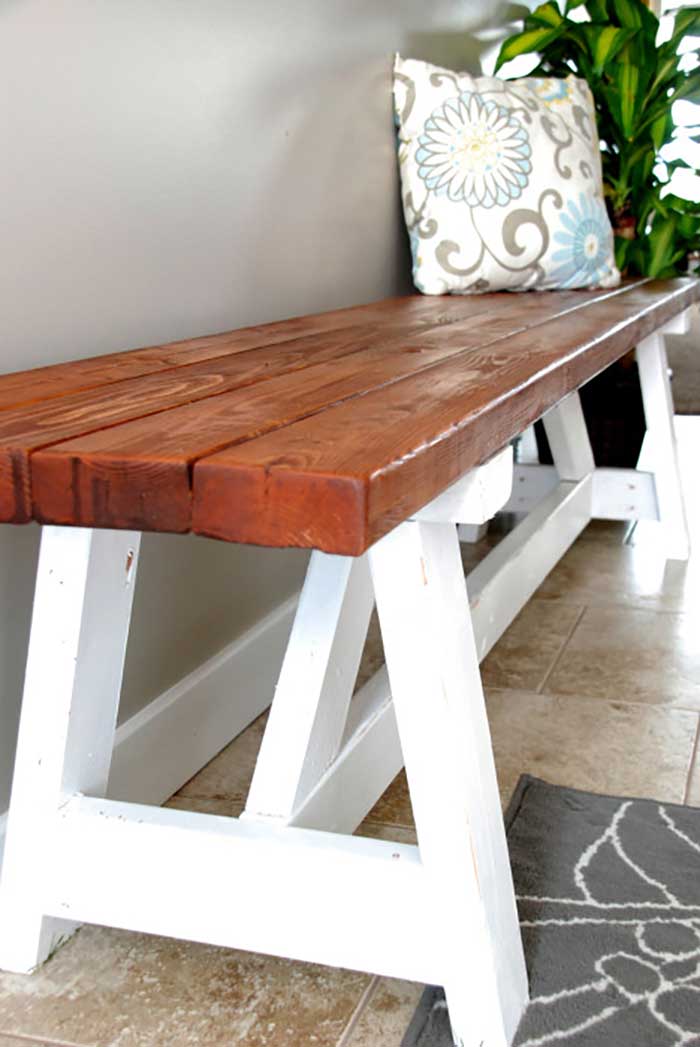 The design of this DIY rustic bench makes it pretty simple to make. All that you need to make this are some 2x4s, screws, paint, and stain. The total project costs less than $20. Because of the contrast of the stained seat and white frame, the bench is particularly striking. This project is a must do for a farmhouse entree. Just throw on some decorative pillows or a comfy throw to really complete the look.
Distressed Wooden Blanket Ladder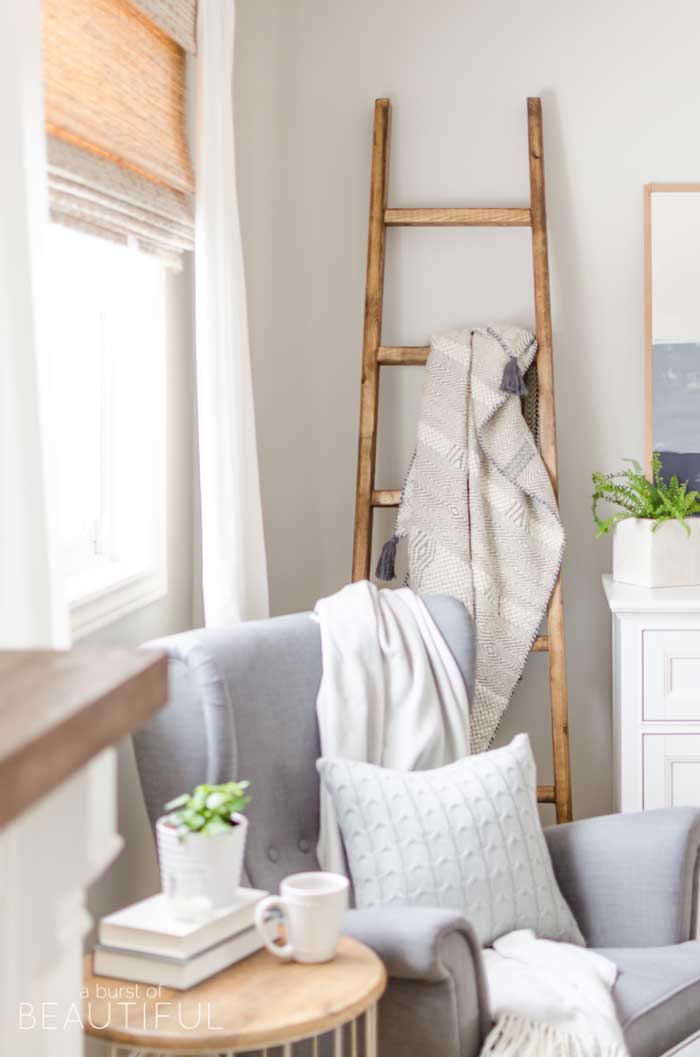 I happen to love using old ladders for simple farmhouse decor. Whether wooden or metal, old ladders have so much character. However, what do you do when you can't find the right old ladder to put in your home? You make one! A ladder is probably one of the easier DIY projects to do and you can easily make it look distressed or worn. Once complete, add your favorite blankets or throws to really give it some country style.
Farmhouse Cotton Stem Display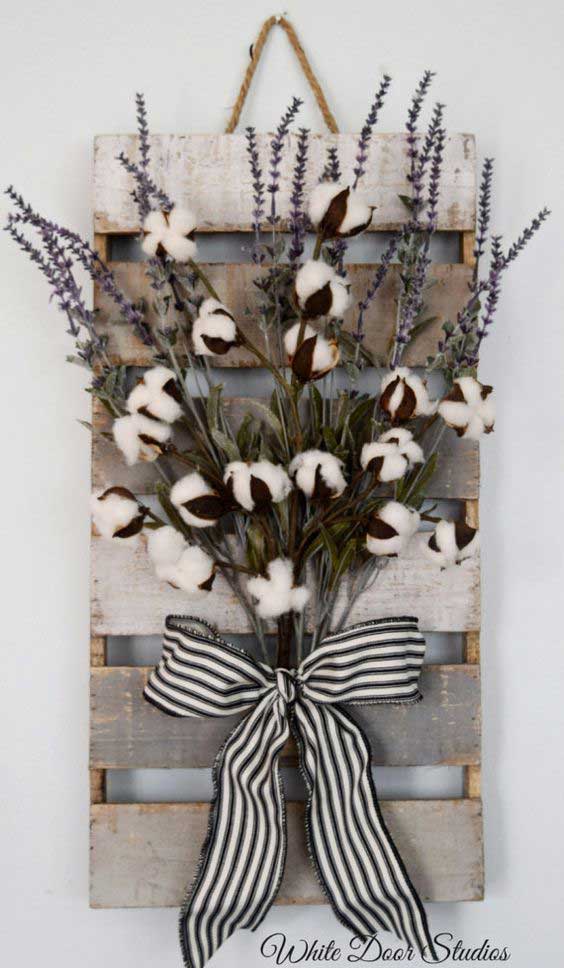 When you are looking for florals to use in farmhouse style decorating, you definitely have to include cotton stems. Whether you simply display them in a vase or make some wall decor, cotton stems add a nice rustic chic look to an arrangement. This DIY wall decor uses salvaged wood as a base which provides a nice contrast. And, salvaged wood is one of those other popular materials in farmhouse decor.
Wooden Crate Centerpiece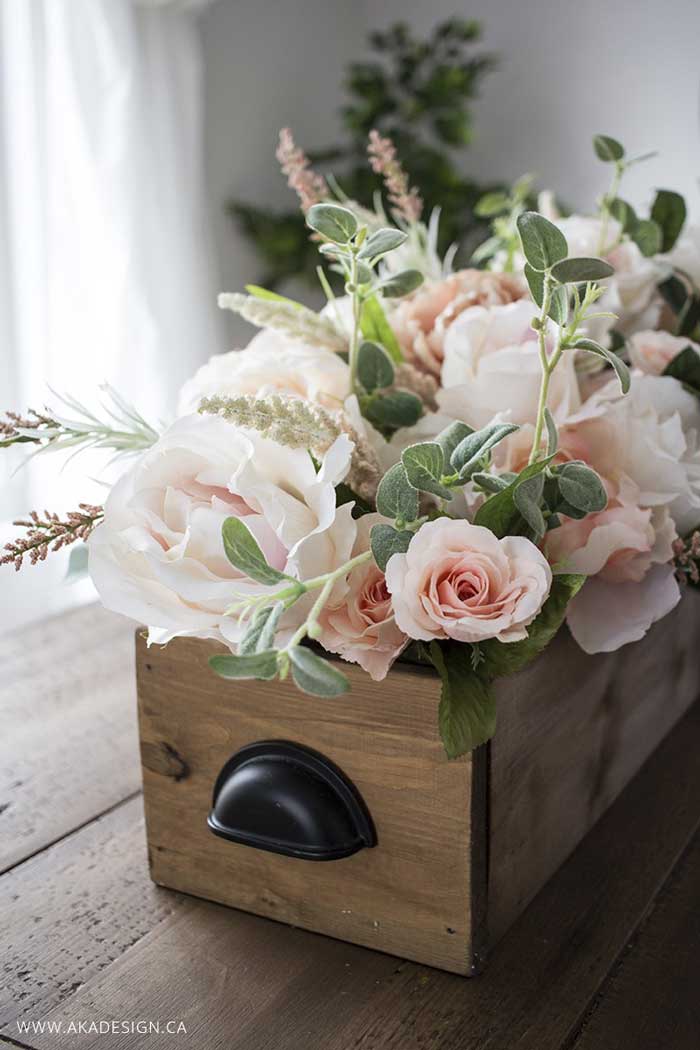 Both old crates and vintage drawers are popular to incorporate into farmhouse decorating. Even if you can't find your own crates or drawers, there is still another option. Using salvaged wood and drawer handle hardware, you can easily make your own vintage inspired drawer. Then fill the drawer with whatever decor you want to use as a centerpiece. If you don't like the natural wood finish, try painting and distressing it.
DIY Wired Basket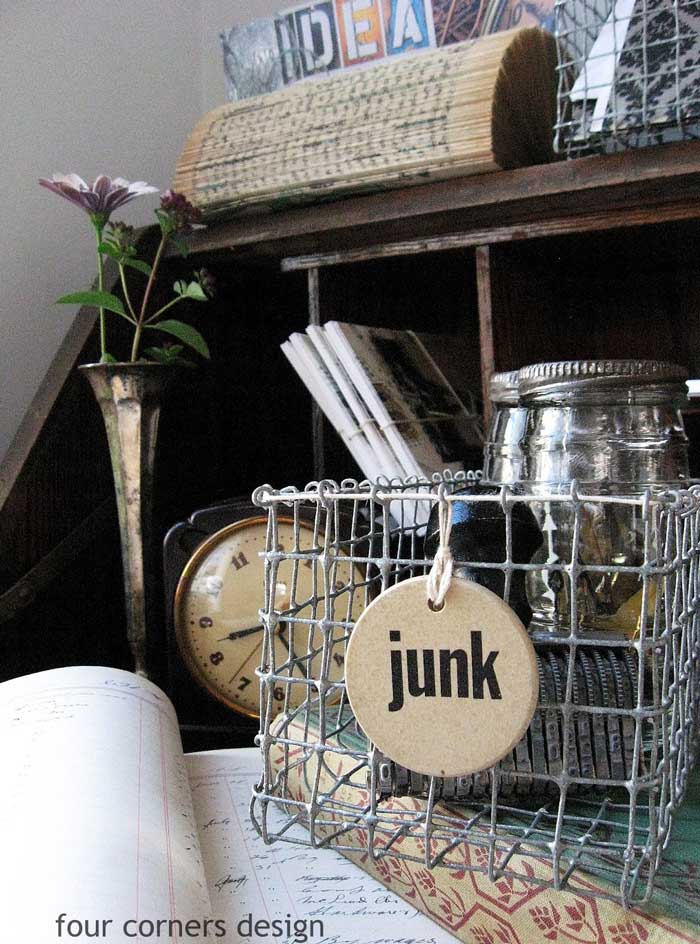 Another item that I think of when I visualize farmhouse decor is wire baskets. The rustic industrial look of them makes them popular to use for visual storage. This DIY wire basket project shows how easy it is to make your own baskets. The nice part is that they are inexpensive to make as well. Just purchase what is called hardware cloth right from a home improvement store. Then shape the basket into any size that you need. Create vintage style labels to enhance the farmhouse look.
Creamy Grainsack Pillow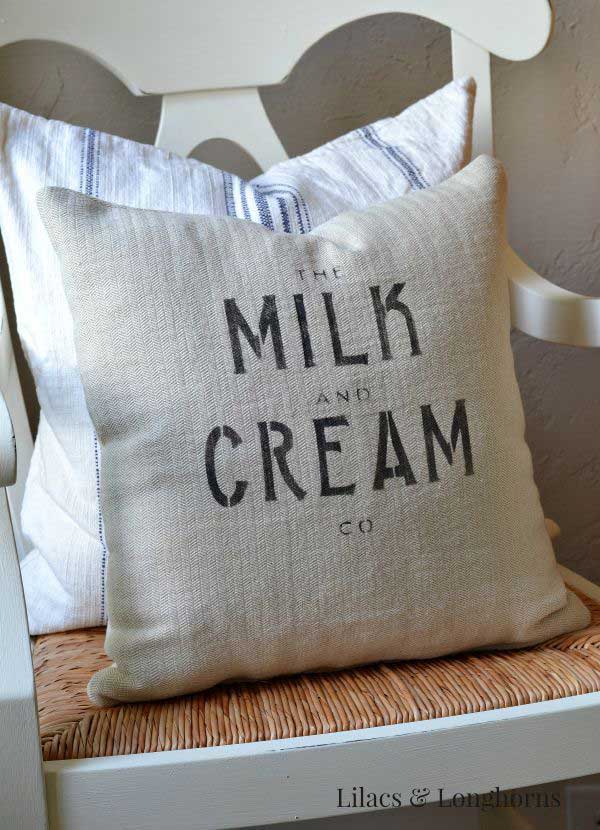 We can't forget about grain sacks! Vintage grain sacks are extremely popular in farmhouse style decorating. Usually, you will see grain sacks made into fun throw pillows. But once again, there is an option if you don't have access to your own vintage sacks. There are so many cool stencils available that you just need to pick one to stencil on your own label. Use a creamy linen material that most resembles what you would see a real grain sack made out of.
Painted Grainsack Concrete Flooring Idea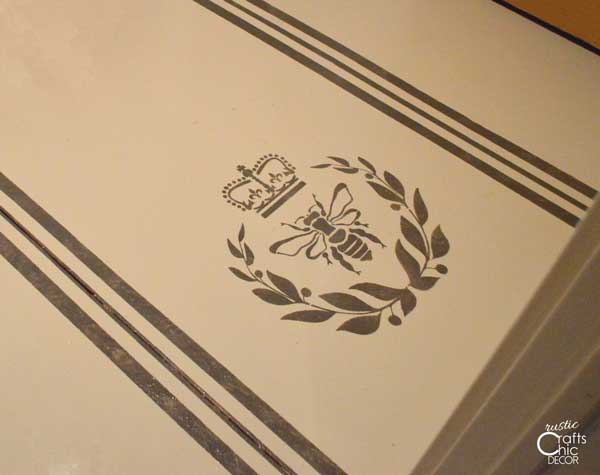 Speaking of grain sack stencils, you are not limited to just fabric painting. I painted the floor of my craft room using a fun grain sack image. This particular graphic was perfect for me because my husband likes to call me queen! Anyway, it was easy to stencil on my graphic and the stripes were just done by using painters tape. Once I had my design complete, I finished off the floor with a few coats of floor polyurethane. This idea would work for any room that you wanted to add a farmhouse inspired floor.
Wood Framed Chalkboard Sign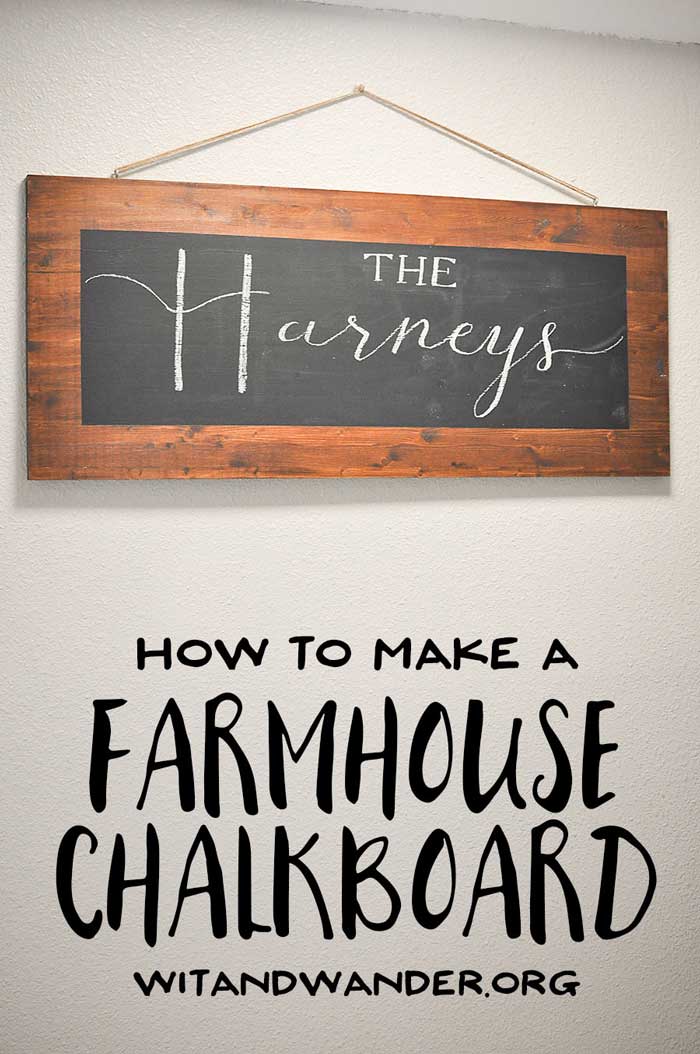 As far as framed DIY chalkboards go, this project is one of the easiest. Instead of the chalkboard frame being a separate piece from the actual chalkboard, the entire piece is one unit. Using a large section of wood, the chalkboard area is taped off and then painted on. This way, it just gives the look of being framed. Easily make one of these for your farmhouse style kitchen or entree.
DIY Farmhouse Tray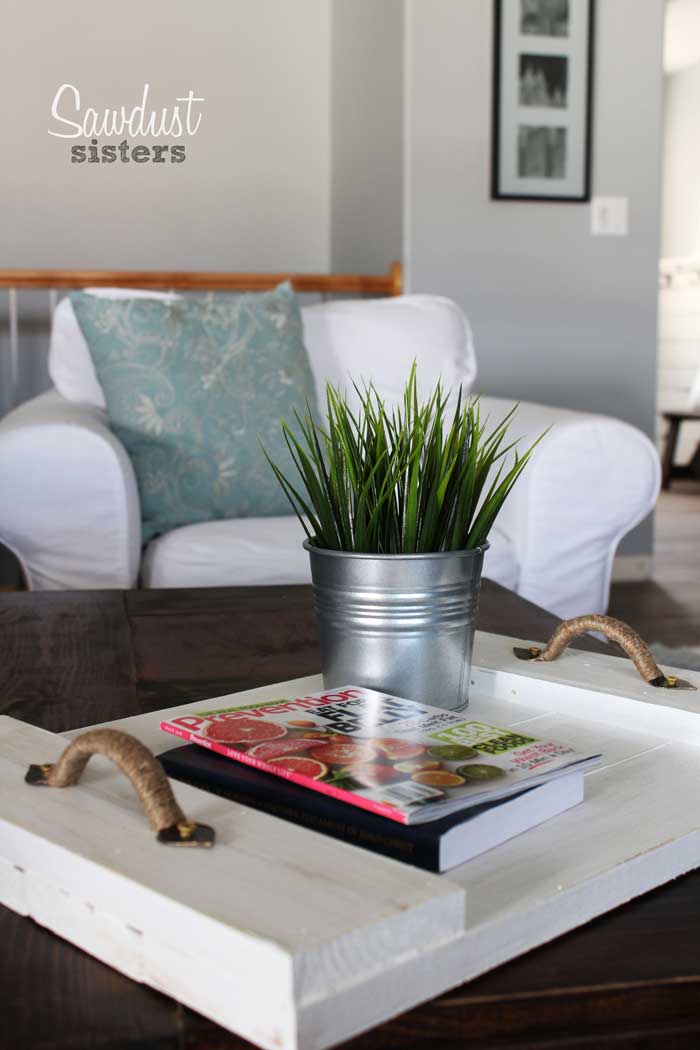 Trays are popular to decorate with and with farmhouse decor the more rustic the better. This DIY wood tray is easily made with 1x4s. A little white paint and some twine wrapped handles complete the farmhouse look. Use the tray for serving or as a decorative base for your other decor. I love how this trays holds some fresh greenery in a metal pail. It definitely makes me think about being out in the country.
Grainsack Tiered Tray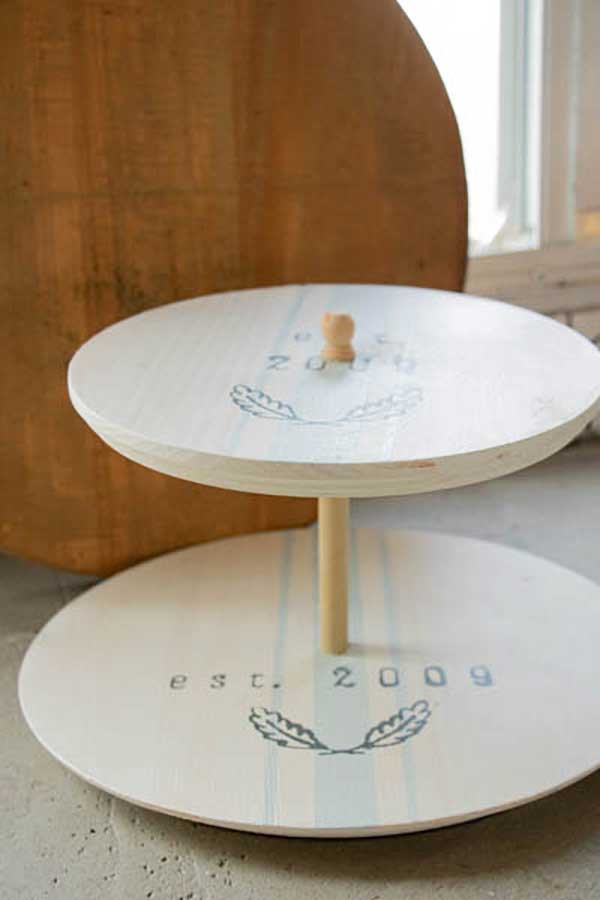 Along the same line as a serving tray is this DIY project for a tiered tray. As you can see, this tray also has a grain sack like stencil. Again, both grain sacks an coffee sacks are very popular in country decorating. It would look perfect on the counter of a farmhouse kitchen. The only thing that might be difficult is putting anything on that tray. I wouldn't want to cover up the decorative stencil!
Grainsack Wrapped Vase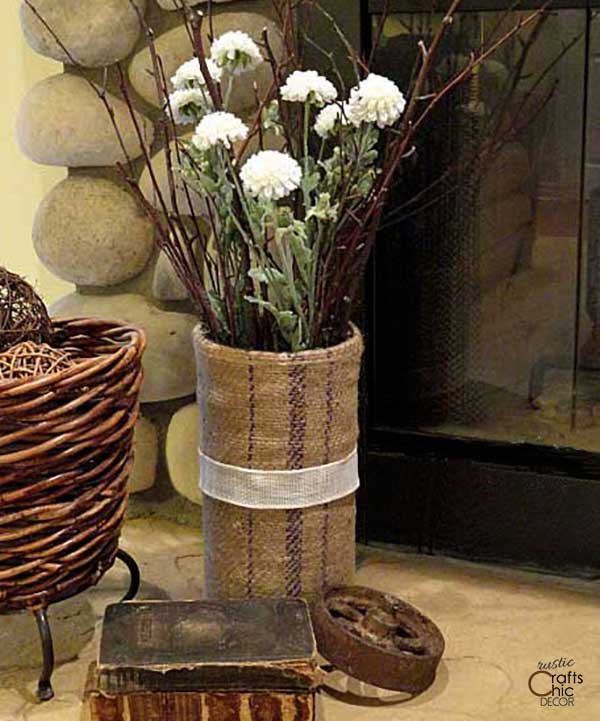 So far, we have seen a lot of projects that involve painting on a grain sack pattern. However, you can also do a lot with the actual burlap grain sacks. For instance, I cut out a section from a grain sack to wrap around a glass vase. Since I wanted to add a little farmhouse style to my living room, it made sense to upgrade one of my plain glass vases. The project was super easy to do and the resulting vase enhances some of the other rustic decor that I have going on.
Farmhouse Wall Pocket Decor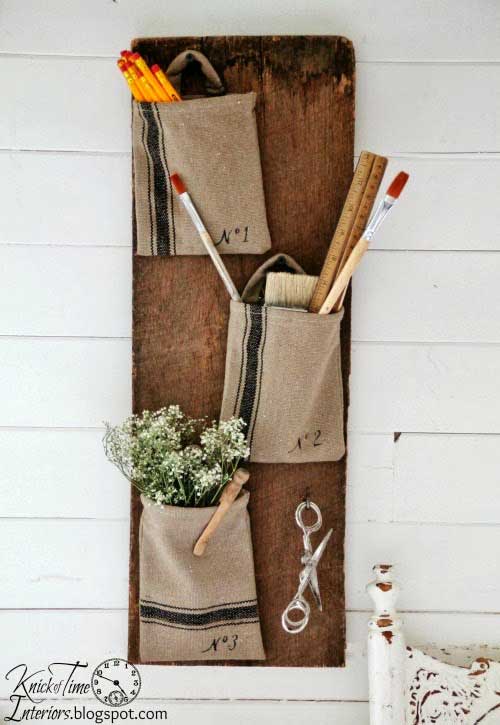 How about making some decorative wall art that is functional as well? Fabric wall pockets, placed on a piece of old barn wood, will really help to warm up a farmhouse wall. Use scrap grain sacks or painted burlap to enhance the country look. Then, just fill up those pockets with craft supplies or pretty flowers and you are all set. I really like the contrast of the dark stained wood against the white shiplap walls.
A Vintage Toolbox Centerpiece Idea

Would you ever have considered sticking an old wooden toolbox on the center of your table…..as a decorative centerpiece? That is one of the things that I love about farmhouse style decorating. Shabby looking wood combined with pretty florals look incredibly rustic chic. It doesn't matter what the old toolbox was used for before. What matters is being able to showcase the shabbiness for a warm and relaxed feel.
Chicken Wire Pendant Light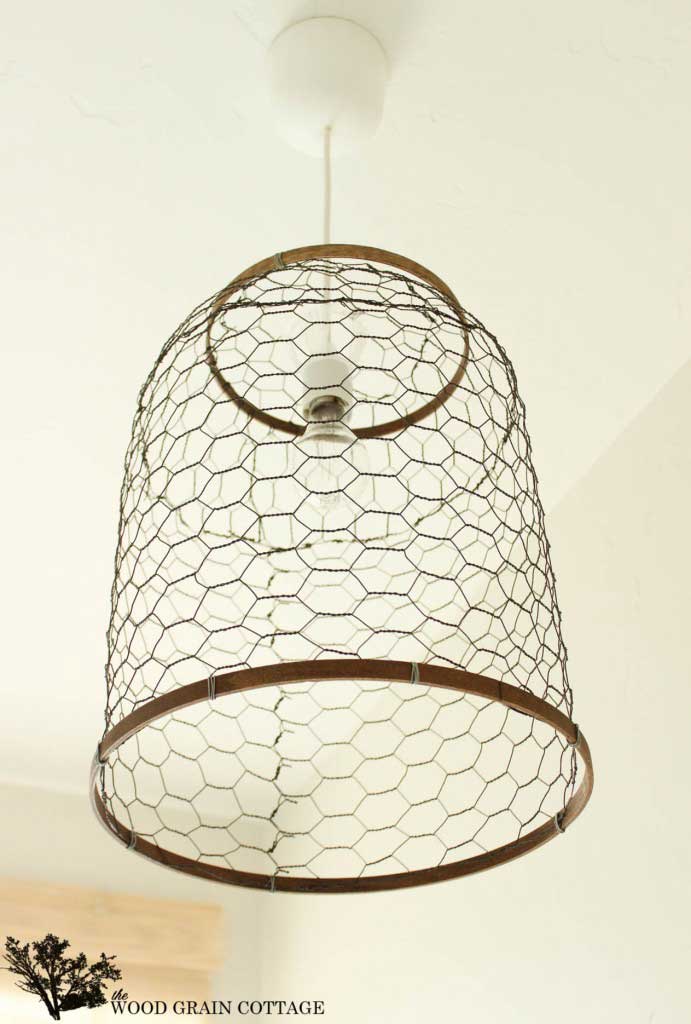 Decorative lighting can be very expensive. And, when you have a particular style in mind, it can also be a little difficult to find just what you are after. However, when you make your own, you can save money and customize to fit your exact needs. For a farmhouse style, this DIY light made from chicken wire is a great project for adding rustic character to your lighting. The stained embroidery hoops are a nice contrast to the wire.
Upcycled Kitchen Sifter Light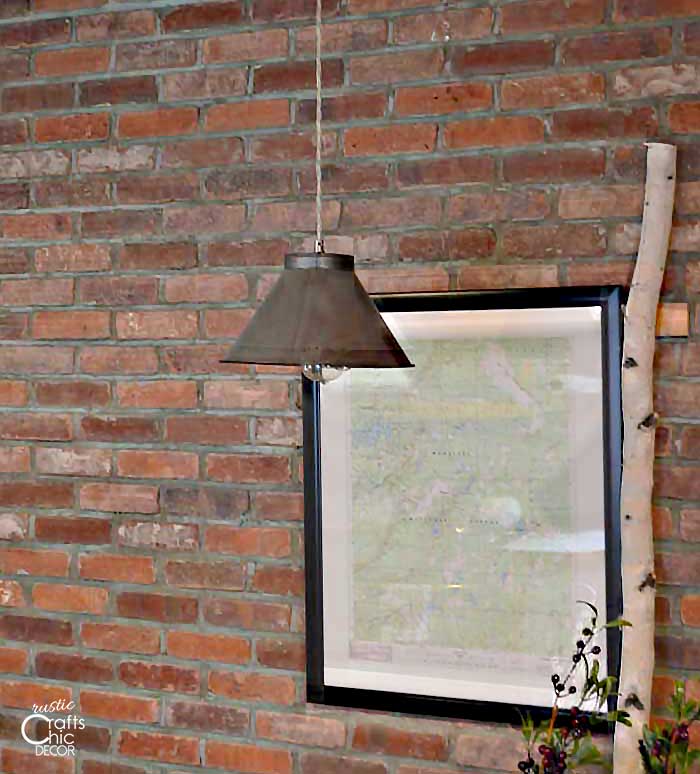 Another option to creating your own lighting from scratch is to upcycle a common item into a fun lampshade. We used an old kitchen sifter and a light kit to create this rustic industrial pendant light. The shape of the sifter was just right for a shade. Think of other vintage items that could be used for lighting. Anything old and metal works really well for farmhouse lighting.
Make Your Own Old Door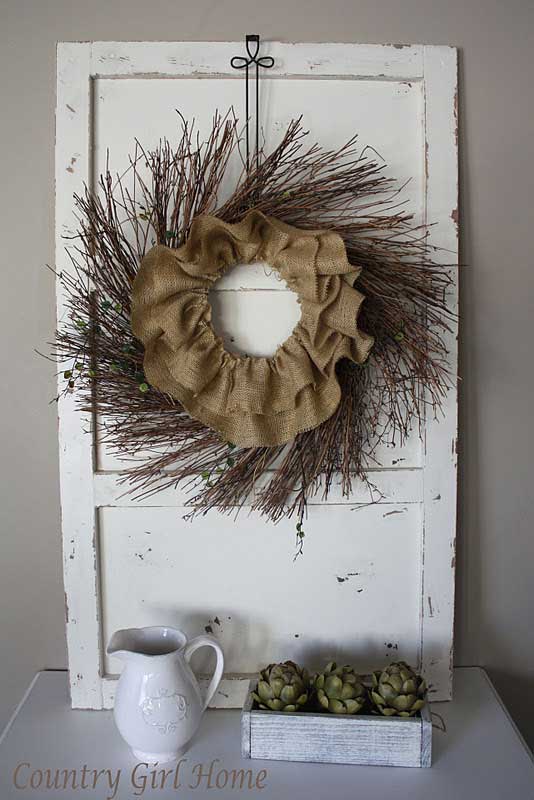 You have probably seen lots of inspiration for decorating with old doors in a farmhouse style home. They make such a great back drop for other rustic decor. However, you first need to find an old door. If you are having trouble locating one, there is another option. This DIY project shows you how to make your own door out of battens. Since the design is really simple, the project is easy for most anyone to do.
DIY Farmhouse Shelves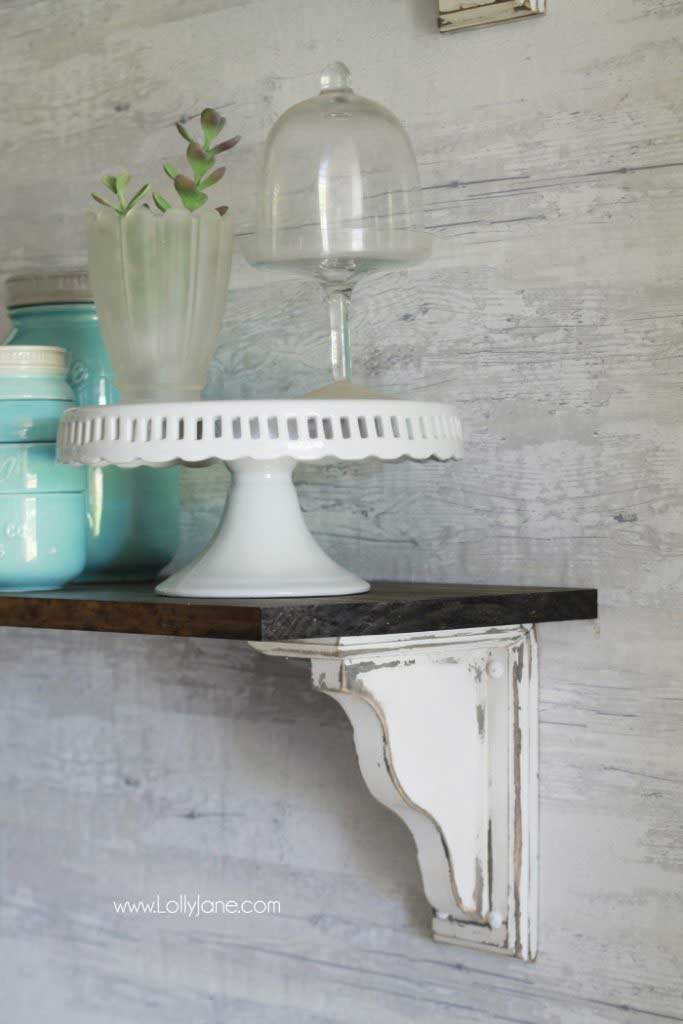 Coming up with the materials to make shelves like these is relatively easy. You can buy both unfinished brackets and shelving from any building supply store. However, to get them to look farmhouse style requires a little extra work. While you can paint the brackets a solid color, painting them with a distress finish is more homey and country. It's really not hard to paint this way. It just takes a couple more steps. Also, staining the shelves with a dark contrasting stain is perfect for a farmhouse.
Rustic Barnwood Dining Table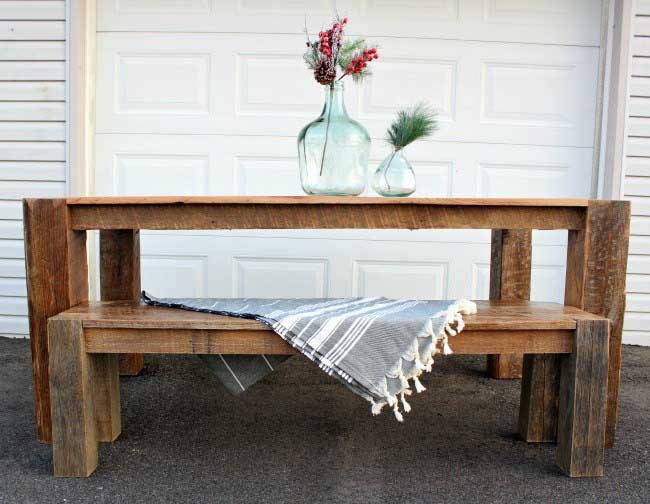 It makes sense that barn wood would be used in a farmhouse style project. You can't get more about the farm than that! The nice thing is that barnwood has so much character. Whether you use it to put on the walls or to build furniture, it adds a ton of warmth and rustic charm. This particular farmhouse table is easy to make because of all the straight lines. The chunky beam legs add to the rustic style and also give lots of stability.
Burlap Window Valances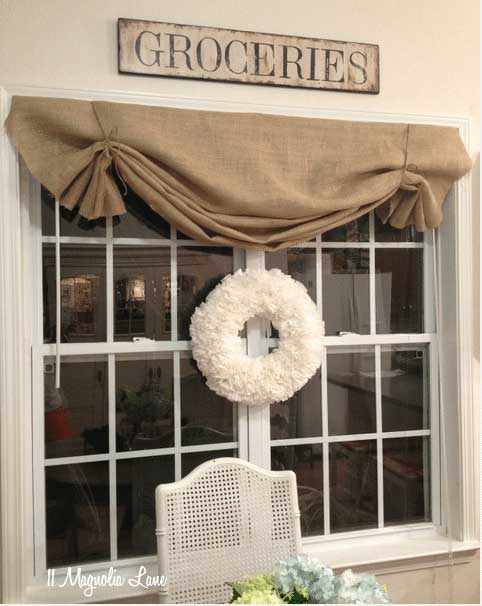 It doesn't get any easier to dress up a farmhouse window than with no sew burlap valances. Burlap is such a great fabric to use in warm and rustic styling. Both the color and the texture lend to it's warmth. For these particular valances, you don't even need to get out your sewing machine. Would you believe that the burlap is just thumb tacked on? Then to get the swag look, the burlap is folded up and held in place with jute twine.
Make A Boxwood Wreath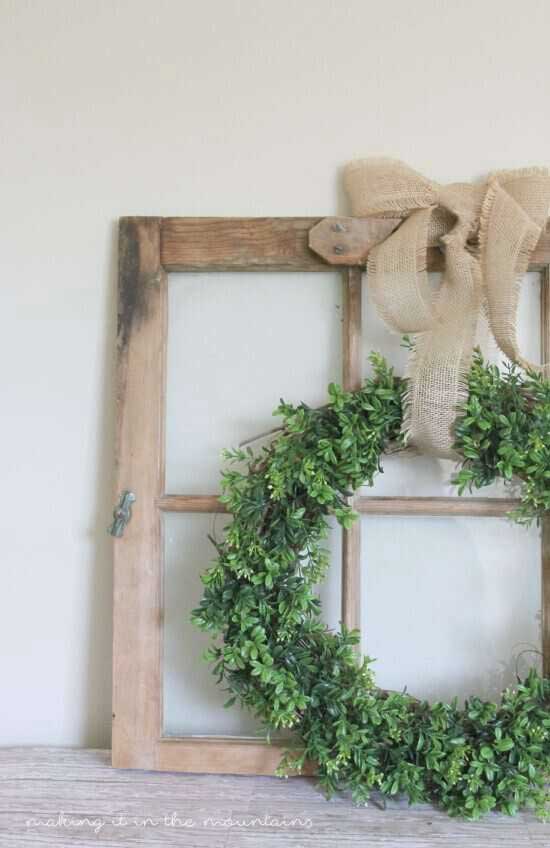 When it comes to farmhouse crafts, wreaths are probably one of the most fun things to make. You can easily create your own style depending on what you add to the design. Boxwood wreaths are very popular in farmhouse style homes. They can be a little pricey to buy already made so making your own also helps out with the cost. All that you need is a round wire wreath form and some greenery to create a fresh and pretty wreath.
Rustic Wooden Address Plate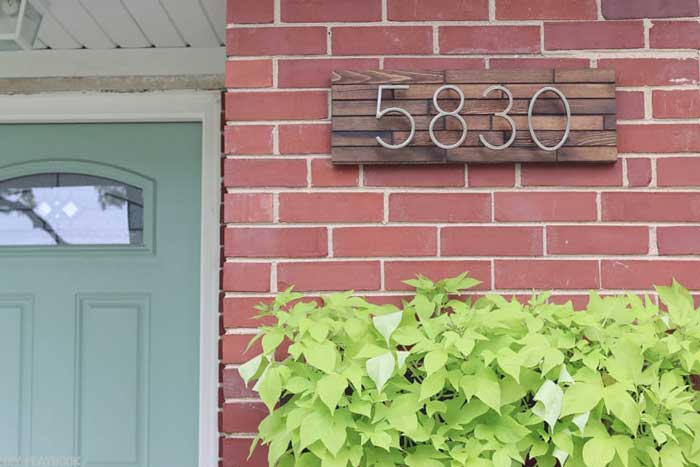 Immediately set the tone for your rustic style home with a wooden address plate to greet your guests. Although you can use any salvaged wood for this project, paint sticks are what is used to create this country sign. All you have to do is attach rows of paint sticks to a flat board and then stain them in a warm color. This type of address plate will add a lot of character to the outside of your farmhouse. The metal house numbers are a perfect industrial contrast to the wood.
Rustic Pallet Headboard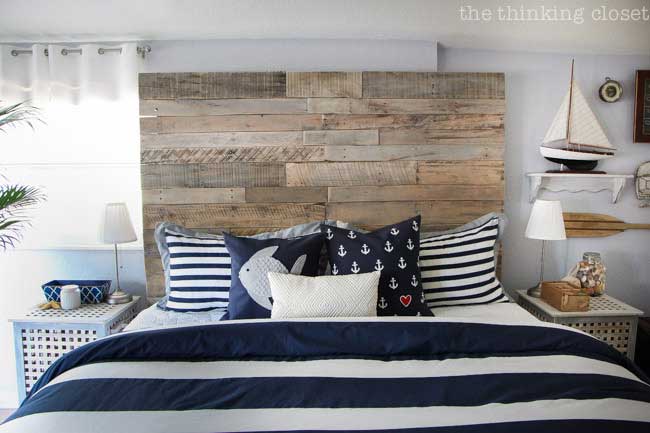 If you are looking for a rustic headboard to put in one of your farmhouse bedrooms, look no further than a pile of old pallets. The wood that comes off of a pallet has so much character. With the different shades of weathered wood, you can put together a headboard with tons of visual interest. Once you take apart some pallets, it's pretty easy to put them back together in a size that is custom for your bed.
Upcycle A Vintage Sugar Mold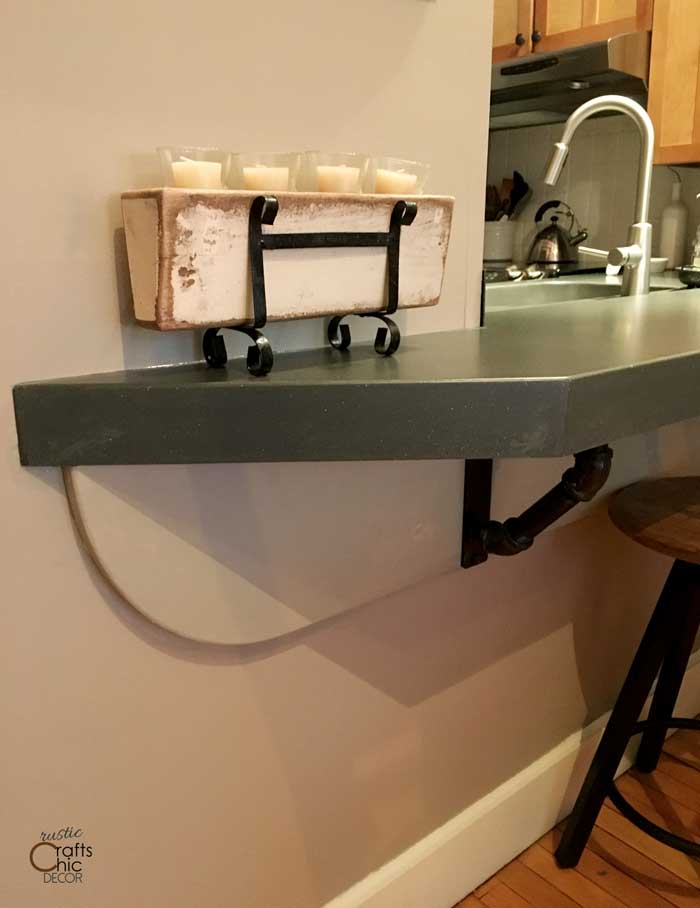 An easy way to get some DIY farmhouse decor is to simply upcycle a vintage item. One antique that I really like for a farmhouse style is an old sugar mold. The chunky and distressed wood is so rustic and full of country charm. Since the top of the wood normally has three holes or more, it's a fun object to upcycle. My sugar mold had four holes which I filled with glass votive holders and creamy votive candles. You could also make an herb garden or place other plants in the holes.
Frame A Farmhouse Bathroom Mirror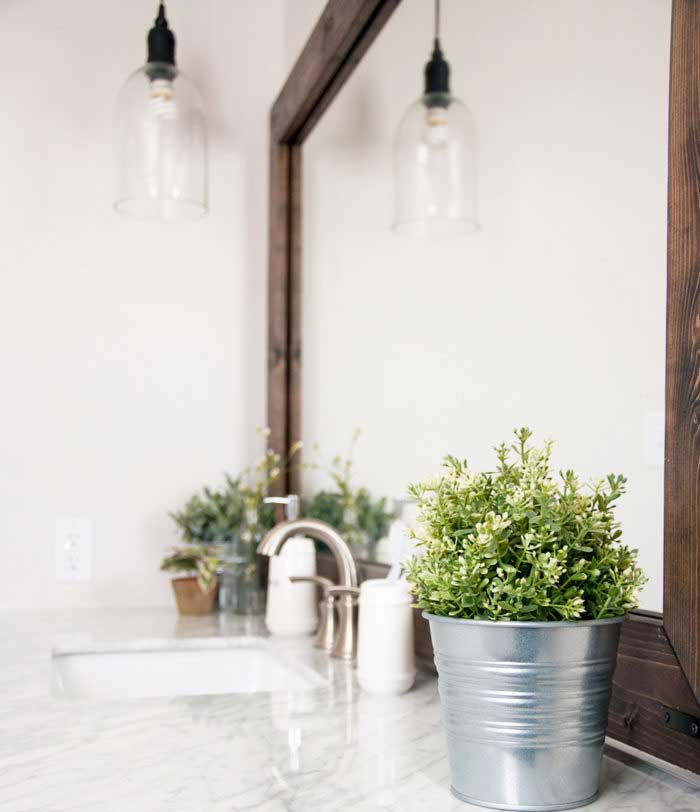 An easy way to add some farmhouse style to your bathroom is to frame your mirror in salvaged wood. The rustic style will add a lot of country charm and warmth to the room. This mirror frame has mitered corners and will require a miter saw. However, you could also line the mirror with straight pieces, butting them together. Some ideas of woods to use for interesting frames are pallet wood, barn wood, or old wooden trim.
Build Your Own Farmhouse Shutters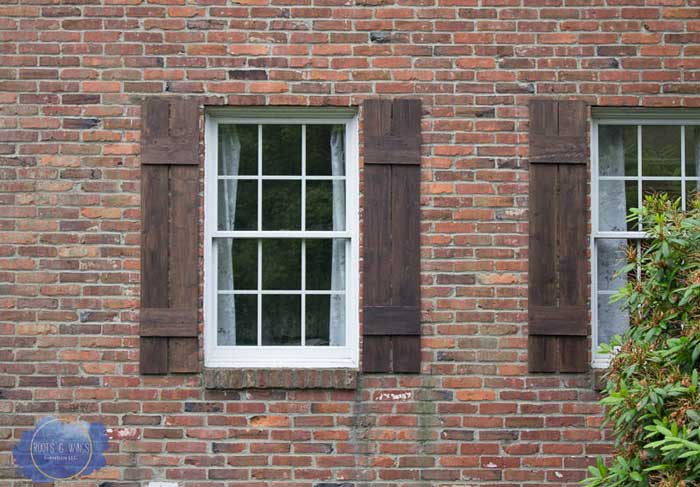 Nothing warms up the exterior of a home more than rustic wood shutters. Since the design is so easy to make, it doesn't take much to transform the outside of your farmhouse style home. This is a good way to set the tone for the interior styling of your home. What is farmhouse on the inside should also be reflected on what's on the outside. The warm wood shutters work well on both brick and sided exteriors.
DIY Mason Jar Storage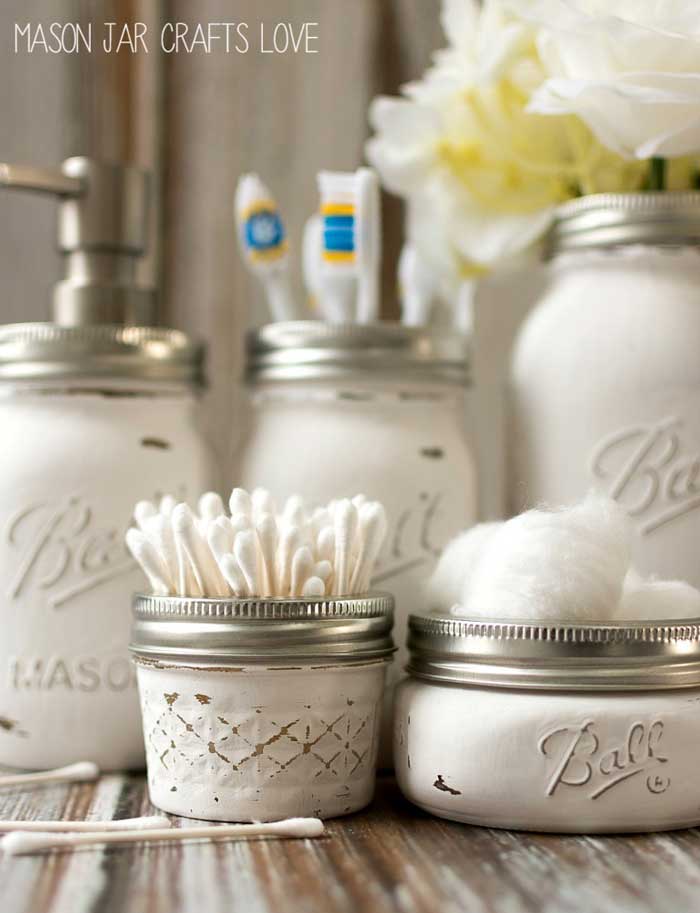 There are a lot of farmhouse crafts that involve mason jars. Because canning was a typical activity in many old farmhouses, it makes sense to incorporate some of those jars in to farmhouse decorating. The distressed white painting that was done on these jars makes them especially clean and decorative for a country bathroom. To see more crafts using mason jars see my post on lots of unique mason jar crafts.
Farmhouse Style Pitcher Makeover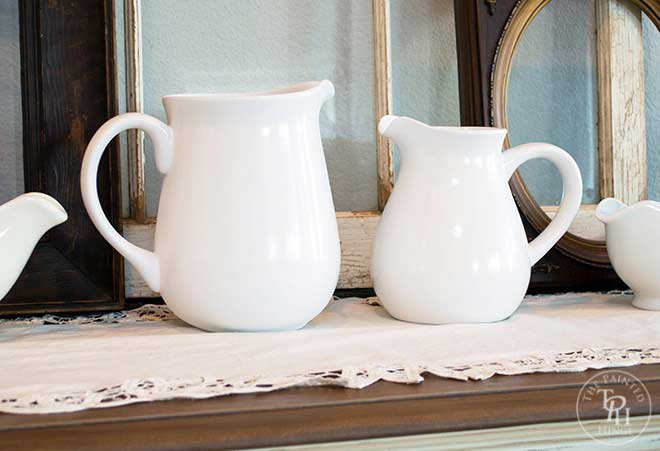 If you've ever looked in a farmhouse kitchen, you have probably seen a lot of white pitchers and bowls. Although you could go out and buy white pitchers, it's much more affordable to simply make over some old ones. If you don't have any of your own to makeover, you can definitely find them at thrift stores. Don't worry about any crazy designs that might be on them. Just look for the shape that you want. Then to get that farmhouse look, just paint them white with a spray enamel.
Wooden Photo Ledge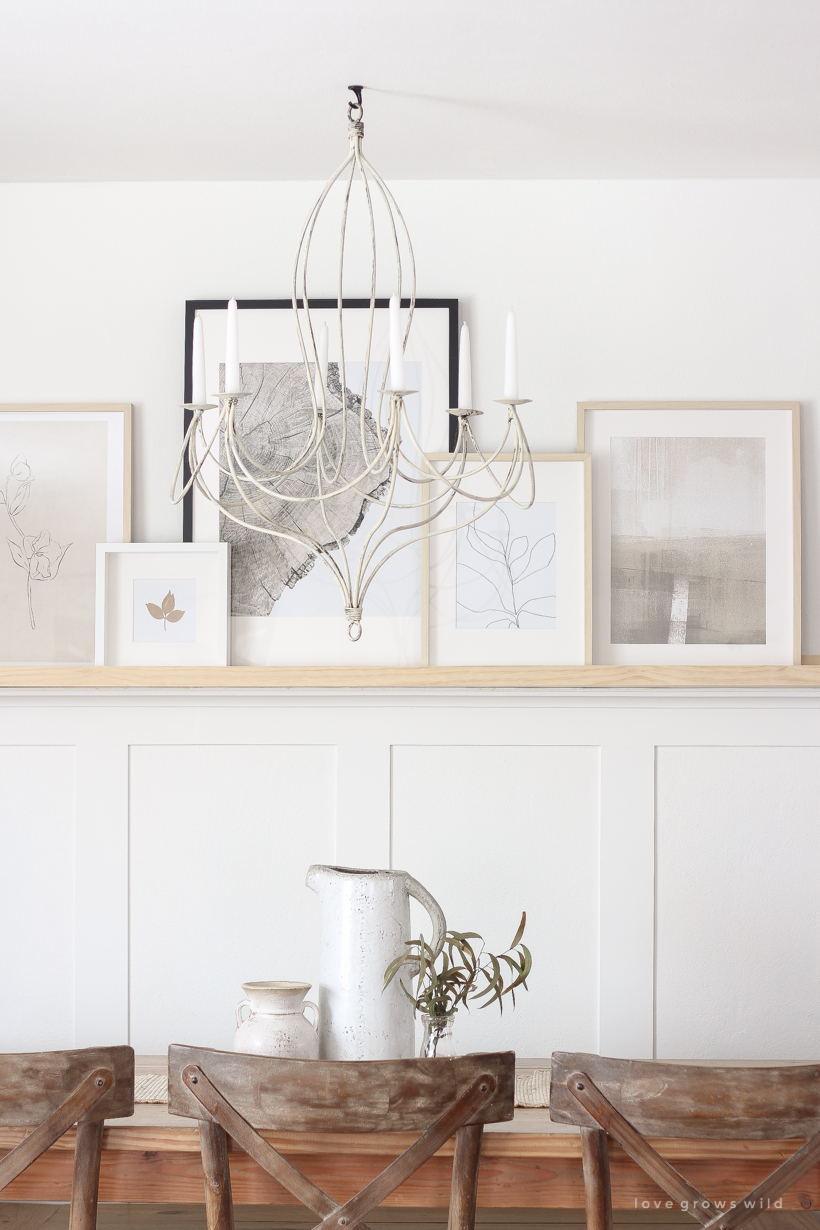 Instead of simply hanging photos or art on the wall, why not create a warm and rustic photo ledge? It's a great way to group multiple pictures for some unique wall art. I love the look of these natural prints to add some sophistication to this farmhouse dining area. There are lots of ways to finish the wood ledge too. For different looks, try distress painting or a darker stain. You could also use a barn wood beam or other salvaged wood.
Rustic Industrial Mail Organizer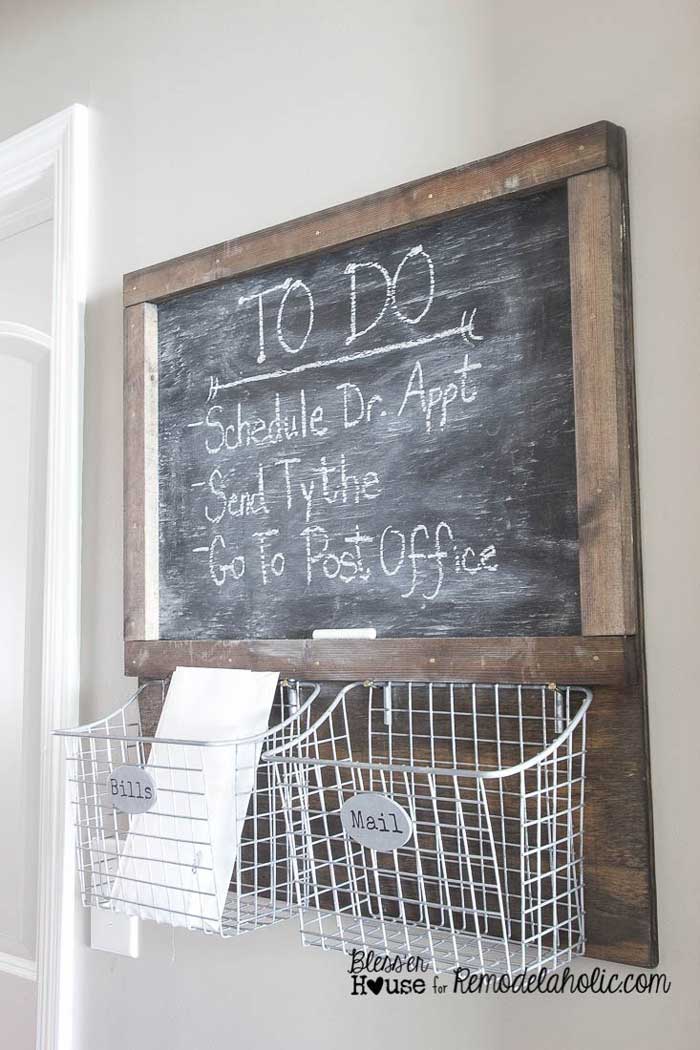 Salvaged wood, chalkboards, and wire baskets are all popular in farmhouse style decorating. So, why not combine all three in a fun DIY project. This rustic industrial mail organizer does just that. I love decorative organization like this and it's really quite easy to make. All you need are some plywood and over the counter wire baskets. Both have added finishes to make them look more rustic.
Repurposed Galvanized Side Table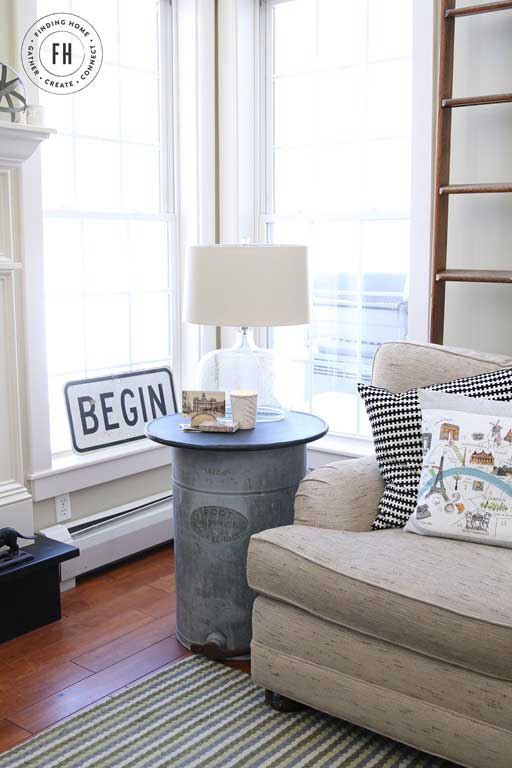 Here is another fantastic repurpose idea. An old galvanized can makes the perfect base for a farmhouse style side table. Of course, the can needs to be fairly big to work for a table. However, cans like these can be found at antique stores or flea markets. All you have to do is add some kind of top to it. Whether you purchase a piece of circular wood or glass or repurpose the top from another table, the project is easy to put together.
Farmhouse Style Towel Rack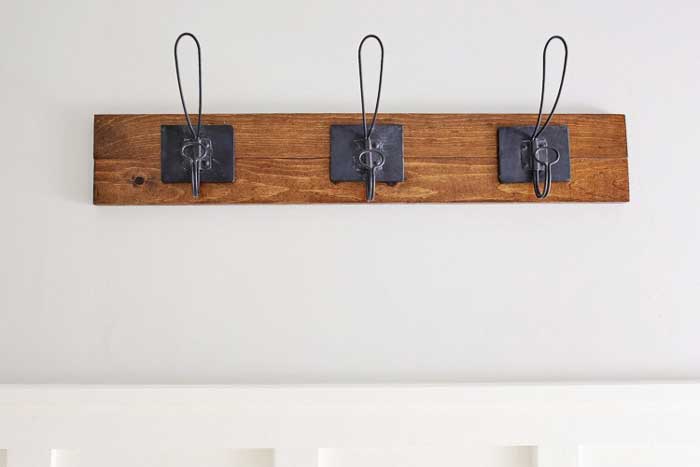 Attach farmhouse style hooks to a stained piece of wood to make a decorative towel rack for your bathroom. When we renovated one of our homes, I found several of this style of hook attached to the walls. If you have an old farmhouse, you too may have come across hooks like these. I have also seen them at antique malls and architectural salvage stores. If you don't care about the hooks being authentic, you can also find farmhouse inspired hooks like these at Hobby Lobby.
Easy Farmhouse Style Sign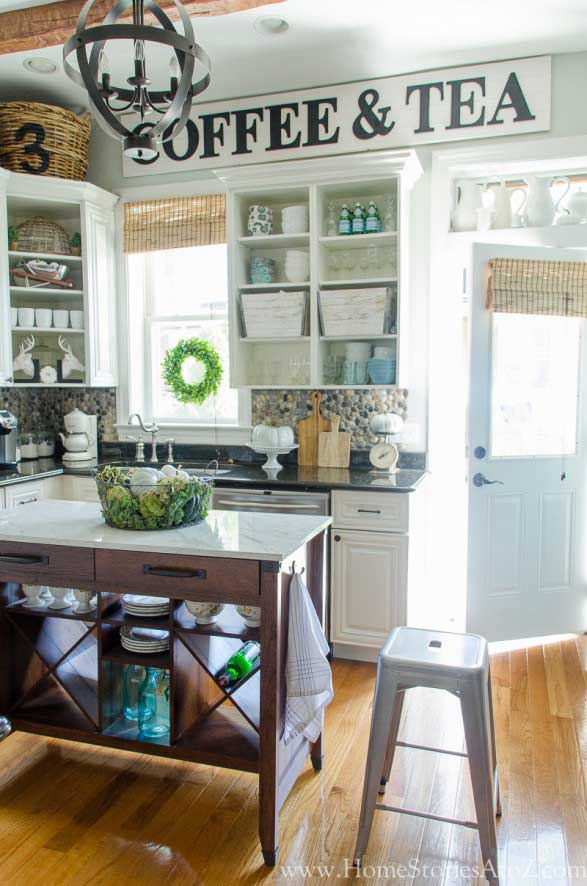 Another huge trend in farmhouse style decorating is large rustic signs. If you've every shopped around for an actual vintage sign, you will know how expensive they are. That's why there are so many DIY ideas for making your own sign. This rustic sign project is one of the easier ones that I have found. Instead of stenciling your words onto a board, paint and attach craft letters. This makes it easier to align everything however it's a little more expensive than just stenciling.
Rustic Sliding Barn Door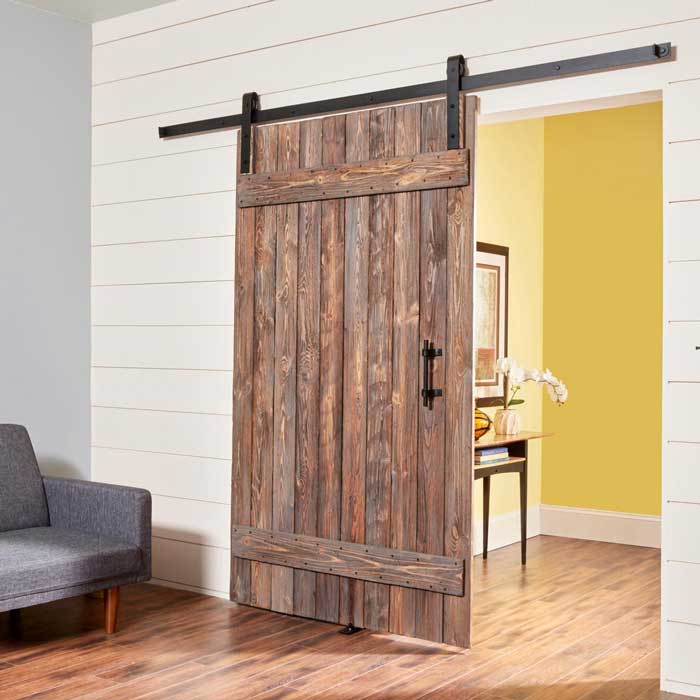 Barn doors are not just for the barn anymore. Bring one inside to use in place of a regular door. Although it looks like this door was made from barn wood, it is actually made from brand new pine boards. They were just finished to look old. This is great because unless you have free access to barn wood, it can be very expensive. Using pine helps to keep the cost way down leaving more money for other farmhouse projects.
Wire Fencing Laundry Hamper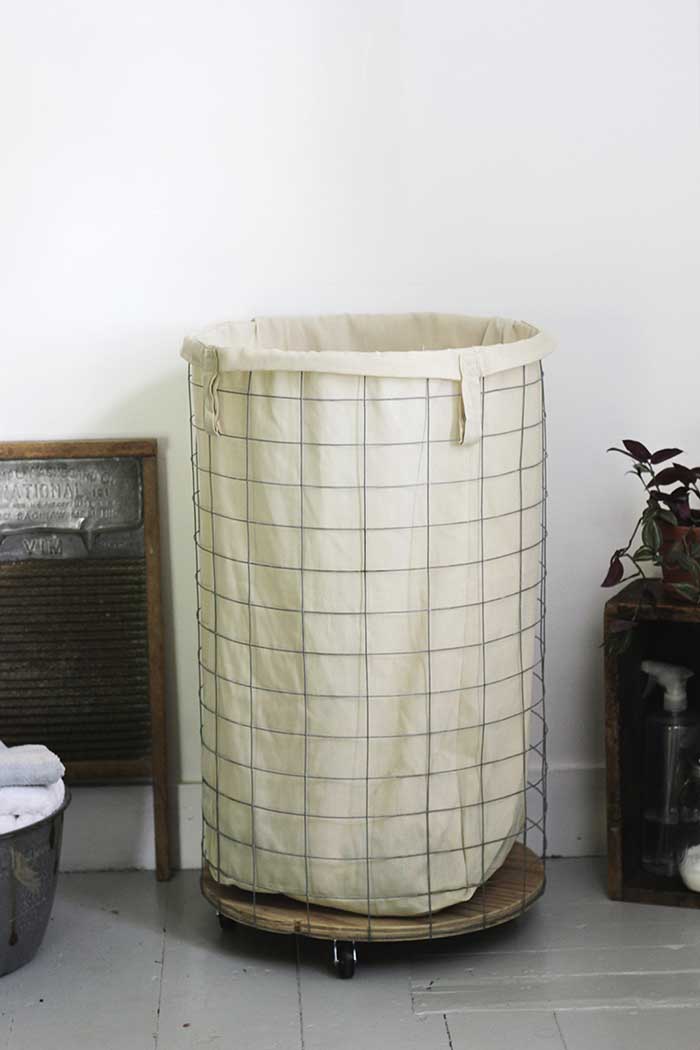 Even the laundry room can use some rustic farmhouse styling. I love this hamper project on wheels. The wood bottom and wire fencing sides make the rustic industrial hamper both functional and decorative. Once made, just slip in a canvas laundry bag and wheel into your laundry room. Having all of that country charm may even inspire you to catch up on your laundry!
DIY Country Basket

A similar project to the laundry hamper is this fun farmhouse basket. The wire mesh is called hardware cloth and can be found at most home improvement stores. To add a little rustic charm, the top, bottom, and sides are trimmed out with strips from a bushel basket. Make this to store your Country Living magazines or anything else that you would like to have close by.
Add Some Faux Birch Bark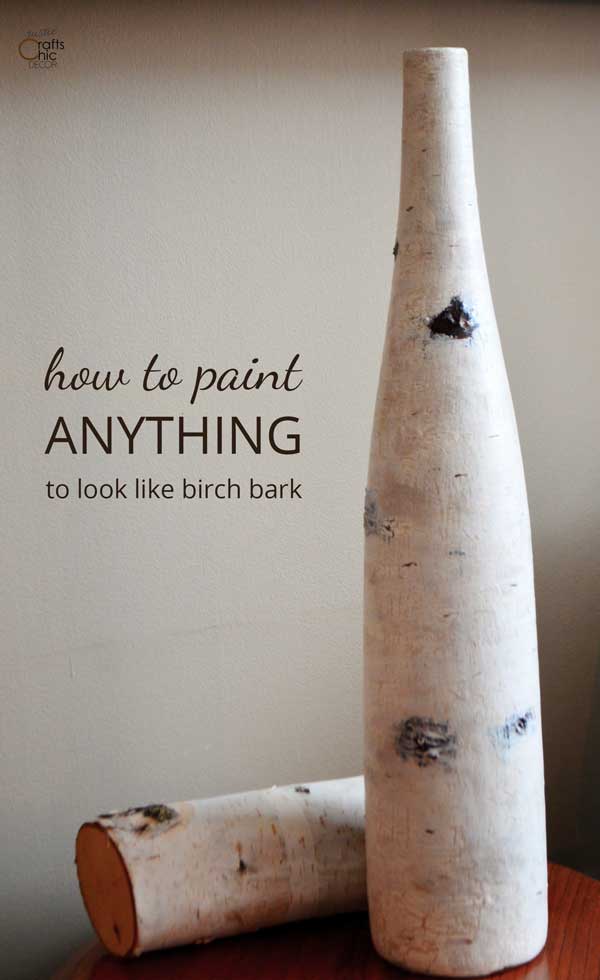 The pretty white bark of a birch tree makes it super popular to decorate with. You will often see birch logs as part of a farmhouse decor. But what if you want other items to appear that they are covered in birch bark? All you have to do is create the look with paint. I took a modern looking vase and painted it to look like birch bark with just a few easy steps. Paint anything that you like, using this method, and add a little rustic charm to your space.
Repurposed Wheel Photo Display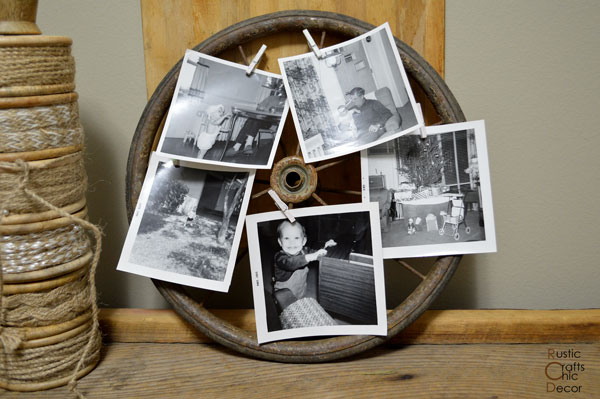 If you want something a little more creative than frames for all of your photos, display them instead with a vintage prop. Since old and worn vintage items have a relaxed and warm look about them, they are great to add to your farmhouse style home. An old buggy wheel is a fun way to add character to your photo display. Just clip the photos onto the wheel spokes with mini clothespins.
Make Your Own Farmhouse Windmill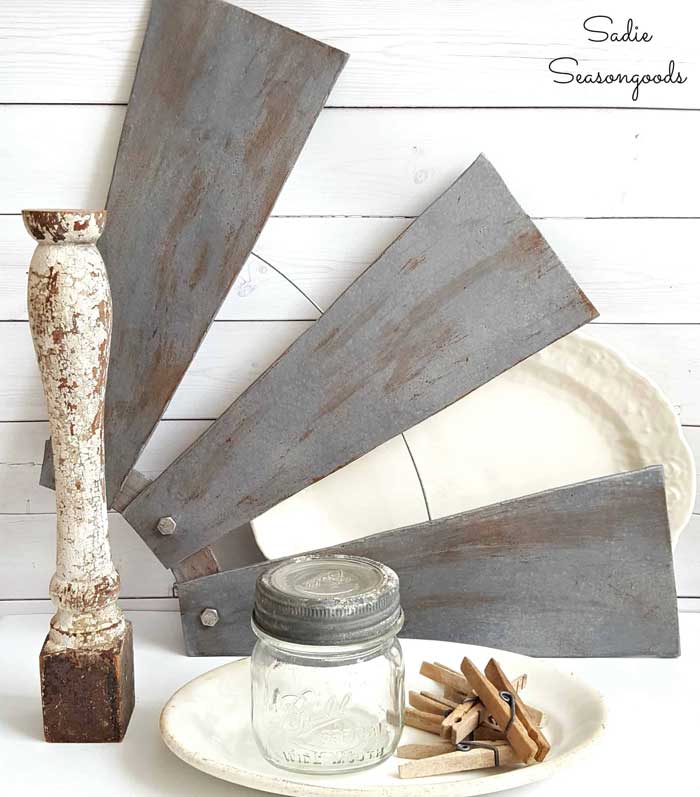 Don't throw out an old ceiling fan! Old ceiling fan blades can easily be repurposed into a stylish farmhouse windmill. You can either make a full circle or just a partial, like this one. It all depends on how much room you have. The curved ends of the fan blades were cut straight to look more like windmill blades. Then, they were painted and distressed to look like metal. Does this get you thinking about replacing that old ceiling fan?
Old Cable Spool Clock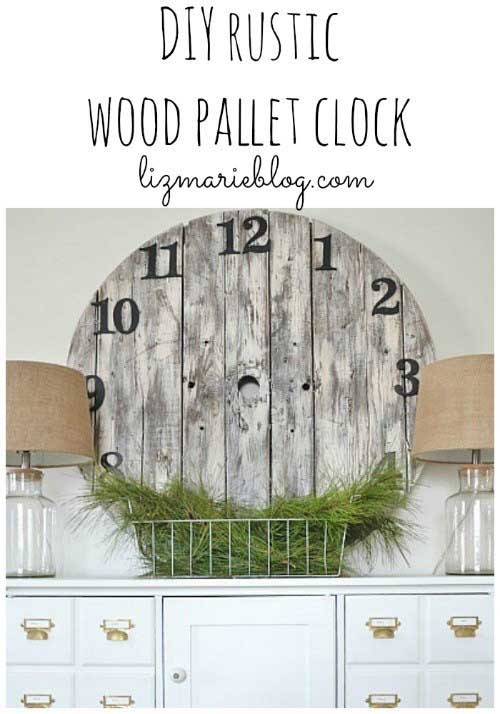 Another type of reclaimed wood is that coming from an old cable spool. You can easily use the entire circular top or bottom to make other things. I've seen tables made with these and now a fun and decorative farmhouse clock. The clock doesn't have to be functional to make a great decor piece. The rustic wood will add warmth and charm to a traditional setting, making it feel more like a farmhouse.
Farmhouse Style Wooden Corbel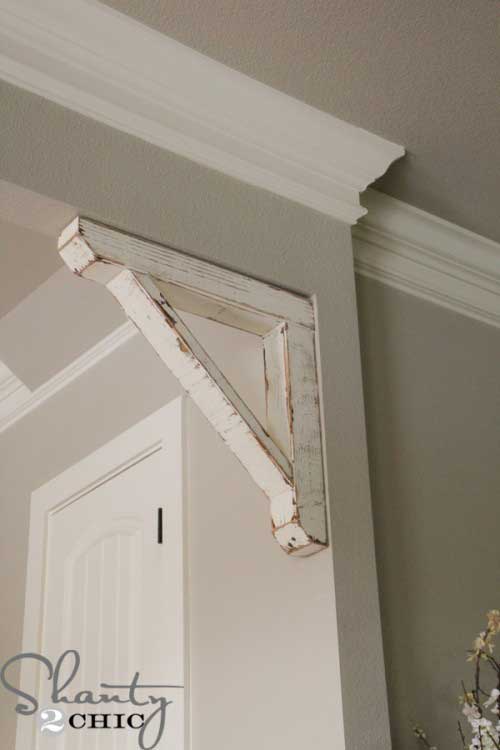 How about a fancy corbel to add some charming farmhouse style? I have seen some incredible looking vintage corbels at architectural salvage stores. However, they also come with a very high price tag. This DIY project is not only affordable but it is also an easy design. It's now simple to dress up the wall corners of any space. You can also put these at the corner of a bar or use them to hold up shelving.
Wooden Custom Range Hood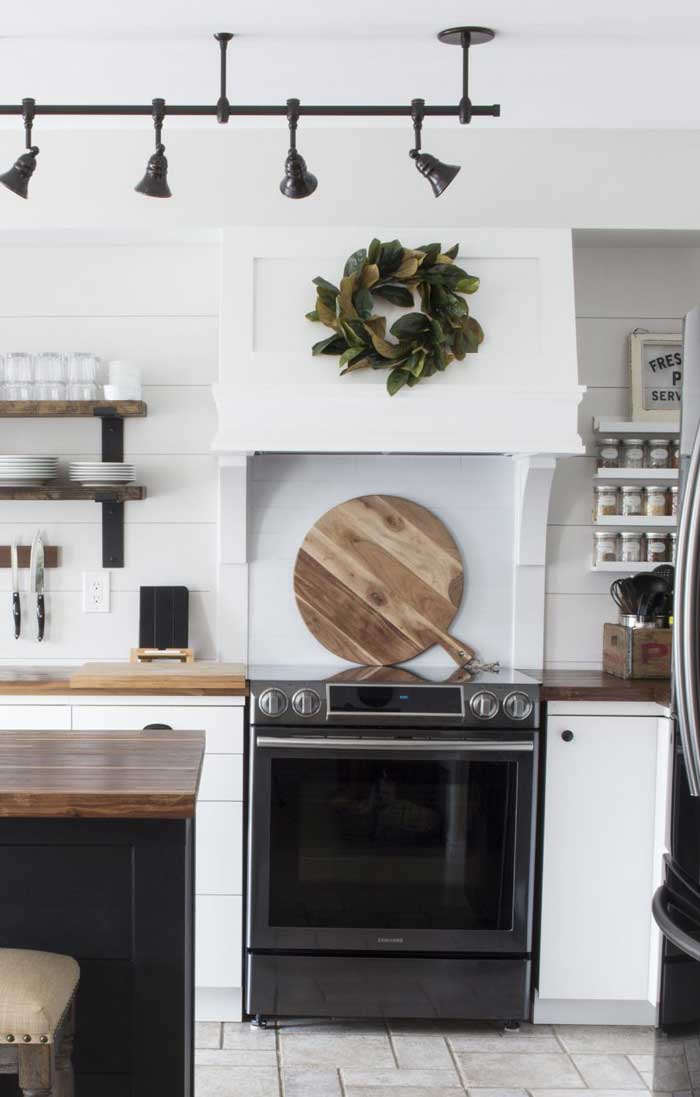 You can really add farmhouse charm to the kitchen by incorporating a wooden range hood. Whether you leave wood grain showing, paint it, or make it with salvaged barn wood, the looks are all rustic and warm. This custom range hood is made to fit over a more basic hood. It does require a little more woodworking skill but the design is still fairly basic for the do it yourselfer.
Round Jute Placemat Project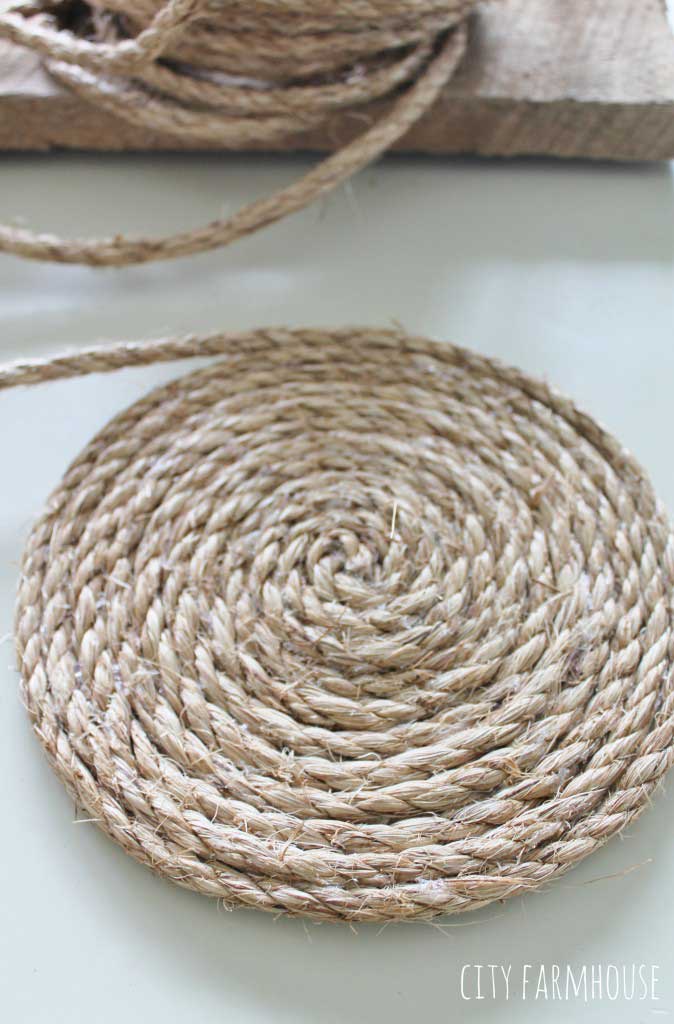 Entertain in style and warm up your farmhouse table with jute placemats that you can make yourself. The rustic look of the heavy jute sets a relaxed tone for the rest of your tablescape. All you have to do is twist and glue the jute together as you create your circles. Another idea for farmhouse style placemats is to make them out of vintage coffee sacks. See my post on how to make coffee sack placemats for more details.
Wire Fencing Cloche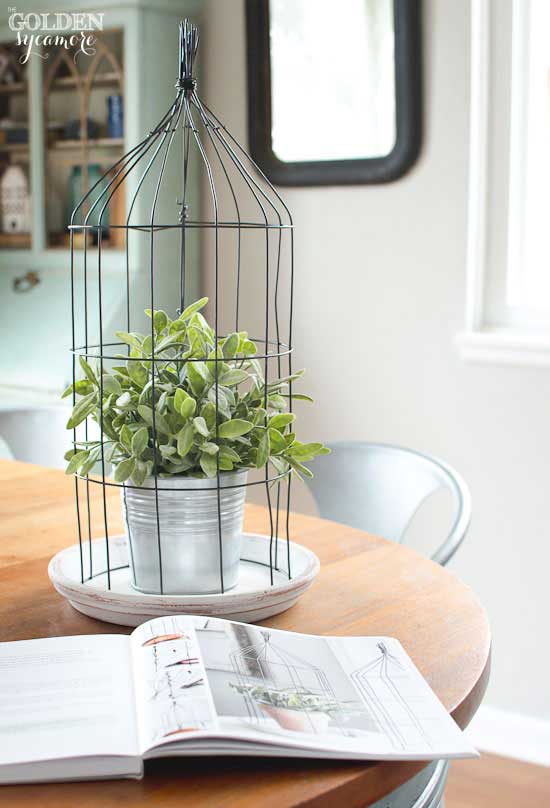 I am used to seeing glass cloches but I haven't seen a wire cloche like this before. Now that I have, I think I have to make one! The rustic styling is just right for a farmhouse style. And, this project is easy to put together with wire fencing and a terracotta saucer. Of course, for a rustic farmhouse look, the wire was painted black and the saucer was white washed. I really like this idea better than a glass cloche because you can put live plants in it.
Distressed Wooden Flower Holder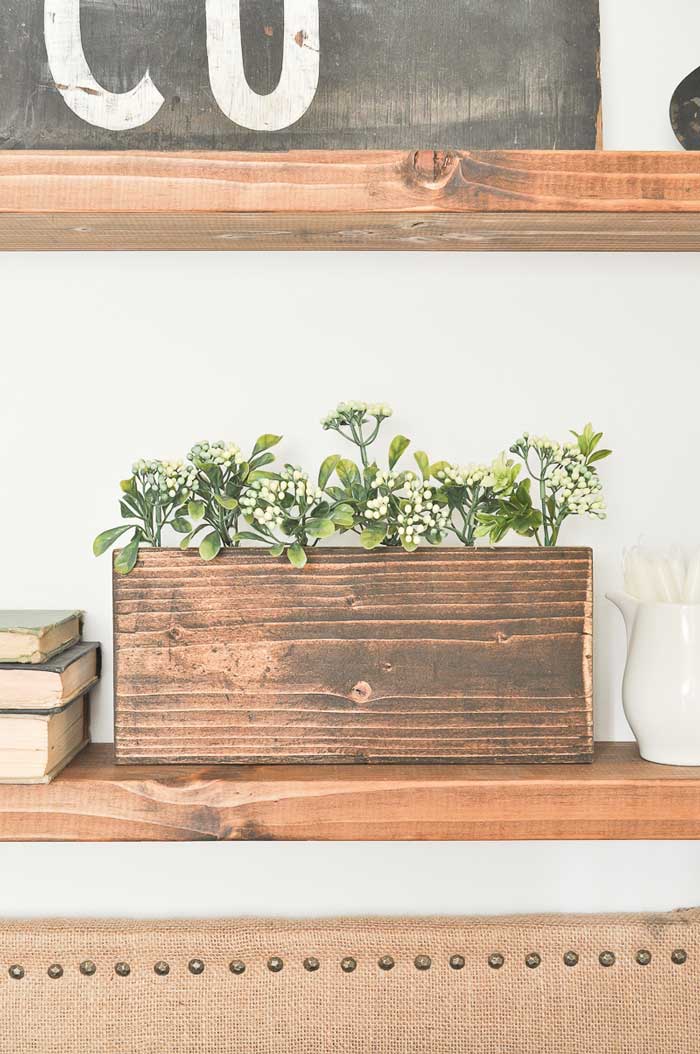 Here is a fun and easy project that will complement a rustic farmhouse. All you do is drill holes in a 2×6 and then insert pretty faux flowers. You can either paint or stain the board to fit your space. I love the distressed stain finish on this board. Although this is meant to hold faux flowers, you could also insert small bud vases or test tubes to hold fresh flowers.
Old Pot Repurposed To A New Basket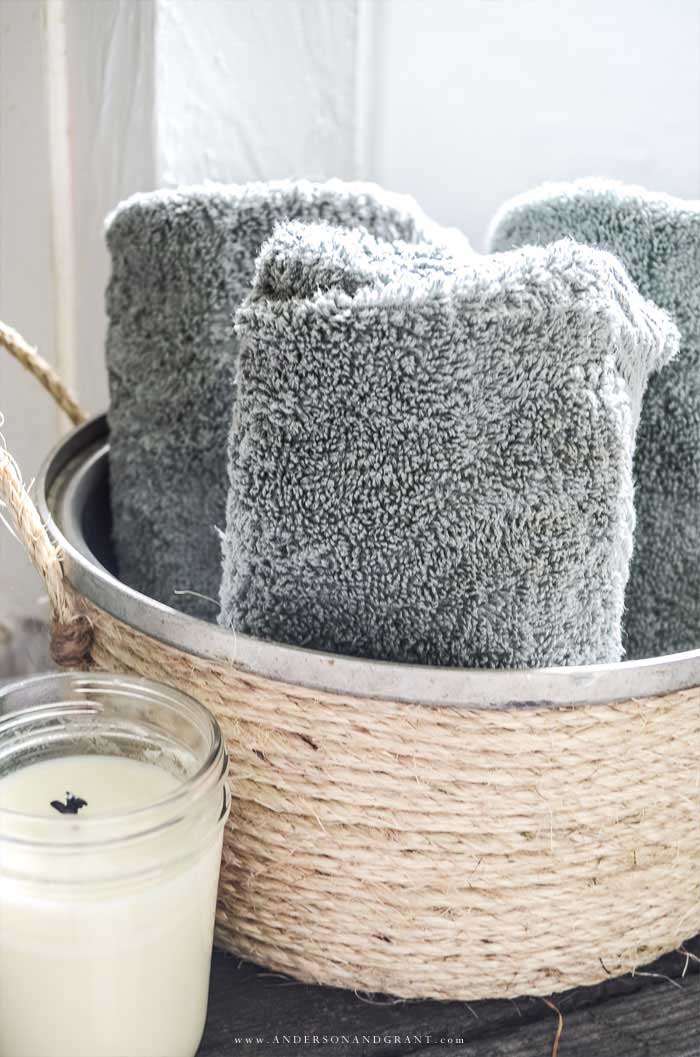 Farmhouse style is perfect for repurpose projects and I have another great one for you. I found this idea for upcycling an old pot to make it into a rustic basket. Take it from the kitchen to the bathroom with this easy transformation. Just wrap heavy jute around the outside of the pan and add a couple of jute handles. Leave the top rim of the pot showing to give a nice rustic industrial touch. Then, fill your new basket with towels and place it in your farmhouse bathroom.
Whitewashed Wood Rustic Shelf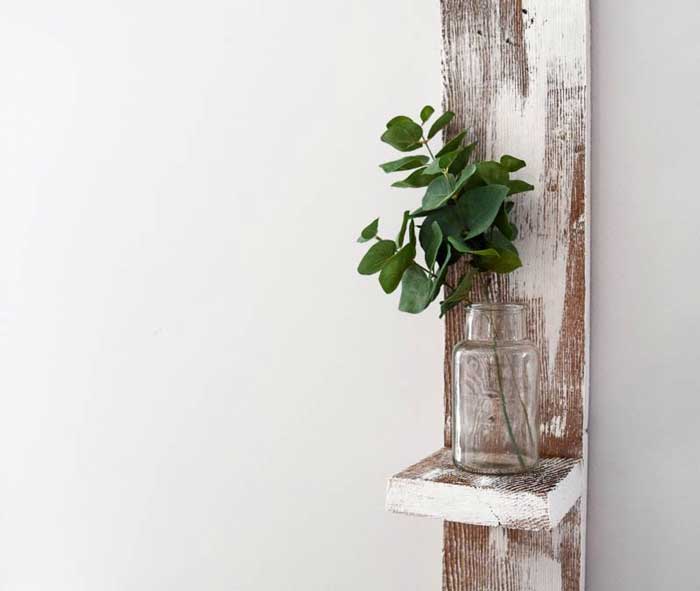 As far as farmhouse decor projects go, this DIY project is one of the most simple. However, simple does not mean boring. A whitewashed board with just a little attached shelf is very unobtrusive. There is just room for a small vase. It's a small decor item that now has a ton of impact. The vase on it's own would be pretty but against the rustic board it now also has more warmth and charm.
Upcycled Vintage Suitcase Table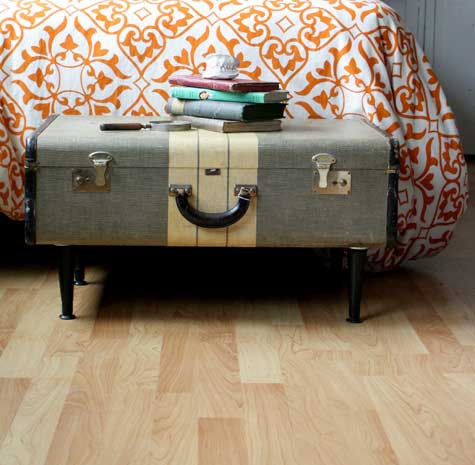 Coffee tables made from unique items are very decorative but they also make great conversation pieces. Since it's not the usual store bought item, there is usually a story to tell. A vintage suitcase makes a great farmhouse table that also doubles for some hidden storage. Just take the legs off of a table that you are not using or purchase some at a thrift store or a place like Ikea. Then, attach them to the bottom of a suitcase and that is it! Some new farmhouse furniture.
An Old Window Art Center Project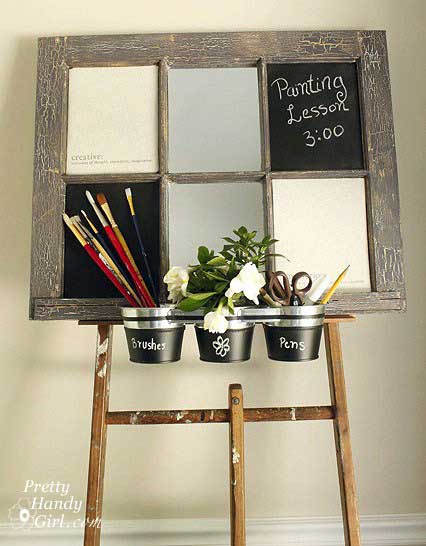 Decorating with old windows is also popular in farmhouse decorating. You can use them for back drops, chalkboards, photo frames or in furniture projects. Here is a unique idea for making a creative spot in your country home.
DIY Crate Table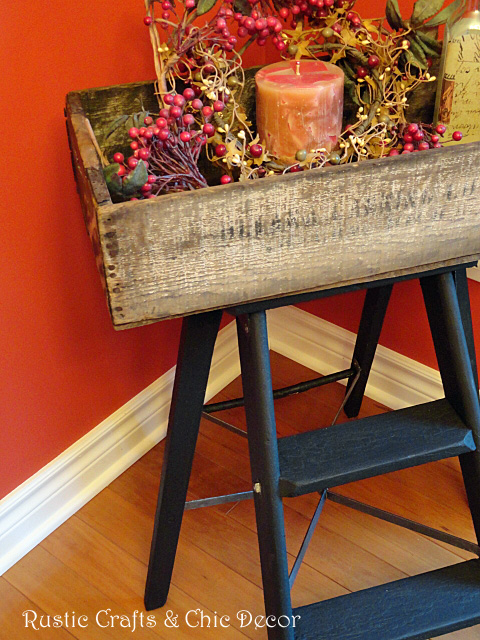 Sometimes combining two old items can give you one totally new piece of farmhouse decor. I did that when I combined an old crate with a vintage step ladder to make a unique tray side table. For every new season, I filled up the crate with new florals and decor. Since it was small enough, I could keep it tucked in the corner of our dining room. It also worked well for entertaining to hold wine bottles.
Rusty Basket Plant Display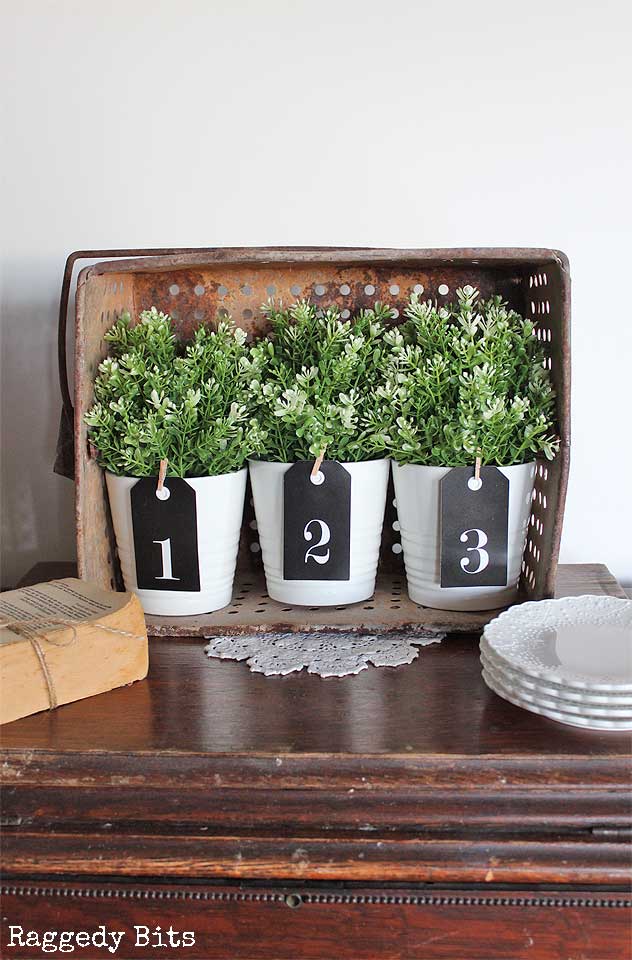 Sometimes it is all in the display to get a good farmhouse look. An old rusty parts basket is a fantastic back drop for some chic white planters. And, the fresh greens add a natural burst of color. To enhance the farmhouse style, make planter labels with simple numbers. The entire display is super rustic chic and fits right in with elegant plates and ornate furniture.
Vintage Crate Vase Holder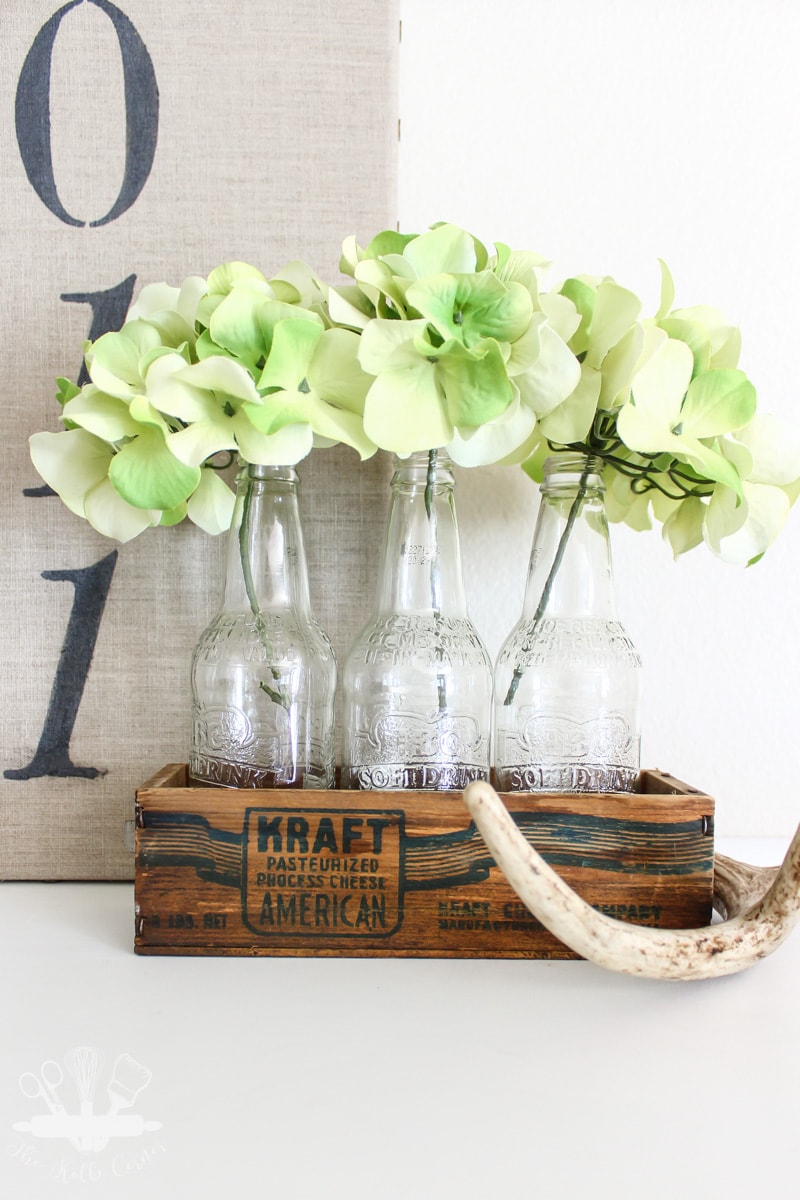 Once again, a DIY project for farmhouse decor is just a matter of arranging things in the right way. An old crate combined with vintage bottles make a pretty centerpiece for a farmhouse table or shelf. The addition of the antler adds another nice rustic touch that is in contrast to the pretty florals. It's such an easy way to create a charming country feel without spending a lot of money.
Upcycled Side Table From An Old Drawer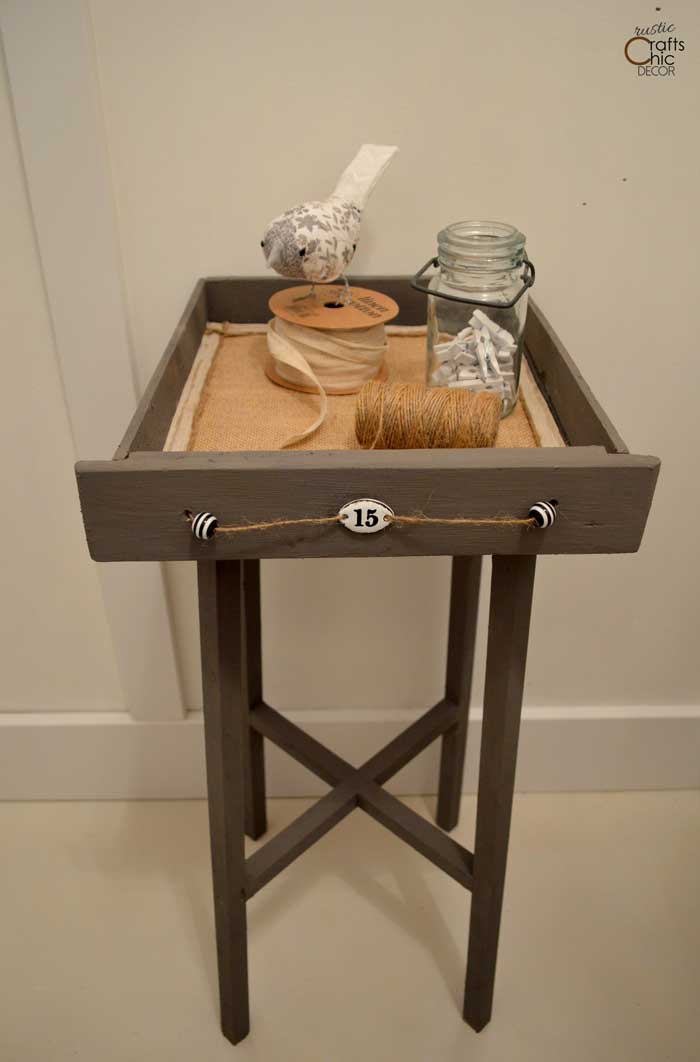 Old drawer can also be used in a wide variety of projects to bring about a nostalgic country look. For this project, an old drawer was combined with an Ikea plant stand to create a fun rustic tray table. You could also put an old drawer on other types of legs to get a variety of different looks. This is a similar idea to the vintage suitcase table. Make one for any space that needs a little farmhouse styling.
Old And Worn Spindle Candlestick Holders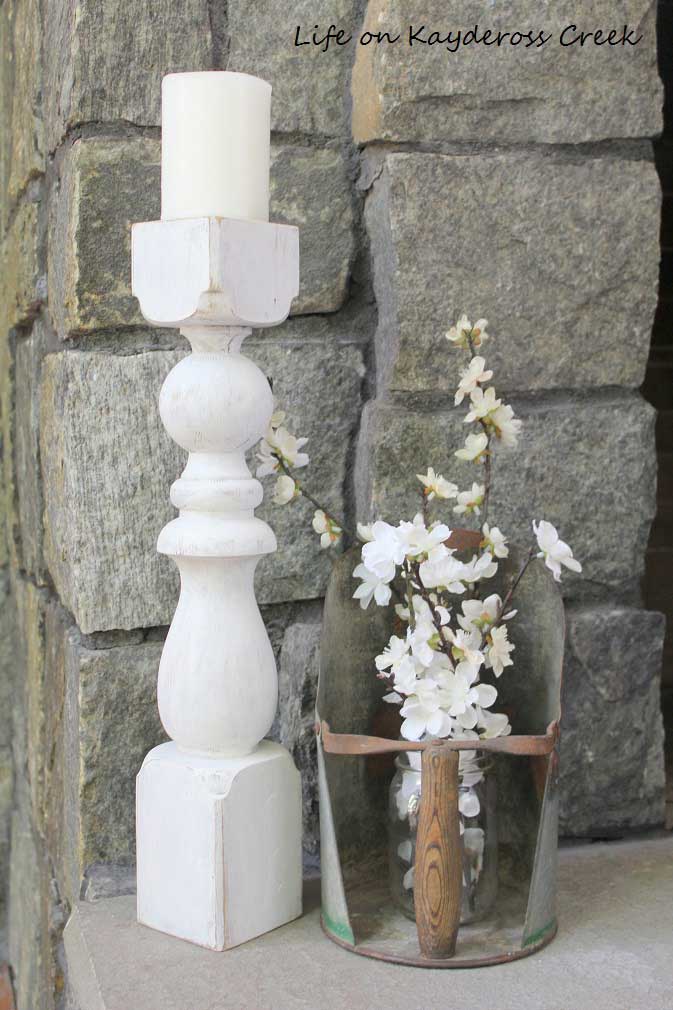 Create chic and elegant candlestick holders out of old spindles. This is another great repurpose idea. The holder looks like an expensive piece of farmhouse decor but would be free to make if you have old spindles to use. I have also used an old fence post section to hold a larger pillar candle. This is a good thing to keep in mind if you are renovating a home. Save any of the old architecure to use in new DIY projects.
Wooden Chevron Arrow Wall Decor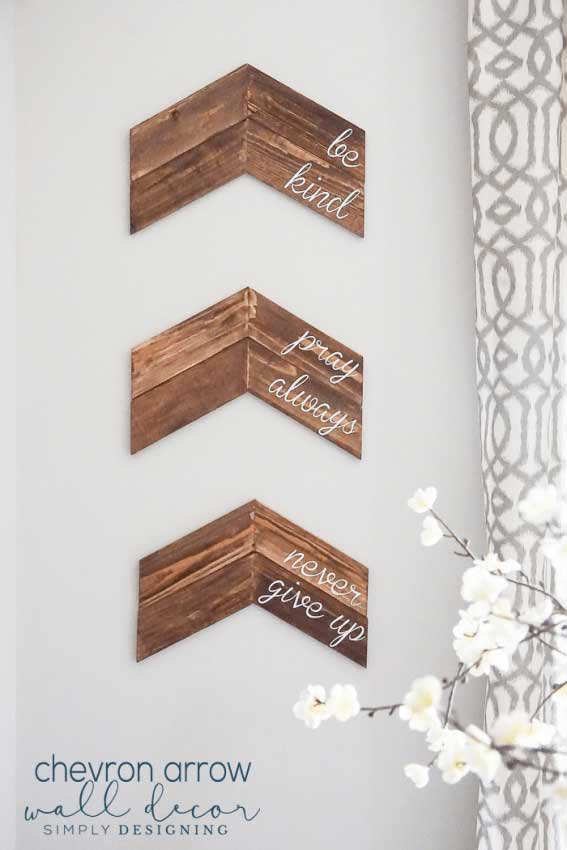 Another way to incorporate some easy farmhouse decor into your home is with some rustic wall art. These chevron arrows are so easy to make and add a lot to otherwise empty wall space. I really love the inspirational messages on each arrow. Especially with the arrows pointing up! It's a great place to focus our attention.
Scrap Wood Lanterns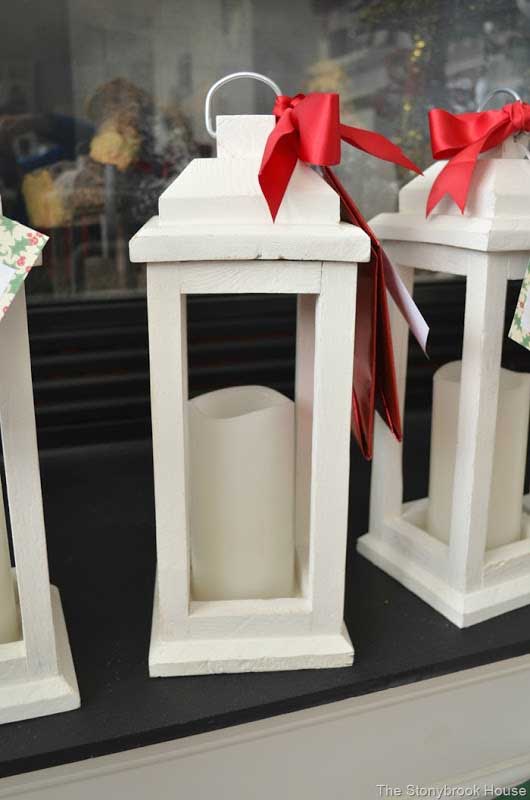 Decorative wood lanterns would look fantastic lining a farmhouse fireplace mantel. Again, you can save a lot of money by making your own rustic decor. These lanterns were made entirely from scrap wood. The only cost would be for the candles. Leave them without ribbon for everyday decor and then just dress them up for the holidays.
DIY Farmhouse Entree Way Bench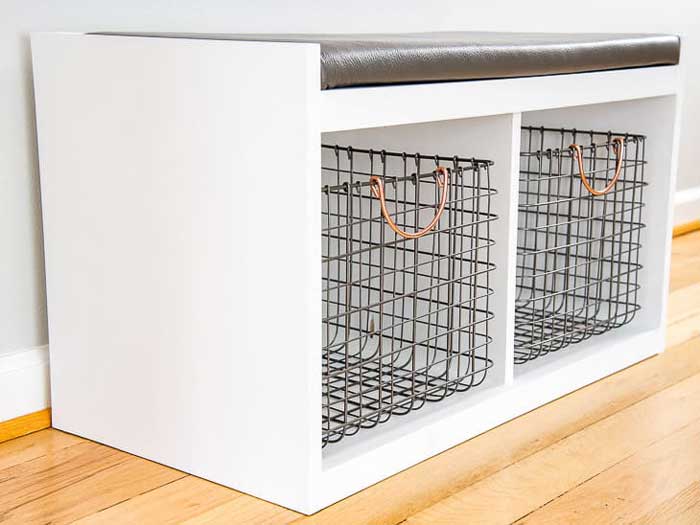 Any farmhouse entree way can use some organization and a comfortable place to sit. This DIY storage bench is made to fit a couple of wire baskets that are handy for storing shoes or other supplies. The padded bench seat makes it comfortable for sitting to put on those shoes. Make your own by following the easy instructions.
Wooden Bead Candle Holder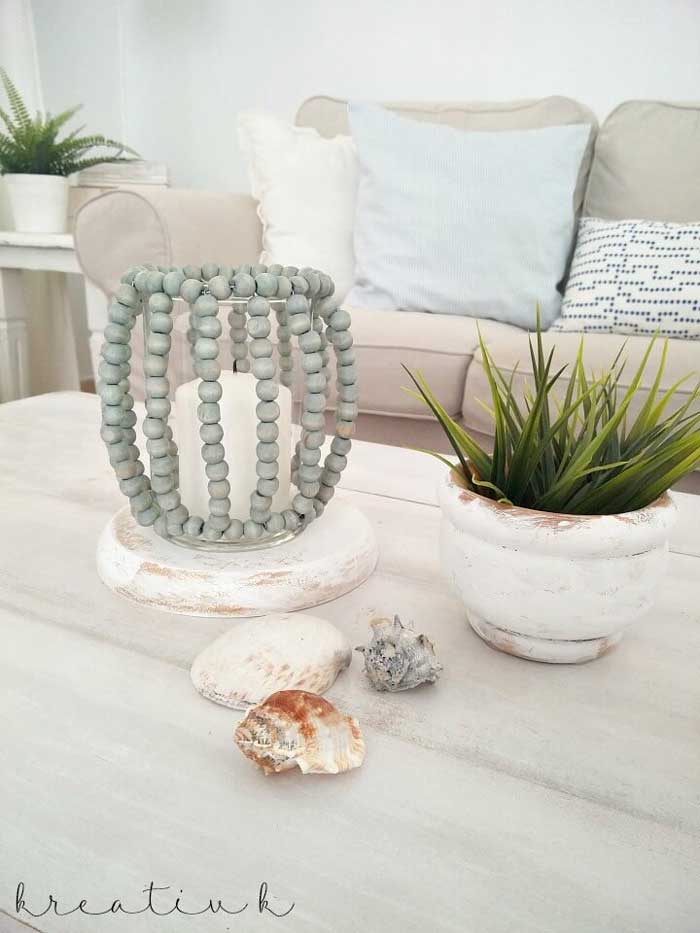 If you are familiar with farmhouse decorating, you would have seen wooden beads adorning shelves and mantels. This project is a unique take on incorporating those rustic beads. A glass candle holder gets a charming makeover by being wrapped in the soothing color of the wood beads. This particular setting looks more coastal but it can easily be incorporated into a country farmhouse style.
Grainsack Chair Slip Covers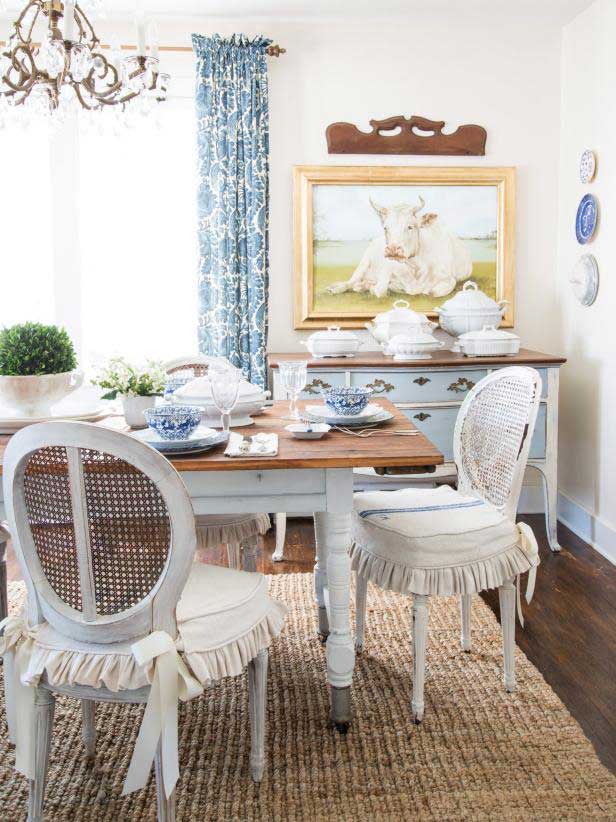 If you need to update your dining chairs to go with your farmhouse table, sew your own slip covers. Slip covers are an easy way to change the style of the seats. These grain sack inspired slip covers are full of charm with their ruffled edges.
Kraft Paper Wall Mounted Easel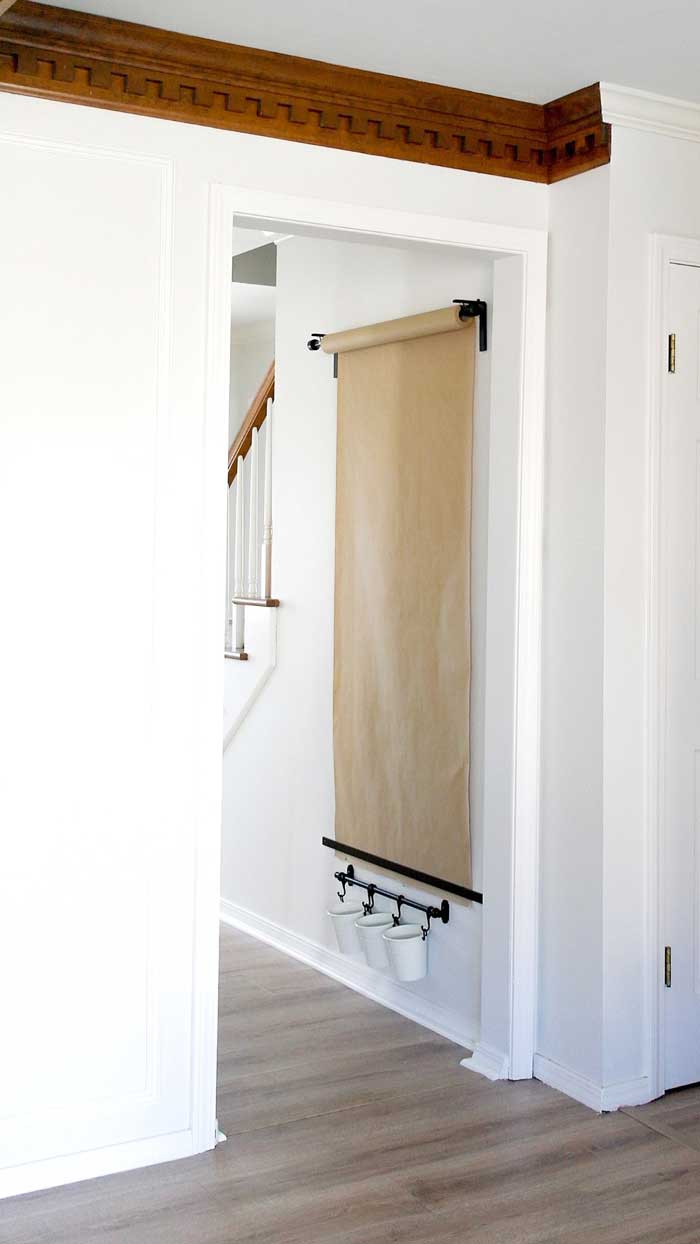 I don't know what it is about rolls of Kraft paper but I love them! It might be the warm rustic color or maybe the thick texture but I love the way they look. And, I especially like to see them on a vintage paper holder/cutter. I passed one of those up once at an antique store and have regretted it. However, after looking at this DIY project I'm excited about the prospects of making one myself. The hanging rod comes from Ikea and the bottom cut piece is just wood. The look is completed with hanging buckets, also from Ikea, to hold writing materials. This is an especially fun look for a farmhouse hallway.
For more DIY farmhouse decor ideas, check out my post with 50 more DIY rustic home decor ideas.