As a kid, I always thought it was so cool to be able to sleep in a bunk bed, especially the top bunk. Now as an adult, I really appreciate the function and space saving design that built in bunk beds offer. If you have a small space or a need to sleep a lot of people at a vacation home, bunks are definitely the way to go. I'll show you several built in bunk bed ideas that provide extra functionality for your small space.
All of these bunk bed ideas are built right into the wall making them both secure and space saving. You basically just need to build a structure that has platforms the size of the mattresses that you want to use. Then, you can customize the bunks with a variety of stairs, ladders, drawers, or cubbies to make the most of the setup. An advantage to building your own bunks is that you can customize however you want at a fraction of the cost of buying pre-built.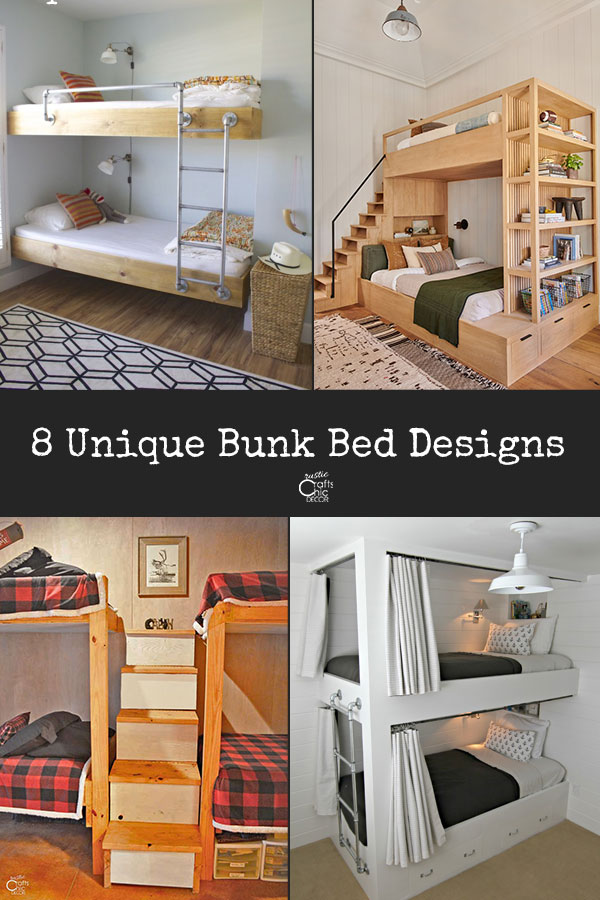 This post contains recommended product links. If you make a purchase through one of the links, I will earn a small commission at no extra cost to you.
Four Rustic Bunks With Stairs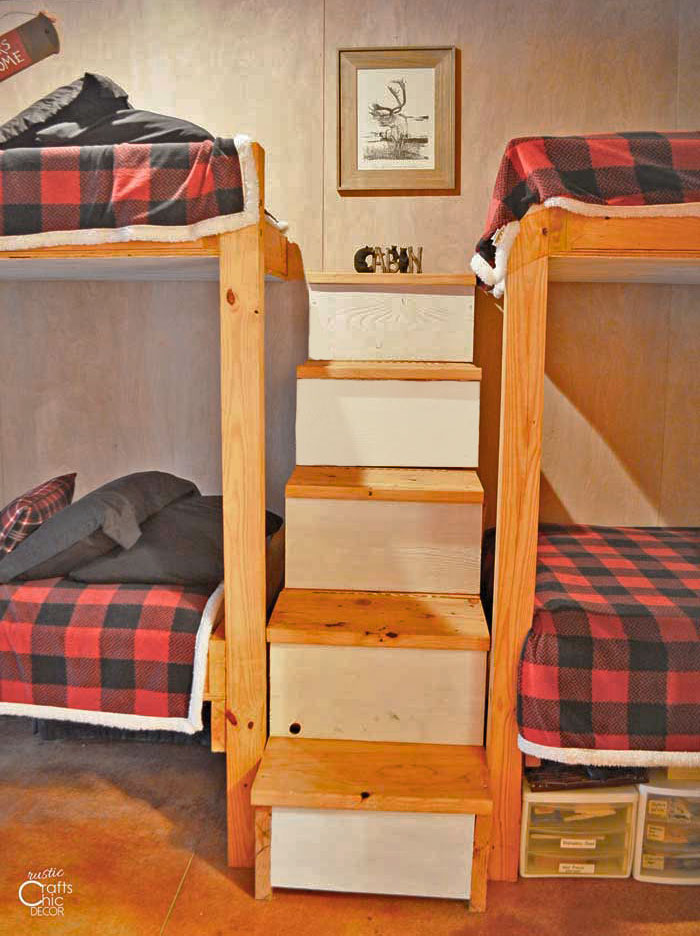 We like to invite people to our cabin to stay with us. That means we needed to have a lot of beds available to fit both adults and kids. These bunks work for both and we included stairs in between the two sets. After all, kids may have no problem using ladders to get up to the top bunk but ladders aren't always the most adult friendly. I, for one, love the stairs when it comes to making up the beds.
Because we also need as much storage space as possible at the cabin, we designed the stair treads to lift up for storage underneath. This works great for extra blankets or whatever guests might bring with them. At some point, I want to add drawers on casters for under the bunks. For now, we just slide various bins under there for extra storage.
Simple Industrial Pipe Ladder Bunks

Here is a simple design that has great rustic styling. I love the use of plumbers pipe to make both a ladder and upper bunk guard. The little alcove provides the perfect spot for built in bunk beds. And, the track lighting is the perfect way to provide reading light for both the upper and lower bunk.
Privacy Bunks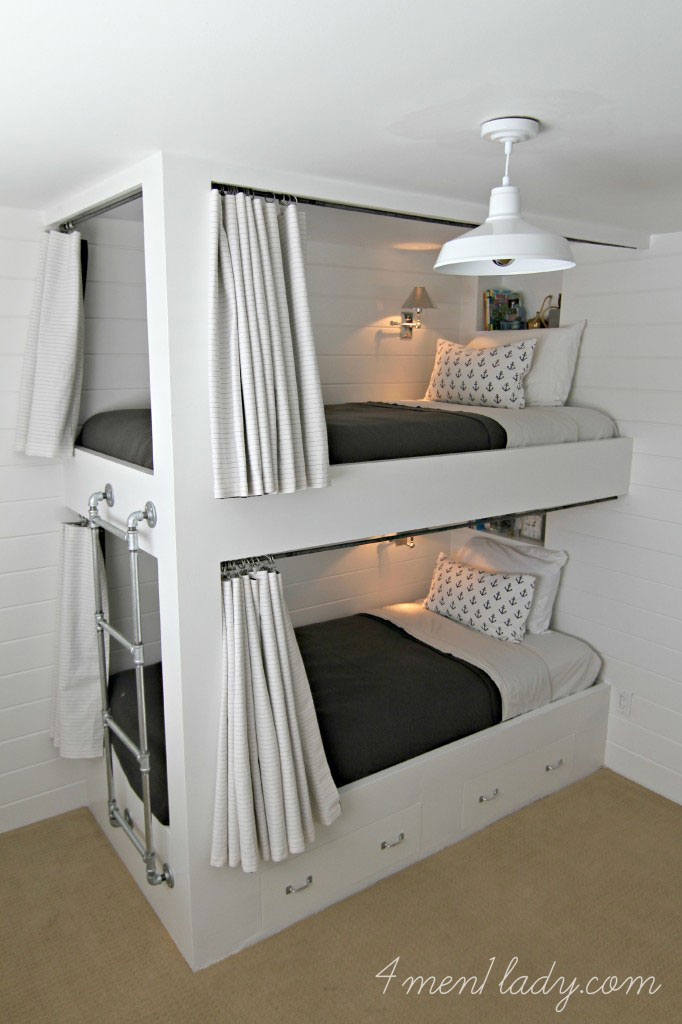 To make bunk beds even more fun and fort like, you can enclose each sleeping space with curtains. All you need to do is add some rods for hanging.
I also like how these bunk beds have built in drawers at the bottom. Whenever you can add some extra storage to your design, you get a double whammy.
Rustic Bunk With Platform Bed

How cute is this rustic set for a kids room? You basically build in the top bunk and the bottom bed is just a rolling platform.
Bunk Beds With Bookshelf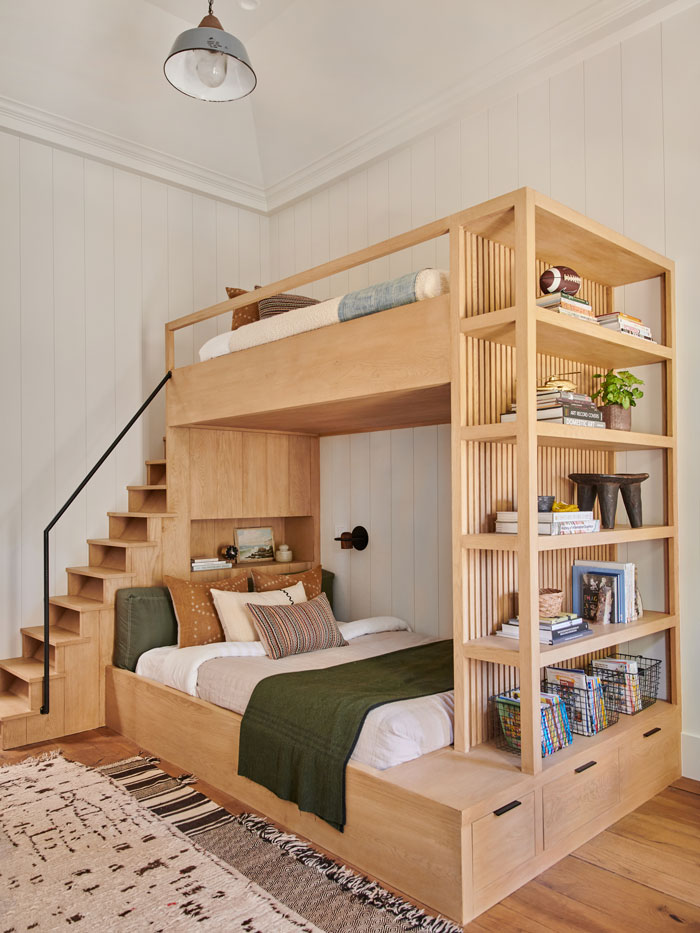 What's not to love about this clever design? It has everything that you could want in a built in bunk design. It's a design that is perfect for all ages. I love the little nook at the bottom which offers the function of a nightstand. It also offers plenty of storage options with the bookshelf and drawers.
Ready Made Bunk Beds
If you love the look of some of these bunk bed ideas but would prefer to purchase one already finished, I found a few options that offer a lot of function. From a triple decker to bunk beds with an extra trundle, there are great options to sleep several. All of the following are bunk beds for sale. However, they can also work as inspiration for building your own.
Twin Over Full With Storage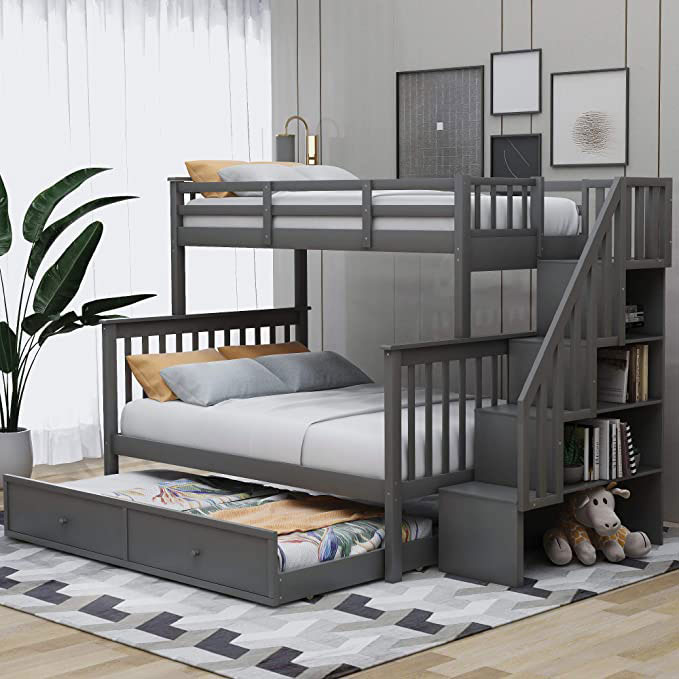 I love the versatility of this design. Since it includes a pull out trundle bed, it offers plenty of sleeping space. Don't need the extra bed? Then just use the pull out to store extra blankets or have storage for guest items.
The way that the cubbie shelf storage integrates with the stairs is a great space saving idea as well. I like when you can get the most possible function with the least amount of space.
Triple Decker Bunk Bed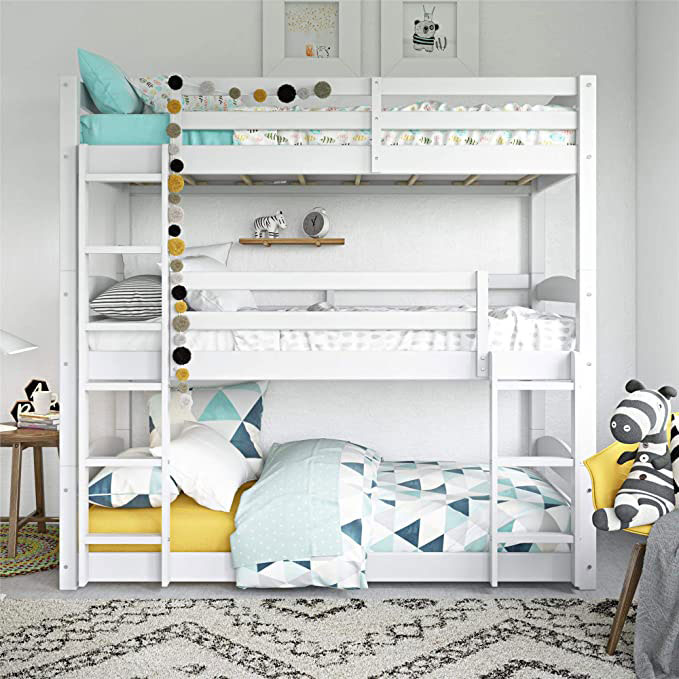 Whether you have three kids close in age or want an extra bunk for sleepovers, this bunk bed provides the room.
Rustic Fort Style Bunk Bed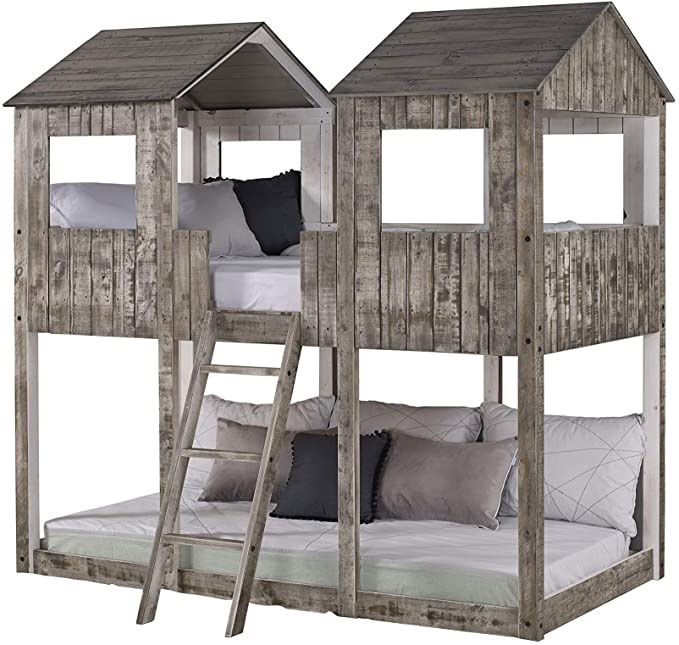 Kids will want to stay in bed playing with this fun bunk bed design. The forts offer a great space for lots of imaginary play.
More Bedroom Ideas
Now that you are thinking about sleeping arrangements and bunk beds, you may also want to check out the following posts on bedroom decor.