If you like rustic Christmas style ornaments, you have to make this candy cane ornament. It is so easy and they look so cute hanging on a Christmas tree. I also like to set one or two in a rustic candy dish, along with some of my faux peppermints, for a festive display.
DIY Candy Cane Craft
This post contains recommended product link. If you make a purchase through one of the links, I will earn a small commission at no cost to you.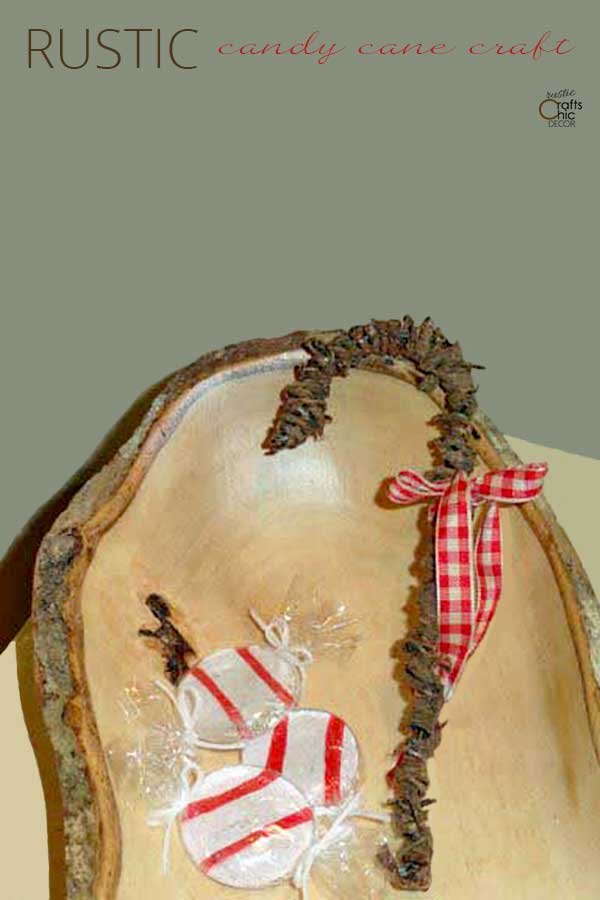 It doesn't take much to make a rustic candy cane ornament. All the supplies that you need are a wire clothes hanger, some bark covered wire, and a little ribbon.
The candy cane is a classic accent at Christmas. Although the red and white stripes have a certain festive appeal, a non traditional version can be particularly heart warming. Rustic Christmas decorations tend to be more nostalgic and cozy. In fact, I like to incorporate as many rusty or worn vintage pieces as I can into my Christmas decor.
Materials Needed
wire clothes hanger
festive ribbon – I used red and white check
tacky glue
metal snips
Instructions For Candy Cane Ornament
Time needed: 15 minutes.
DIY Candy Cane Ornament
Clip Hanger To Size Needed For Candy Cane

With your metal snips, clip one side of the hanger the length that you want your candy cane. Clip the other side right where it comes out from the twist at the top. You now have the base for your candy cane.

Attach The End Of The Bark Covered Wire To The Hanger

Keep your bark covered wire in the spool and pull out the end to start wrapping. Start by inserting the wire in between the two metal parts of the hanger hook, as shown. Bring the wire down and wrap the hanger and itself a couple of times.

Add Tacky Glue And Begin Wrapping Wire Around Hanger

Place a line of tacky glue over a section of the hanger hook, covering the end of the bark between the two hanger wires. Continue wrapping the wire around the hanger over the section of glue. From there, keep wrapping the wire and periodically add some glue to the hanger to hold it in place. It's not necessary to cover the entire hanger in glue. When you get to the bottom of the hanger, snip the end of the wire with metal snips and glue it in place.

Tie A Section Of Ribbon Around The Candy Cane

The final step is to dress up the candy cane just a tad. I wanted to incorporate the traditional red and white so I used a rustic red and white checked ribbon. It would also look nice to add a striped ribbon.
In keeping with the candy theme, you might want to check out how to make a log candle holder that looks like a peppermint stick.