It occurred to me the other day that I have used a lot of sticks and stones in the decorating of my house.  And guess what?……I am not a cave woman!  I do like to bring a lot of the outdoors in, however.  There is just something about nature that is soothing and eye appealing…..plus it is cheap!
There are so many unique ways that you can incorporate these items into your decor, that I thought I would share just a few of the ideas with you.  These are all from my home and have either been created by my husband or I or have been purchased but would be easy to recreate.
Since most of the items I have are made with sticks, if you don't count our stone fireplaces, I will begin with those.
Sticks:

First up is my votive candle holder made up of sticks.  Don't worry though, it won't catch on fire when a candle is lit because the sticks are attached to a glass holder – pretty tricky right?  If you want to make one of these for yourself, you can just check out my tutorial for easy instructions.

Now, there is kind of a funny little story to go along with this stick table.  This table was passed down to us from my husband's grandpa.  His grandpa was a pretty crafty guy and for years my husband proudly told the story of how his grandpa made this beloved piece.  We figured that my husband got his creative talent from his grandpa.
A couple of years ago, my husband and I were at an antique store in Ohio.  We saw all kinds of great treasures but nothing quite as great as a stick table almost exactly like the one his grandpa made!  This was truly amazing…..did grandpa make another one?  And, how did it end up in Ohio…..we all live in Michigan.
We just had to buy the table, after-all it was a perfect match, and we began to doubt grandpa's craftiness.  We began to doubt it even more when we were up in Traverse City, MI this summer and spotted yet another table in another antique store!
So, if you would like a table like this, I am quite sure you could easily find one if you shop around at a few antique stores!

An easy way to get a quick and rustic curtain rod is to simply hang a long branch between two pole rod holders.  We did this for some of our basement windows and used tab top curtains to easily slide on the branch.

We also used Y branches as curtain hold backs to complete the rustic look.  These were just nailed directly to the wall.

I had purchased this stick flower pot holder for next to nothing from a resale shop.  Instead of using it with the flower pots, I decided to use it to store wine bottles and accessories in our rustic basement kitchen.

We even decorate some of our picture frames with little branches.  I think it adds a nice little dimension and rustic touch to a frame.  I also have a tutorial on decorating frames likes this if you want to make one for yourself.

A real simple way to decorate with sticks is to just fill a vase with thin branches.  I have also used clear glass vases with stones on the bottom and branches filled in up top.

And finally, for sticks, an item you will find all over our house is our birch lamps.  They seem to blend in with even a more traditional decor style.  If you want to know how you can make your own, see the tutorial here.
Now onto the stones:
Stones:

I like to use stones to fill the bottoms of glass vases.  Use store bought polished stones for a more chic look or natural stones for a more rustic look.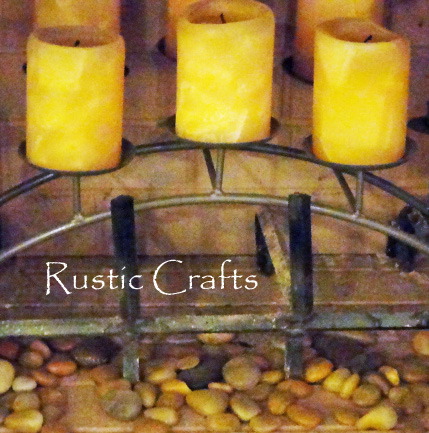 We rarely use our great room fireplace.  It was supposed to be set up for gas, when we were building, but that somehow got missed.  We have real fires in the basement all the time so this one is mainly decorative for now.  I like to burn my candelabra of candles, which gives off a wonderful glow, and I tossed some stones below the candles for some more decorative interest.
I would like to do more with stones but have obviously been more focused on the sticks.  Do you have any suggestions for decorating with stones?  What about the sticks?  I would love to hear your thoughts!  Leave any comments or suggestions below – your words inspire me!
Happy Decorating!