Have you ever looked at a blank canvas and wanted to create your own art? If you're not a great painter, you can still make some creative wall art. One way to do this is to create a collage of favorite images. I needed to fill a wall in our cabin basement and decided to have a little fun with magazine cutouts. Images from outdoor magazines would give the right theme for our rustic space. To get the images onto the canvas, I just had to decoupage them. When you decoupage on canvas you get some brush marks from applying the decoupage. This is similar to what you see in a painting. I'll show you what I created to inspire you for your own project.
Decoupage Magazine Clippings On Canvas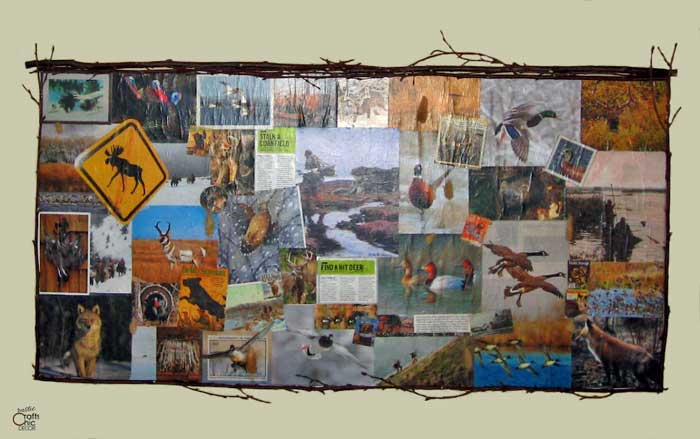 Decoupaging the images, using Mod Podge, is a great way to create a collage. The Mod Podge glues, seals and finishes the magazine clippings to the canvas. All you have to do is brush some Mod Podge on to the back of your picture and then place it onto the canvas, smoothing out any wrinkles. I still got some wrinkling on some of the thinner paper. I had even tried spraying with an acrylic sealer first, which did help a little, but a few of the papers were fussy. Since I could tell right away that they weren't going to smooth out easily, I could have easily removed them but opted to keep them since the image wasn't affected – there was just a little more texture. After getting the pictures in place, I put a thin coat of Mod Podge on top of the images with a soft brush.
I let this dry completely for about twenty minutes and then applied the finish coat. Using a stiff brush, I applied a thick coat using an artist's stroke to show the brush marks like a painting. This gave it some depth and more texture.
The project wouldn't be complete without adding some birch branches. I simply hot glued some of the thinner flexible branches around the frame of the canvas, intertwining as I went. To give a little more depth to the overall picture, I also decoupaged some natural dried weeds to the front of the canvas.
This project would also be great to do in a kids room with images of some of their favorite things or maybe an exercise room with inspirational messages. Or, an easier project would be a small canvas with just one special image. A flat magazine or poster image can look a lot more decorative when decoupaged to canvas with the depth and brush strokes.