Keys must be able to multiply themselves! I was recently looking at the mess of keys that we have hanging on hooks by our door. It made me feel secure in thinking that we must have every key we would ever need for anything at all. And then it made me feel not so secure. First, why on earth do we have so many keys? It's not like they include the keys we carry on us for the condo, cabin, and our main vehicle. And second, which key exactly goes with what? Some of the keys had labels but the majority did not. I couldn't take it anymore! It was time to organize these keys with some DIY keychains with labels!
I'm actually surprised I let this key fiasco go on as long as I did. Normally, I'm all about structure and organization. In fact, I get a little tense when things are out of place. Anyway, better late than never! Like any organization project, the key is getting started. The process itself is calming and feels good.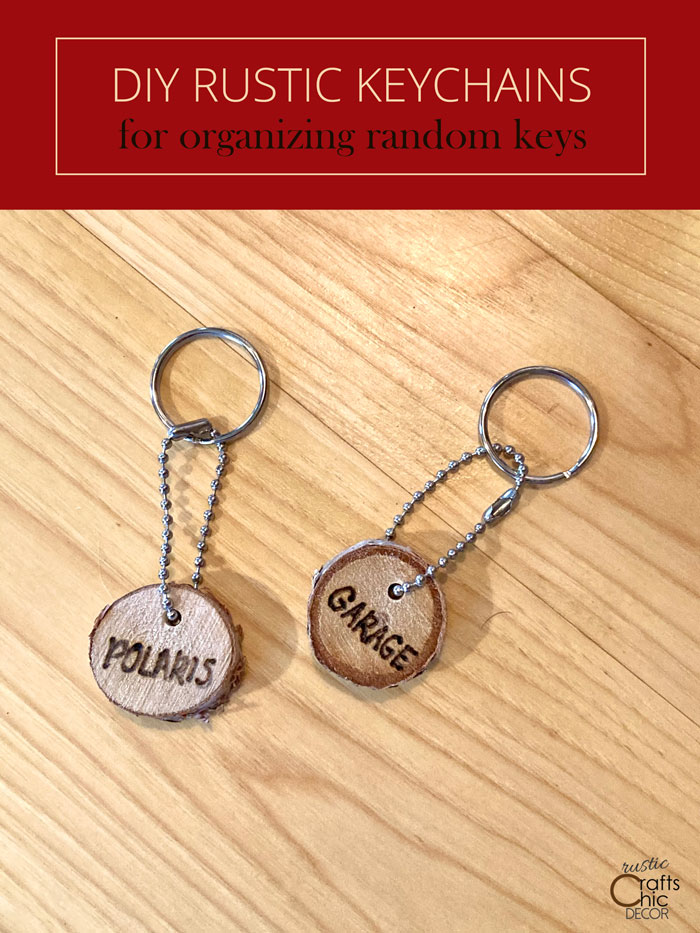 This posts contains recommended product links. If you make a purchase through one of the links, I will earn a small commission at no extra cost to you.
First Step: Sort Keys

My pile is a little daunting because only a few of the keys had any kind of label. I decided that the keys without labels would all go in a small bin for potential future use. However, I sincerely doubt that we have a random chest of treasures around that any of these keys would fit. With the help of my husband, I sorted out the keys that were for our various trailer locks and outdoor toys.
Second Step: Create Individual Labeled Keychains
Since our keys hang on a fun fish hook by our door, I wanted the keychains to have a rustic look to them as well. I also wanted most of the keychains to be uniform in the way they look. The exception is our older Jeep for trail riding. That has it's own Jeep keychain that I couldn't part with. At least the rest of the keychains would be the same by using wood slices with wood burned labels.
Write Labels In Pencil

Before using the wood burner, I wrote out the labels in pencil to make sure the spacing was right. This way if I needed to make any adjustments, I could just erase and start over.
Drill Hole In Top Of Wood Slice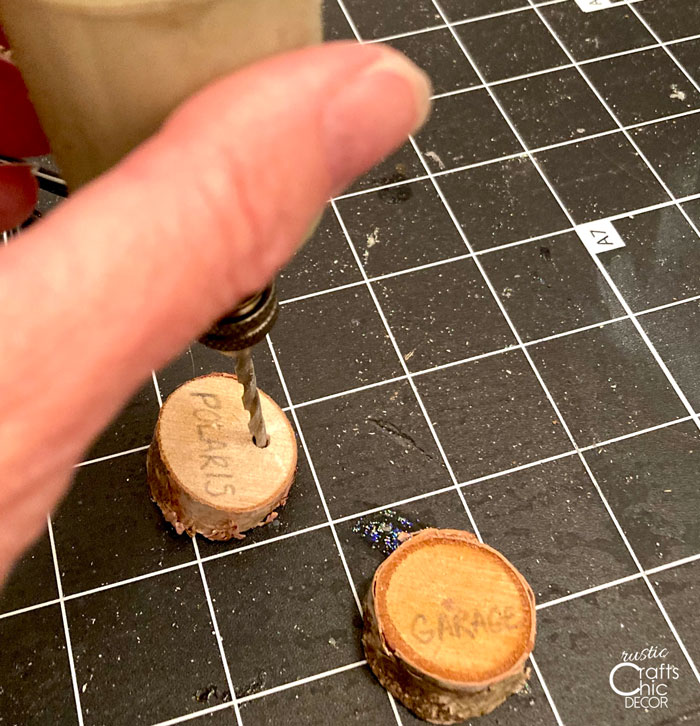 Using a small drill, I drilled a hole at the top of the wood slices to fit a chain through. This is a little tricky with a small wood slice. When I touched the drill to the wood, it wanted to kick the wood slice across the table. I had to hold the wood tight with one hand and then firmly press the drill bit onto the wood as it was spinning. Once I got the feel down, it worked like a charm.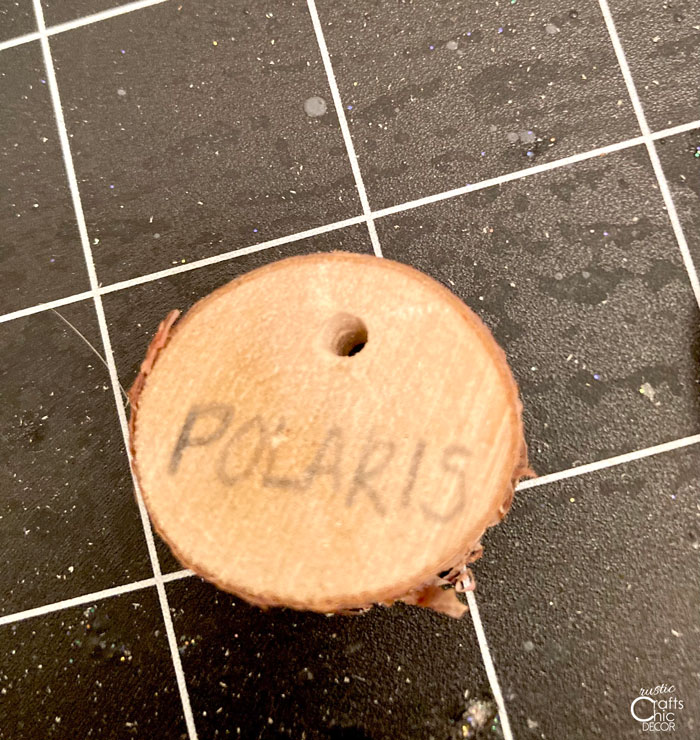 I always use a pad on my work surface so that I don't damage my wood table. As you can see, the pad does get abused. But, better that than my table!
Wood Burn Over Pencil Lettering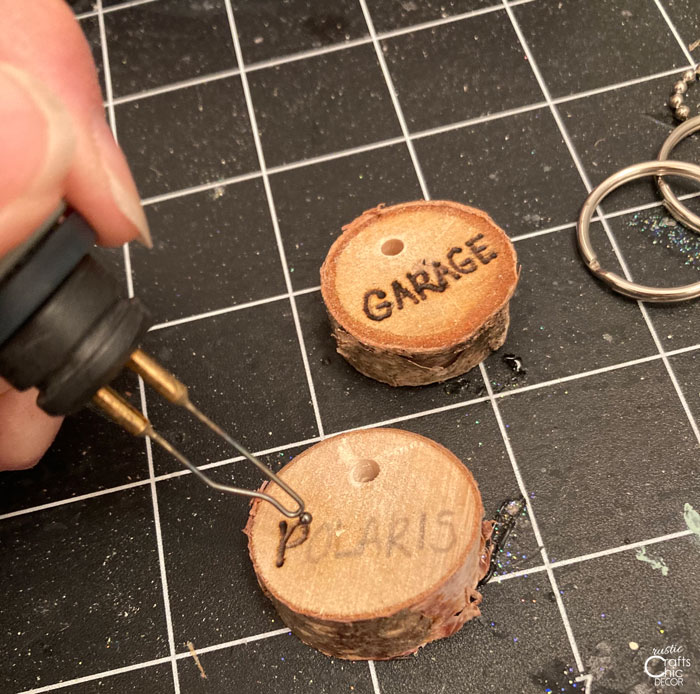 I love playing with my wood burner! I use the hottest setting for doing letters. There are letter stamps available for neat and concise letter burning/stamping. However, I like using the pen tip for most of my projects.
Run A Chain Through The Hole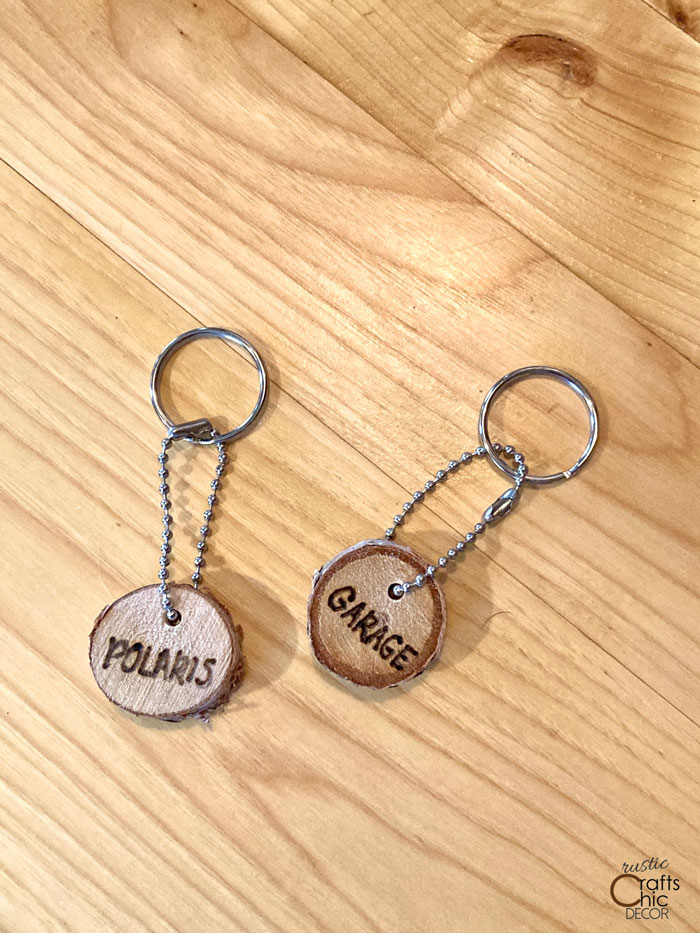 I have a whole container full of keychain and key ring parts from when I made wine cork keychains. A standard keychain works great for threading through the hole at the top of the wood slice. I then attached a standard key ring to the chain for attaching my keys.
Hang And Organize Single Keys

So far, I only have a couple of the chains hanging by the door. The rest of the keys, for trailers and cases, will go on pegs in the garage. There was just no sense in having all of them hanging inside. Plus, I only have so many hooks!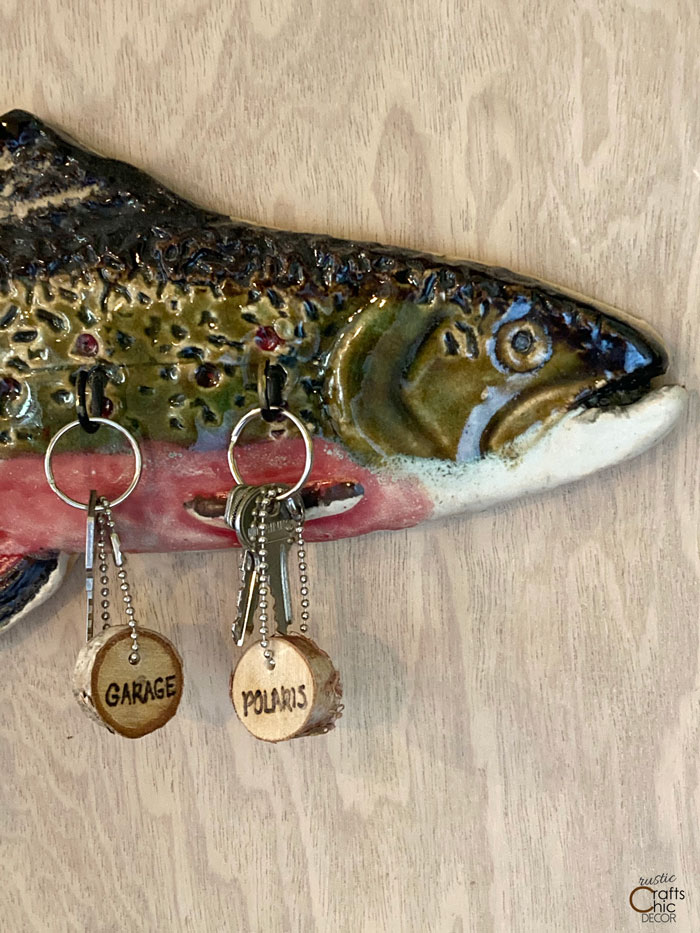 It feels so good to see have the keys organized. As for the little bin of extra keys, they may end up being used in another type of craft project if they don't get claimed soon. See my vintage key crafts for a little inspiration!