There are about as many styles of Christmas stockings as there are ornaments on a tree. Of course, my favorite style is rustic. The nice thing about rustic styling is that it is simplistic and not necessarily perfect in design. For instance, repurposed fabrics, including old clothes, or a rough seam just add to the character of a rustic stocking. This makes rustic Christmas stockings not only easy to make but also very budget friendly. Check out this collection of ideas using burlap, coffee sacks, old sweaters, and more rustic goodness.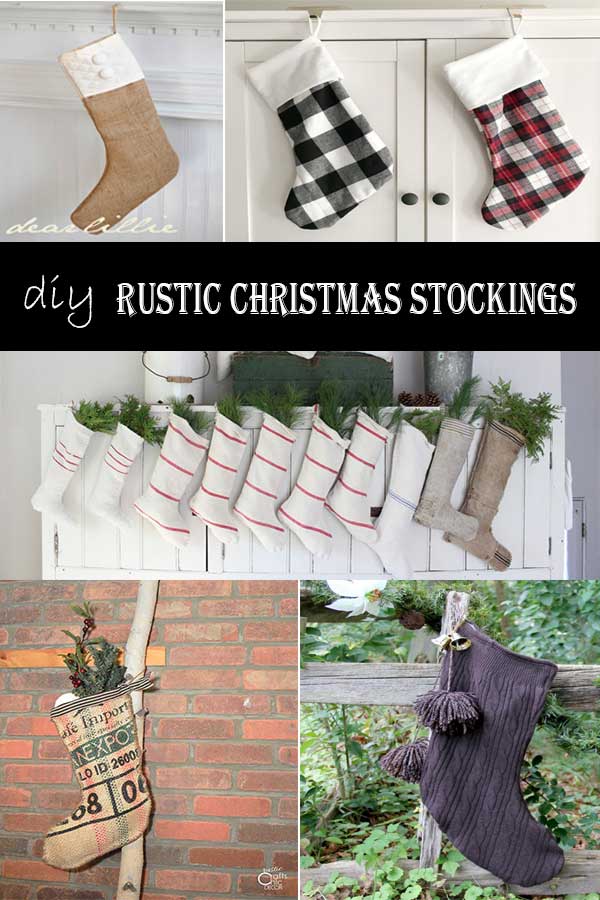 Another thing I love about decorating with rustic stockings is they don't all have to be matchy matchy. When I was first married, my husband and I had matching personalized red flannel stockings. Then, when each child was born we went to the same red flannel store for a matching stocking. By the time our third child was born, the store was out of business. This led to a styling crisis. I didn't want to purchase all new stockings for the entire family and I didn't want our son to have the one oddball stocking. Luckily, I did manage to somehow replicate the embroidery and made my own red flannel stocking to match. And while I was at it, I made one for the cat!
Once we started collecting son in laws, I changed my tactics. Why on earth did they all have to be matching anyway! A variety of looks, all in a rustic style, just add more interest to the fireplace mantel. And really, the most important part of a Christmas stocking is how well it holds all of those wonderful mini gifts for stocking stuffers!
This post contains recommended product links. If you make a purchase through one of the links, I will earn a small commission.
Use An Old Coffee Sack For A DIY Stocking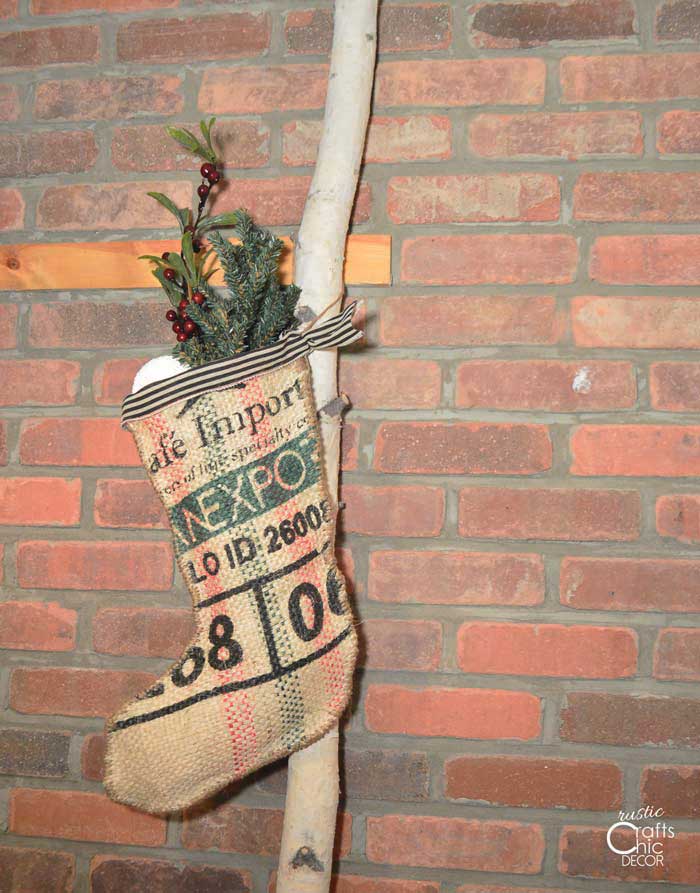 Since I had some old coffee sacks with red and green graphics, I really wanted to make some sort of Christmas decor with one. A Christmas stocking seemed like a logical choice. Now, any type of coffee or grain sack is my favorite material for making stockings. There is a wide variety of colors, styles, and graphics on vintage sacks.
Here is how a mantel full of different stockings all made from vintage grain sacks would look. Each one has it's own unique shape and texture.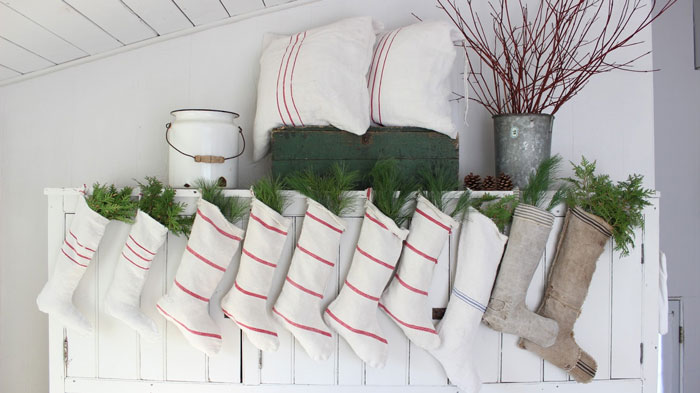 I like all of the different sizes hung together. Since they are all made from vintage sacks, they have a common rustic theme.
Rustic Burlap Christmas Stocking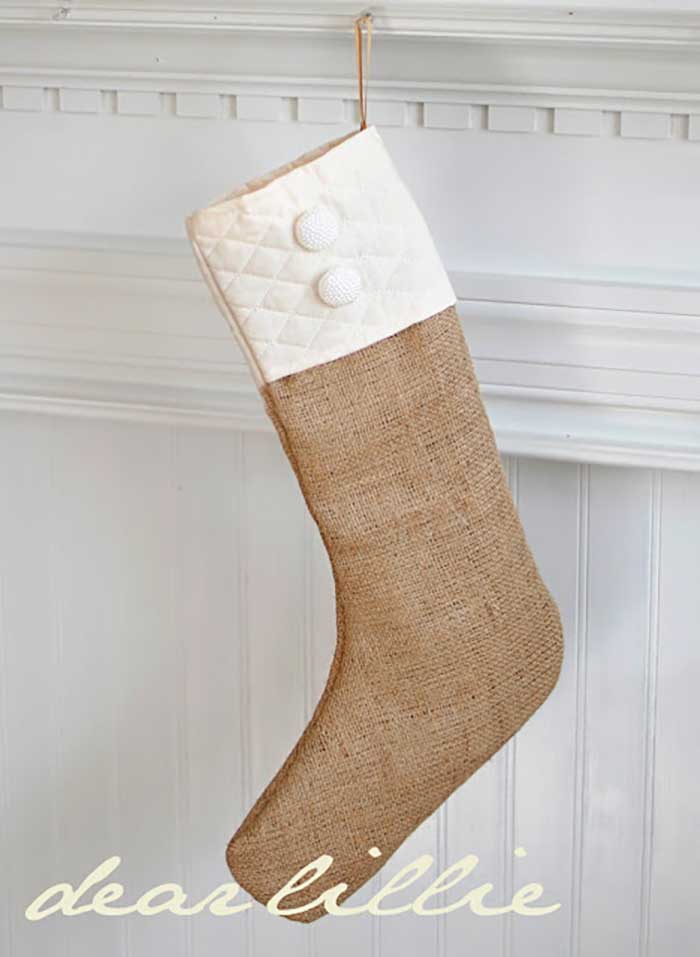 Burlap is another great material to use for rustic Christmas stockings. It's super affordable and has a warm color and texture. Once you make the basic stocking shape, out of the burlap, you can add other materials or embellishments to give it your own character.
Flannel DIY Christmas Stockings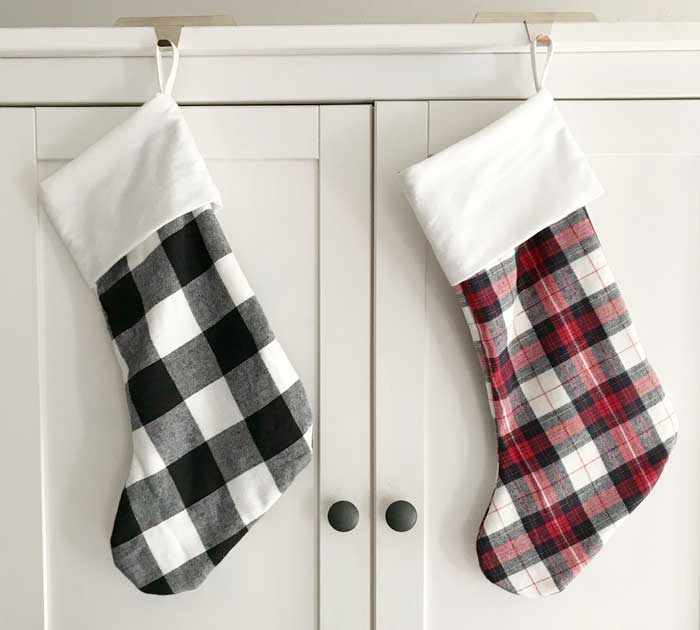 Of course, flannel is also a great fabric to create a little comfort and joy. You can either purchase flannel fabric or better yet recycle some old flannel shirts. There is always that one shirt in the closet that is too big or too small or has a spot, rip, or hole. Stop saving it for painting day and make some festive stockings instead!
Recycled Sweater Stocking Idea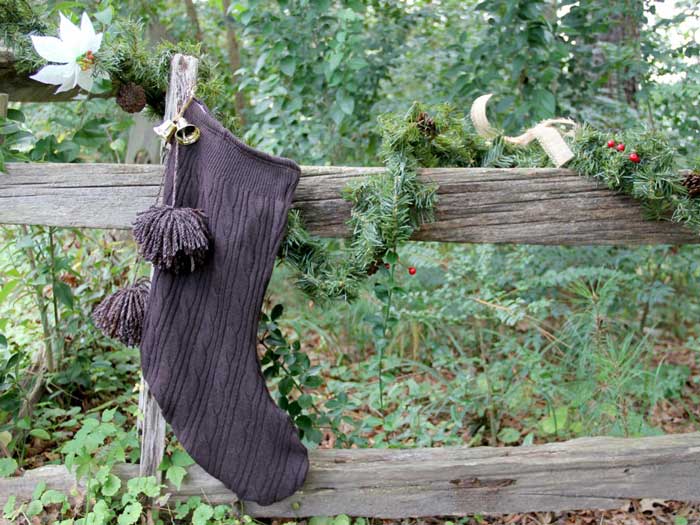 Speaking of recycling clothes, an old sweater also makes fantastic stocking material. In fact, a sweater is probably the most realistic for a vintage inspired Christmas sock. Since sweaters come in a multitude of colors and patterns, you can create an interesting mantel display with a variety of sweaters.
Crochet Your Own Stockings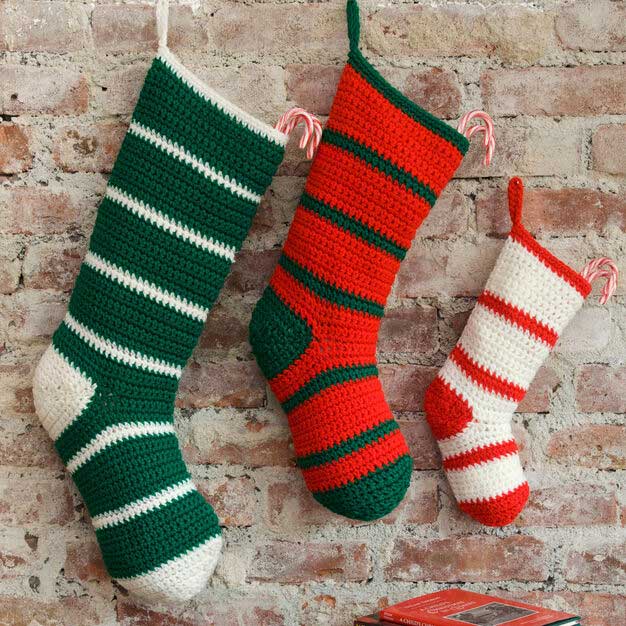 If you don't want to use an old sweater for a stocking but still want the look, you can always crochet your own.