Pedestal bowls and plates are so great to have for entertaining or display. Because they are taller than regular dishes, they add more visual interest in a grouping. See how easy it is to create your own pedestal dishes with things you might already have. Then, plan a party and group some pedestal bowls with a couple of these DIY trays.
Pedestal Bowl Ideas
I love to try and come up with some unique ideas from items that I already have. You may be surprised at what you can use for pedestals and how perfectly some of those items pair with bowls.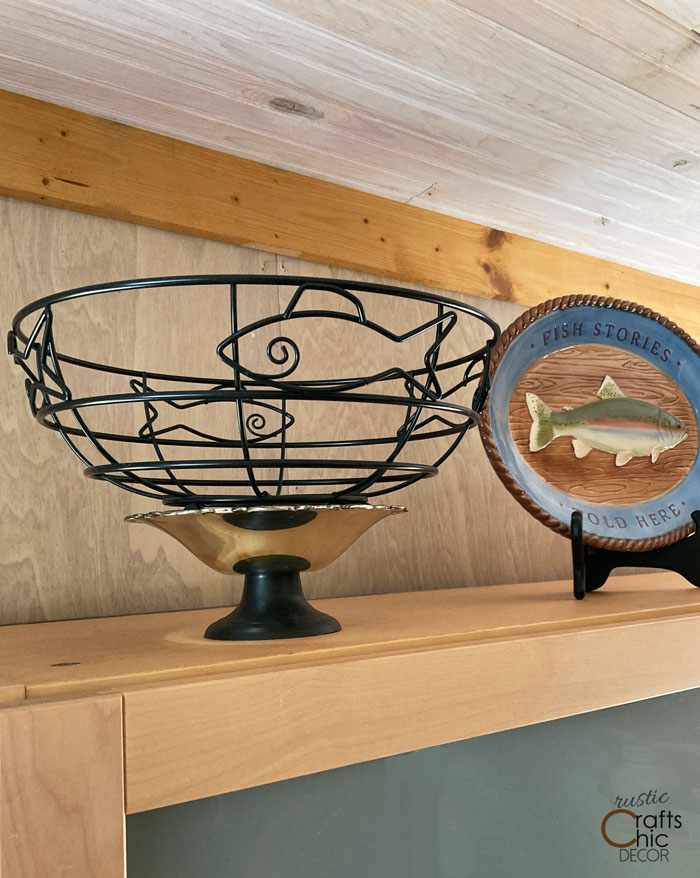 I've always loved this wire fish bowl but it got a little lost in a grouping above my cabinets. It wasn't bad but with a little more height, more of the bowl could be seen. I thought of buying a wooden candle holder to attach underneath it but ended up with a better idea.
Sometimes I'm really glad that I hold onto a lot of decor pieces that I don't have a place for, especially when they have good bones or special meaning. I had a vintage silver candy dish that I love the look of but didn't have a good place for. One day, it struck me that I could place it under the wire fish bowl to give it some height. The bottom of the bowl fit perfectly into the top of the dish.
To tie the look of the dish in with the bowl a little better, I painted the bottom of the dish black. It's kind of funny that the candy dish was already a pedestal bowl of it's own. Speaking of candy dish, you may also want to check out the pedestal candy dish I made from a jar and vintage hose nozzle.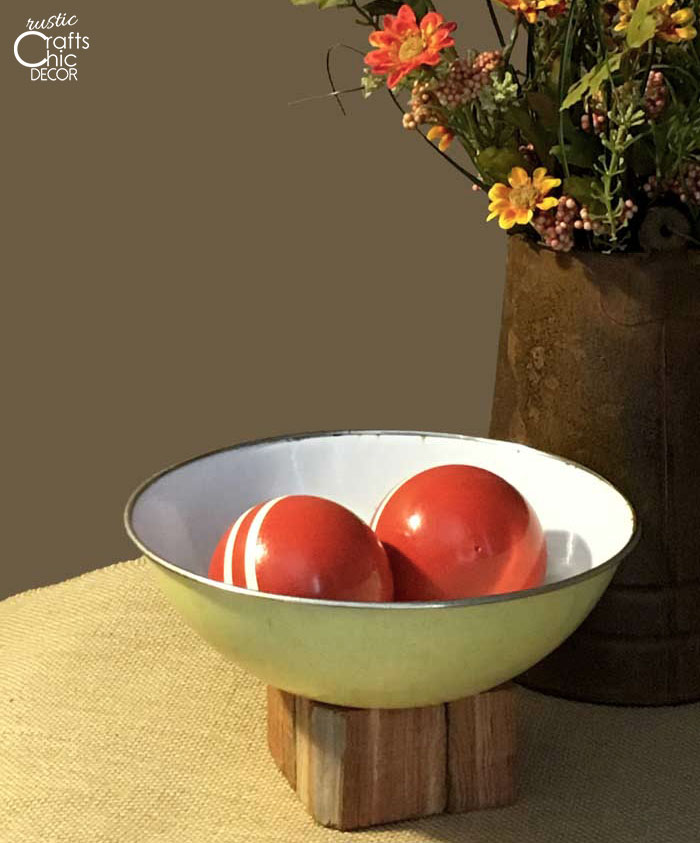 Another way to make a quick and easy pedestal bowl is to simply set the bowl on a block of wood. You can either attach it permanently with E6000 craft glue or keep the pieces unattached for switching things around and another time.
Pieces of 4×4 wood posts work great for this. You could also use short logs for a more rustic look.
DIY Pedestal Plates And Trays
Whenever I create an appetizer or dessert table for a party, I love to have tiered trays for added interest. It's so easy to make your own pedestal plates and trays that there really is no need to go out and spend alot of money.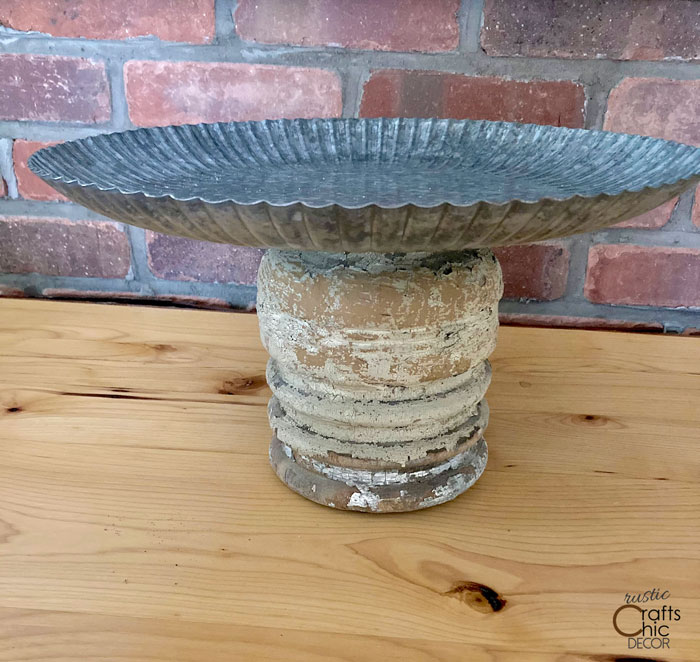 I love metal serving trays for the rustic look they give. Although they are fine to use flat on a table, an elevated look adds a little more elegance. You can find so many cool pedestal objects at an architectural salvage store. I had already purchased a few of these old porch pillar sections because I just thought they were cool. It ended up coming in real handy to make this rustic pedestal tray. Just join the two pieces together with E6000 craft glue so that the tray stays secure when in use.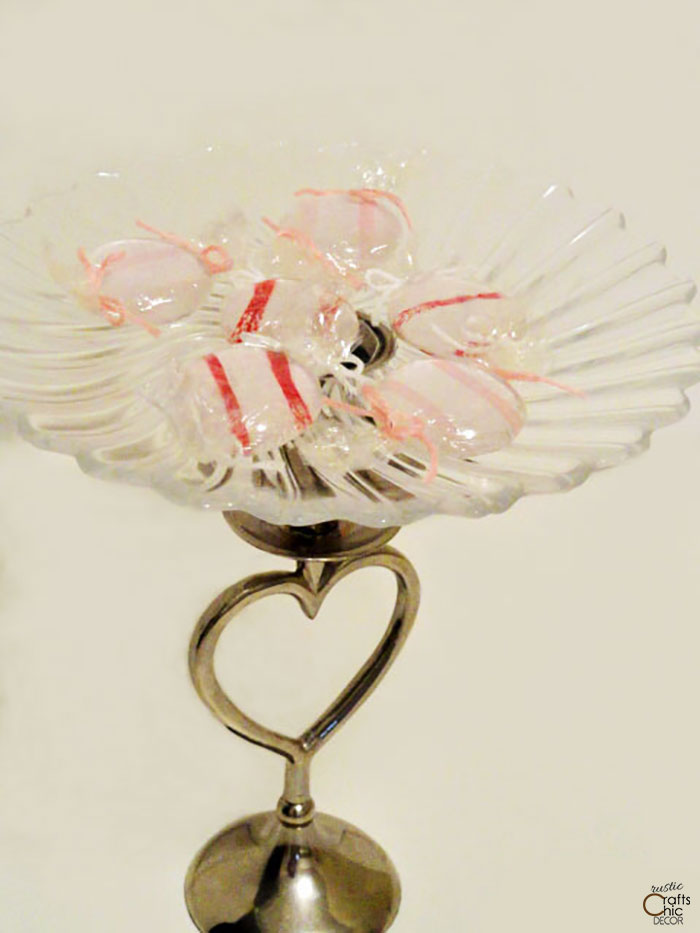 Even smaller items can be made into a pedestal plate. For Valentines Day, one year, I wanted to create a romantic setting with some handmade decor. I already had this little heart candlestick but thought it would serve a better purpose as a pedestal for a little candy plate. A small fluted glass plate keeps the look light and dainty.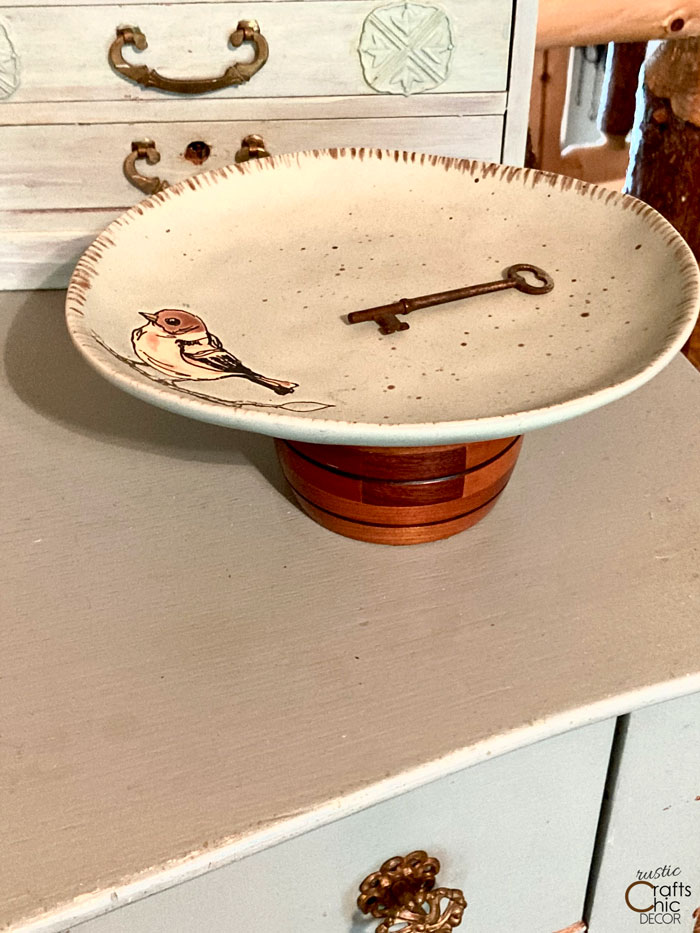 Finally, an old wooden jar makes a fun rustic pedestal for my little bird plate.
As you can see, there are lots of unique ways to create a pedestal bowl or plate. You can get so many interesting looks with the variety of things that you can pair together. Experiment with what you have until you get the look you are after. If you don't keep a lot of old decor on hand, you can always have fun shopping at a thrift store to get your perfect pairing.