It's that time of year when most of us start thinking about the upcoming holidays. However, with all of the usual focus on Halloween or Christmas, the Thanksgiving holiday can be somewhat forgotten. With menu planning going to the traditional family favorites, there isn't as much to think about. But, by adding some creative touches to your table or gathering space, you can really wow your guests with your superior hosting ability. This Thanksgiving, why not try some simple DIY projects that can make all the difference in setting the right mood?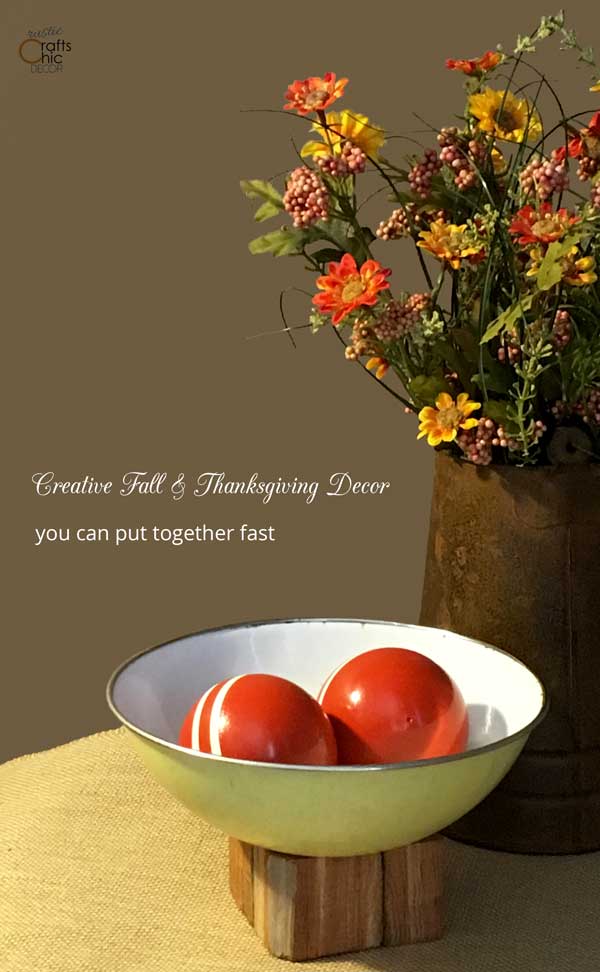 Whether you are looking to make creative place card holders, a centerpiece, or some fun accents in Fall colors, you will find plenty of inspiration here. Sometimes it's just a matter of assembling random pieces for an interesting vignette.
For instance, I love to collect vintage pieces to use in my decorating. On a recent trip to an antique mall, I searched for items in warm Fall colors. Although I really like traditional Fall decor, it's more fun for me to be a little abstract.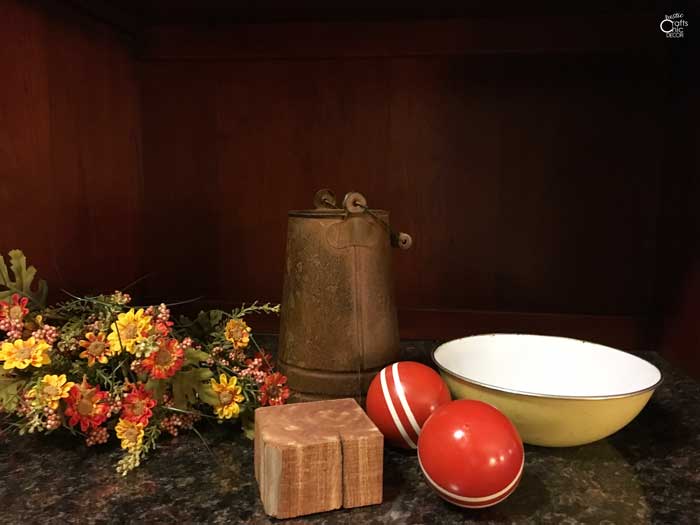 So, instead of filling a bowl with pumpkins, I opted to use orange croquet balls for a modern rustic twist. I was thrilled to find a cheery yellow enamel bowl. To give it a little more height and interest, I turned it into a pedestal bowl by placing it on a scrap piece of cedar.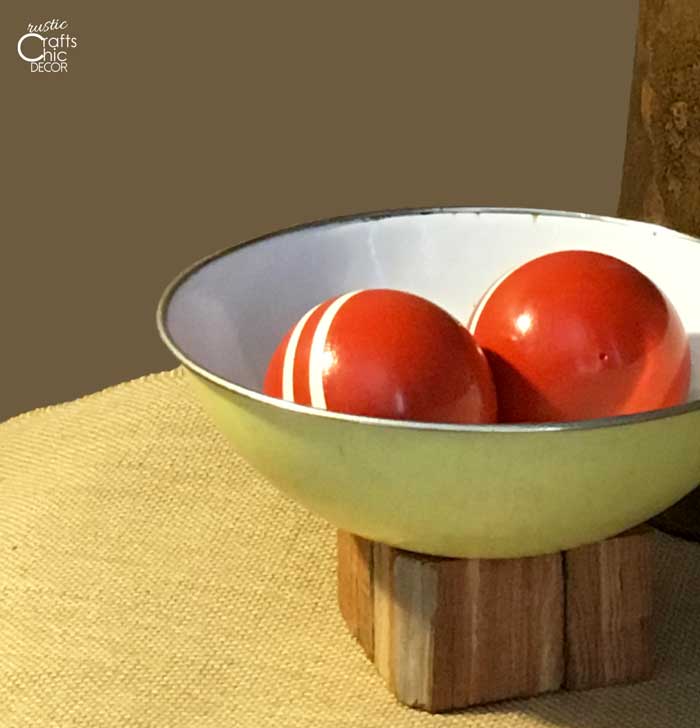 To soften the display, I added a bouquet of Autumn flowers but placed them in an old rusty tin container. Since I was just concentrating on a color, all of my items blended well together. I feel like it was a real easy way to go about creating unique Thanksgiving DIY.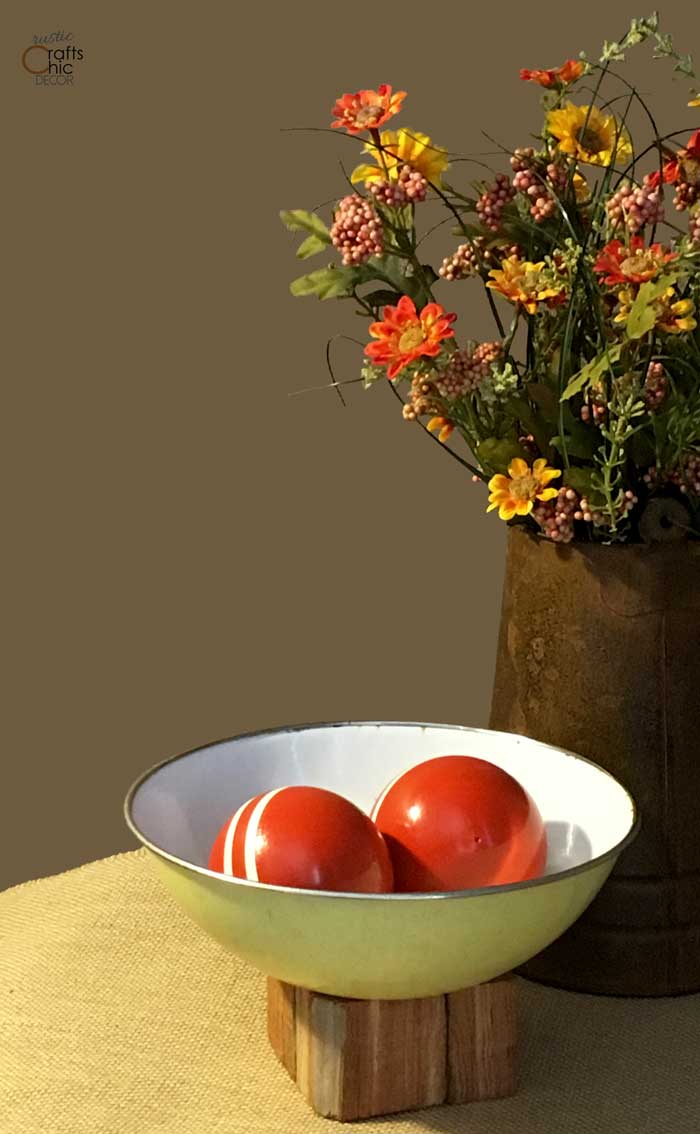 Here are some more creative ideas for easy Thanksgiving DIY projects.
Easy Thanksgiving DIY Projects
This post contains recommended product links. If you make a purchase through one of the links, I will earn a small commission at no cost to you.
Make A Wreath Out Of Turkey Feathers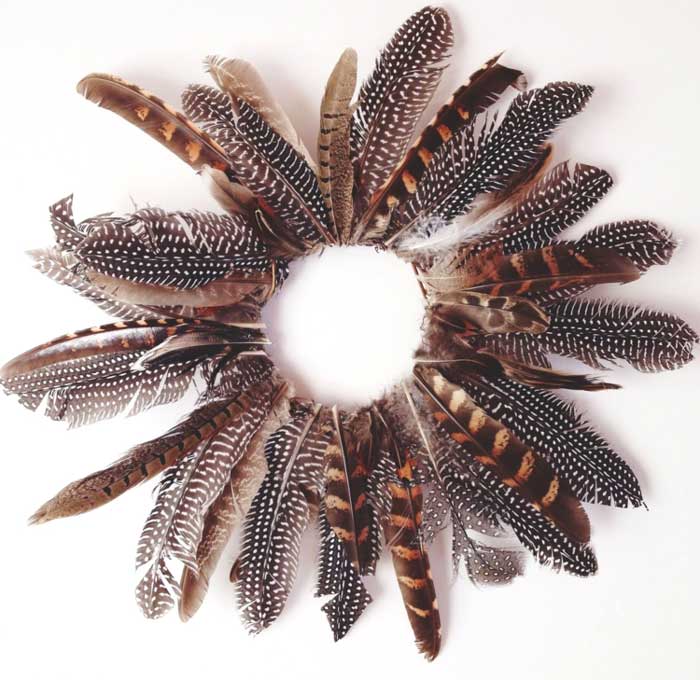 Talk about unique yet appropriate ideas! A wreath made out of turkey feathers is a perfect decorating project for Thanksgiving. Don't worry, you don't have to go out and catch your own turkey. Luckily, you can purchase packaged turkey feathers for a project like this.
I happen to be married to an avid turkey hunter so feathers are real easy to come by. If you are a hunter yourself or are married to one, this is a great way to display a trophy. All you need is a small grapevine wreath. Then, just glue the feathers to the wreath form in an interesting pattern.
I like the variety of feather patterns that you can get from using a variety of feathers. It makes a real interesting and almost playful design.
Create Easy Pumpkins With Sisal Twine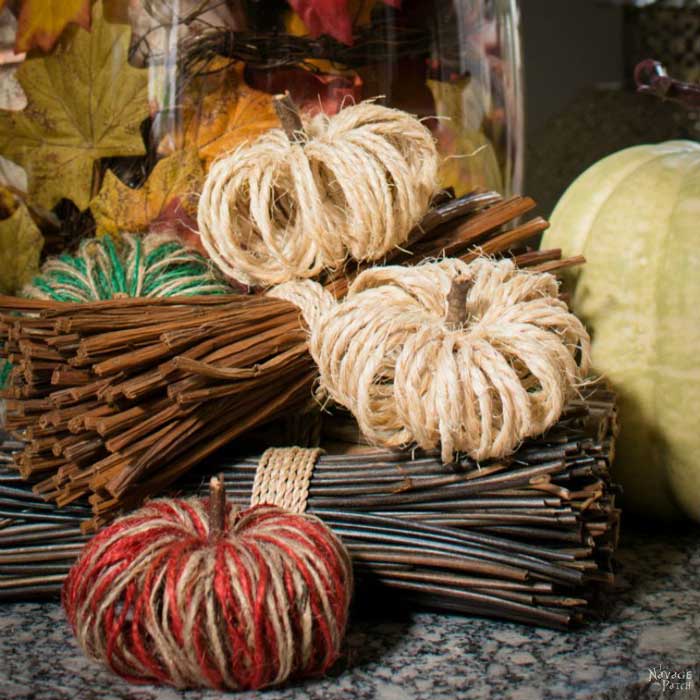 Twine has such a warm and rustic look on it's own. However, when you shape it into a fun little pumpkin, it becomes perfect Fall or Thanksgiving decor. The branch stems really help to set the tone of the rustic look as well. Although this looks like it might be a difficult project, it's really very easy.
DIY Plaster Leaves For A Chic Thanksgiving DIY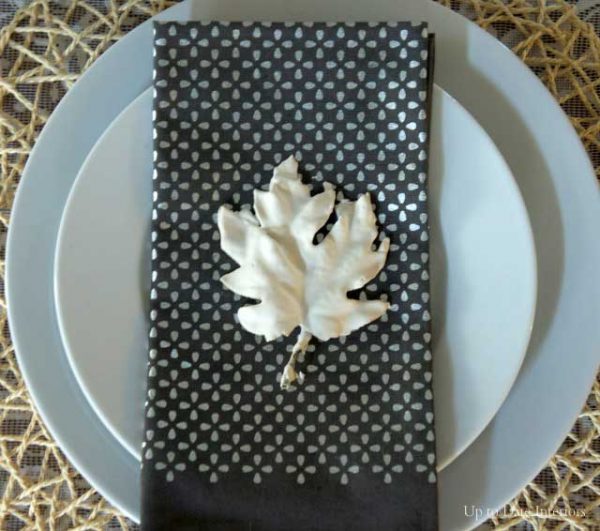 Here is an elegant rustic chic idea for your Thanksgiving table. Create plaster leaves to enhance a place setting. So that sounds a little complicated! But, trust me it's easier than you think. All you have to do is dip real or silk leaves into some Plaster Of Paris.
A Festive Wreath With Yarn Pom Poms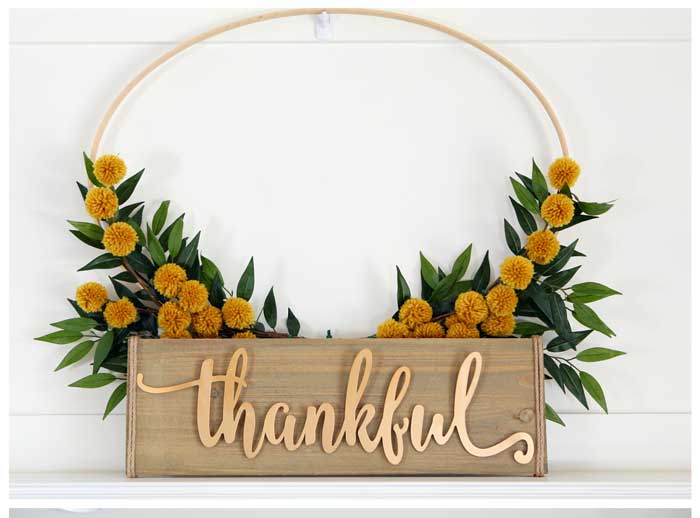 Yarn, in a warm mustard color, is a fantastic option for making seasonal pom poms for a wreath or centerpiece. The simple design of this embroidery hoop wreath provides a lot of bang for the buck. It's simple, festive, elegant and rustic.
Thanksgiving DIY Using Salt Dough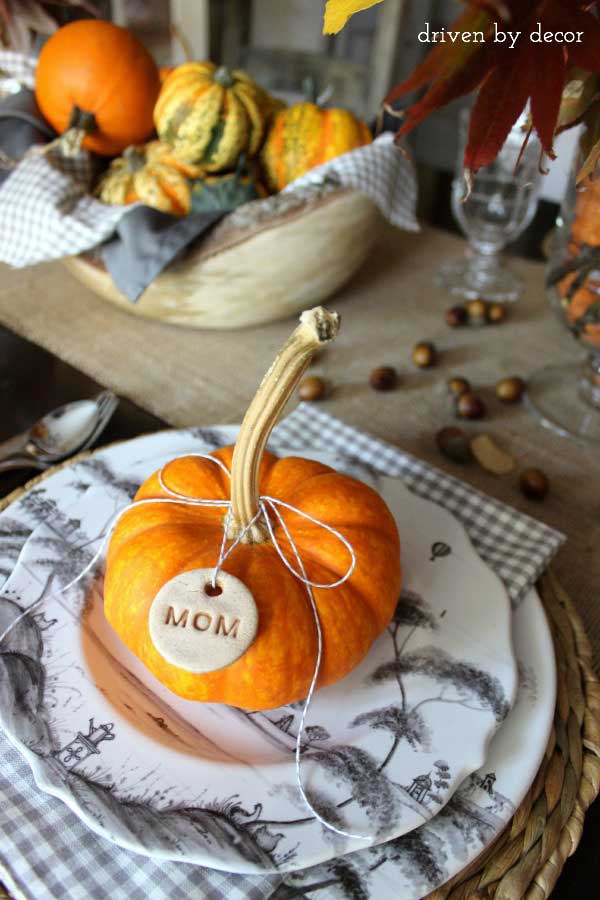 Playing with salt dough isn't just for kids! Use it to make these fun rustic name tags. Attach them to whatever you want at each of your place settings. It works particularly well to hang them from a pumpkin stem. Plus the neutral dough against the orange creates just the right contrast.
Upgrade Faux Fruit With Gold Gilding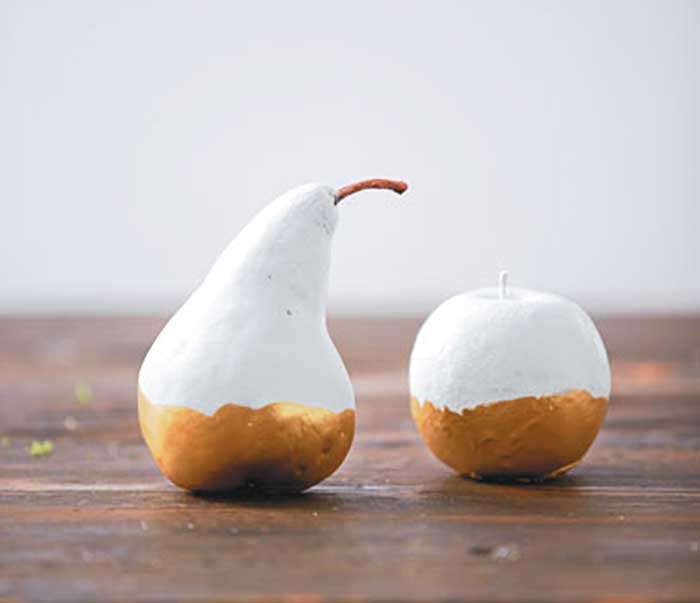 For an elegant look for the holidays, upgrade faux fruit in a chic new style. All you need is a little paint. Once the fruit is painted white and dried, dip it into gold paint just to cover the bottom. I like how the stem looks left natural.
Be Thankful Decorative Sign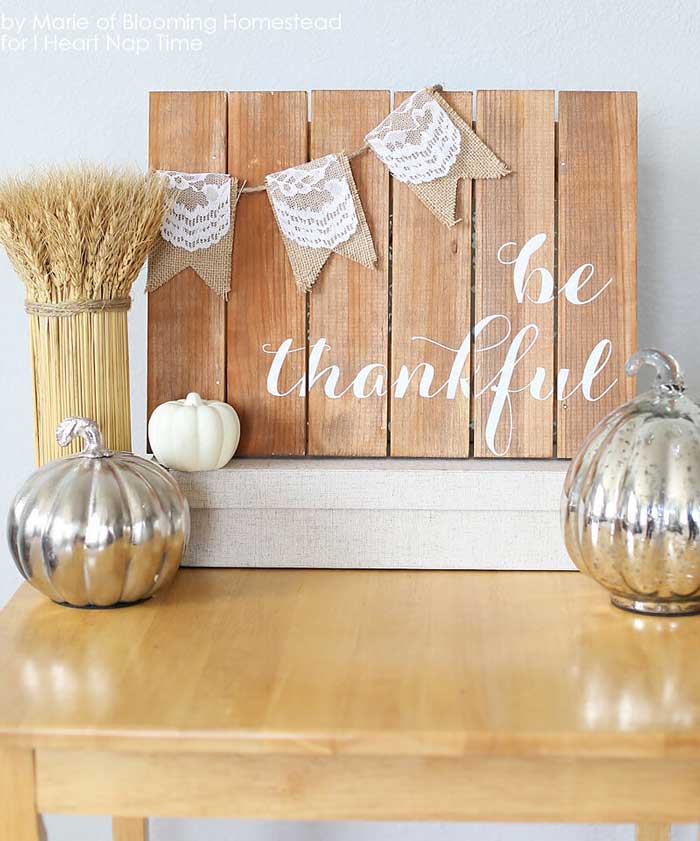 And, the most important part about Thanksgiving is to be thankful. This DIY sign is a great reminder of what the holiday is all about. It's always good to take the season to reflect on all that we have to be thankful for. When you count your blessings it really helps to put life in perspective.
Are you still looking for more creative ideas? If you just can't get enough, make sure to check out the following posts for more amazing ideas for Fall and holiday decor.