Could your living room use a little more life? Is it looking just a wee bit worn and tired, making you feel a little less than energetic yourself? Then maybe these inspiring living room ideas will give your space just the lift you need which in turn will rev up your mood as well.
Setting The Mood With Color
One sure way to create the right mood is with color. Below, I show an example with my own living room and the color swatch I made for it.
Every color has a meaning and is something to consider when decorating a room. This particular palette is nice for a living room because brown means comfort. Think about nicely worn brown leather. Shades of yellow are cheerful and fun, even the most subtle shades can brighten a room like a sunny day. The color of aqua is supposed to be soothing to the soul and open the lines of communication – perfect for a living room!
There are of course many palettes that work well together. For a more contemporary space, gray works great for a base color being that it is a very neutral color and refined. It can also be accented with a myriad of different colors.
Here is what I found for exceptional living room ideas that are full of uplifting and welcoming style.

I could hang out in this space filled with shades of blue and green all day! Blue means honesty and trustworthiness. Green is balancing and the aqua is for open communication. Doesn't it just feel calming and almost spa like?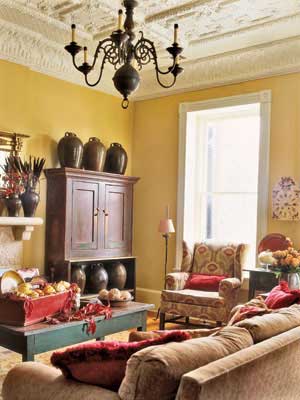 This dark yellow living room is both vibrant and cozy with the red, brown and aqua accents.

Here is another great design with a fun rustic color scheme. The orange brings a punch of adventure. Yes orange does have a meaning of being adventurous!
What is your favorite color? Have you incorporated it into your decorating and does it make you want to hang out more in your space? Play around and see what you come up with!