Just because you don't have an actual room to do your crafting doesn't mean you can't have a dedicated place to craft. And, I'm not talking about bringing all of your stuff to the dining room and pushing the family out! You can easily create your own organized space by converting a closet into a handy craft nook. Although this may seem like an impossible task, you will see how it can be done and done with style. My own craft room is about the space of a walk in closet. However, with a little creativity, I was able to fit everything in that I need. Check out my small craft space and the other ideas for craft nooks that I found. With all of the inspiration I found, you just may be hooked on creating a nook.
Before creating a craft nook, you may have to do a little extra organization. To convert a closet over to a crafting space, you will need to first clean it out. This means finding new places for whatever you have stored in your closet. You may be surprised at how easy it can be to make room or combine two closets with some clever organization ideas. Think about that closet that might be used primarily as a dumping space. Maybe you have a closet close to your front entry as well as your back. Can you simplify and keep coats just in one? Or, is there a guest room with a closet that isn't being used to it's full potential? See what you can come up with and then be inspired by these ideas that I found.
Craft Nook Inspiration
Rustic Industrial Craft Space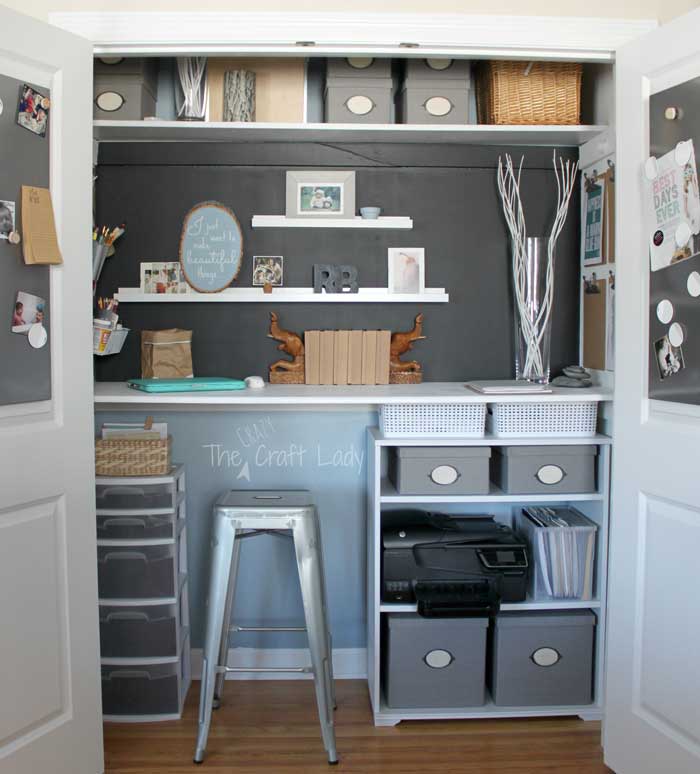 This craft space has a rustic industrial style that makes the space welcoming even if it is just a closet. Can you imagine one of your closets made over to look like this? It does make it motivating to simplify and store only what is necessary in available closet spaces to gain an empty closet to use in this way. The monochromatic color scheme helps to make this space look larger.
Functional Use Of Closet Doors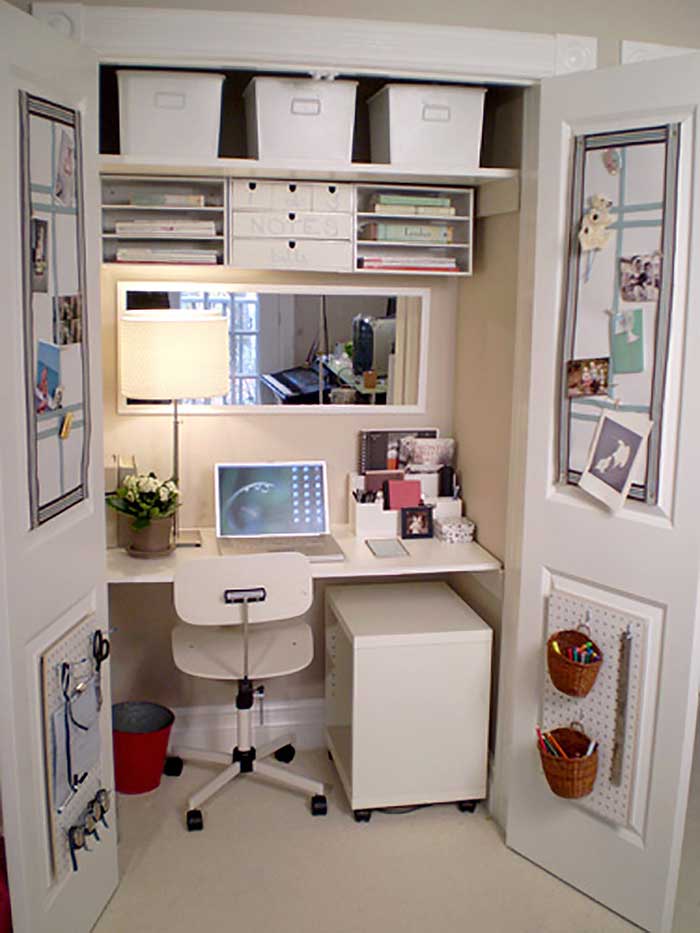 Closets that are wide enough to have double doors work great for craft nooks. There is plenty of width allowing space for a nice work surface. You also don't have to feel closed in because you have a full room behind you. For storage, remove the rod and add bins or shelving. Make use of the insides of the doors with pegboard for hooking supplies.
Custom Made Craft Desk And Shelves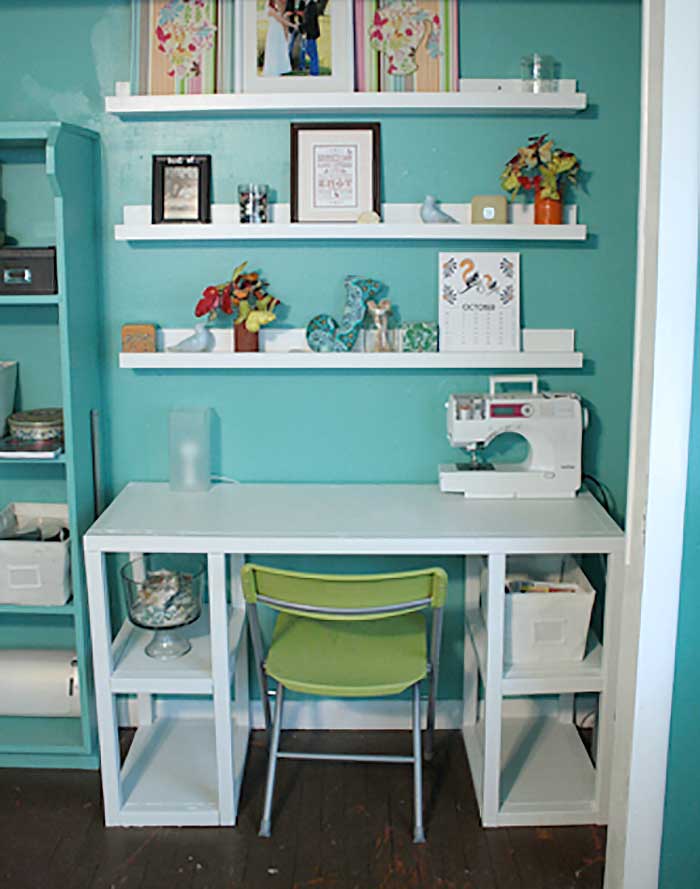 To make the craft nook more inviting, paint the inside of the closet a fun bright color. Then add a few colorful accessories along with all of your craft supplies. Make your own desk and shelving to custom fit into the closet. Did you notice that the doors to this closet were taken off? If you don't mind the craft space showing in whatever room it is in, this makes the space feel even bigger. However, if you want to be able to keep the space out of sight when not in use, leave the doors on.
Airy And Chic Craft Nook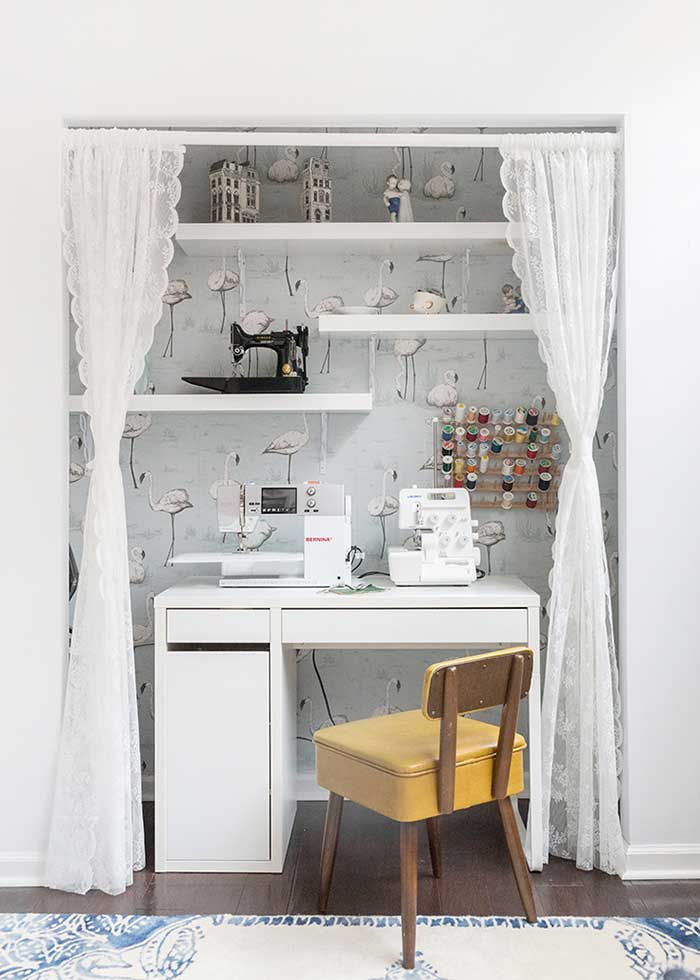 This dreamy space is especially chic with the lace curtains, wallpaper, and vintage sewing machine display. Although there are no doors, you can easily close the curtains if you want to keep your space hidden when not in use. Since this particular space is just for sewing, there are minimal amounts of storage needed. Because of this, the little craft nook appears airy and open.
Small One Door Closet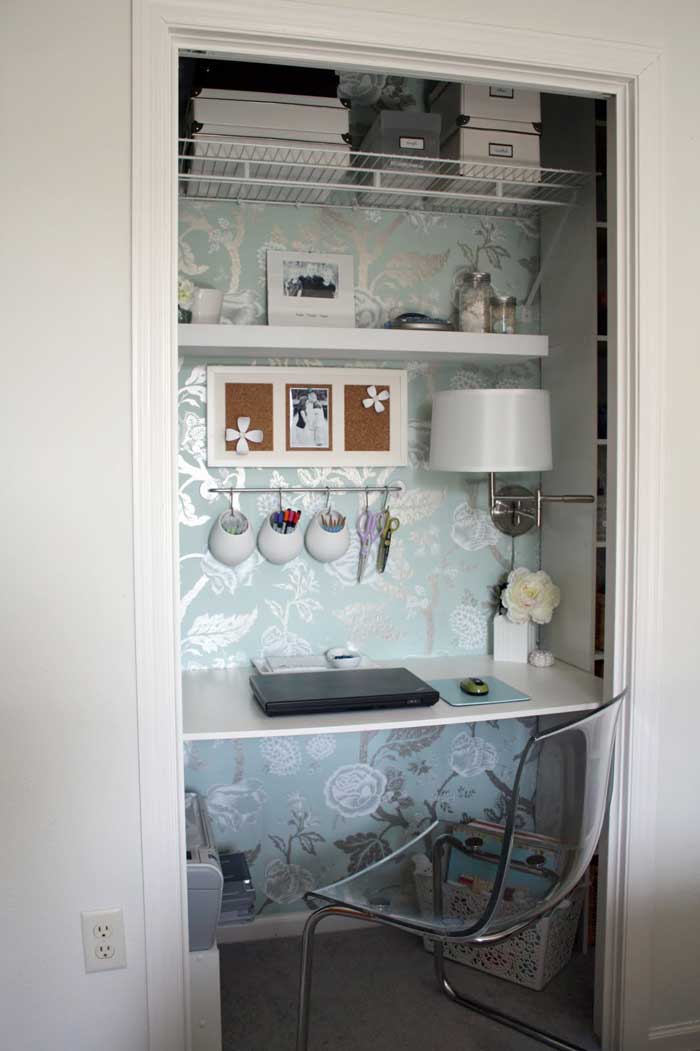 Even a smaller closet space, with just a single door, can be converted into a functional craft nook. To keep the space from looking to overwhelmed and crowded, it helps to use a clear acrylic chair. Since it is basically see through, it becomes almost invisible.