When we initially built our cabin, our lot space was not big enough for a garage. However, a few years later a lot opened up next to us and we purchased it for a garage. To make the most of our cabin living, we decided to build a 2 story garage and use the upper half for extra living space. This comes in very handy when we have a big group up.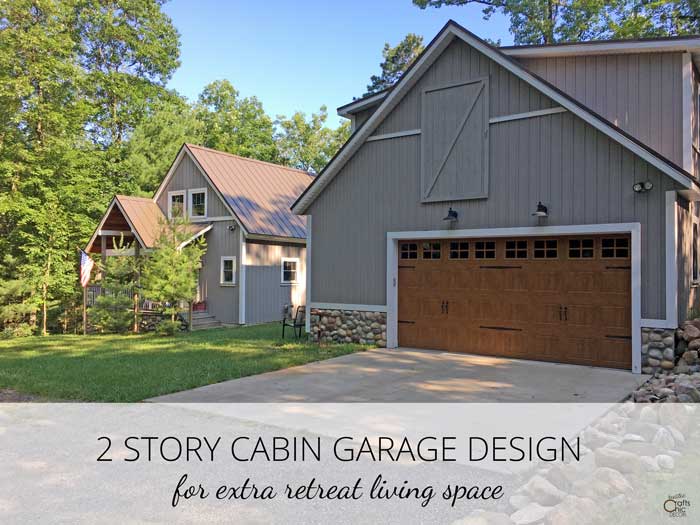 We basically wanted to create an area for gathering to play games or watch a movie on a rainy day. Also, because our cabin is small, we needed some extra storage space and closets. The area definitely fits the bill for what are needs are. Plus, we have even used it for extra sleeping. Although we did not create a separate bedroom, there is plenty of room for a blow up mattress or two in addition to the couches.
Benefits Of A 2 Story Garage
A Space For Family Games
We didn't have a big enough space, inside our cabin, for gathering a large group to play card games. So, we added one above the garage. This was a perfect solution and having the designated space makes game time all the more fun.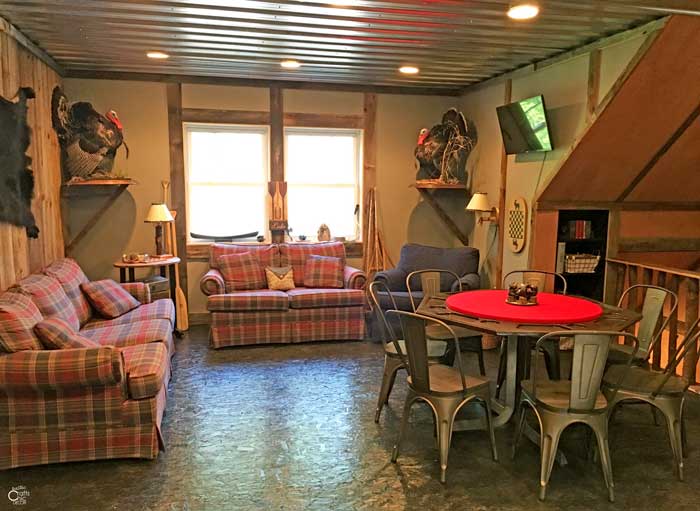 Our hang out spot is very rustic and cozy. As you can see, a 2 story garage also allows more room for my husband's hunting trophies. Like our cabin, this space also is finished with some unique materials.
The Walls, Floor, And Ceiling
We finished the OSB floor a little differently than how we did it inside the cabin. Instead of only using floor varnish, we first stained the OSB floor with a dark espresso stain. I had wanted to try something different and like the darker floor shade with the barn wood wall and trim.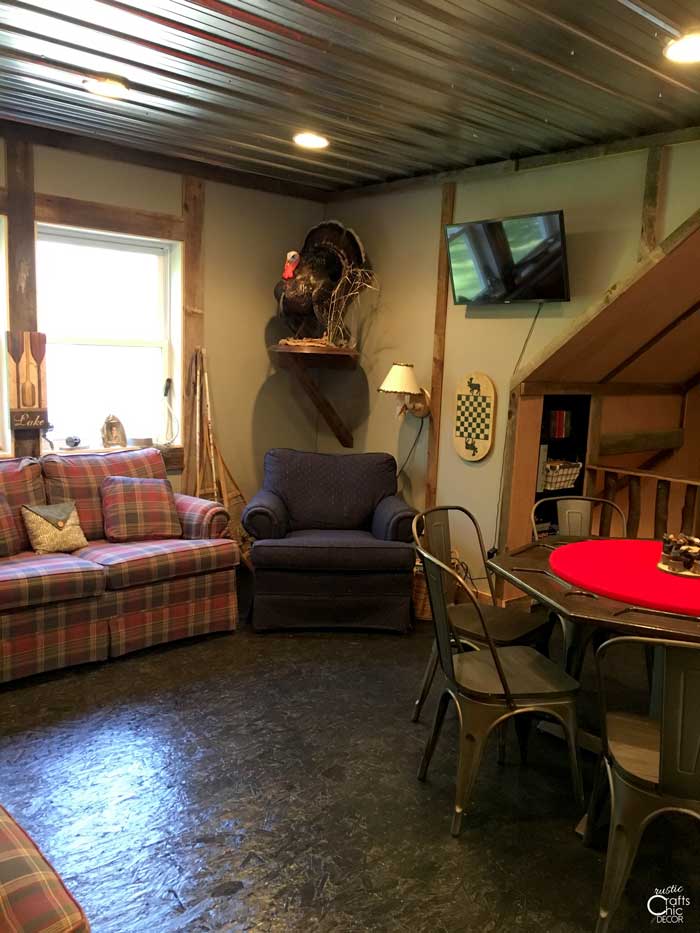 For the ceiling, we put up panels of corrugated metal. It was not fun! With all of the recessed lights, it was a challenge to cut and line up all of the holes. Also, my husband and I put up the panels just the two of us. They were heavy, awkward, and flexible in a bad way. There are so many times when I feel like we should be filming our escapades. This was one of them. Luckily, we were able to get all of the panels in place without either of us getting hurt!
Once again, we put plywood on the walls instead of drywall. However, instead of white washing the walls this time, we painted most of them a solid gray. We left the natural wood grain at the stairwell.
Utilize Space For Small Cubbies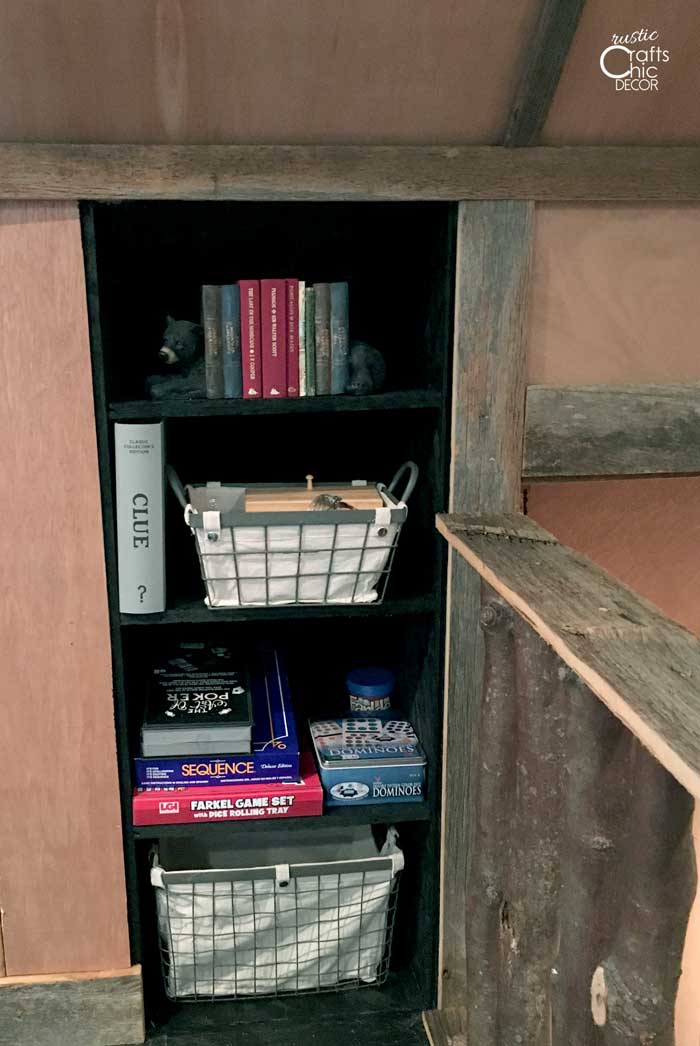 Wherever there was space in the framing, we tried to utilize it for storage. This little built in cubbie is just the right size for storing games.
Plenty Of Storage Closets
Perfect Fit Wardrobes And Dresser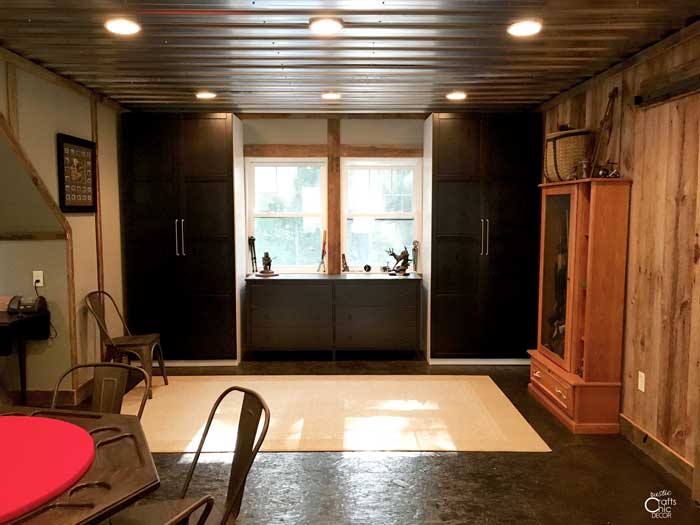 I love my husband. But, all of his hunting clothes and supplies had to go! They were overwhelming the cabin. Even though we have lockers in our entry way, they couldn't handle all of his stuff. That is why I probably was most excited to build a 2 story garage. We needed to house his clothes. And, I needed to reclaim the cabin space.
For fitting in the right size closets or cabinets, you have to love Ikea. We used plenty of Ikea cabinets in our cabin kitchen and they didn't fail us here either. The two large wardrobes are the perfect height and width for our space. With the dresser in the middle, the whole unit frames our window perfectly. We couldn't have planned that better if we tried.
Large Storage Room Behind Barn Door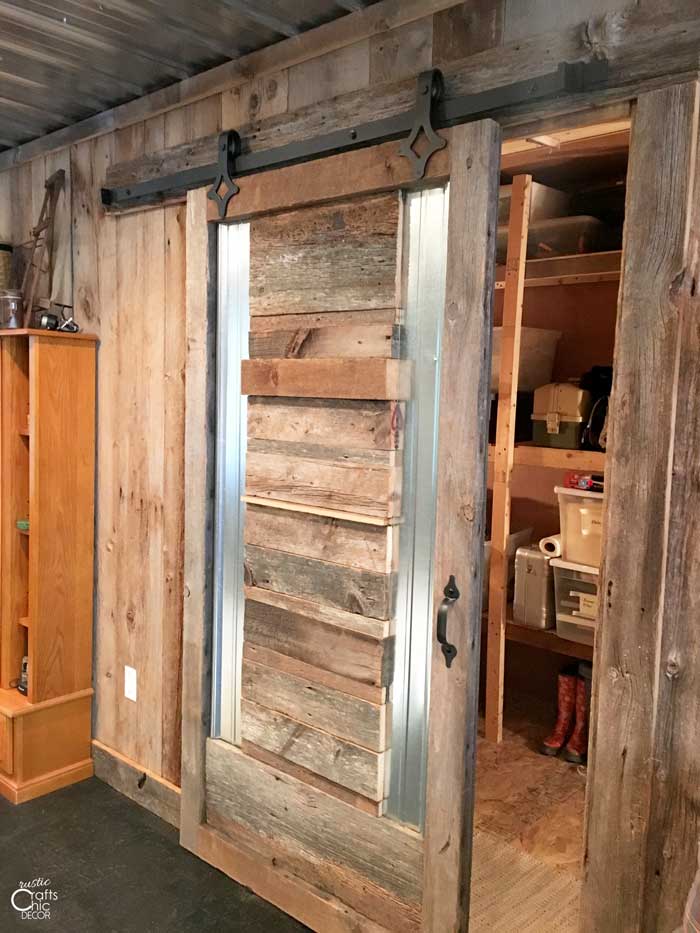 This storage room, under the eaves, is a large enough space to hold lots of bins, tents, sleeping bags, and other miscellaneous keepsakes. We built our garage to kind of look like a barn so it's appropriate to have a barn door to separate the storage room. My husband built the door with scrap barn wood and corrugated metal.
Rustic 2 Story Garage Stairway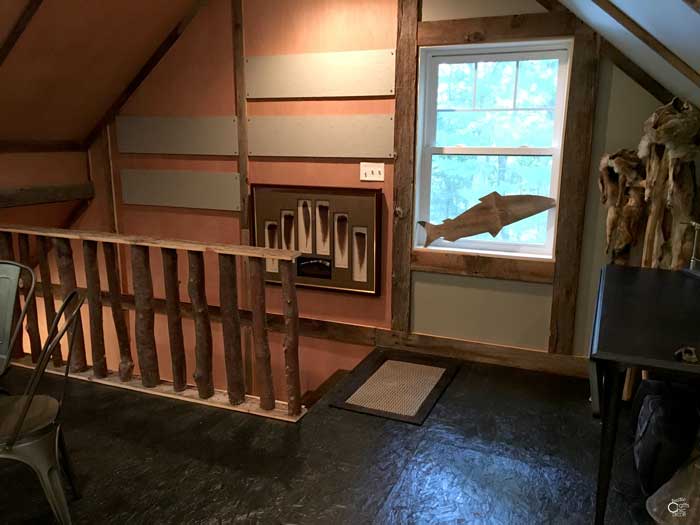 Since we have plenty of trees that we had to cut down, we were left with enough to make a rustic log stair railing. It's a pretty simple design compared to what we have inside the cabin but it works.