If you are looking for an easy DIY home decor project, a throw pillow is a great place to start. A basic pillow is simple to put together but there are also more creative pillow ideas that can really give you a custom look. Mix and match fabric textures, patterns, and colors for a fun look. Or, instead of making a square throw pillow, try a unique shape to compliment the style of a room. You can also add a variety of embellishments like buttons, beads, and even artificial greenery. I've come up with a unique collection of DIY pillows to give you some inspiration.
All of these pillow ideas can be customized even more to fit your own unique decorating style. Get inspired by what other people have done and then put your own twist on it if you want a one of a kind design.
How To Make A Pillow With Scraps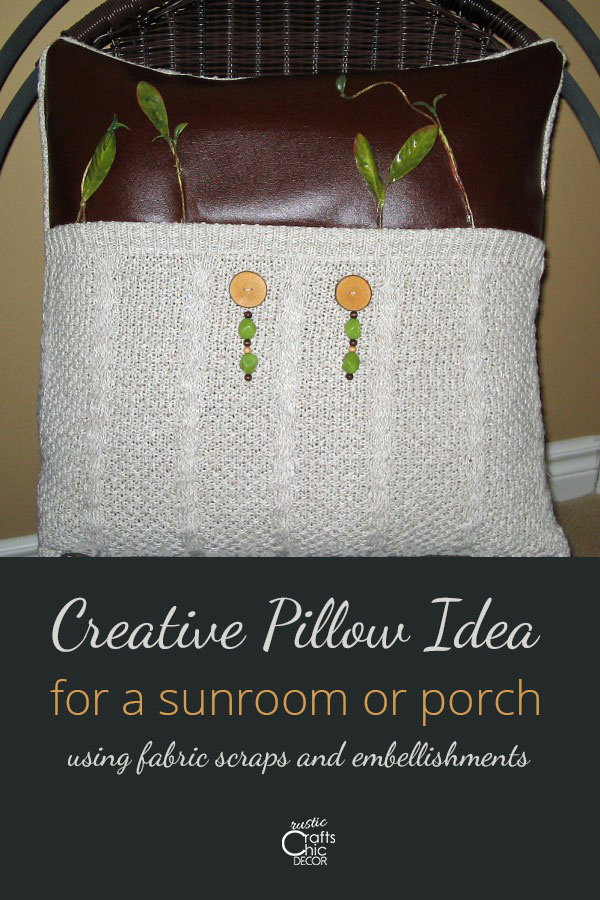 Instead of buying fabric for the pillow itself, look around the house for fabrics you can recycle and use whatever you find that will be unique and fun. I love to recycle and for this pillow I used an old stretched out sweater of my husbands. Since I loved the color and texture, I was happy to be able to give it a new use. And, an upcycled sweater for a pillow is extra cozy and soft.
To add a little contrast, I pieced a section of leather fabric into the pillow design. From there, I added some random embellishments that I had on hand. Since this was going to be used on a porch, I added a little greenery for more of an outdoor look.
Old soft flannel shirts make great material for pillows as well and if you add a denim pocket from an old pair of jeans you have a fun throw pillow for a teens bedroom! Using what you have means that your DIY pillows are practically free to make.
Denim Fish Pillows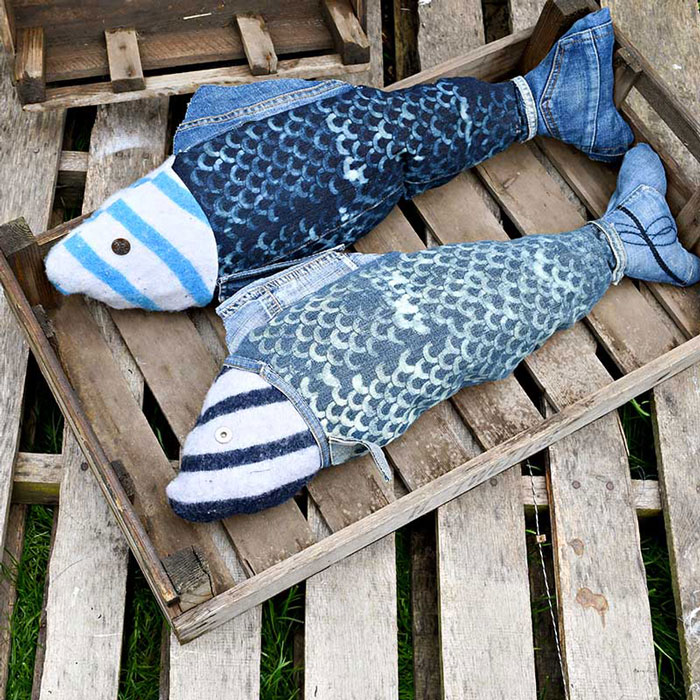 Here is another super creative idea for using fabric scraps to make a pillow. Piece together a variety of coordinating fabrics, from old clothing, to make a fish design! The free fish pattern is included with the tutorial.
More DIY Creative Pillow Ideas
Round Chunky Knit Pillow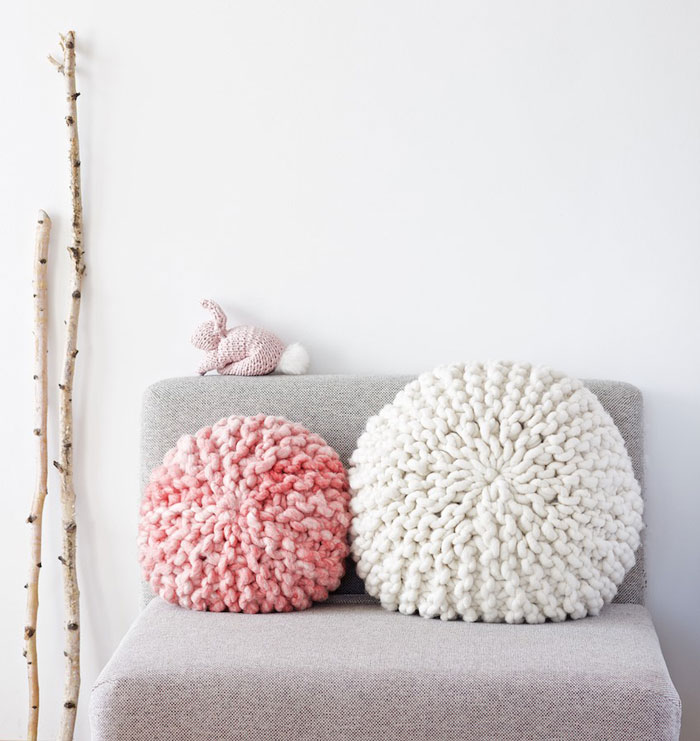 If you're a fan of big chunky throws, you may want to try your hand at knitting a round chunky throw pillow. The texture is so appealing and soft.
Felt Circle Pillow

What a creative and easy way to add texture to a throw pillow design! Whether you want to create a multi color design or a simple solid color, the felt circles add a ton of interest and texture. The best thing is that you can purchase felt circles already cut. No need to spend a ton of time cutting your own circles!
Pom Pom Polka Dot Accents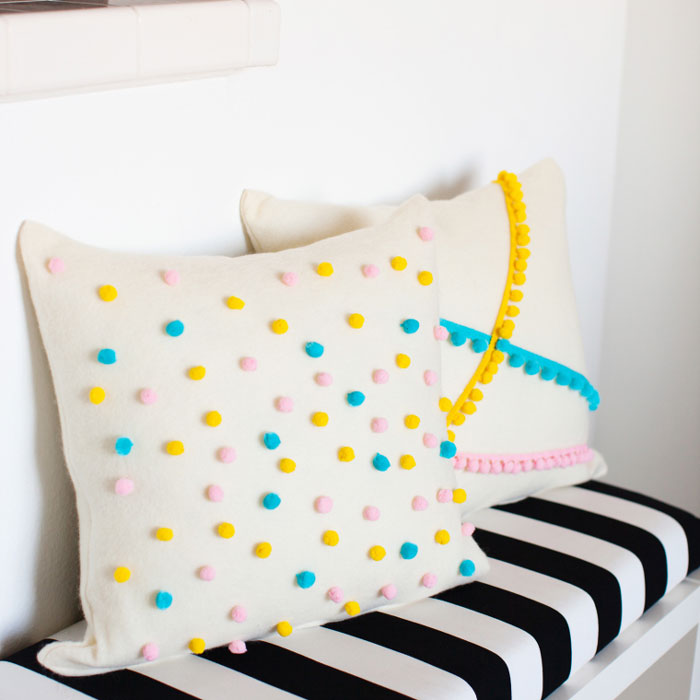 Polka dots are always a favorite so why not embellish a solid color pillow with dots. It is easy to do with little pom poms. Just adhere the dots or strands to your pillow with fabric glue. You can either make your own pillow cover or makeover an existing solid pillow. Such a fun and cheerful idea!
Fox Applique Pillow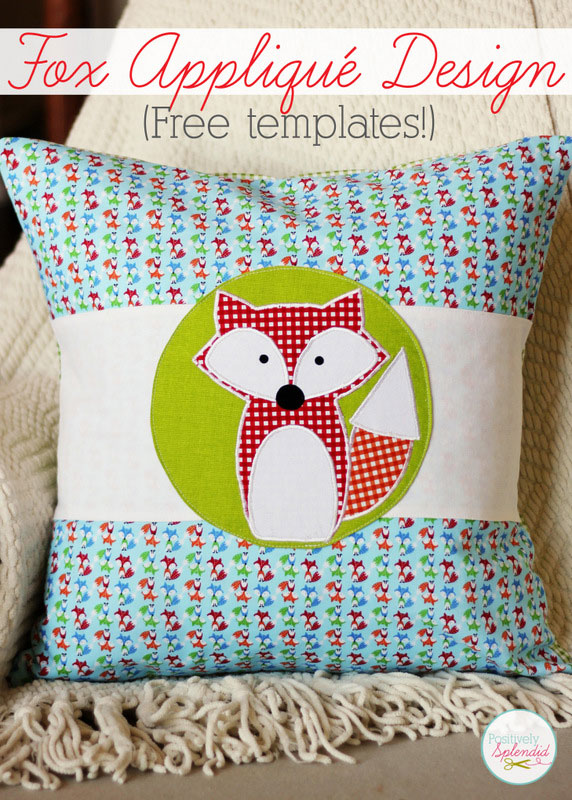 Another creative way to make a pillow is by using appliques. Although you can always purchase a fun applique, it can be more rewarding to make your own. The tutorial for this throw pillow includes the fox template as a free download. This would be so cute in a child's bedroom.
Tree Applique Pillow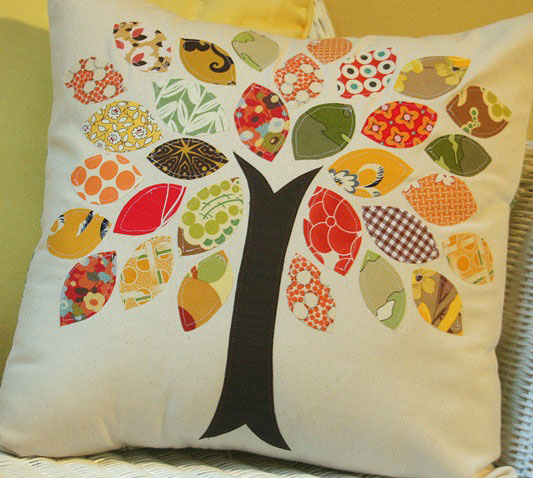 For a bit more of a free style applique design, you could cut out leaf and tree trunk shapes using scrap fabric. It would also be fun to incorporate this idea into a family tree design. By using solid color leaves, you could embroider or paint family members names on the leaves.
Simple Monogram Pillow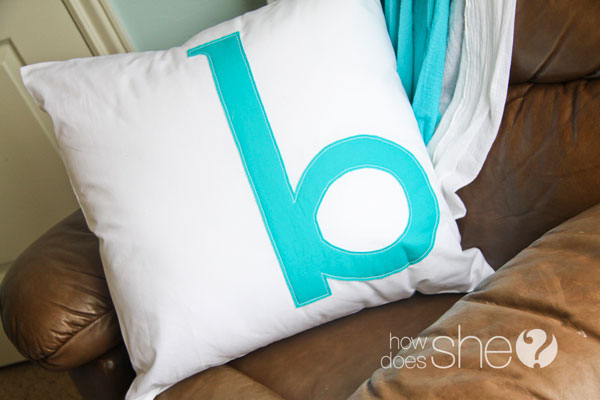 A simple monogram design is an easy applique and looks nice and chic.
If you like these creative pillow ideas, you will also want to check out the ways for using acrylic paint on fabric. It's easy to create a fun pillow design by painting on the fabric. And, if you still want more, my DIY shabby chic pillows offer a bunch more creative inspiration.