With the popularity of rustic or farmhouse decorating, rustic decor accents are filling the stores. Because of that, it's easy to go out and buy what you need. However, for the budget conscious, a lot of what you see can also be handmade. Making your own rustic decor is a great way to customize as well as save money. When the projects are easy, it's just icing on the cake. I have come up with a collection of easy DIY rustic decor projects that can be done in less than an hour.
There are a lot of different elements that make up rustic decor. Between worn vintage items and earthy materials from nature, there are definitely inexpensive items to choose from. You can even combine vintage and nature to create a unique piece of decor. Here is what I came up with for easy projects.
Best DIY Rustic Decor Ideas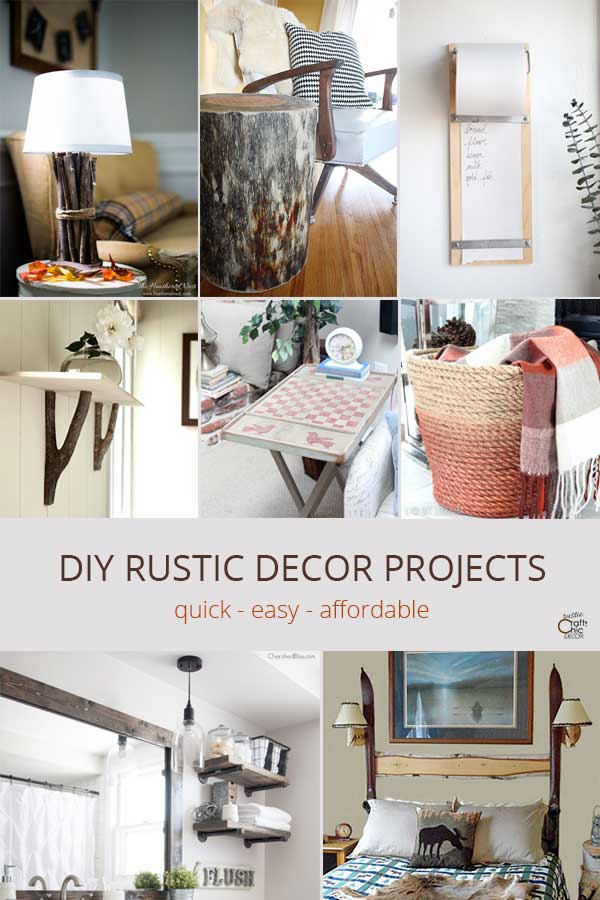 In coming up with what I consider to be some of the best DIY rustic decor projects, I considered a few factors. All of these ideas are affordable, easy, unique and suitable for rustic decorating.
Easy DIY Headboard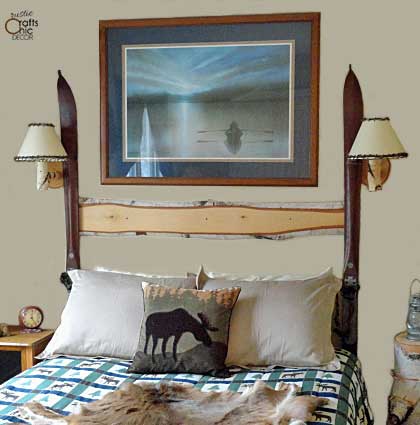 If you've ever shopped for new bed frames, you know how expensive they can be. And, if you want one with a rustic style, the price goes even higher. Instead of purchasing a bed with a decorative headboard, you could make a faux headboard for a fraction of the cost. By using just a couple of elements, a DIY headboard can also be super easy. I had a pair of vintage skis that I wanted to put on display. Because I also needed a headboard in a guest bedroom, I decided to incorporate the skis. Anchoring each side of the bed, the skis make great headboard posts. A slice from a birch tree makes up the cross piece. See how to make a lengthwise cut from a log at Hunker.
Upcycled Side Table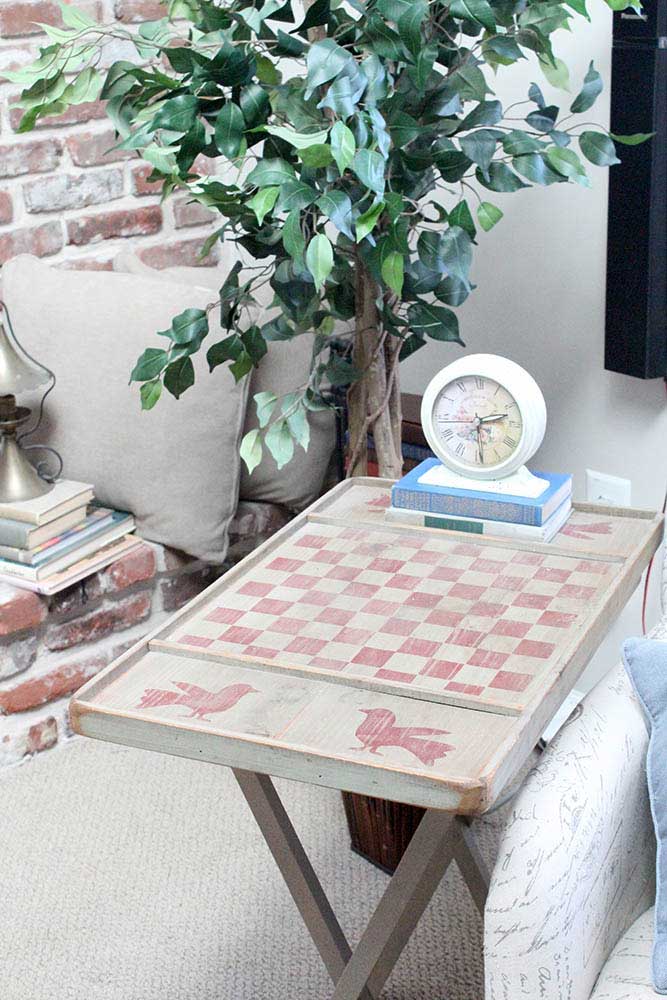 What I like the most about upcycling projects is that there is a whole lot less work than with starting from scratch. This rustic side table is made from an old TV tray and a vintage wooden checkerboard. A similar idea to this is my side table made from an old crate and worn out step ladder. Another table I did was a combination of a vintage drawer and a wooden plant stand. There are lots of ways to make fun side tables. You basically just need to think about what you want for the top and then for the base.
Tree Stump Table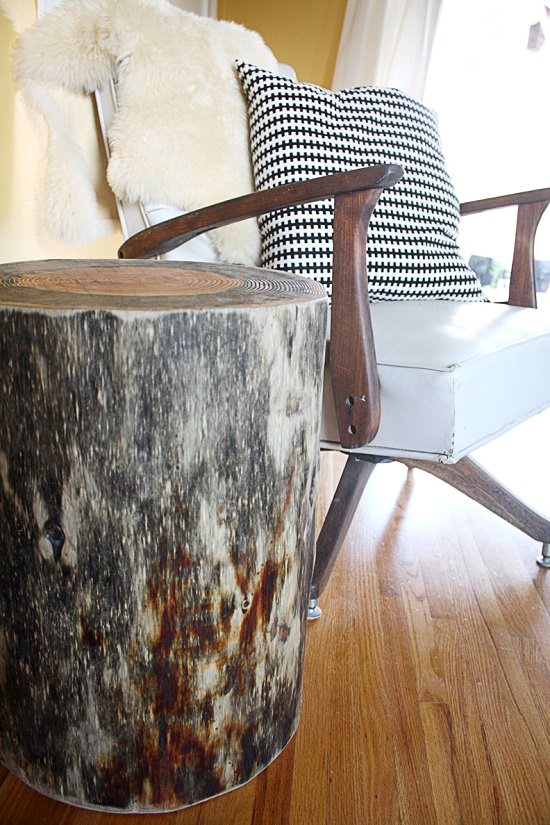 You can also make a side table completely from nature. In fact a large tree stump makes it super easy. All you need to do is seal and finish it to use inside. A DIY rustic decor project doesn't get much easier. You don't even have to take the bark off if you seal it. I used a birch tree stump as a nightstand and just sprayed the bark with flat finish polyurethane.
Branch Shelf Brackets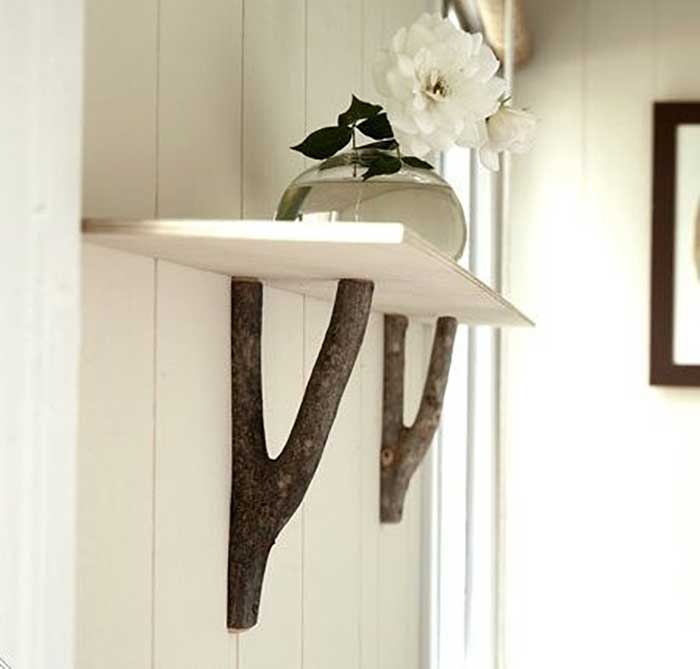 You can't get much easier than cutting a couple of branches to use as shelf brackets. This is such a quick and easy way to get some really decorative rustic decor. I like the white shelf which makes the ensemble very rustic chic. If you want more of a rustic look, just use a salvaged wood board instead. Along the same lines as this project is using smaller Y branches as a pole curtain rod holder. In fact, I used branches as brackets and another straight branch as the rod. You could do the same thing for a towel bar.
DIY Rustic Decor For The Kitchen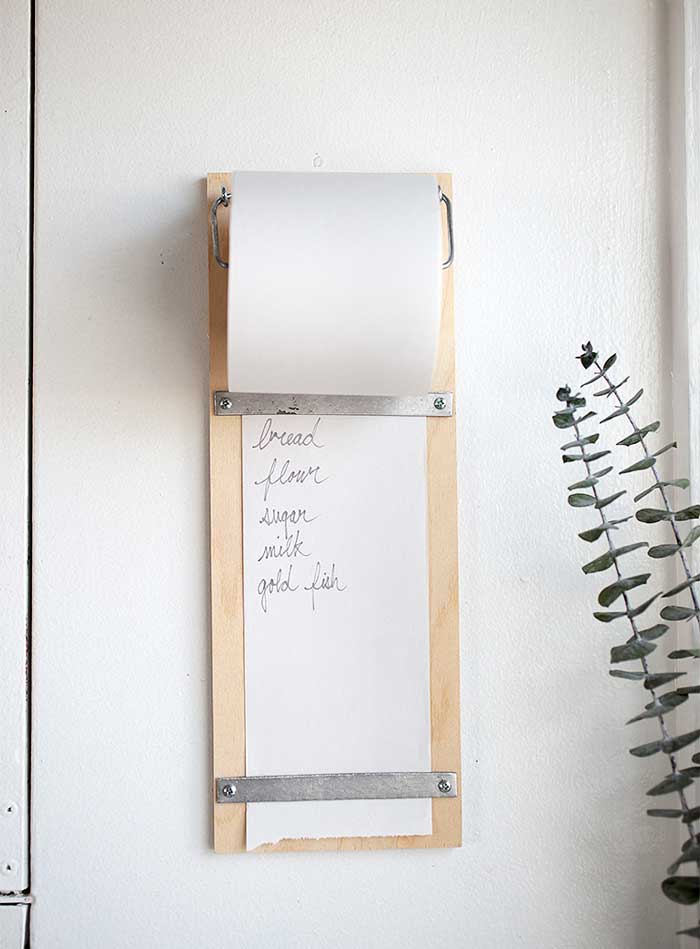 I don't know what it is about paper rolls but I love them. Whether it's craft paper or plain white, I love to see it hanging. This DIY project is so easy to make and adds a fun rustic touch to the kitchen. Speaking of paper rolls, I used a vintage paper roll holder to hold my paper towels. It was a little more fun and rustic than a traditional paper towel holder.
Paint Stick Basket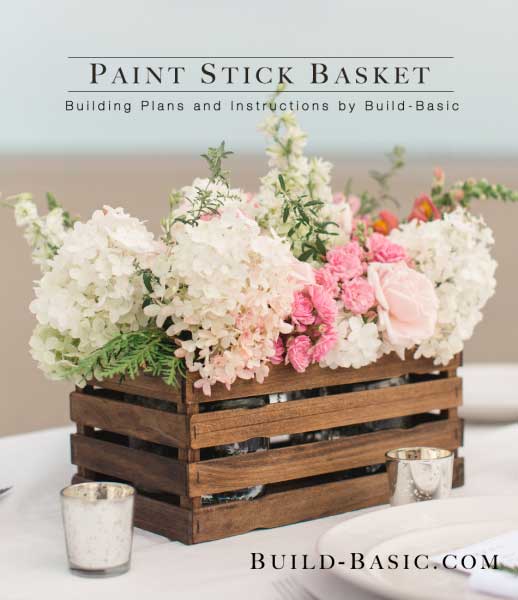 How about making a rustic crate out of free paint sticks? Because the paint sticks are thin enough, you only need to staple them to your corner wood pieces. Somehow stapling just seems easier than nailing. If you don't want to have to cut any paint sticks for the shorter sides, then just make a square crate instead. That way you can use the full paint sticks for all four sides.
DIY Industrial Pipe Shelf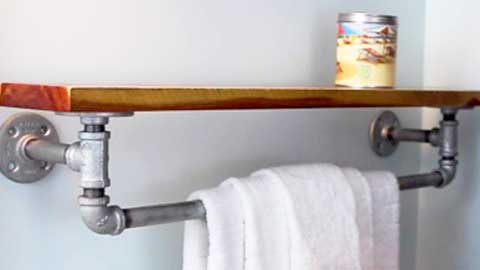 Plumbers pipe is so easy to work with and can give you so much rustic industrial decor. This shelf is one example of how to configure the pipe for functional decorating. To see more ideas using plumbers pipe, check out my post on easy crafts made with plumbers pipe.
Cheap And Easy Rope Basket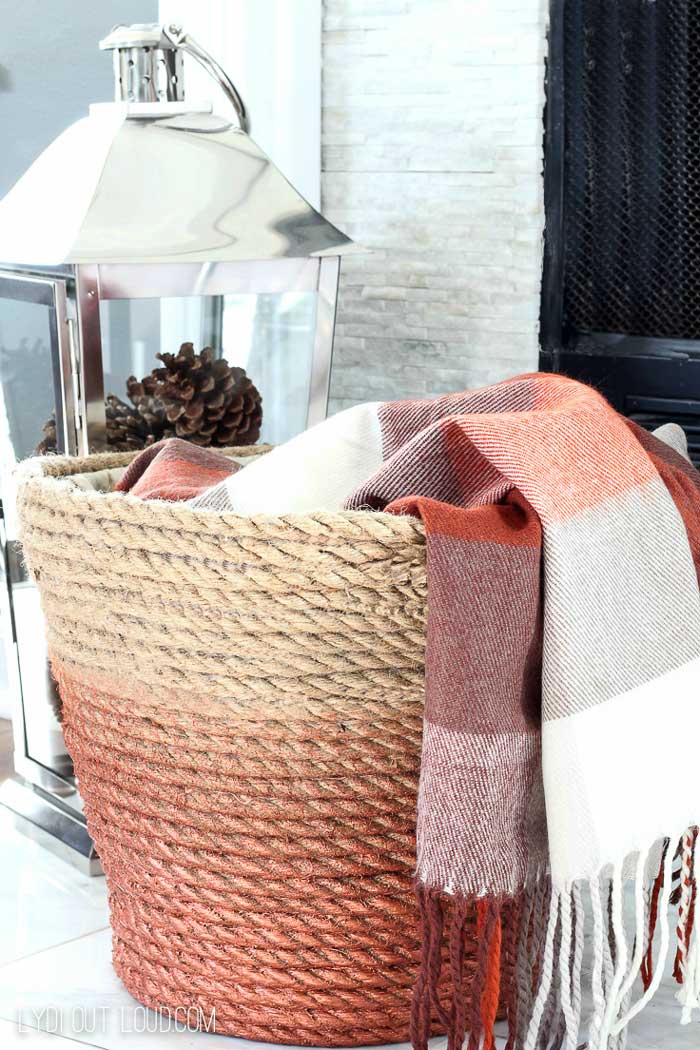 You don't have to be a basket weaver to make your own basket. Although a basket may seem like a hard thing to make, it is actually easy using rope and a cheap laundry basket. Just wrap the outside of a round plastic laundry basket with large rope. Leave it plain or paint the rope in a fun design. The inside fabric liner doesn't even have to be sewn in. Just hot glue it in place.
DIY Rustic Decor Mirror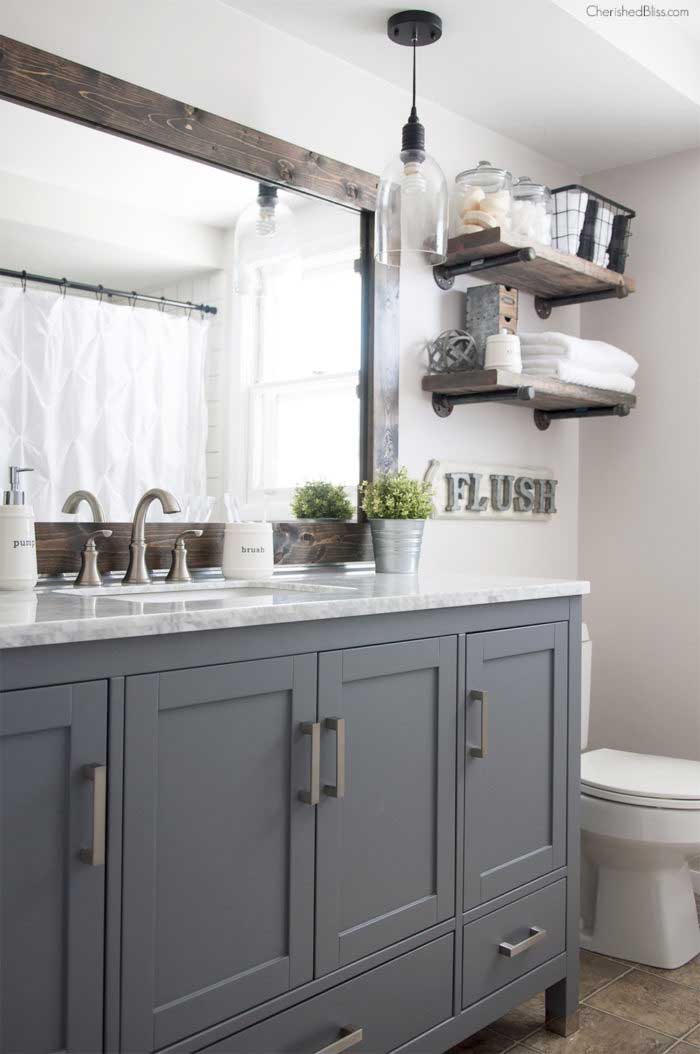 Easily transform a standard bathroom mirror into a rustic decor piece by framing it with wood. You can actually do this with any plain mirror that you have. A wood frame gives a mirror so much more style and sophistication. Whether you use new wood or salvaged wood, the look will be warm.
DIY Rustic Twig Lamp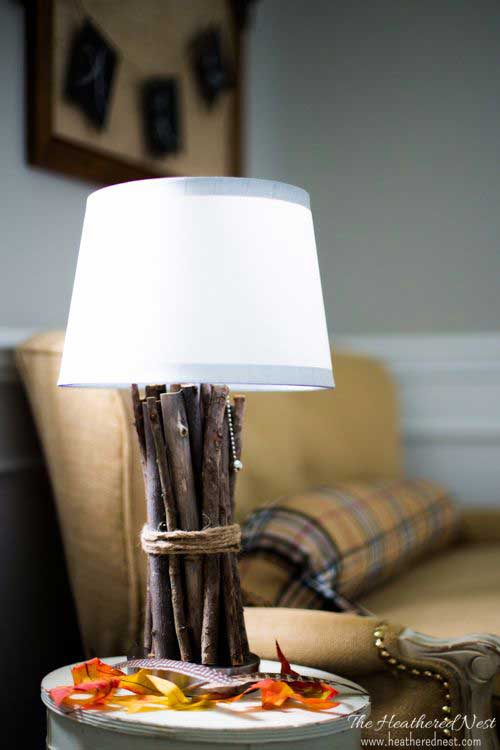 This branch lamp is another super easy DIY project. It's basically making over an existing lamp. Simply use or purchase an inexpensive candlestick style lamp. The thin base makes it easy to wrap with rustic branches. When all of the branches are in place, just wrap with twine to complete the look. My husband and I have also made a lot of birch lamps. From simple sconces to intricate floor lamps, there are a lot of stylish ways to use birch.