So you love the idea of making your own farmhouse table! With the simple styling and construction, it's a perfect solution for an affordable dining table. However, now what about the chairs? To really set off the rustic styling of your table you need proper chairs to enhance the look. While you can makeover existing chairs to look a little more rustic, there are also affordable options for purchase.
Rustic dining chairs can be either wood or metal but it's all about the finish and style that make them complement a DIY farmhouse table. Of course, even if you haven't just finished making your own table, you may want some new chairs. Maybe your existing table is fine but the chairs have the wrong style for you. Simply changing out your chairs will give your dining set an updated and fresh look.
These ten options of chairs that complement a farmhouse table include a variety of finishes and designs. Whether you like wood or metal, light paint or dark stain, or hard or upholstered seats, there are options for any of these. Hopefully, you will find something that you like!
This post contains recommended product links. If you make a purchase through one of the links, I will earn a small commission.
Antique White Country Dining Chairs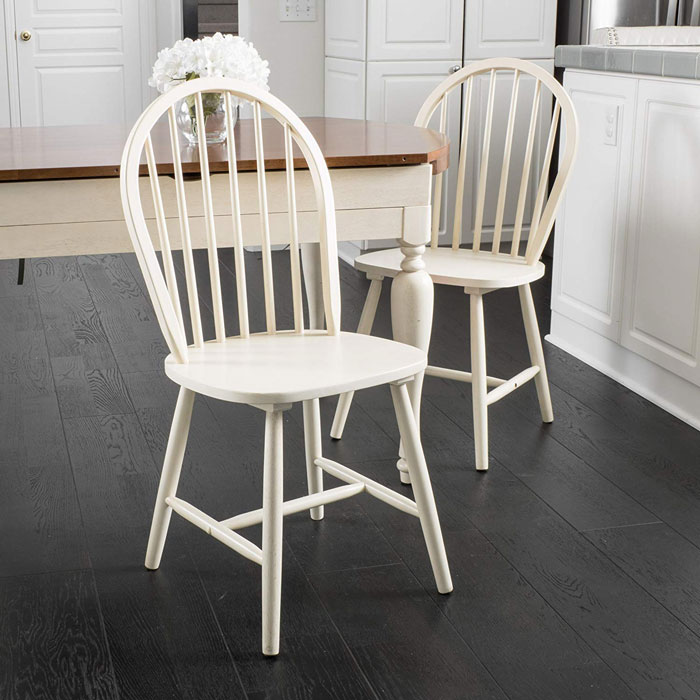 A set of country style chairs, in antique white, is one idea that complements a farmhouse table well. The simple charming design is what a country kitchen is all about.
Rustic Industrial Dining Chairs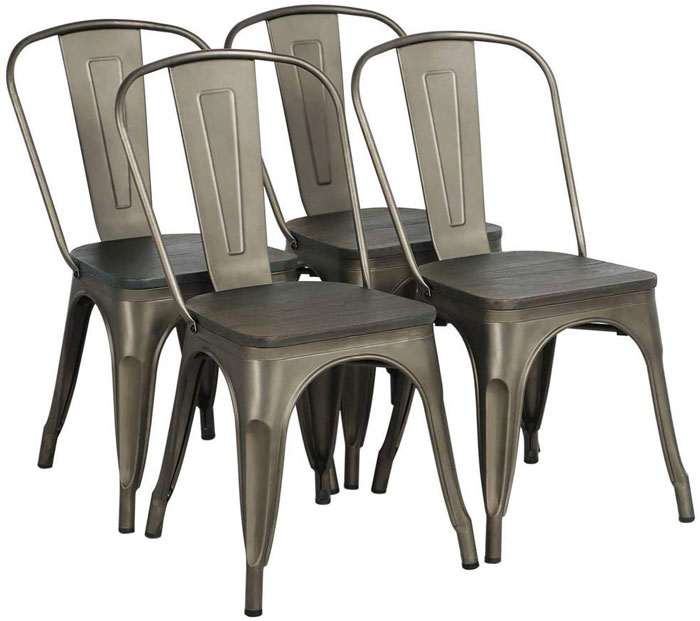 For a more modern rustic or rustic industrial look, these metal cafe chairs are just right. What's more is that a set of four of these chairs is extremely affordable. In most cases they are right around $130 for the entire set of four.
I purchased a couple of sets of these chairs. We actually use them for around our game table. Since I needed eight chairs, it was very cost effective to purchase two sets. However, just because they are affordable doesn't mean they skimp on style.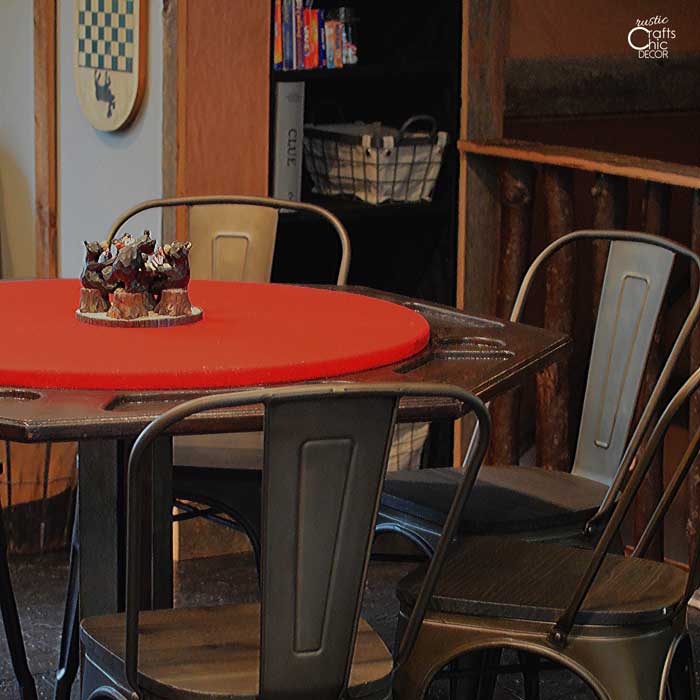 Elmwood And Rattan Farmhouse Chair
The charming details and distressed wood design make this chair a nostalgic addition to a farmhouse table.
Here is a similar style chair paired with a DIY farmhouse table and a bench.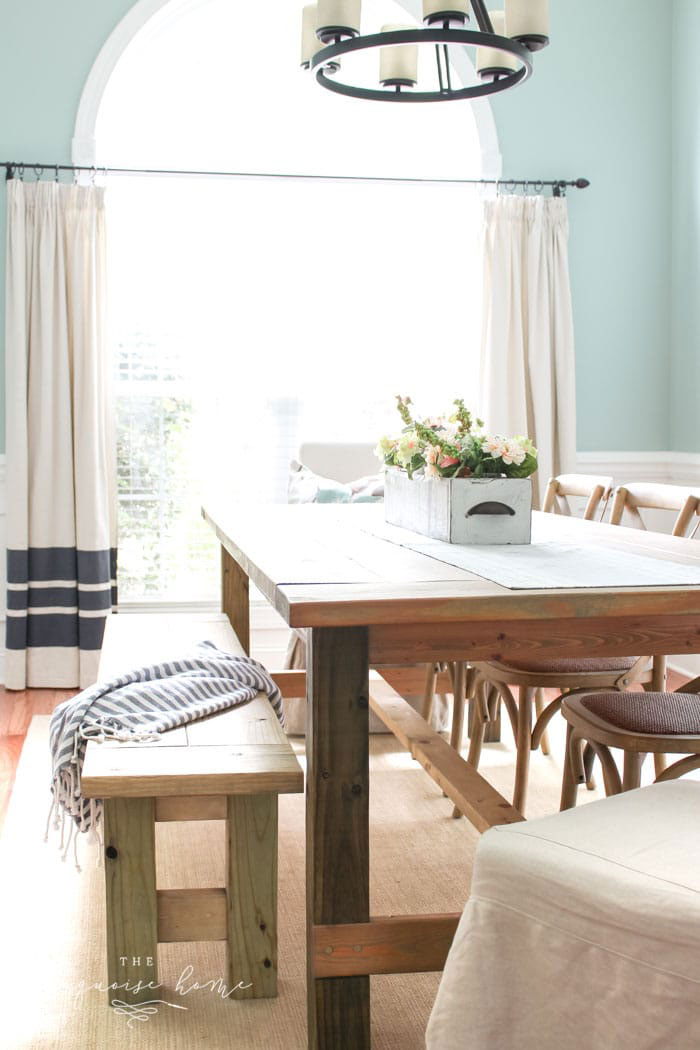 The rounded detail at the bottom of the chairs softens up all of the straight lines of the table.
Vintage Industrial Arm Chairs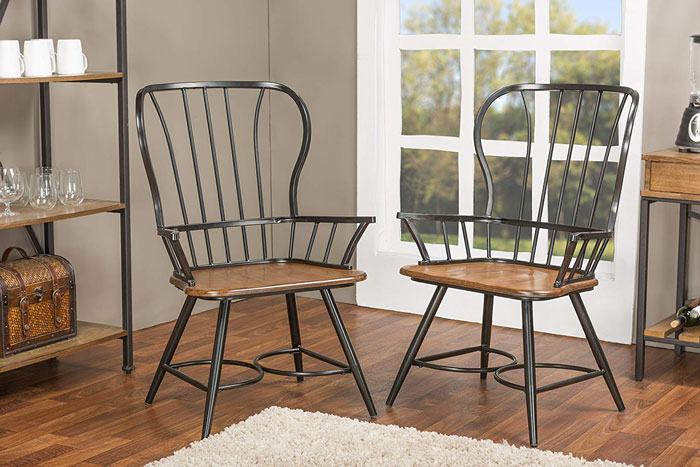 What's not to love about these rustic dining chairs! With a mix of wood and black metal, the rustic industrial design would make a nice addition to your favorite table.
Farmhouse Acacia Wood Dining Chairs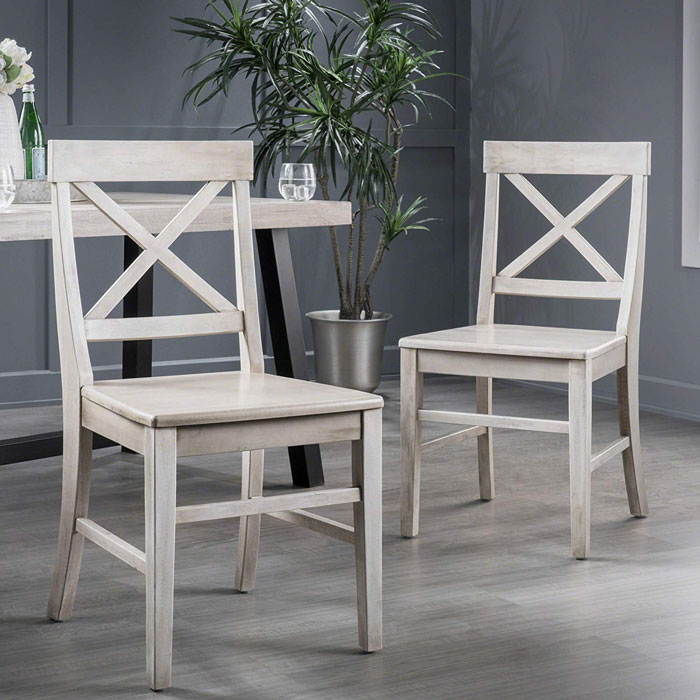 These chairs have a simple yet interesting design that work well with a chunky rectangular table.
Industrial Style Kitchen Chair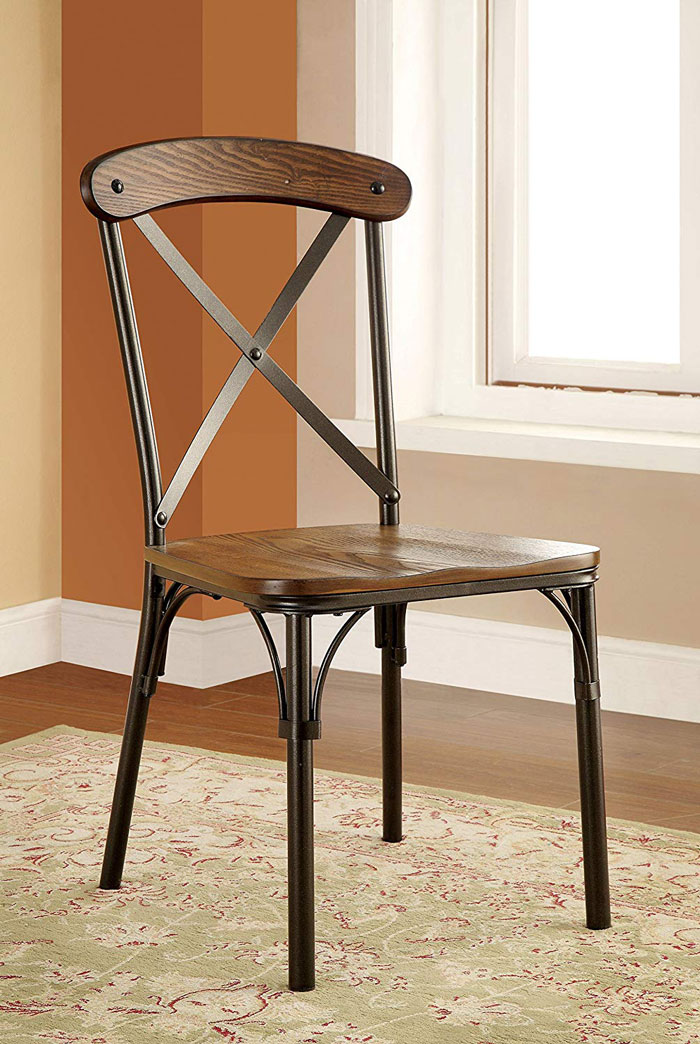 Another cross back but with industrial styling. The combination of wood and metal is a popular rustic style.
Grey Spindle Chairs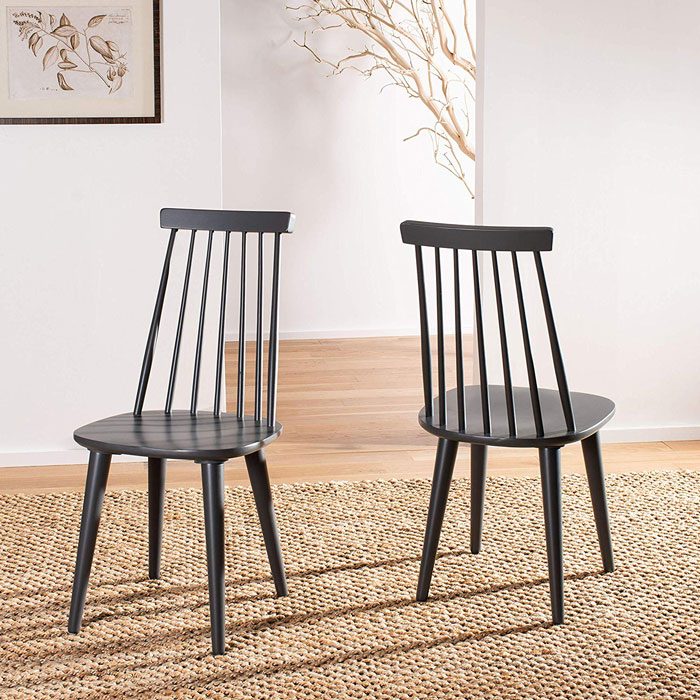 The classic styling of these dining chairs give them a warm and nostalgic feel. The grey finish will complement most table finishes.
Elegant Tufted Kitchen Chairs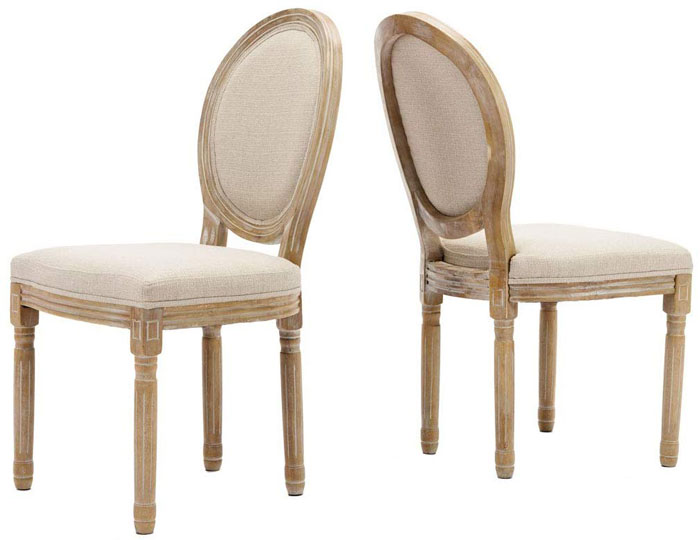 You can also add a bit of elegance to a farmhouse table. The rounded backs and creamy upholstery provide plenty of softness to a rectangular table.
Ladder Back With Upholstered Seats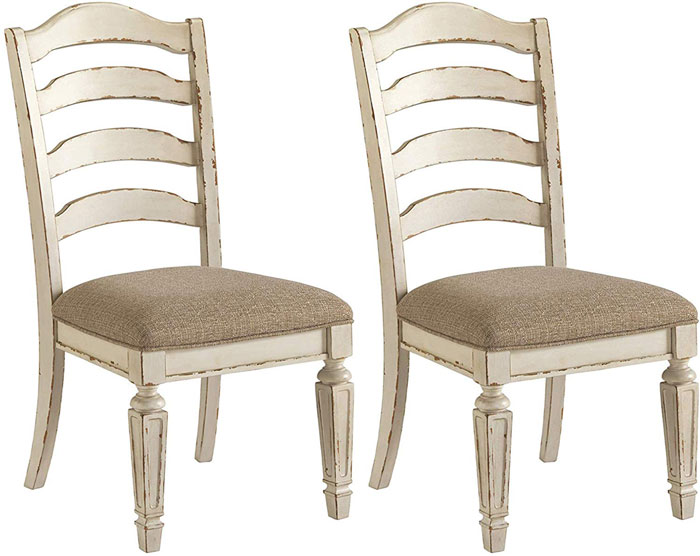 Maybe you like the softness of an upholstered seat but still want a more rustic chair. You can get the best of both worlds with these distressed ladder back wood chairs with upholstered seats.
Winsome Renaissance Walnut Chairs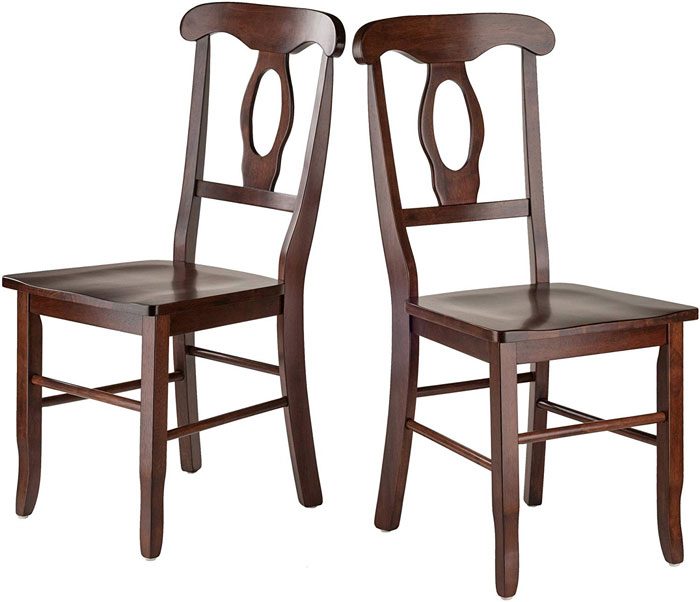 Because of the high back and fun styling, these chairs also complement a farmhouse table. The dark stain of the walnut works well with tabletops that are stained dark as well.
Here is an example of a DIY farmhouse table with chairs in this style.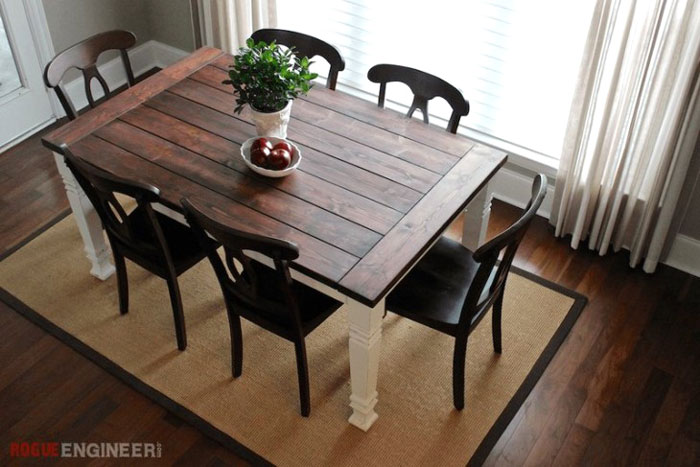 As you can see, the white table legs really help to brighten up all of that warm dark stain.