Have you seen some of the latest craze in she sheds! They are gaining in popularity fast and I definitely know why. When you want a personalized space that you can get creative in, a she shed makes the perfect craft or art studio. You will be amazed at the variety of these decorative she shed ideas. If you hadn't thought of one before, you may be considering one after seeing all of the inspiration!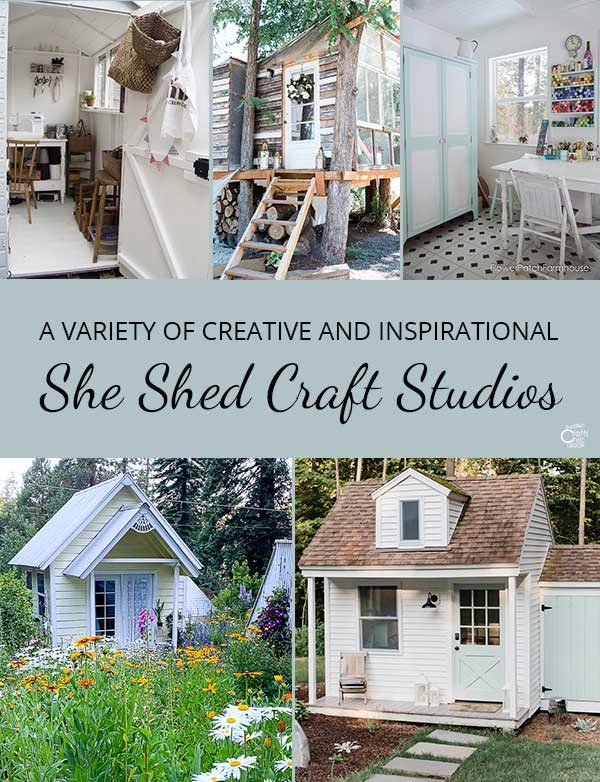 I have a small craft/laundry room at my cabin which works pretty well for me. However, having my own she shed overlooking the lake sounds pretty wonderful to me. I mean, I can get creative in my little corner of the basement. But really, I can just imagine all of the brilliant ideas I could come up with while gazing out at the lake and woods.
Lately, I have found myself moving out onto our lower level patio to work on some projects in the fresh air. With the weather so beautiful, it has been very inspiring. However, having that type of space throughout all of the seasons would only work with something enclosed. And, of course to enjoy all of the natural surroundings, plenty of windows would be the ticket!
Some necessary utilities to probably add would be electric and water. I'm thinking electricity would be easy enough by running an extension cord from the house to a shed. Then, it would work to plug in a heater or fan depending on the temperature. See what these ladies did to create functional spaces that are breathtaking to look at. These she shed ideas are full of inspiration. Some are built from scratch and others are simply garden shed makeovers.
She Shed Ideas Built From Scratch
She Shed Treehouse Idea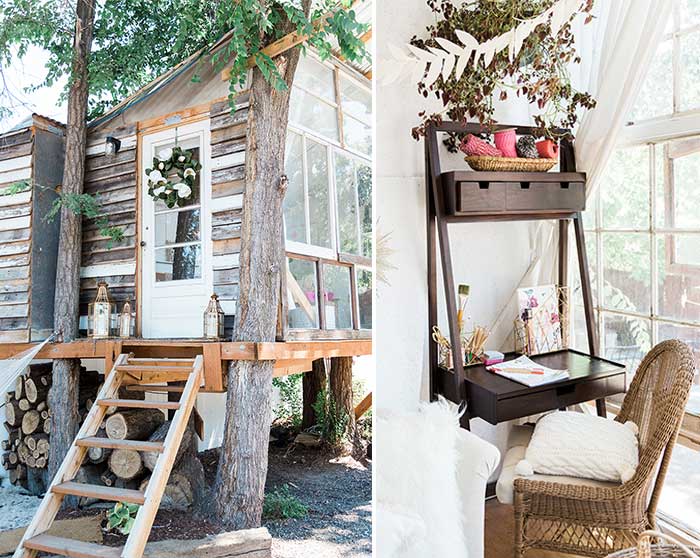 How is this for a fun and creative idea? I always wanted a tree house as a kid and this adult version makes a tranquil and unique craft space. It is full of windows but not in the usual way. The window wall is made up of an assortment of old salvaged windows. How perfect for a rustic chic look!
Cottage Charm She Shed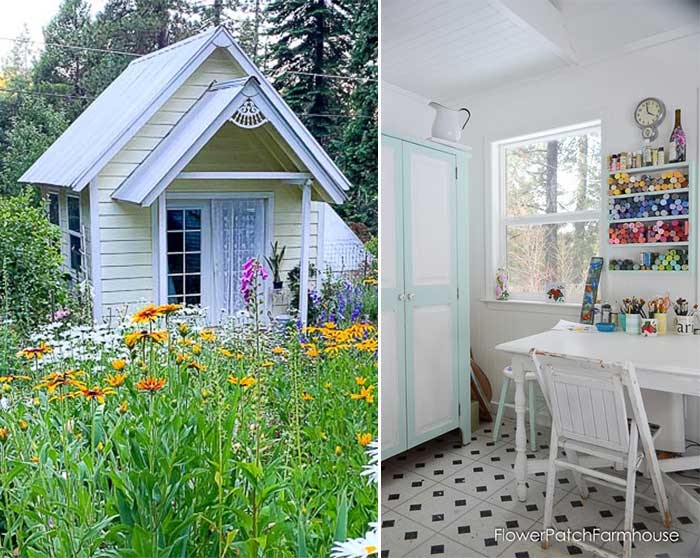 This cute little cottage style charmer makes the perfect retreat to work on craft projects. If you like the look, Flower Patch Farmhouse offers free plans to build your own. Surprisingly, it's not too expensive to get a look just like this.
Farmhouse Chic Art Studio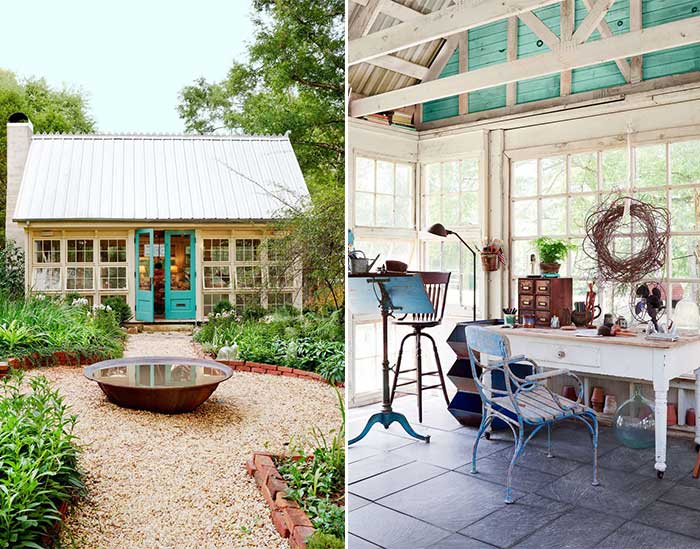 This she shed provides a lot of great inspiration. With all of the windows, it is airy and chic. I imagine that once you start working in here, it's a little difficult to leave!
Basic She Shed Idea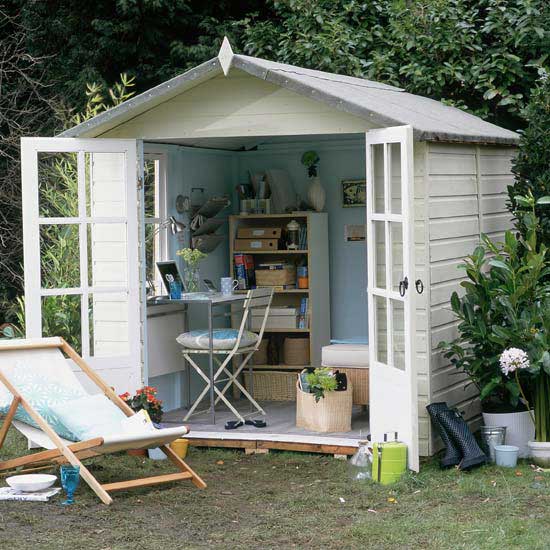 Even the simplest of designs will provide a nice sanctuary for crafting. With doors that swing open and a small window, you still get the tranquil feeling of being outside. Because the doors are mainly glass, they still provide a nice view when they have to be closed.
Shed Makeovers Into A Craft Studio
Chic Shed Makeover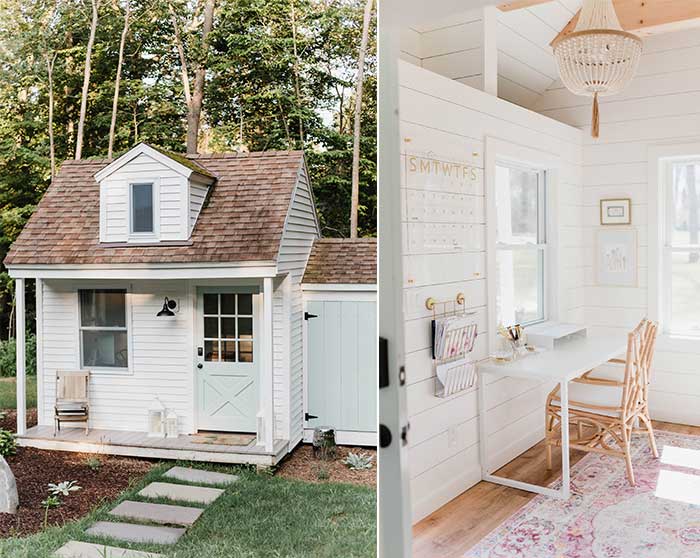 This particular she shed was made over from an existing shed. And, the previous shed looked nothing like this. It was getting old and left unused. However, the fabulous makeover turned it into a swoon worthy space to work. Although this was made into a home office, the set up is perfect for a craft space as well.
Shed Interior Makeover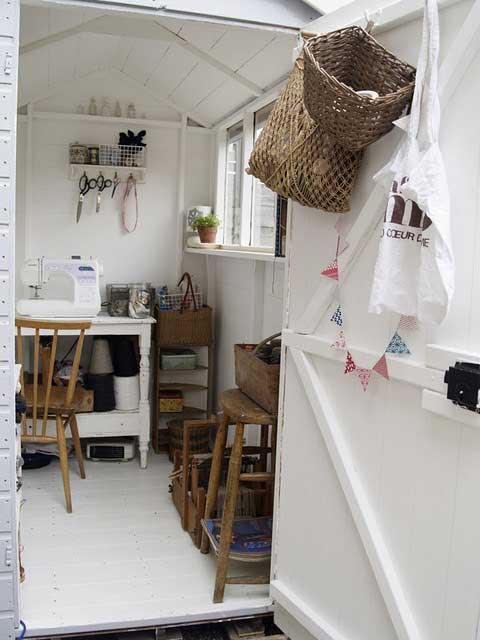 No matter what type of shed you are making over, the interior goes from drab to fab with a douse of white paint. You can't go wrong with brightening a small space with a lot of white. I love how the wood pops in this chic shed interior.