When you step inside your craft room, does the space inspire you to get your creativity on? Or, is it just a utilitarian type room with little to no decor? Just because a craft room is a place to work on a project doesn't mean that it should be neglected in your overall decorating. A space that reflects your personality and style will make you more comfortable and more apt to be creative. For that reason, craft room decor should inspire you to get your imagination flowing.
My own craft room is small but full of decor that inspires me. I like a rustic chic style so my craft room is decorated in white but with lots of vintage and rustic accents. To help you discover what inspires you best, I put together a collection of 30 craft room decor ideas. These ideas will transform a craft room into a space where imagination flows and unique creations are made.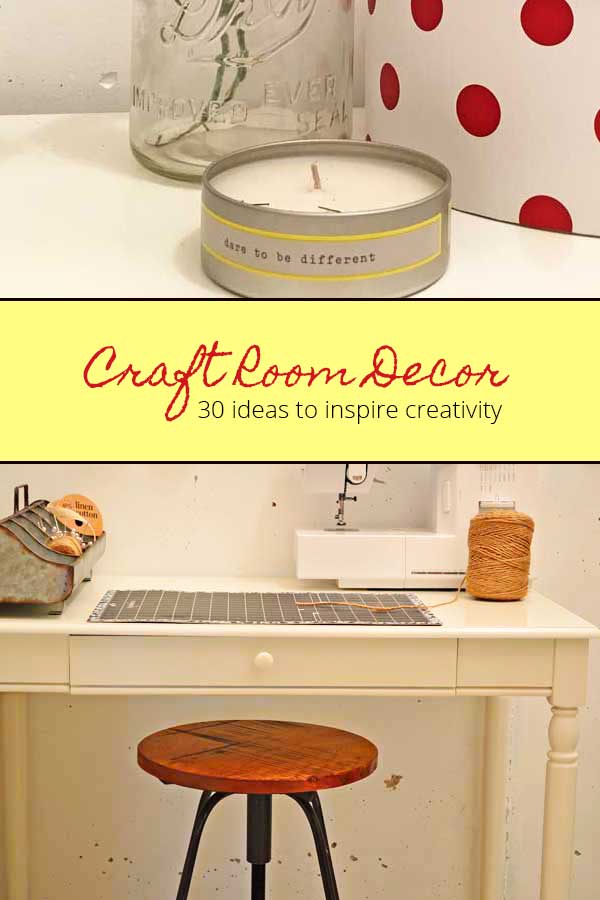 This post contains recommended product links. If you make a purchase through one of the links, I will earn a small commission.
What Objects Inspire Creativity?
Some craft room decor accessories or supplies will especially create an atmosphere of creativity. Surround yourself with these types of things to get the juices flowing.
Books Inspire Learning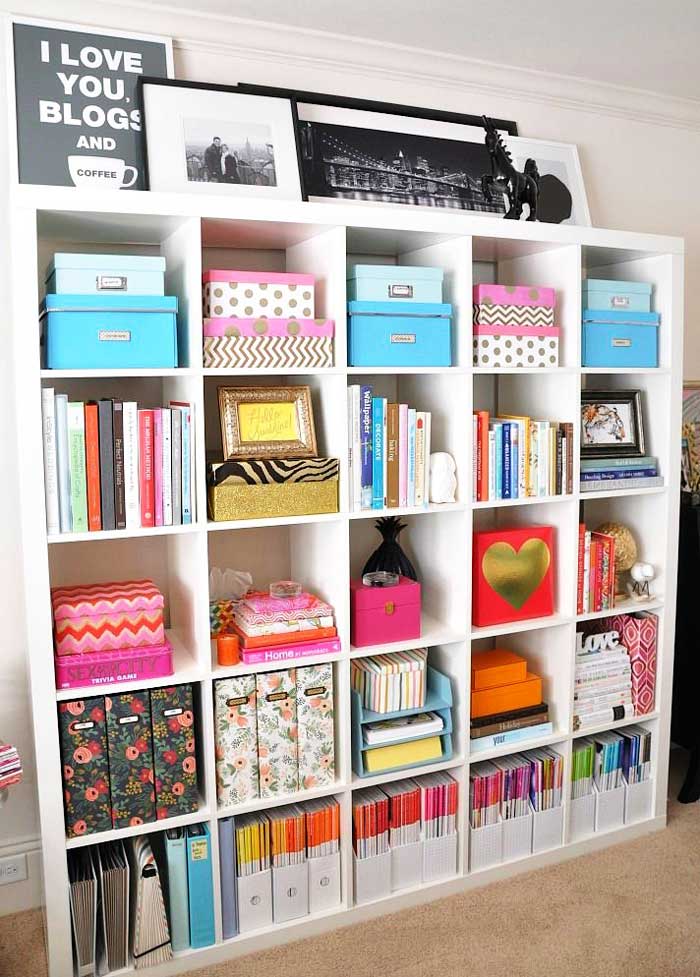 I don't think there is anything that spurs on creativity more than books. Even if you're just looking at them, the fun colors and titles are inspiring on their own. Combine the colorful books with decorative storage boxes in bright pops of color. Just looking at this display makes me want to grab a book off the shelf and start learning. The overall space is happy and fun.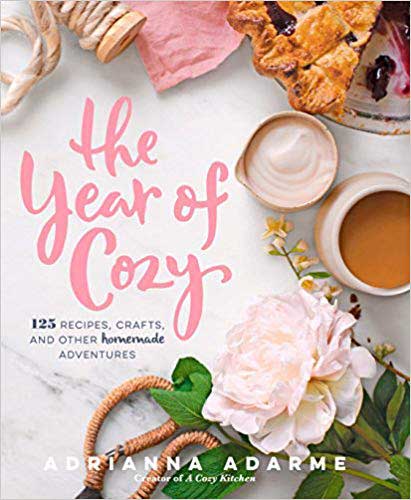 Sometimes just the cover of a book makes you feel inspired. Place these books with the cover facing out. It would act as an inspirational picture or sign.
Inspirational Messages With Signs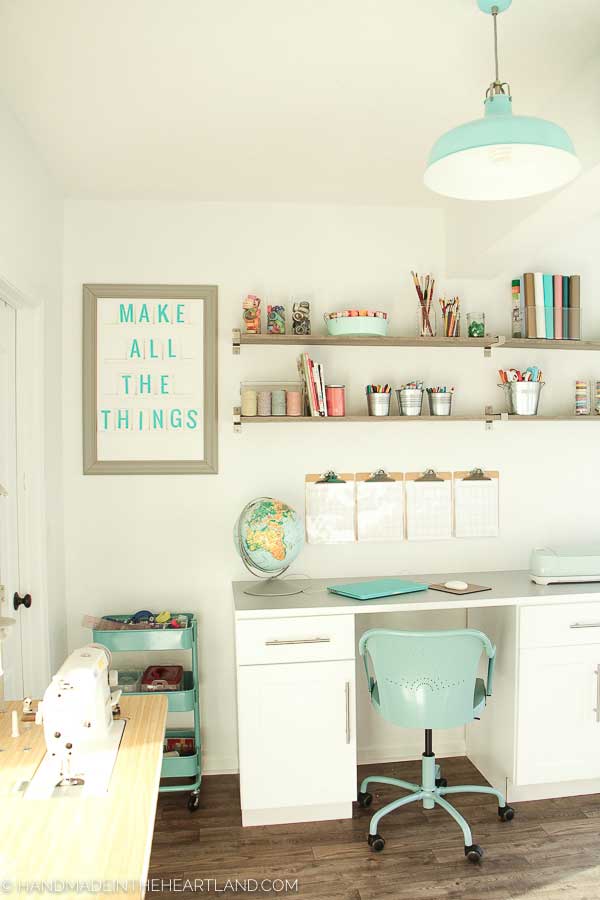 Every craft room should have at least one inspirational sign. "Make all the things" definitely gets the message across! Also, a simple and well organized craft room also unclutters the mind leaving it open to creative thoughts.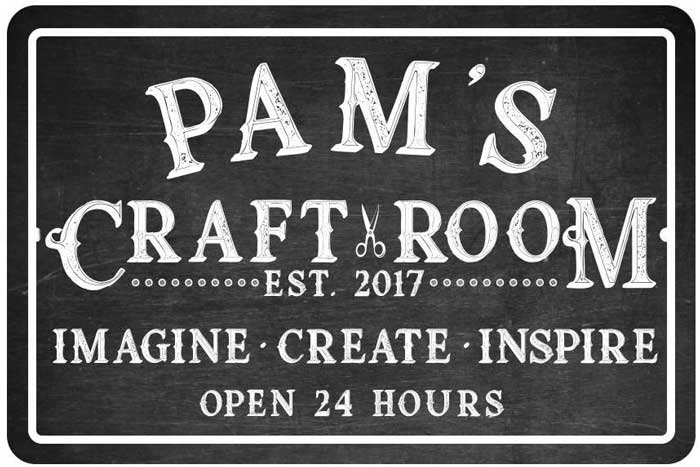 I found this fun sign for sale on Amazon. What makes it extra special is that it can be personalized. It's a metal sign but made to look like a chalkboard. The black and white will pop with any color craft room.
Pens And Pencils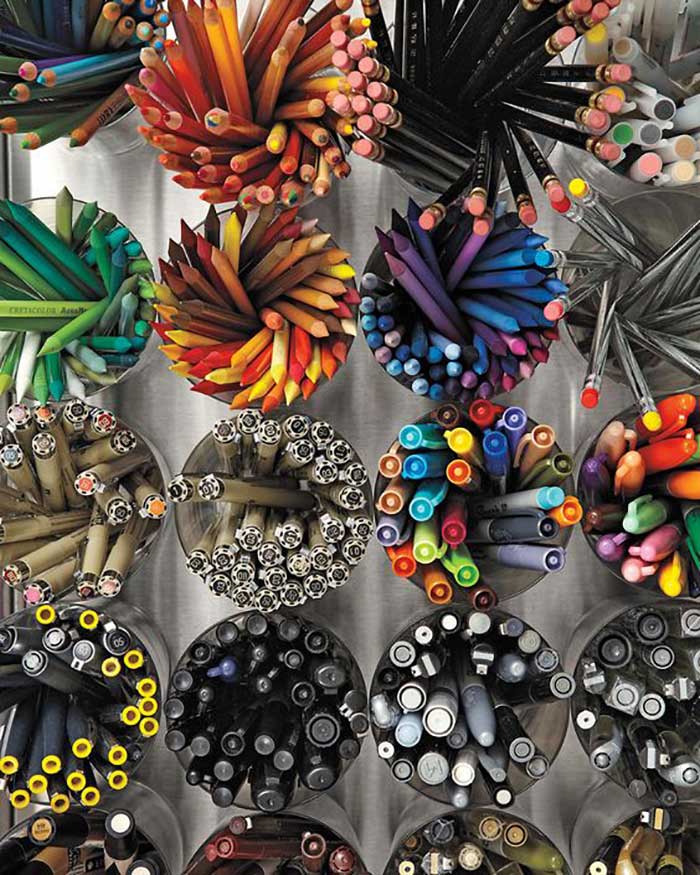 Pens, pencils, markers, you name it! If you can draw with it, it will inspire creativity. Display those writing utensils in fun and visible ways for easy grabbing. Once you start doodling, you'll be amazed at the ideas you come up with.
Colorful Craft Supplies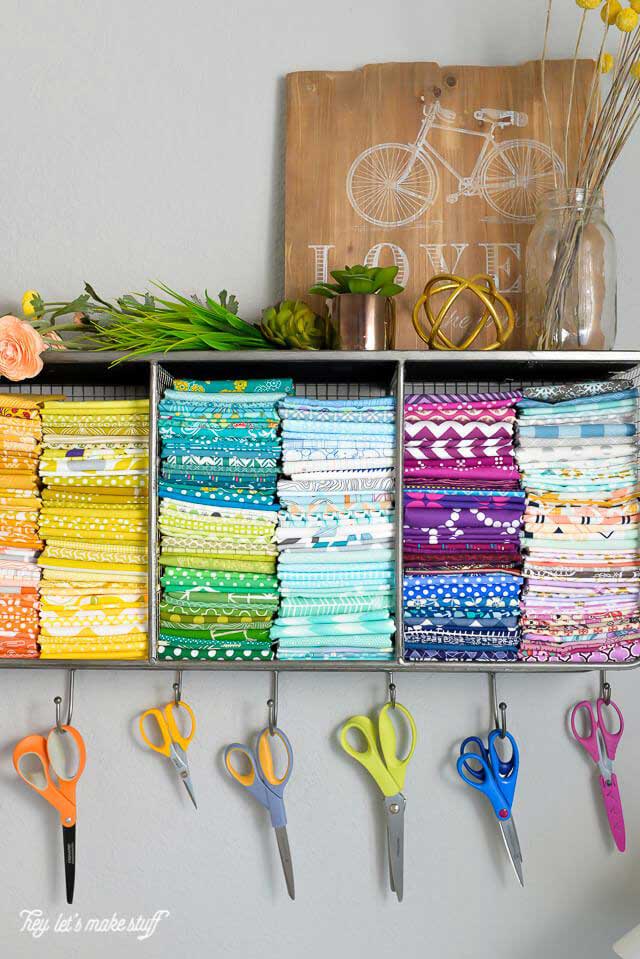 Put on visible display all of your craft supplies or tools with bright colors or patterns. Color has a way of creating a happy space that is conducive to creativity.
What Are The Best Colors For Creativity?
Blue Is Calming
The color blue is probably the number one color for boosting creativity. Paint your craft room walls in blue or add blue accessories to relax and open your mind.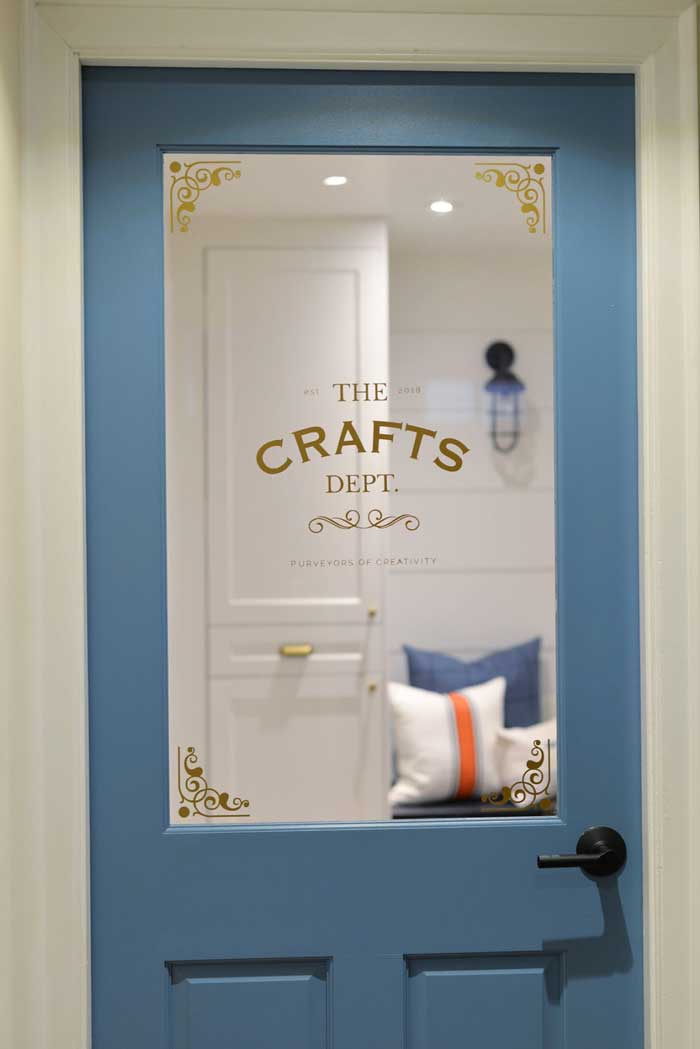 I would be inspired just walking up to this craft room door! Talk about boosting your creativity. Just looking at the details of this craft room decor would make you want to start creating something special.
Green Promotes Harmony
Another color from nature, green opens the mind to clear thinking.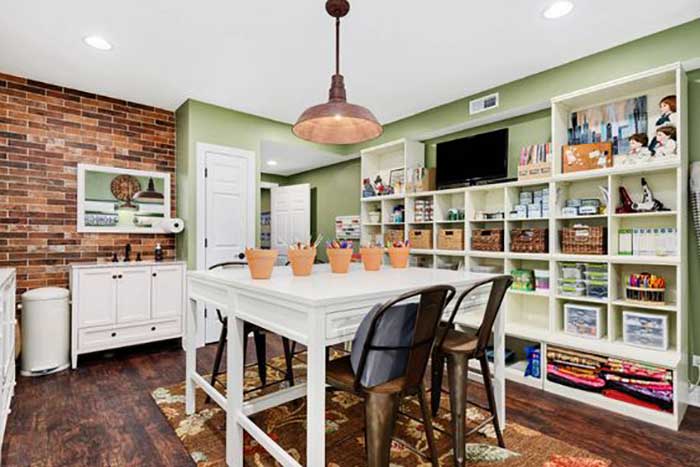 Green walls are so fresh and soothing at the same time. Combined with rustic accents, this craft room offers a relaxed atmosphere that is inspirational.
Yellow For Happiness
Yellow tends to be one of the most cheerful colors. And, when you are feeling happy, you will be more inclined to being creative.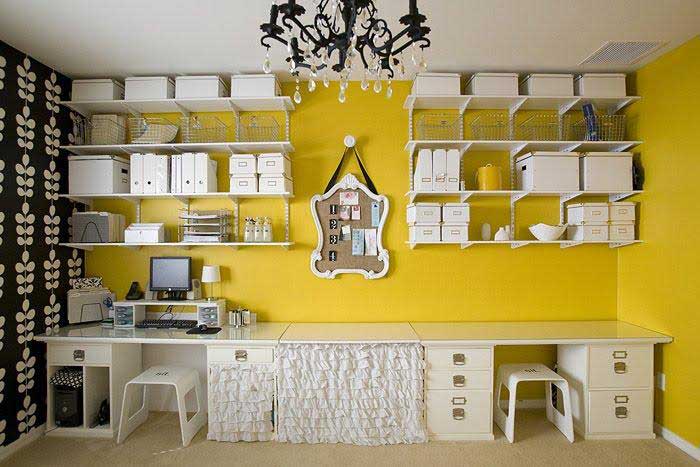 With neutral black and white decor accents, a bright yellow wall really makes the room pop. The whole look is very chic and inspiring. Decorating with yellow always gives clarity in a cheerful way.
Orange For Positivity
Similar to yellow, orange is cheerful and is known to build self esteem. Use orange to promote confidence to tackle your projects.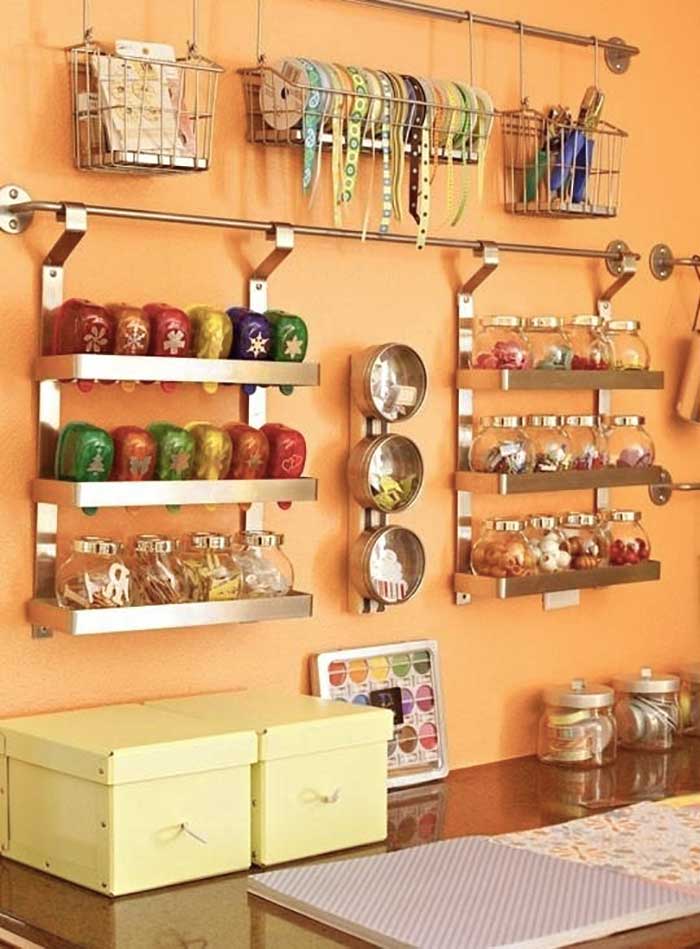 Depending on the shade you choose, orange can be very vibrant or offer a warm cheer. Whichever shade you decide on will definitely bring on a positive attitude.
Get Inspired With Pops Of Bright Color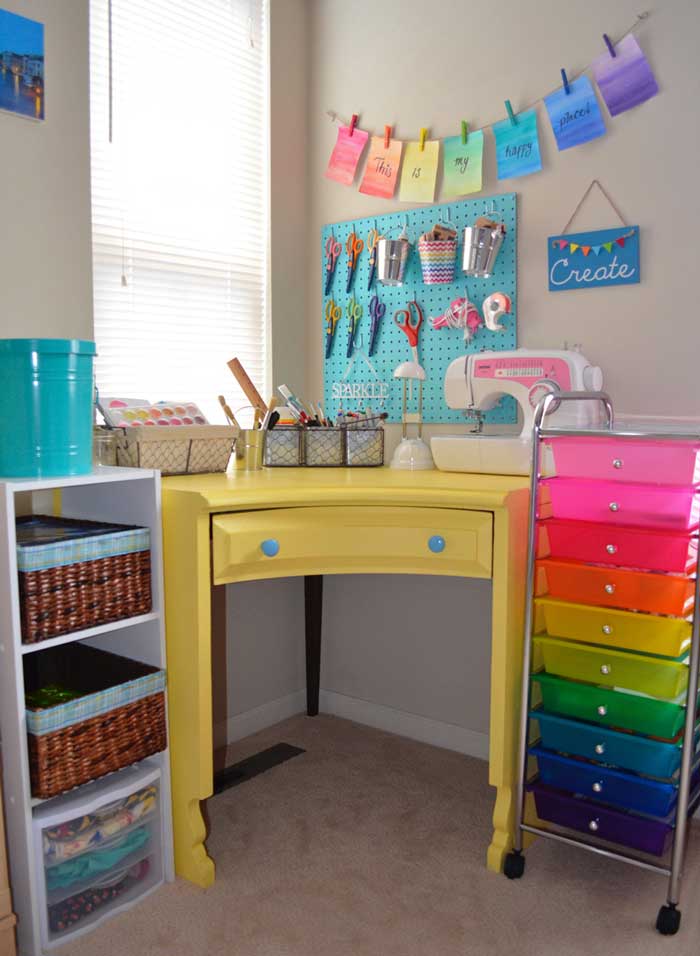 A rainbow of colors also work to inspire creativity. This space is definitely happy and fun.
How Does Decor Style Boost Imagination?
Lighting And Light Fixtures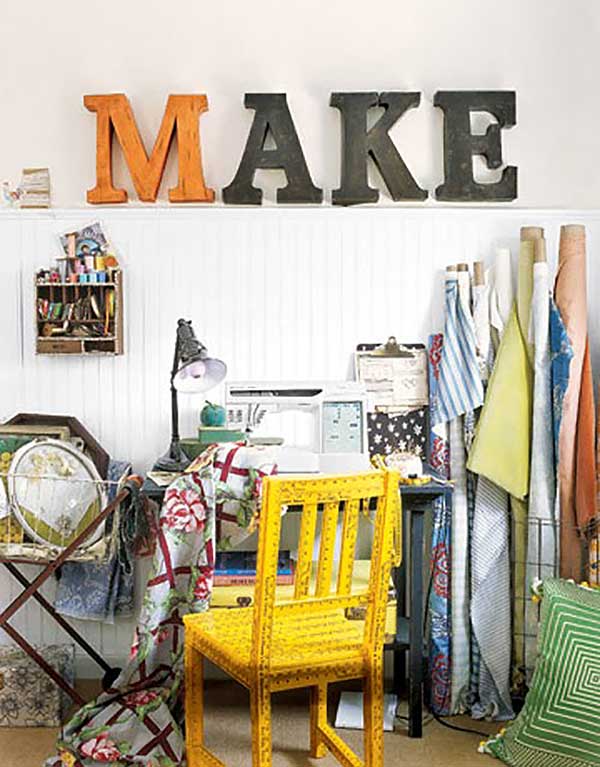 There is more to love about this craft room than just the light fixture. However, good task lighting, that is also decorative, is a must have for a creative space.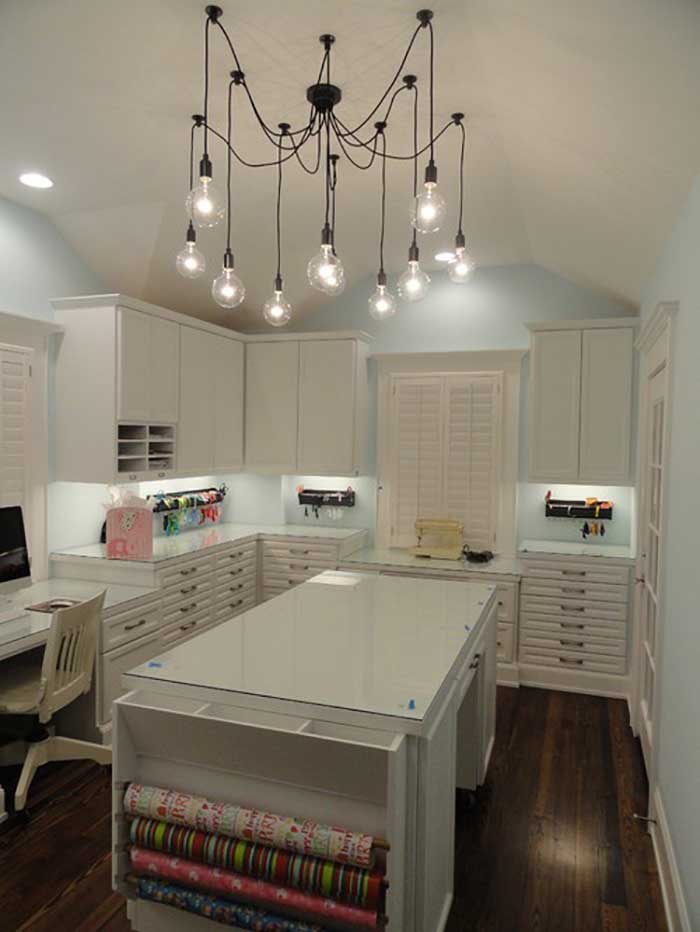 Have fun with the lighting that you hang over craft surfaces. A dazzling atmosphere illuminates your mind.
Create A Relaxed Atmosphere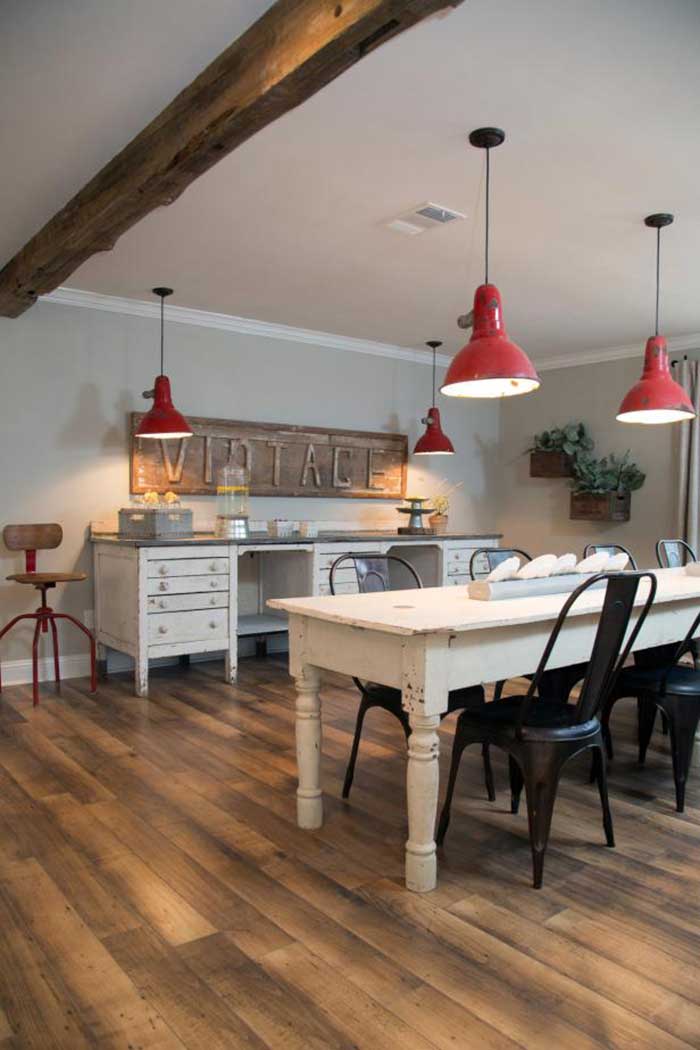 If you love a vintage rustic style space, carry that decor style over to your craft room. It will create a warm and relaxing atmosphere that will allow you to get creative.
Bring In Craft Room Decor That You Love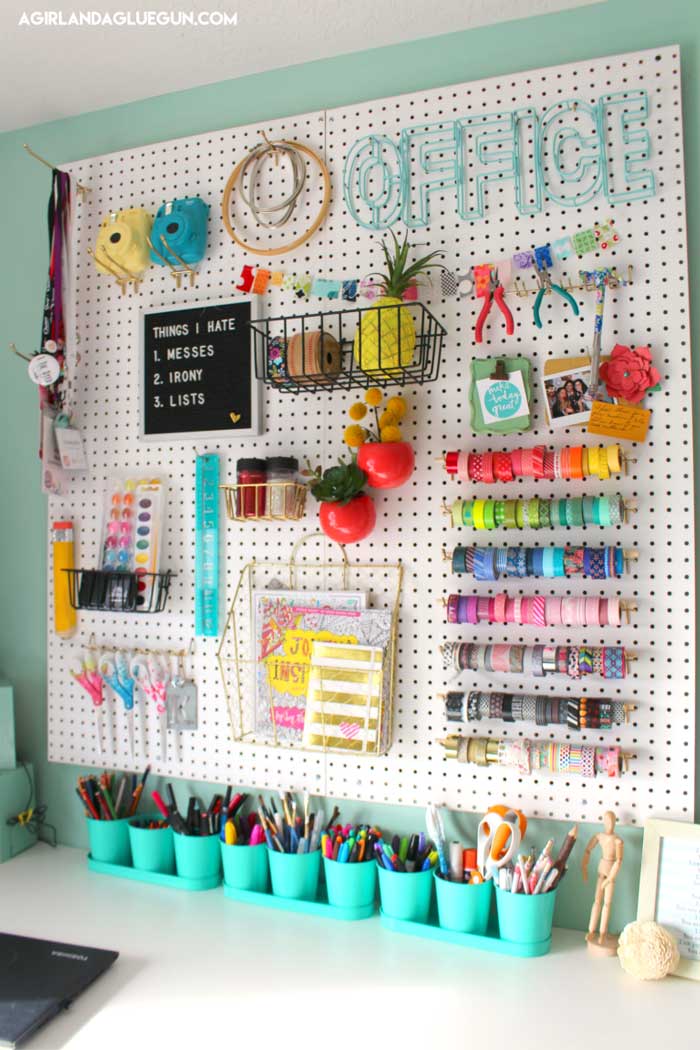 A large peg board is not only good for storing craft supplies but it also makes a great place to hang craft room decor. Bring in some of your favorite pieces and scatter them throughout your craft supplies.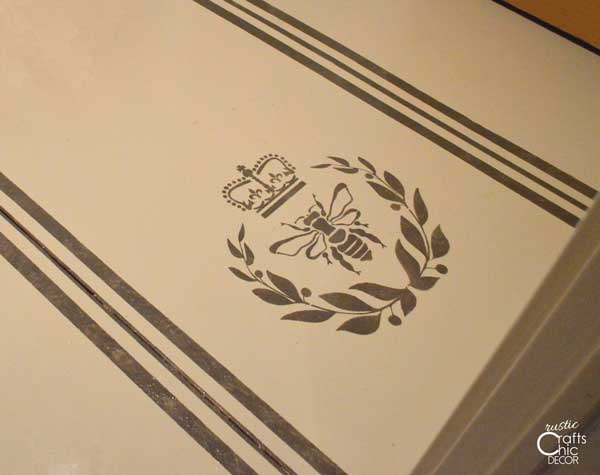 Even a craft room floor can be inspiring! I happen to love a grain sack pattern so I painted the cement floor in a grain sack design. It was easy to do with masking tape and a stencil.
How To Organize For Better Creativity
When a work space is uncluttered it also helps to unclutter the mind. A place for everything means that you will have no problem finding what you need. This leaves the mind open to the job of creating.
Open Cubes For Visibility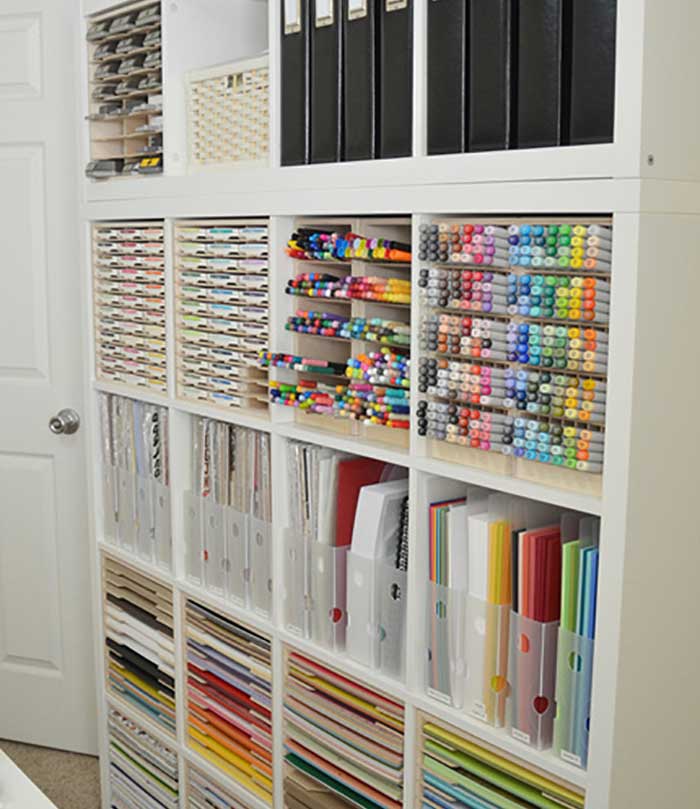 Being able to see craft supplies at a glance is a huge plus. When you have to hunt too long for supplies, your creative energy tends to get lost.
Hang A Pegboard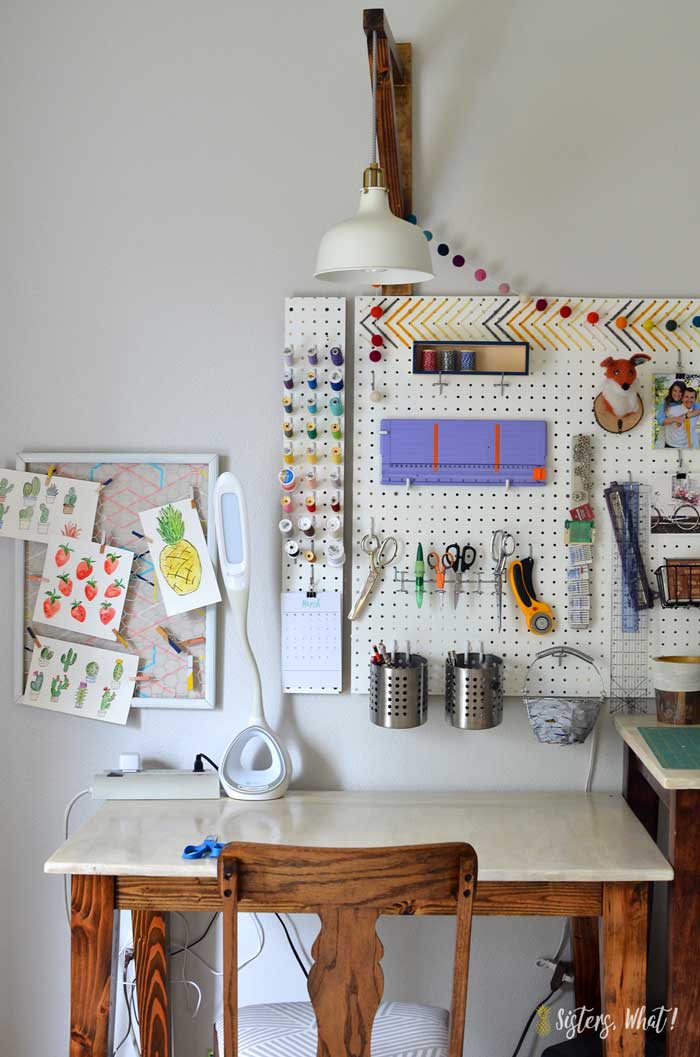 Free up your workspace and hang your supplies up! A pegboard is the perfect organizational tool for visible storage.
Rolling Cart Craft Storage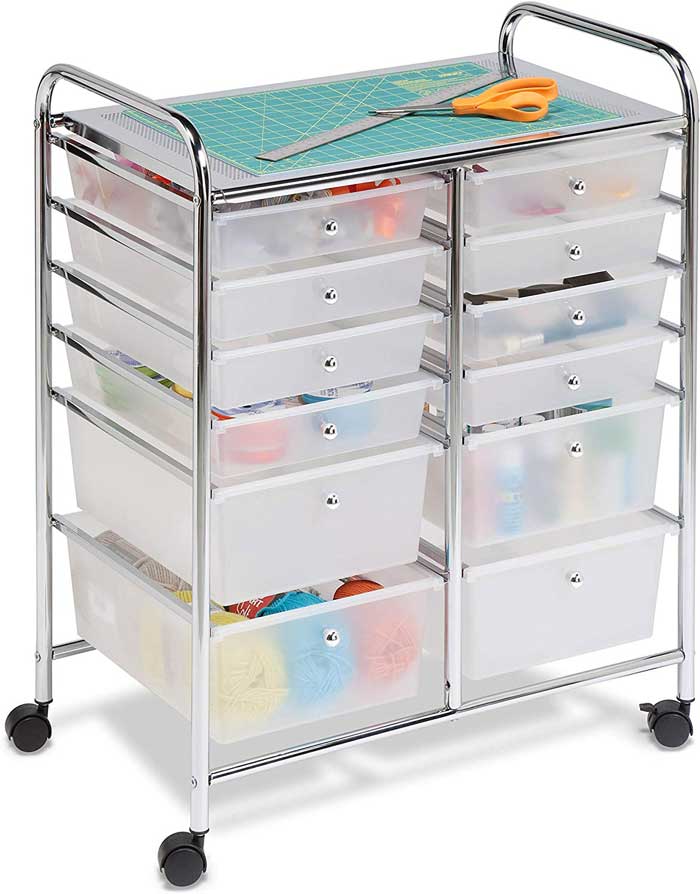 A rolling cart is a must for small spaces. Just pull it out when you need it and have all of your supplies at your fingertips.
A File Cabinet For Fabric Storage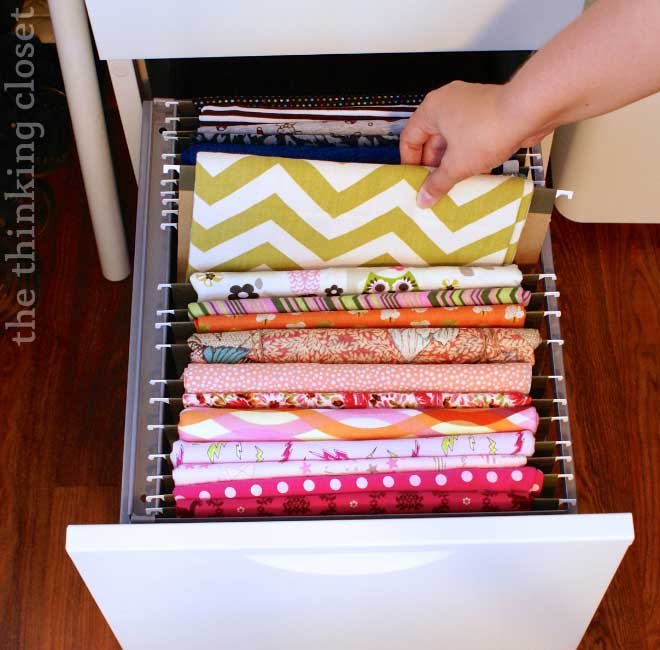 What a clever way to store fabrics! A file cabinet makes perfect sense. You can easily see your choices when you need them and then just file them away when you're done.
Wooden Crates For Easy Storage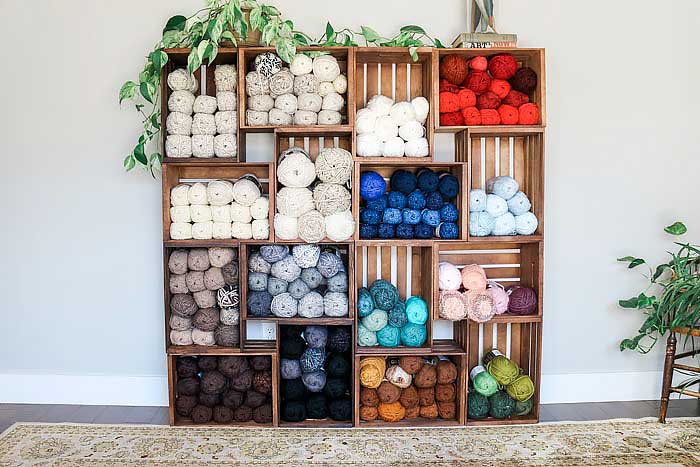 Unorganized yarn can become a tangled mess fast! Keep all those skeins in order by using wooden crates.
A Functional Work Surface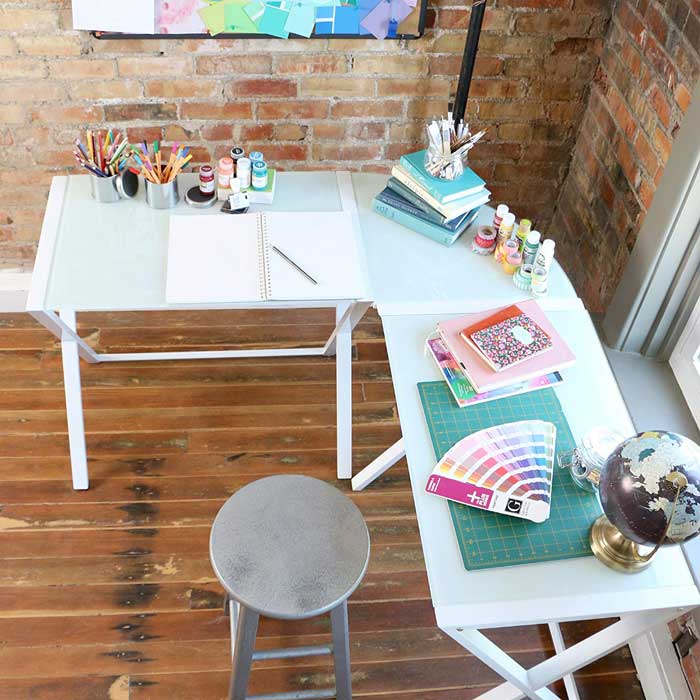 It's important to have a work surface that you can spread out on and let the ideas really flow. An L shaped desk is just the right thing for taking notes and working on your craft. The simple design of this desk will fit into any corner.