Thanksgiving is just around the corner and if you are hosting the dinner, you may want to start thinking about how you are going to decorate the table.  With such an important feast, you want your table to be just as elaborate and festive.
Whether you are going for a formal setting or something more relaxed, I found several tablescape ideas that should give you plenty of inspiration for your own Thanksgiving table.
Thanksgiving Table Decorations
1.  Monogram Pumpkins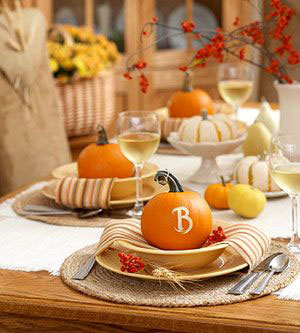 SOURCE: Southern Whimsy
Pumpkins are popular to use on a Thanksgiving table.  Adding a monogram, or a full name, is a fun touch and could be used to signify a place setting. Vary your pumpkin colors for an interesting table display.
2.  Clay Saucer Chargers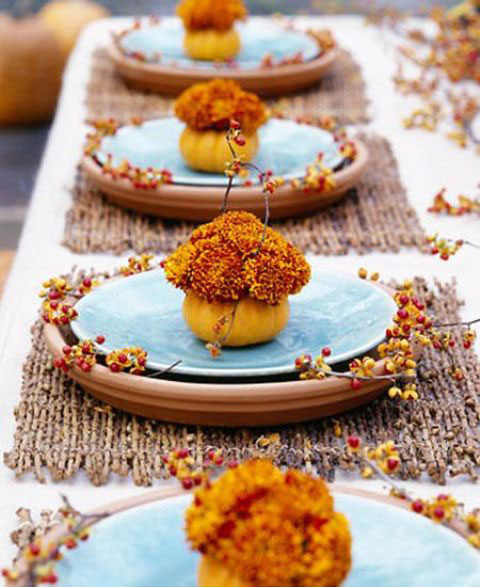 SOURCE: Decorating Your Small Space
The highlight of this table has to be the use of clay pot saucers as the plate chargers.  This is such a creative way to warm up the table. Of course, the added peaberries and pumpkin arrangements definitely work together for the perfect Thanksgiving table decorations.
3.  Log Slice Chargers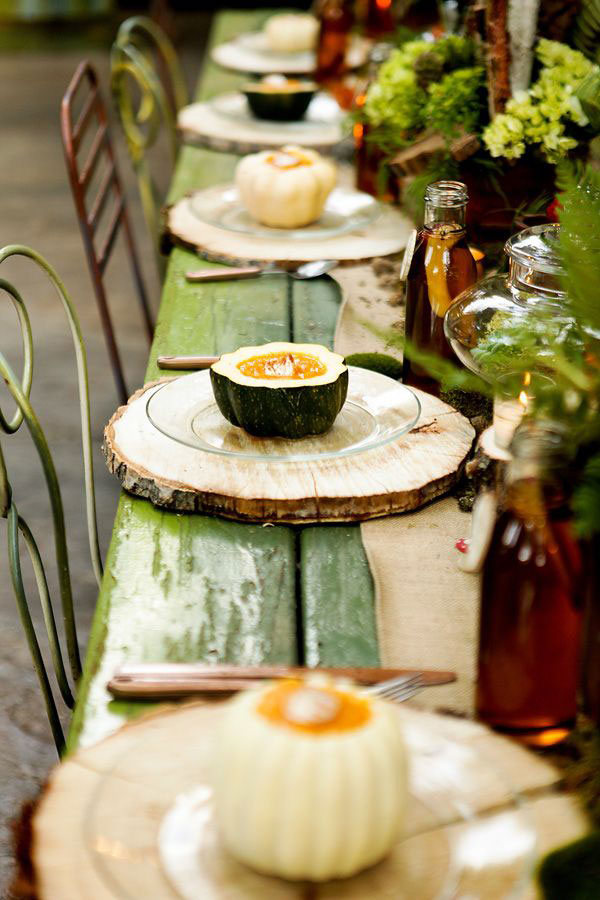 SOURCE: Babble
Another idea is to use log slices for chargers for a more rustic look. Top the chargers with clear plates to get the most out of the natural wood.
4. Painted Pumpkins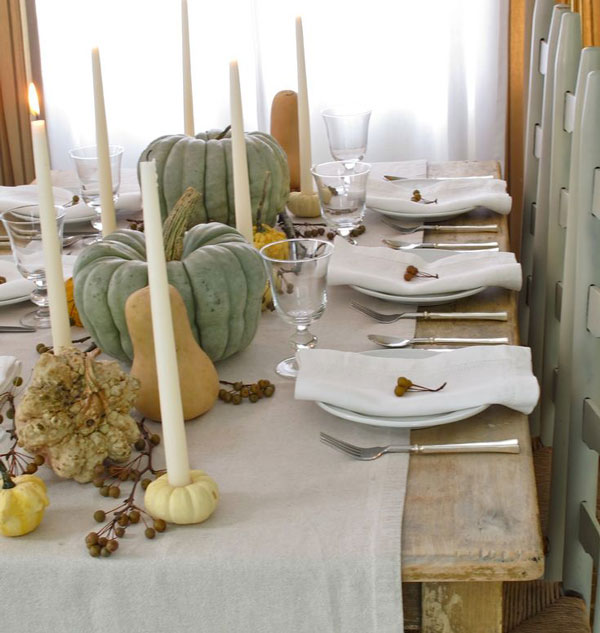 SOURCE: The Budget Decorator
If you want to match your pumpkins to your plates or other decor, just paint them! You can also use small pumpkins for taper candle holders for an elegant look.
5.  White Thanksgiving Table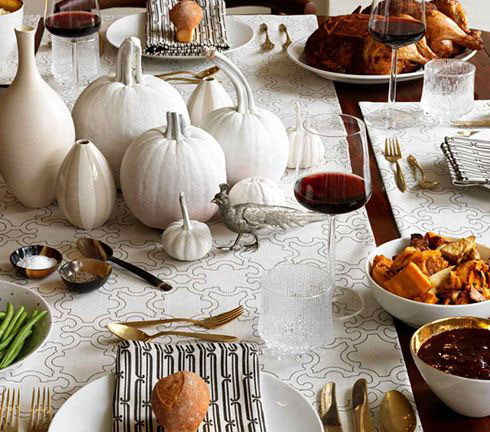 SOURCE: Briton Loves It
I love how the all white table decor really sets off the colorful Thanksgiving feast. Sometimes simple and chic is all that you need.
6. Neutral Thanksgiving Table Decorations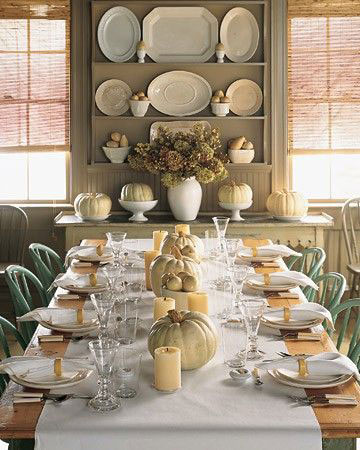 SOURCE: Martha Stewart
This combination of neutral colors is beautiful and perfect for the room.
7.  Burlap Tablecloth And Rustic Touches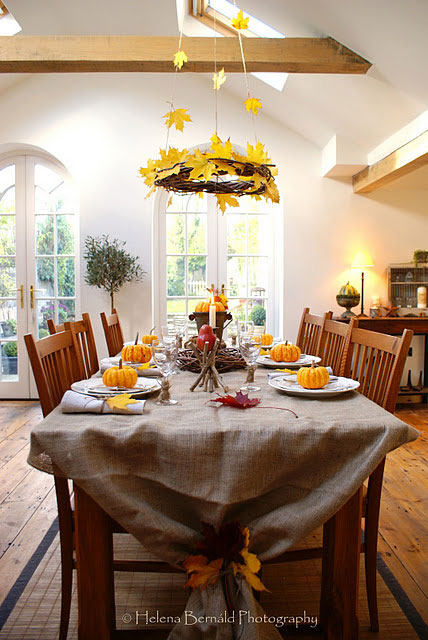 SOURCE: The Swenglish Home
A burlap tablecloth is a great way to add instant warmth and texture the table. There are all kinds of creative rustic touches using branches and leaves which make this table unique and interesting.
8.  Thanksgiving centerpiece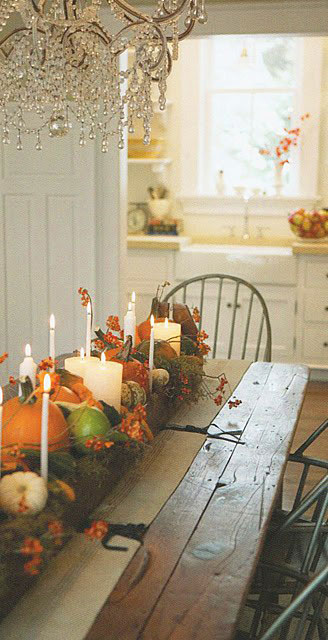 SOURCE: A Mod Vintage Life
For a festive centerpiece, fill an old crate or container of some sort with an assortment of gourds, pumpkins, candles and garland. This is a good idea to keep in mind for your general Fall decorating.
9.  Old Window Box Display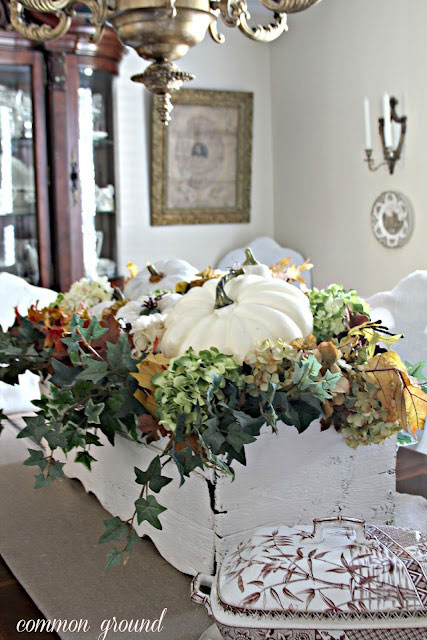 SOURCE: Common Ground
Here is a display in an old window box. The rustic chic wood is the perfect base for filling with pumpkins and Fall color.
10.  Grapevine Wreath Charger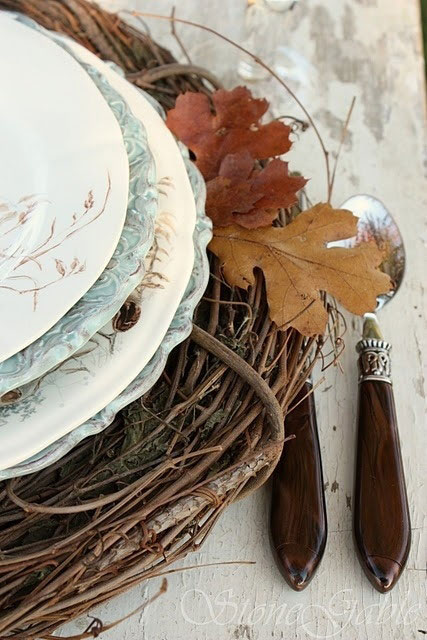 SOURCE: Indulgy
And last but certainly not least is this gorgeous grapevine wreath charger idea.  It is a simple way to add a rustic Fall touch to your Thanksgiving table and add a couple of colorful leaves from your yard adds just the right amount of color!
I hope you have been inspired!