Whether you like hanging birdhouses from a tree, setting them on a table or attaching them to a stake in a garden, birdhouses definitely make a great decorative accent for your outdoor space. You can get real creative with the design of your birdhouse by making your own from a variety of different materials. Here are my top ten DIY birdhouse ideas.
DIY Birdhouses
All of these DIY birdhouse ideas are super unique and creative. You can get such a variety of different looks depending on the materials that you choose to make them. You'll be amazed at what you can use to create a one of a kind birdhouse.
1. Birch Birdhouse
It's pretty easy to make a birdhouse out of a birch log or really any type of log. The look is both rustic and chic.

TUTORIAL: DIY Birdhouse Using Logs
This birch birdhouse is purely decorative and makes a fun patio accent.  It's super easy to make and you can vary the colors with different types of logs. Use the birdhouse both inside and out.
2.  Stone Birdhouse

TUTORIAL: Empress Of Dirt
Here is another decorative birdhouse that will add some rustic charm to your garden. The metal funnels make the perfect roof for this style of birdhouse.
3. Plant Bucket Birdhouse

TUTORIAL: Blue Roof Cabin
An old black plastic plant bucket went through quite an amazing transformation to become this stylish home for birds!  You will want to check out this tutorial!
4.  Coffee Can Birdhouse

TUTORIAL: Maddam Butterfly
Recycle a coffee can and create a whimsical home for birds at the same time! Paint in fun colors for a cheerful look.
5.  Salvaged Parts Birdhouse

SOURCE: The Brambleberry Cottage
This one probably is my most favorite!  I just love the fact that it was put together totally with salvaged parts.  The look of this DIY birdhouse is so unique and fun. It might inspire you to start collecting rusty metal parts!
6.  Coffee Pot Birdhouse

SOURCE: Junk Market Style
You can also recycle household items for a unique style.  I love the cheery yellow of this birdhouse design!
7.  Mailbox Birdhouse

SOURCE: Carolyn Hietala Nature Art Paintings
An old mailbox gets a second life as a birdhouse!  Another great recycling idea that is both cute and functional.
8.  Mid Century Modern Birdhouses

TUTORIAL: HGTV
With the bold colors and one side slanted roof, this DIY birdhouse has a modern edge. What makes the birdhouse even more special is that it also doubles as a planter. 
9.  Mod Podge Birdhouses

TUTORIAL: Tater Tots And Jello
With outdoor Mod Podge, you can create all kinds of fun designs using colorful fabrics to decorate a wooden birdhouse.
10.  Rusted Clock Parts Birdhouse

SOURCE: Zuzus Petals Stuff
And finally, this last birdhouse is embellished with rusted clock parts for a warm and rustic look.
11. DIY License Plate Birdhouse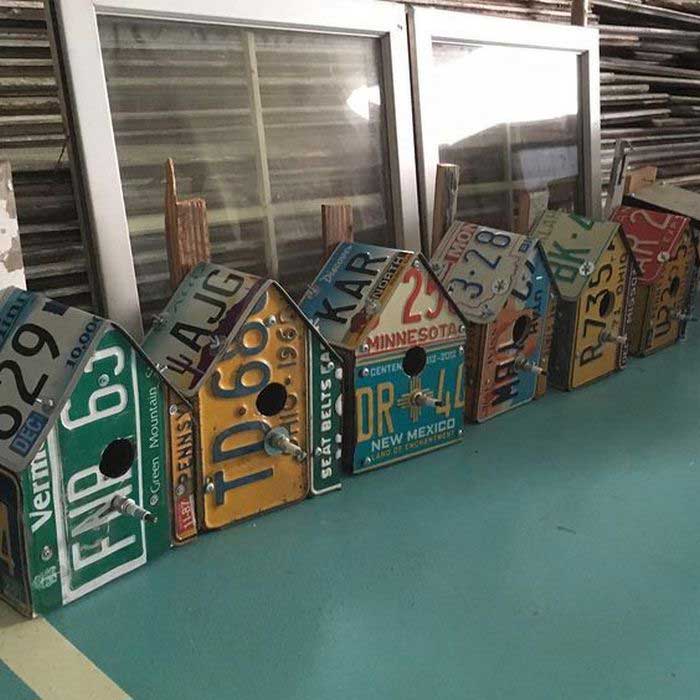 These DIY birdhouses are fairly easy to make. It's basically a matter of attaching the cut license plate sections to a wood frame. You will need a heavy duty pair of tin snips to cut the license plates. If you don't want to make any cuts, then just use a license plate for the roof by bending it.
12. Wine Cork Log Cabin Birdhouse
I love wine cork crafts! There are so many fun things to make with them but my new favorite may be a birdhouse. Since the corks look like logs, it gives the birdhouse a rustic log cabin feel. This wine cork birdhouse is a perfect example.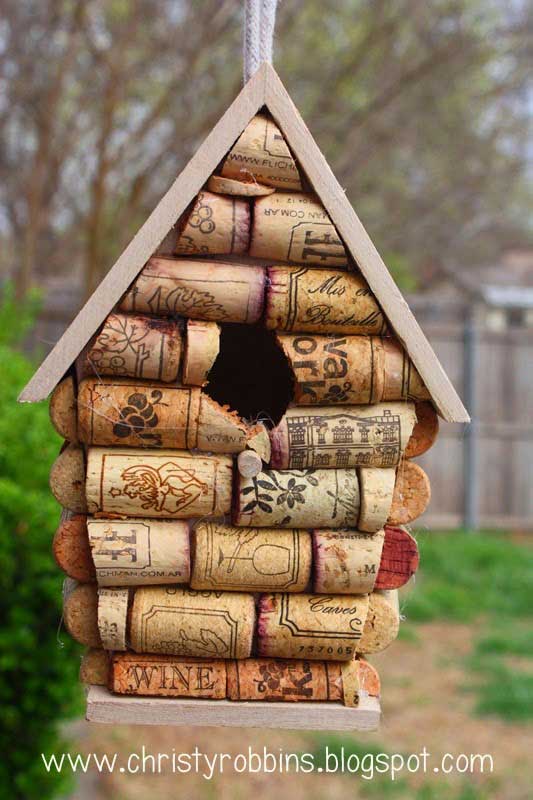 In this example, the wine corks were glued to an existing unfinished birdhouse. You could also make a birdhouse completely out of wine corks. Working from the bottom up, glue your wine corks together with E6000 craft glue or hot glue. I would start with the floor, let it dry and then work on the walls. This video tutorial walks you through it.
13. Logs And Industrial Charms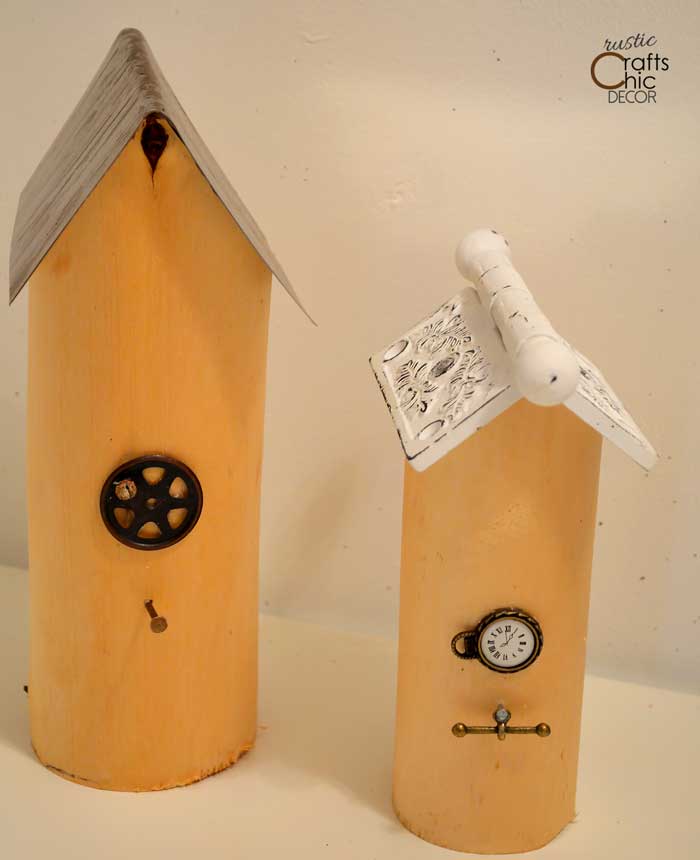 No matter what you use as the base for your birdhouse, the details are in the industrial pieces or charms. I quickly made a couple of birdhouses with pine logs as the base. Instead of drilling holes for the birdhouse entry, I adhered industrial charms to the logs. If you don't have logs, you can use any block of wood or even buy an unfinished birdhouse. I purchased the charms from Hobby Lobby but have also seen them at other craft stores. For the roofs I used a piece of thin metal for one and a decorative door hinge for the other.
14. DIY Pedestal Birdhouse Idea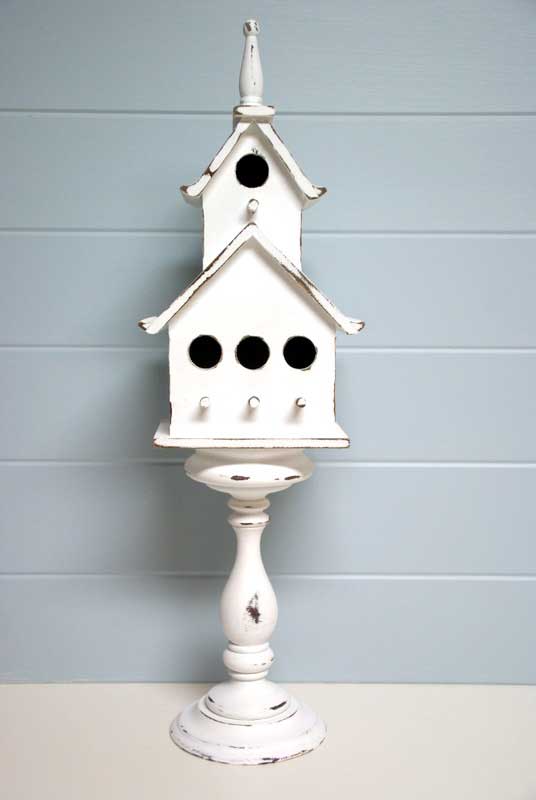 This project is really for elevating an existing birdhouse to new heights. Simply attach an unfinished birdhouse to a wooden candle stick holder with glue. Then, paint the entire piece the same with a distressed painting technique.
15. Bookpage Birdhouse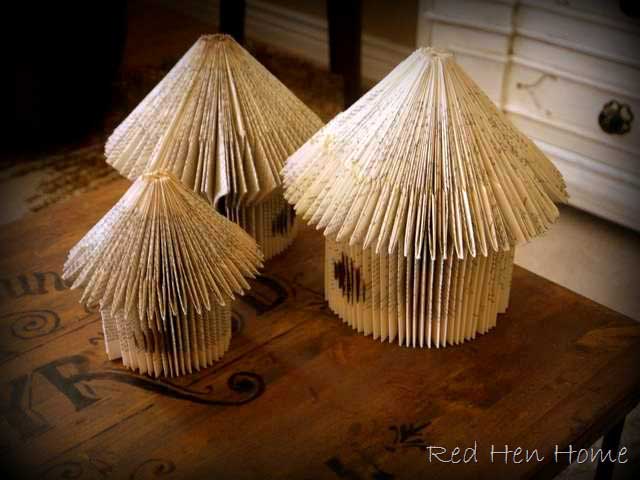 I love any kind of book page craft! Here is one that is really fun and decorative. With just a little folding and a little gluing, you can easily for a cute bird house. Book page birdhouses are especially fun to make for a shabby chic style.
16. Thatched Roof Gourd Birdhouse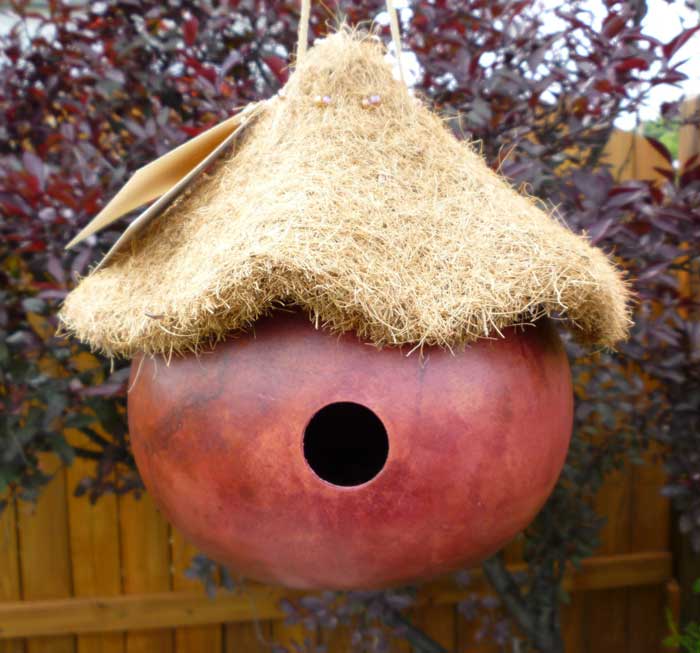 You can make a variety of different gourd birdhouses depending on the shape and size that you choose. I love this little round one with the thatched roof.
17. DIY Clay Birdhouse Idea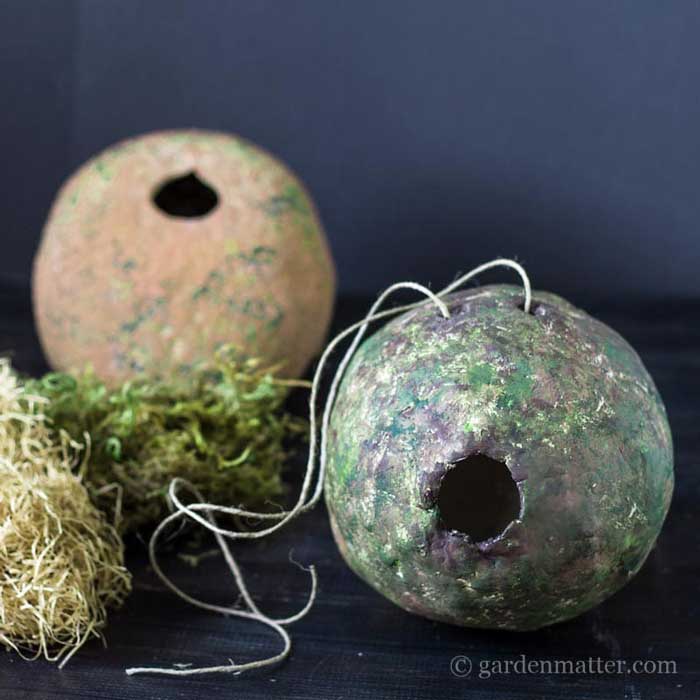 You can also make birdhouses out of clay. For this project, you can either use air dry clay or polymer clay. The polymer clay will hold up well outside. However, if you make one for inside decor, you can use the air dry clay.
18. Repurposed Rubber Boot Birdhouse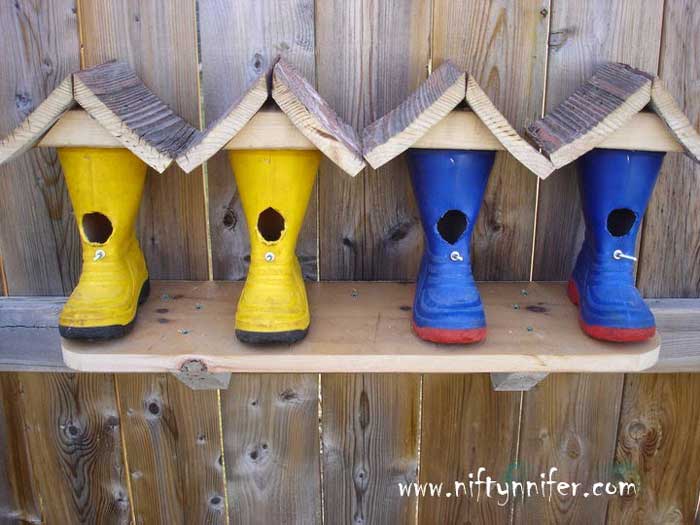 You really can use just about anything to make your own birdhouse. I love the whimsical look of these repurposed rubber boot birdhouses. All you have to do is cut a hold in the boot and frame the top with a wooden roof.
Do you have any unique DIY birdhouse ideas that you would like to share?