Decorating for Halloween doesn't have to be complicated or expensive. When you make your own decorations, you can be super creative and save money at the same time. A lot of times, I find great Halloween decorations while shopping but they are usually more than what I want to spend for holiday decor. Plus, most of the time that expensive decor looks easy to make. That is why I've come up with this collection of easy DIY Halloween decorations as inspiration.
Whether you are looking for creative ways to decorate pumpkins or need some ideas for decorating your Halloween party, I've got you covered. All of the DIY projects require just a few inexpensive supplies. And, if you want to save even more money, you can use recycled materials to make your Halloween decor. There are just so many creative Halloween crafts!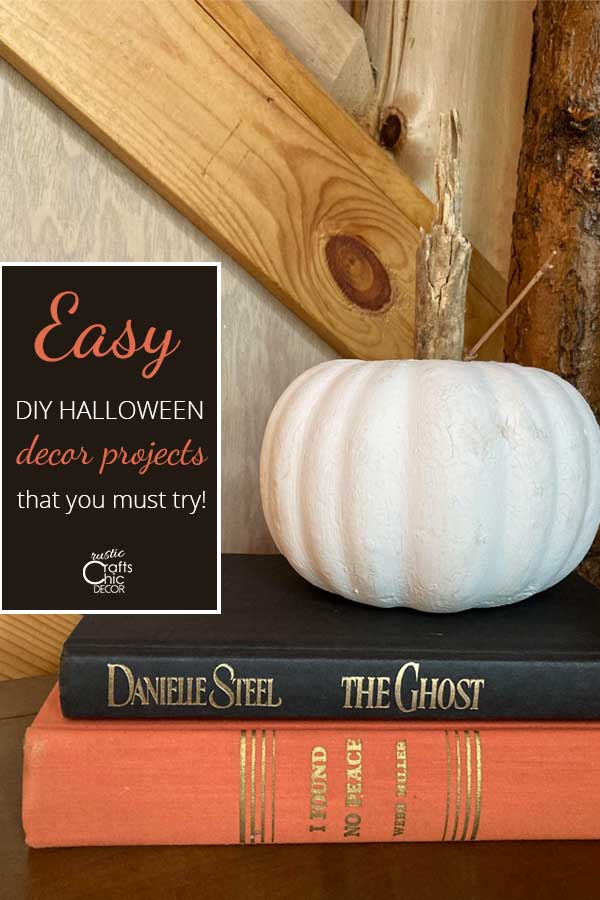 If you are a book lover, one of the easiest ways to switch out holiday or seasonal decor is with book stacks. Choose books that are the colors or have titles to go with the specific holiday. This is a fun way to display old books which are always a great decor accent. Besides books, try one of these other easy DIY Halloween ideas.
This post contains recommended product links. If you make a purchase through one of the links, I may earn a small commission at no cost to you.
Easy DIY Halloween Pumpkins
Transform A Pumpkin With Birch Bark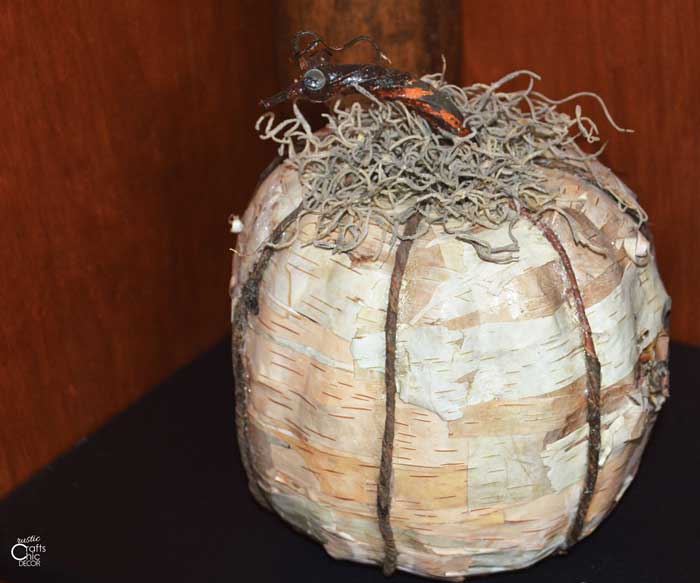 Whether you already have a plastic pumpkin on hand or pick one up from the dollar store, you can give it a brand new rustic look by covering it in birch bark. I like to find my own bark in the woods but you can also purchase sheets of birch bark to use in this craft.
Bookpage Pumpkin Craft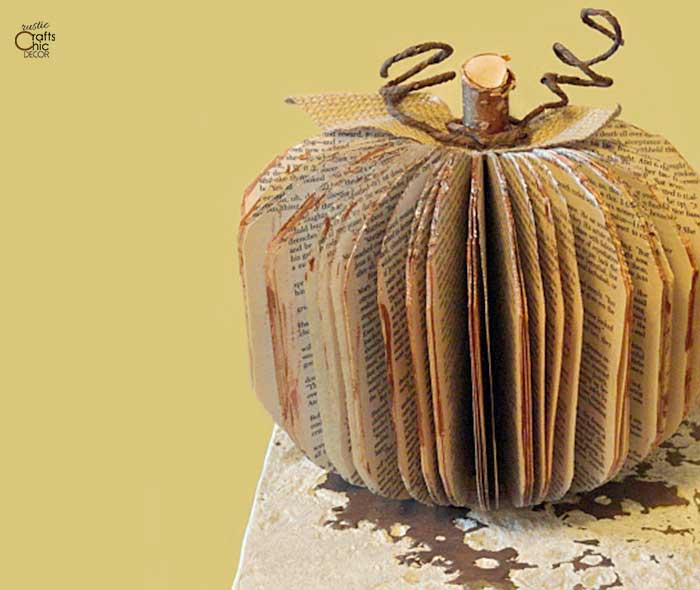 When you have a lot of old books, you may have one to spare for making a chic pumpkin. Use a branch for the stem and make leaves out of burlap. Add a little fun embellishment with bark covered wire. This project is super inexpensive and easy.
How To Make Sweater Pumpkins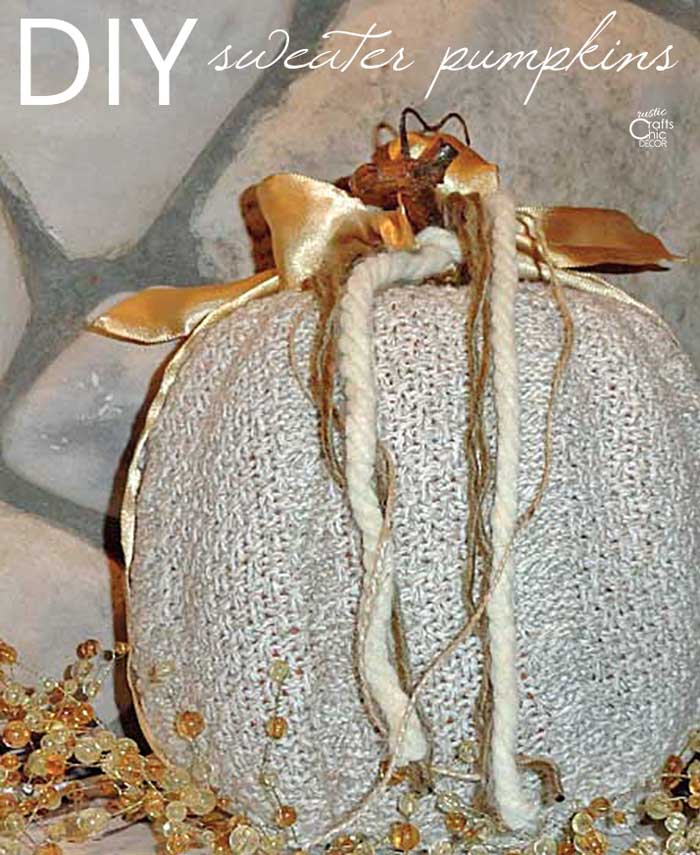 Another way to give an old pumpkin a new look is to cover it with an old sweater. Actually, any fabric will do. However, I like to recycle old clothes whenever I can. It keeps the cost down and reduces trash!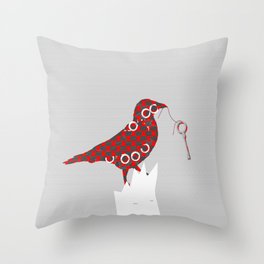 Bakers Twine Pumpkins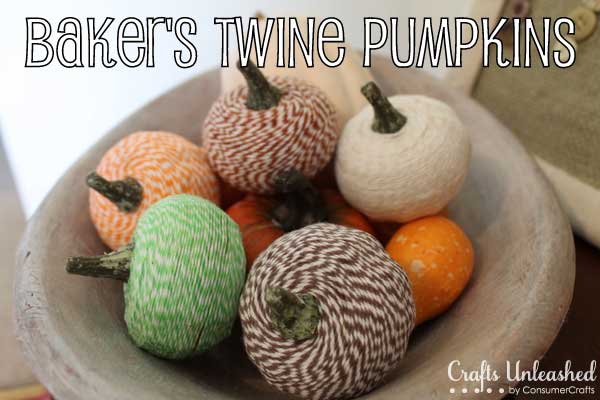 Here is a fun idea using twine. Simply wrap a paper mache pumpkin with colorful twine for a stylish rustic chic look. A similar craft is wrapping styrofoam balls with twine to make bowl fillers or Christmas ornaments.
DIY Pumpkin Candy Holder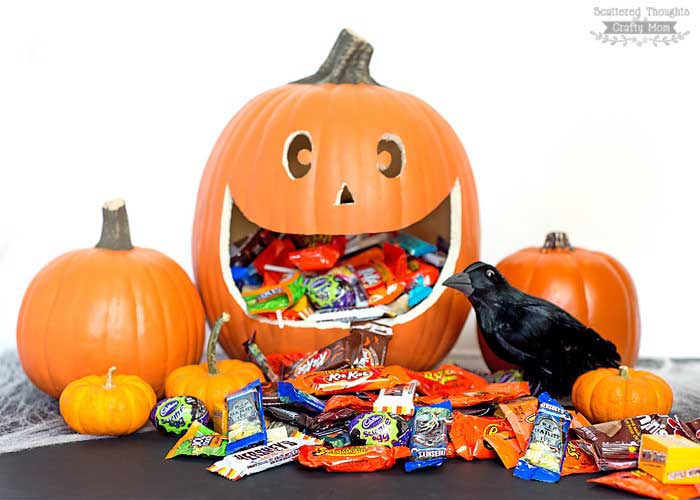 A carvable faux pumpkin is perfect for holding the treats for trick or treaters. You just have to carve the mouth big enough for a small hand to fit into. The nice thing is that you get the look of a real jack-o-lantern but can use the pumpkin year after year.
Framed DIY Halloween Decor
DIY Framed Edgar Allen Poe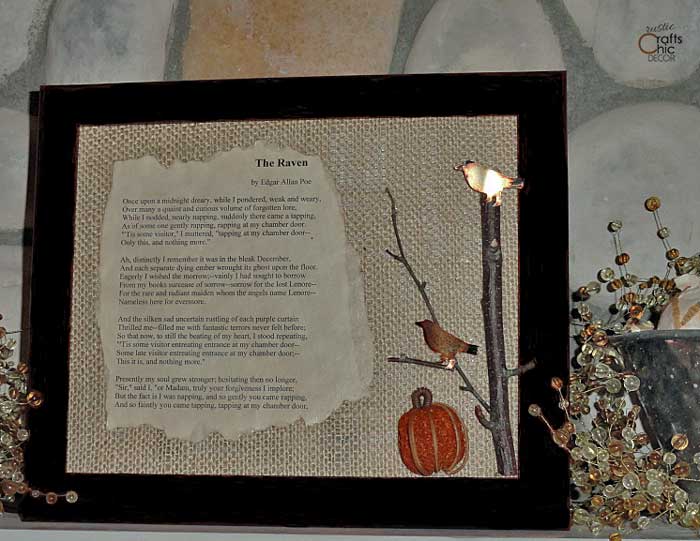 Displaying anything spooky in a frame is a super easy Halloween DIY. For this frame, I printed off a portion of Edgar Allen Poes, The Raven. Then, I just aged the paper to give it an old look.
Rustic Halloween Wall Hanging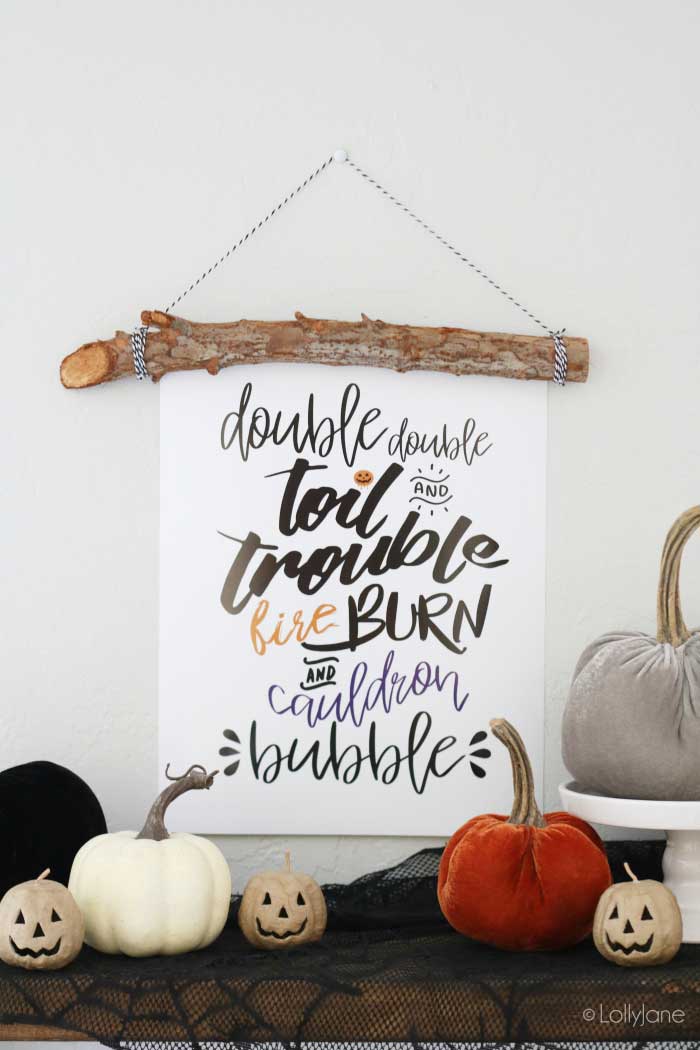 Instead of a traditional frame, you can also display artwork on a thick branch. I love the creative and rustic look of this.
Spooky Frame Decor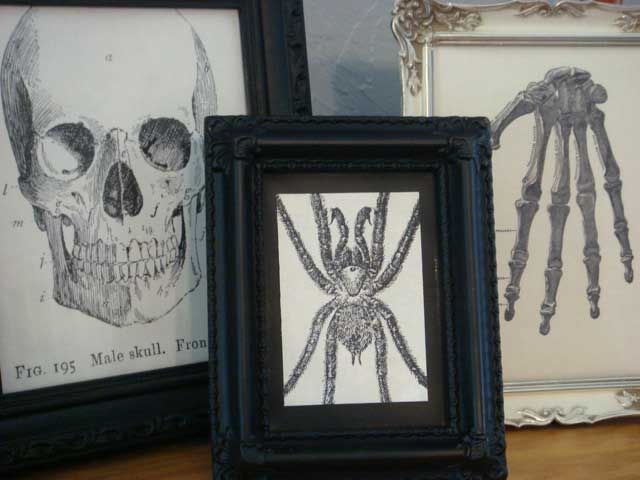 Print off spooky graphics in black and white to display in a collection of frames. This is a quick and easy way to get your home into the holiday spirit.
Halloween Door Hanger DIY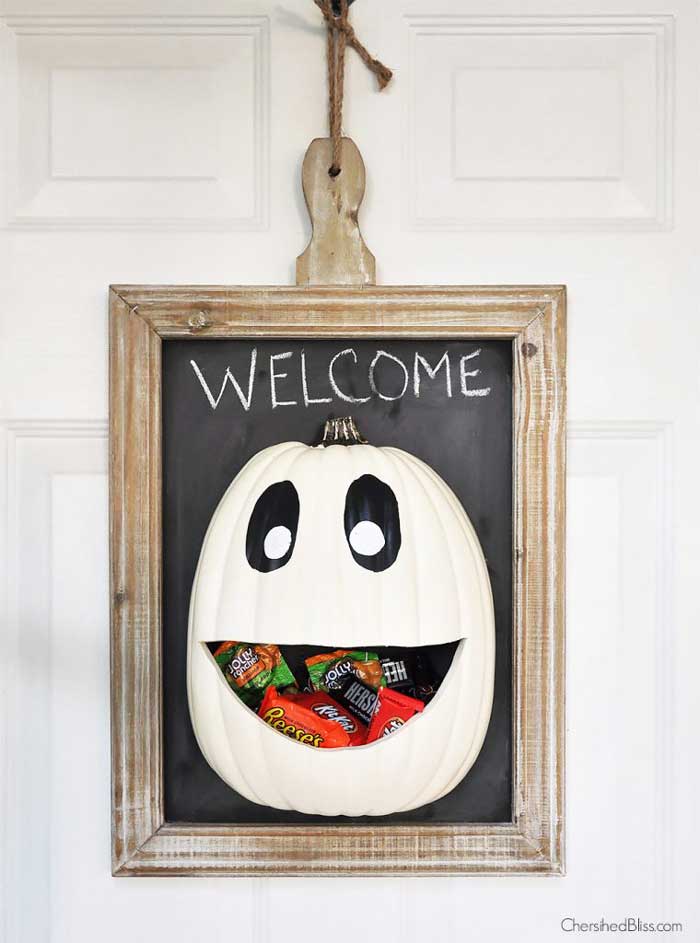 Although a traditional wreath on the door is a great way to decorate, trying something more creative will definitely make a statement. This framed jack-o-lantern is so welcoming and fun for the front door.
Other Easy DIY Halloween Ideas
Spooky Bat Branches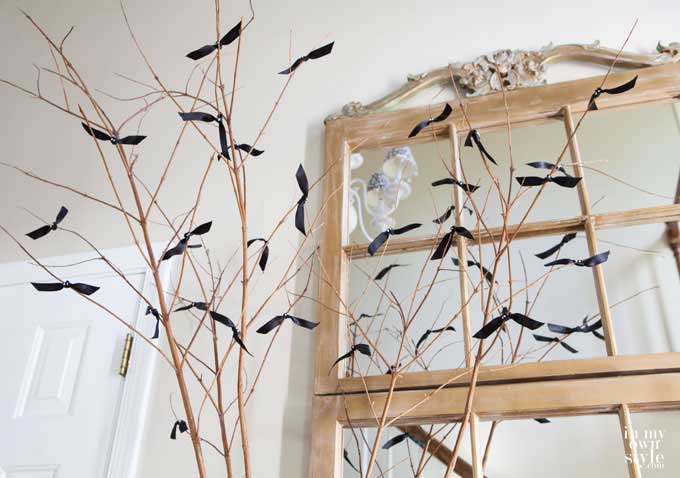 Making bats has never been easier than this DIY project. Simply tie black ribbon sections to a vase of branches for a super spooky display.
Easy DIY Halloween Candles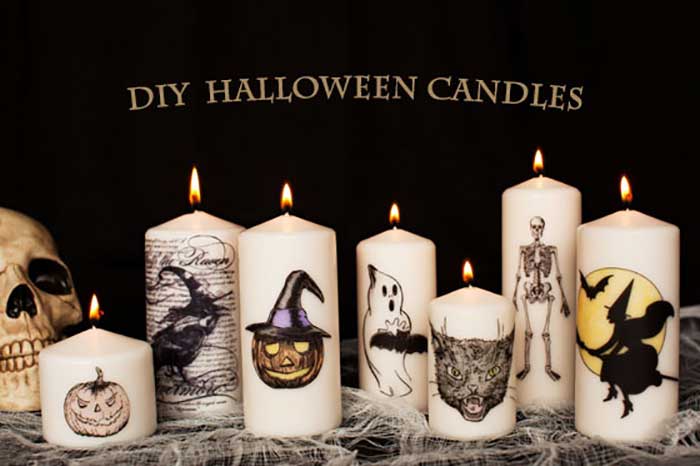 Add fun Halloween graphics to plain white candles in just a couple of steps. Display the candles in a group on a mantel or shelf.
Glow Stick Broomsticks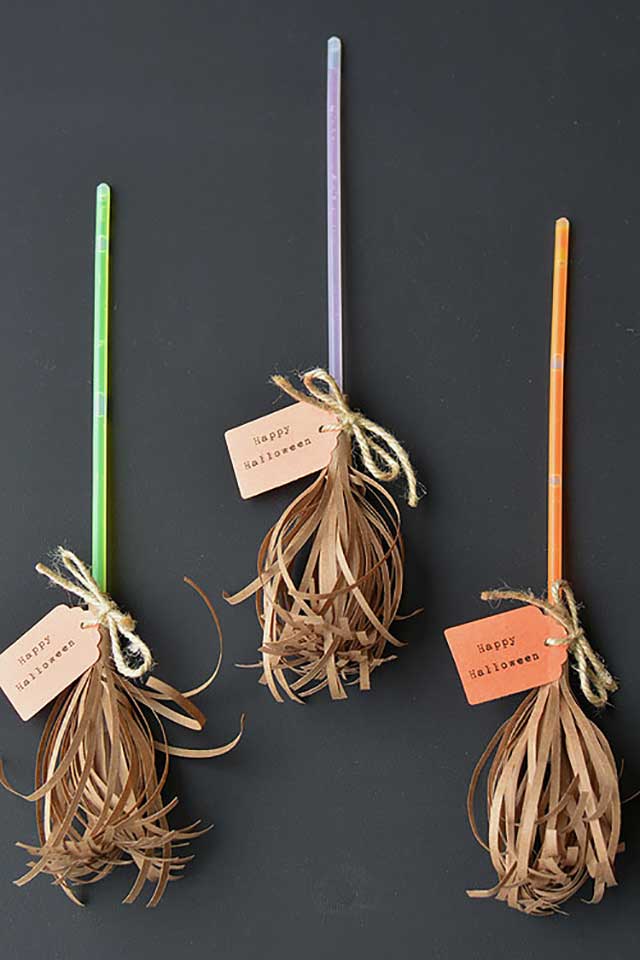 Who doesn't like a whimsical witches broom? These are easy to make using colorful glow stick for the handles. For a more rustic look, simply use branches for the broom stick handles.
Easy Spider Web Wreath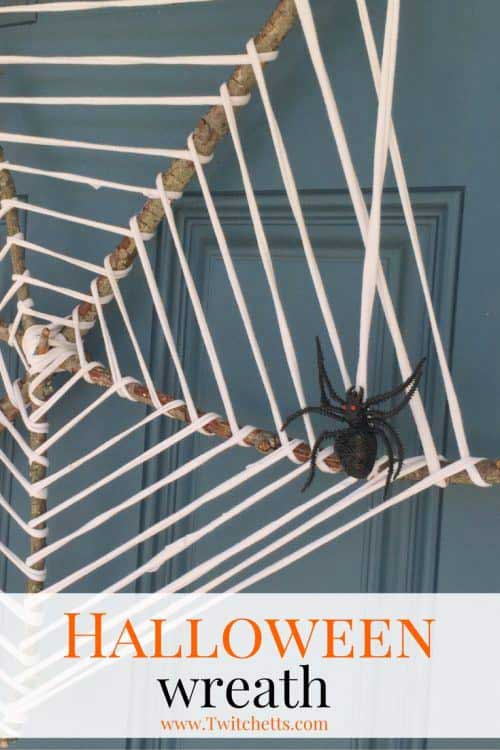 This creative spider web wreath might scare guests away instead of welcoming them! It's such a creatively creepy way to set the tone for Halloween.
If you're still looking for more easy DIY halloween ideas, you will want to check out the following posts.