To create a festive home for your guests this Thanksgiving, why not try making some of your own decor? These Thanksgiving crafts include ideas for a decorative table and welcoming home decor.
Every year I host Thanksgiving dinner at my house and I absolutely love getting ready for it.  Not only is the feast  a long anticipated treat but the table-scape is so fun to put together.  Instead of buying all of the decor, I head straight to my craft room to create unique accessories and decor for the holiday.
I thought I would put together a collection of Thanksgiving crafts that are especially unique, budget friendly and decorative to make your home warm and inviting for your guests.
A Collection Of Thanksgiving Crafts
Make A Pine Cone Place Card Holder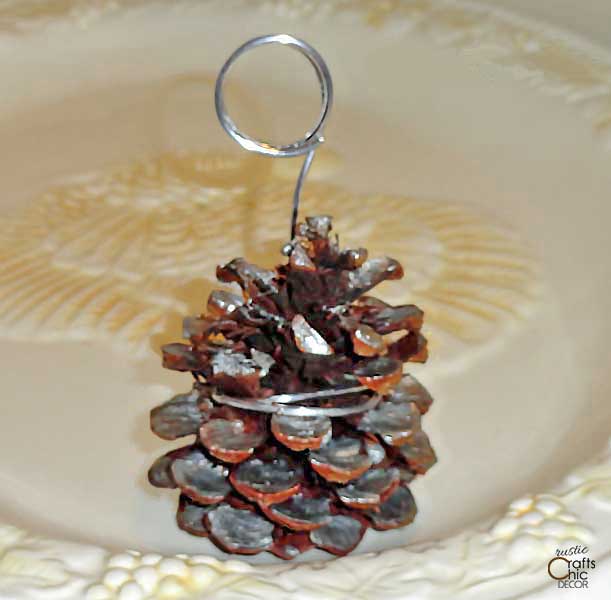 TUTORIAL: How To Make A Pine Cone Place Card Holder
This pine cone place card holder was easy and inexpensive to make.  All that was required was some pine cones, florist wire and a little shimmery paint to dress them up.  I was able to whip up enough of these for the whole table in no time at all.  Not only does it let everyone know where to sit but it adds a nice decorative touch to the overall tablescape.
DIY Bottle Cap Wine Glass Charms

TUTORIAL: DIY Bottle Cap Wine Glass Charms
A big part of our Thanksgiving meal is of course the wine!  To mark each glass in a festive way, I made these fun wine glass charms out of recycled bottle caps.  Each of the bottle caps has a different colored leaf embellishment to differentiate between the glasses.
Make An Indian Corn Treat Bag Centerpiece

TUTORIAL: Holiday Crafts And Creations
This colorful centerpiece piece idea offers little treats to go along with it.  It looks just like Indian corn which will add some nice color to your table.  The kids, at your table, will especially like bringing home this little favor—-if it lasts that long!
Make A Paper Cone Gratitude Wreath

TUTORIAL: Woman's Day
A wreath primarily made from paper has a unique and festive look.  The idea with this one is to use it as a gratitude wreath with guests writing down what they are thankful for and placing their gratitude papers inside the cones of the wreath to be read at dinner.
Craft Some Thanksgiving Blocks

SOURCE: House Of Joyful Noise
Here is a fun way to display what Thanksgiving is all about! These Thanksgiving blocks are simple to make and a perfect addition to a shelf or mantel to display the message.

SOURCE: Crystal And Comp
Here is another wooden block project that uses a free printable and Mod Podge to spell out the message.
Make A Gather Plate

SOURCE: A Little Tipsy
I Love this simple idea for some plate decor!  You don't have to do a lot to make a big statement.  The word "gather" is just perfect for the Thanksgiving holiday.
Create Button Napkin Rings

SOURCE: Copy Cat Crafts
And, if you are a button collector like I am, you just might have enough festive colored buttons to make these fun napkins rings.  Just string them on sturdy elastic or string and tie them off to your desired ring size.  That's it – simple and cute!
Toss Around Some Painted Acorns

TUTORIAL: How To Dry And Paint Acorns
Add a little festivity with shiny painted acorns in Fall colors. Place them around a candle or strewn about on your Thanksgiving table. Wherever you put them, they will add some nice Fall color around your home.
Make Your Own Mugs For Thanksgiving Dessert

SOURCE: Hands Occupied
Hot coffee and pumpkin pie are a perfect match. However, when that coffee is served in a festive leaf mug, it's all the more cozy. Start dinner with wine and the leaf wine charms above and end with coffee in a leaf mug!
Craft A Stack Of Paper Placemats

SOURCE: Country Living
When you have a large group for Thanksgiving dinner, it can get real expensive to have matching placemats for everyone. However, there is a budget way to do this. Textured kraft paper already has a warm rustic coloring. But, when you stamp a design all the way around the border, you give the addition of elegance. To really coordinate the table, make place card tags out of the same paper and stamp.
More Thanksgiving Crafts And DIY Projects
A Variety Of Pumpkin Crafts – Seven different pumpkin crafts that you can do to decorate your Thanksgiving table.
Rustic Leaf Crafts – Decorate your home and table with crafts you can make with colorful leaves.
100 Easy Fall Decorating Projects – You'll find everything you need to get your home in festive tip top shape for Thanksgiving.