Have you ever noticed how many different glues are available for you to purchase?
It can be a bit mind boggling to figure out which one would be the best one to buy for your particular craft project.
I have used several different varieties of craft glue and have come to love a few different kinds which I now use extensively.
Here is my guide, straight from my craft room, to help you determine which craft glue to use for your next project:
1.  E6000: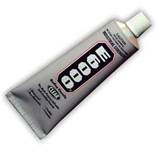 This industrial strength glue is my go to whenever I need a strong durable bond.  It works on glass, clay, rock, beads, fabric, ceramic, wood, glass and metal – really anything!  It comes out of the tube a little thick so for smaller projects I insert a toothpick and apply a smaller amount of glue that way.  I used this glue to make an outdoor sign.  I glued branches to form a word to an old paddle.  My husband thought it would never withstand the weather.  I assured him that it would work perfectly with my E6000 glue and the sign is still in great condition after hanging outside for over a year – in all kinds of storms!
2.  Loctite: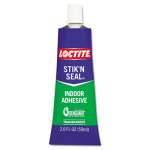 I first became a fan of Loctite when I used their construction adhesive to apply thin brick to our cabin wall.  It was by far the quickest bonding and easiest to use construction adhesive that I have ever tried.  I was also not disappointed with the Stik 'N Seal Indoor Adhesive for craft projects.  It provides a strong bond as well.  This is a high strength acrylic that is solvent free and non toxic.  I like to use this for smaller projects since it comes out of the tube a little creamier and in a smaller amount than the E6000.
3.  Aleene's All Purpose Tacky Glue:


For a great all-purpose tacky glue, Aleene's is a great quality.  I use this for a wide variety of craft projects where a strong bond is not necessary.  It holds up very well!
4.  StyroGlue:


I haven't used any other kinds of styrofoam glue, but this Make It Fun: StyroGlue works really well for floral projects.  It dries clear and forms and instant tacky bond making it easy to use.
5.  Elmer's Spray Adhesive:


I have been very happy with Elmer's spray adhesive.  The glue hasn't clumped up on me and I have gotten a nice even spray.  It has a very fast tack so you have to be a little careful when placing your photo or paper or other material.  The glue is acid free, dries clear and resists bleed through.
6.  Elmer's Wood Glue:


Another Elmer's product that I really like is their new formula interior Wood Glue.  I found it to set very fast and provide a strong bond.  It dries clear and is sandable and paintable – just perfect for those furniture makeovers!
I hope this guide helps you with the basics.  I have relied on this set of glues for a huge variety of projects and they have done me well!
Happy Crafting!