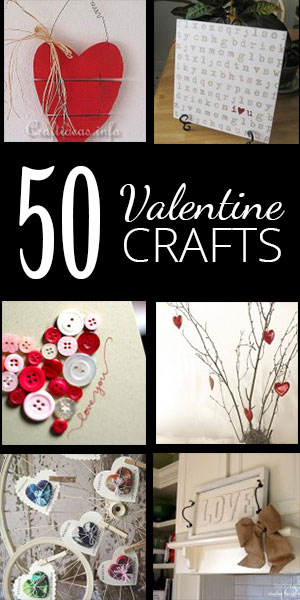 Valentines Day is the most romantic holiday of the year so it is no wonder there are so many craft projects out there to help celebrate the occasion!
I must say though, that even I was surprised at the variety of creative valentine crafts that I found for just this one holiday.  Instead of sharing maybe ten or fifteen different craft projects with you, I am going to be able to share a whopping total of fifty!
I'm thinking there are probably one or two that may appeal to you.
To get to all of the great tutorials, just click on the photo that interests you.
Enjoy and have a happy Valentines Day!
Valentine votives, festive treat cups, a decorative Valentine Vignette and crayon hearts in a funky display…
A festive topiary, love sign and tray, and a card to make someones special day.
Love tags, the key to happiness, a simple and chic Valentine tree and a French inspired pillow to make the day festive.
Make hearts from felt, wood, paper or even coffee filters for yourself or to give.
So many fun choices between heart garland, unique twig cupid arrows, a decorative candle holder with a cut out heart and love letters wrapped in yarn!
More hearts to decorate in a rustic chic style and some decorative boxes to hold a special gift.
It's all about love with these decorative crafts!  And, who can resist the line up of chic mailboxes just waiting for all of the special valentines!
Believe it or not, all of these crafts are super easy to complete….which allows you enough time to take on several of these wonderful ideas!
From match boxes and old paper to juice can lids and a deck of cards, these crafts all use recycled materials.
A decorative sign, a tree of love, a friendly game or a basket of hearts?  Which will you choose?
Some of the crafts work great for gifts or favors.
Wow!  we've already been through 48 amazing valentine crafts…..only two more to go….
Did you find a craft project that you will want to try?  How many?
Enjoy and have a festive Valentines Day!