With Thanksgiving just nicely over, I have started cozy-ing up our downstairs family room area with some rustic country Christmas decorating.
One of my favorite areas in the basement is our little rustic bar area in the kitchenette.  It doesn't take much to give the area a festive touch because I always have a big "Cheers" sign and some wine displayed.  The walls are also painted a pottery red which is an automatic Christmas back drop color.
All I had to do to the area was add a rustic Christmas moose, a small evergreen and a Christmas globe with a black bear inside.  The other bears and rustic touches are there year round.
Here is a look at my Christmas display: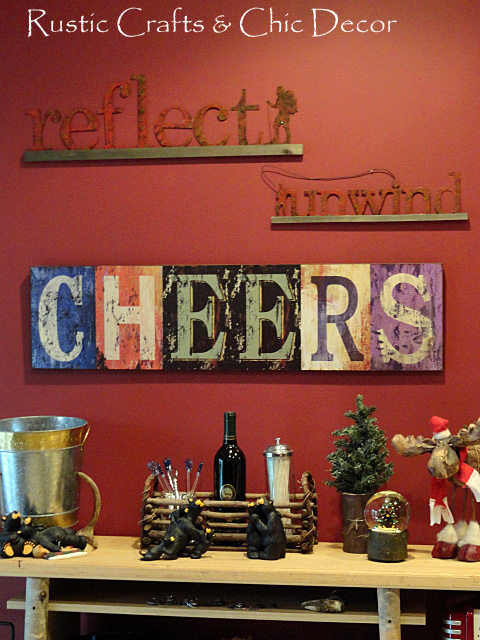 There are lots of ways to achieve a country Christmas look with your decorating and I found plenty of inspiration.  Take a look at what I found: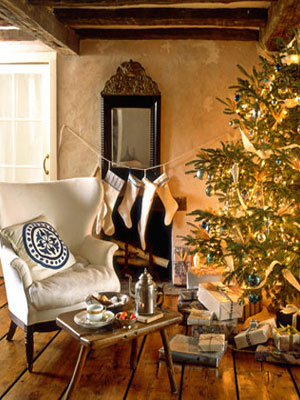 I like the simple tree with just the colors of blue, white and gold.  Hanging the stockings by a thick strand of twine is a cozy idea especially if you don't have a fireplace.  The birch logs in the fireplace and the rustic table placed close to the tree both add nice country touches to the Christmas decorating.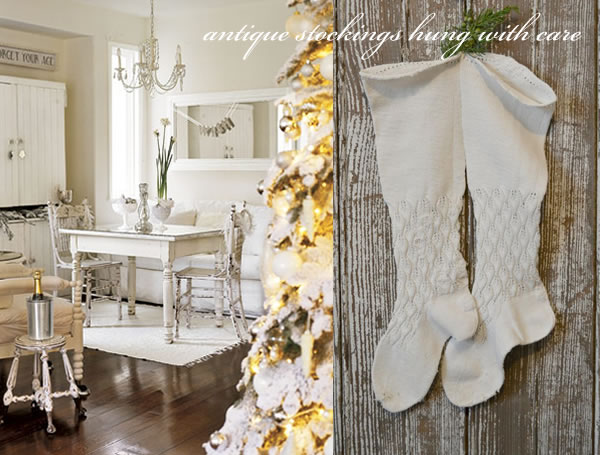 I am just loving the cream stockings against the rustic wood.  The contrast is just so dreamy!  This shabby chic style is perfect for creating a white Christmas that you dream about.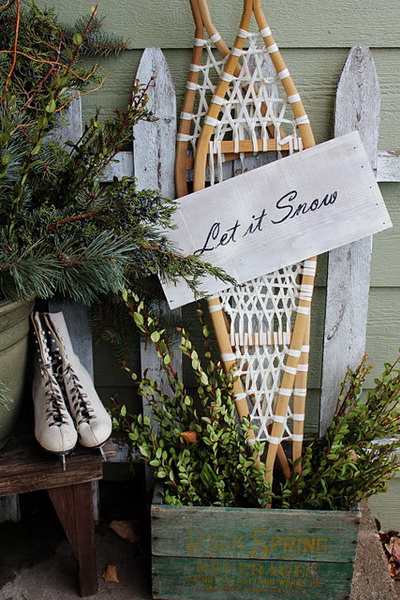 Vintage accessories like snow shoes and ice skates mixed with some greenery and an old crate make a warm and welcoming entree for your front door.  This type of decorating looks great well after Christmas and all winter long.  I like to put an old vintage sled, with a wreath hanging on it, by our front door: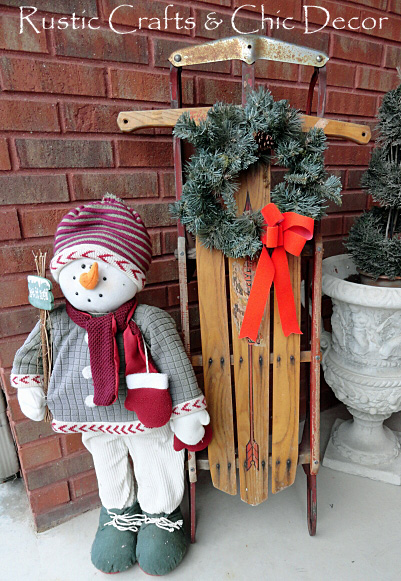 What ways do you like to warm up your Christmas decorating?  Do you incorporate some worn vintage items or natural rustic accessories?  Feel free to share your thoughts and ideas!
Happy Decorating!