One of my favorite items to use in a craft project is birch twigs or branches.  I have a craft room stocked full of them!  There is always something new and fun to do with them and this craft is one of my favorites.  If you want to add a little rustic accent, you will definitely want to give this a try.
So, to make this candle holder, you need to first go out and gather yourself a nice bunch of birch or other small twigs or branches.  You can also purchase bundles of decorative branches from most craft or specialty stores.  Besides the branches you will also need a  glass container, pruning shears, tacky glue and a section of jute string…that's it!
You really can make this candle holder as big or small as you would like, depending on the size candle you wish to use.  I used a small square glass to fit a votive candle nicely.  The shape doesn't matter either, although an octagon may get a little hard to handle!
Instructions:
1.  With your pruning shears, cut your branches to size.  I cut mine a little taller than my glass and at somewhat varying heights.
2.  Use tacky glue to adhere your branches to the glass.  You will want to use this type of glue because it dries clear and you will never see it through the glass.  It tacks on fairly quick but can move around for several hours.  I still had some wet glue in spots after having it set overnight.  However, all of the branches were still held in place.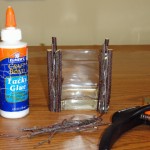 Here you can see that I started at the corners to kind of anchor the design with some of the larger branches.  I began working in from there.  The branches stayed in place right away after pressing them onto the glass but I was able to move them around if I decided to make a change.
3.  Once the glue is dry, you can tie a section of jute string around the branches, loosely, just to finish it off.  Set your candle inside and you are finished.  Just three easy steps!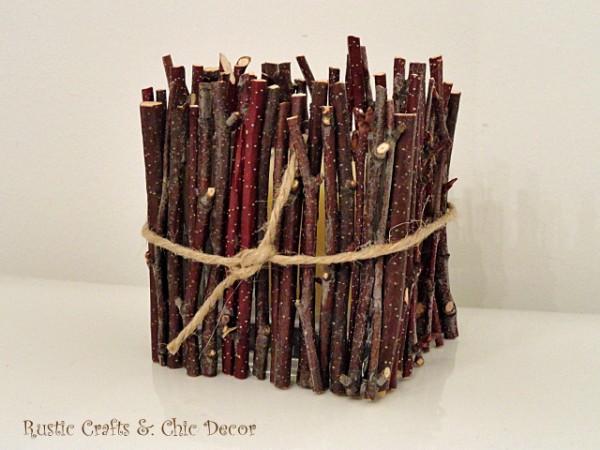 Happy Crafting!

I have linked this project to the following link parties:
Frugal Friday @ The Shabby Nest
Tickled Pink Fridays @ 504 Main
Feathered Nest Friday @ The French Country Cottage