If you love to burn candles but hate the cost of buying them, you may want to consider homemade candles. When you make your own, not only do you save money but you can customize in so many ways. You can make them scented or unscented. And, if you choose to scent them, you can create your own favorite blend of scents. Other customizations are with color or things that you may want to add to the wax.
I first became interested in making candles when I attended a candle making party at a local art studio. With 100 scents to choose from, it was a fun experiment in coming up with my own special blend. Because of that experience, I discovered how easy candle making really is. It's simply a matter of melting your wax, adding in the scents, and pouring into a container with a wick.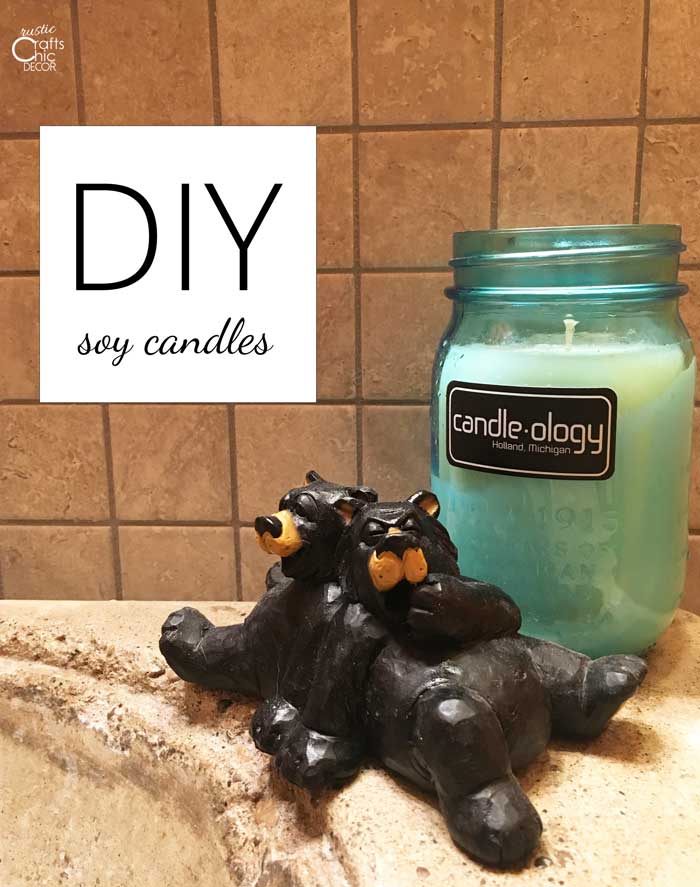 Although my first candle was in a glass mason jar, I plan on pouring smaller batches into glass tea light containers to use in my log candle holders. When you make your own candles, you can also get very creative with the containers. Besides glass mason jars, you could also pour into vintage tea cups, decorative bowls, or even rusty tin buckets.
One thing that I have learned is that there are definite differences in the type of wax that you choose for homemade candles. For the purposes of this tutorial, I am recommending to use soy wax. Soy wax creates a cleaner burn with no toxins. It also will last longer because it burns slower. If you've ever purchased a candle that leaves soot, you will really appreciate the difference.
How To Make Your Own Candles
This post contains recommended product links. If you make a purchase through on of the links, I will make a small commission at no cost to you.
A basic candle only requires wax, a wick, and a container. Everything else is optional. I feel like most of the fun with homemade candles is in creating your own scent. However, if scents bother you or you just prefer unscented, simply leave the scent out. The same goes for color.
This tutorial is for a basic scented soy candle in a jar. You always have the option to add other things to your wax. For instance, if you are using a coffee scent, you may want to also add coffee beans to the wax for added emphasis. For floral scents, dried petals look pretty.
Supplies For A Scented Candle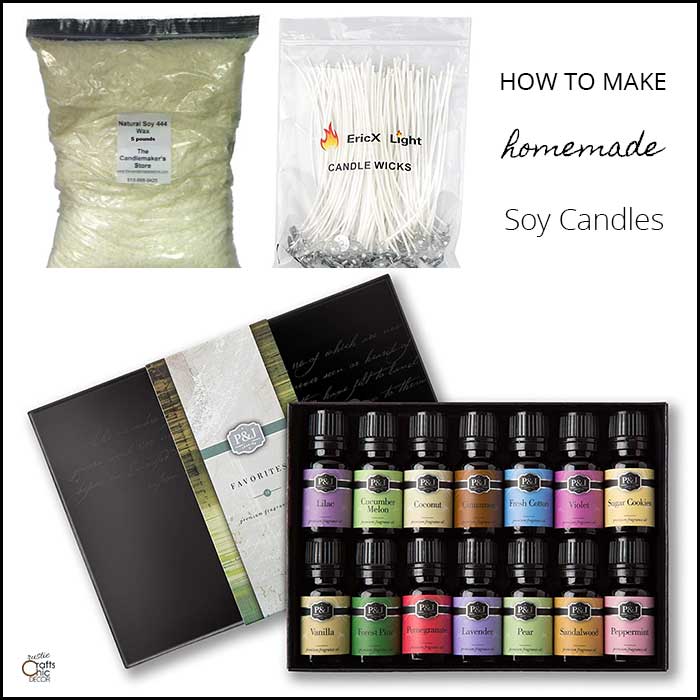 Soy Wax – Although you can use a simple paraffin wax, the advantages of soy make it worthwhile. **For a low cost option, use old unscented candles. Just melt them down and add your own scent.
Candle Wicks – Buy ready made wicks or make your own by cutting string to size and soaking it in melted wax. Then, remove from the wax with pliers and let cool. You now have a wick to use in a candle.
Mason Jar Or Other Container
Candle Melting Pot – A double boiler with a pour spout works best
Instructions For Homemade Candles
Melt The Wax – Fill whatever container that you will be using for the finished candle with unmelted wax. Then, pour it into your double boiler or pot and repeat once more. You need about double the amount of unmelted wax to equal the volume of melted wax. Melt on low heat, stirring frequently.
Add Your Fragrance And Optional Color – Have fun with this part and experiment with a combination of fragrances. Add a little at a time until you are happy with the fragrance. You can also add color at this time if you would like to. Use food dyes or crayons to achieve the color you are after.
Position Your Wick Into Your Candle Container – Dip the bottom of your wick into the melted wax and set in your container. Hold it in place until the wax cools and hardens. It's like gluing the wick right where you want it.
Pour The Cooled Wax Into Your Container – Let the wax cool for a few minutes before pouring. Then, pour into your container while gently holding the top of the wick in place. Once your wax is poured, use a couple of pencils, in place of your fingers, to keep the wick from moving. Just lay them across the top of your candle container.
Cut The Wick Down To Size If Necessary – Once the wax has hardened, trim down the wick if you need to. It should be short enough to keep the flame at a safe level.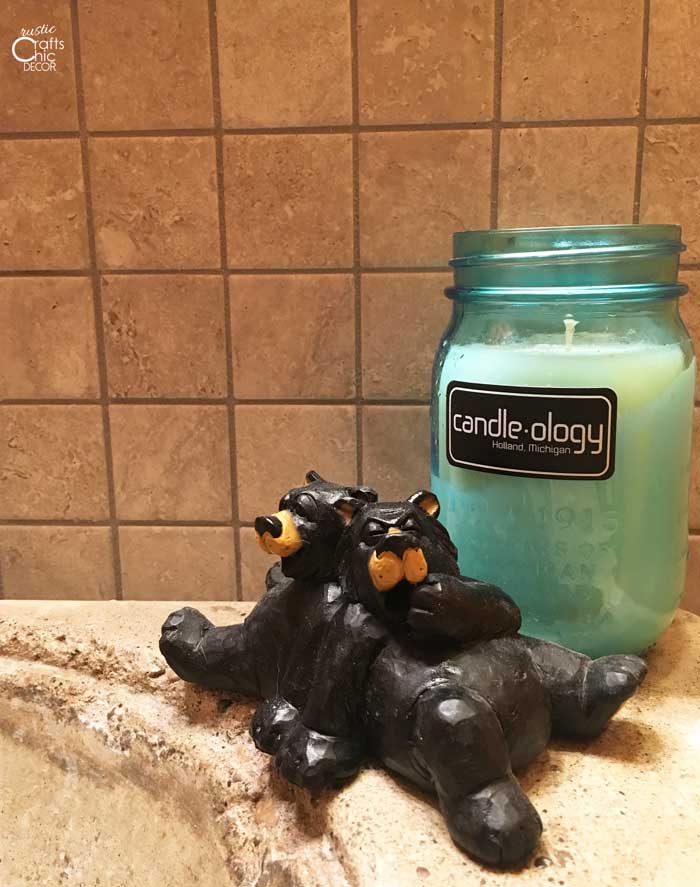 Candle Holder Ideas For Poured Candles
Since you are making your own candles, you might as well make your own holder as well. Here are some fun ideas to try!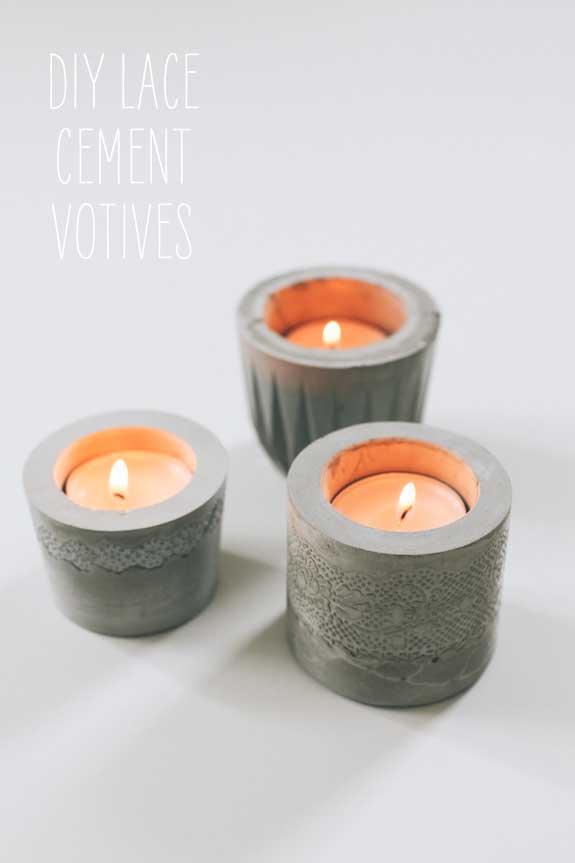 Instead of using glass candle holders, make your own concrete holders for a more modern rustic look.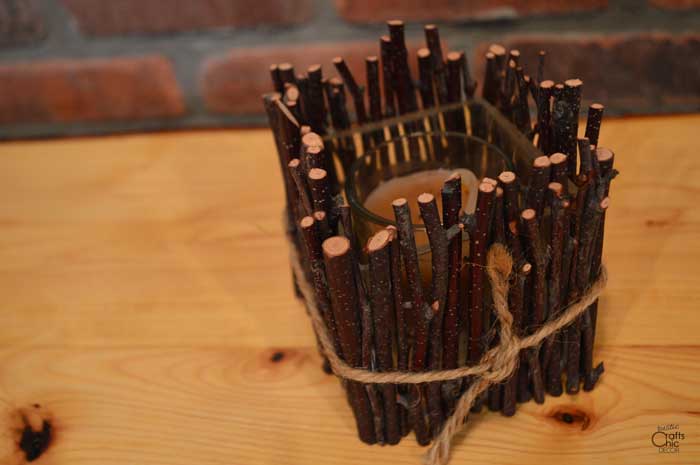 Even if you decide to use a glass holder, you can embellish it with fun rustic items like branches. I have even made a festive sweater sleeve for a mason jar candle holder.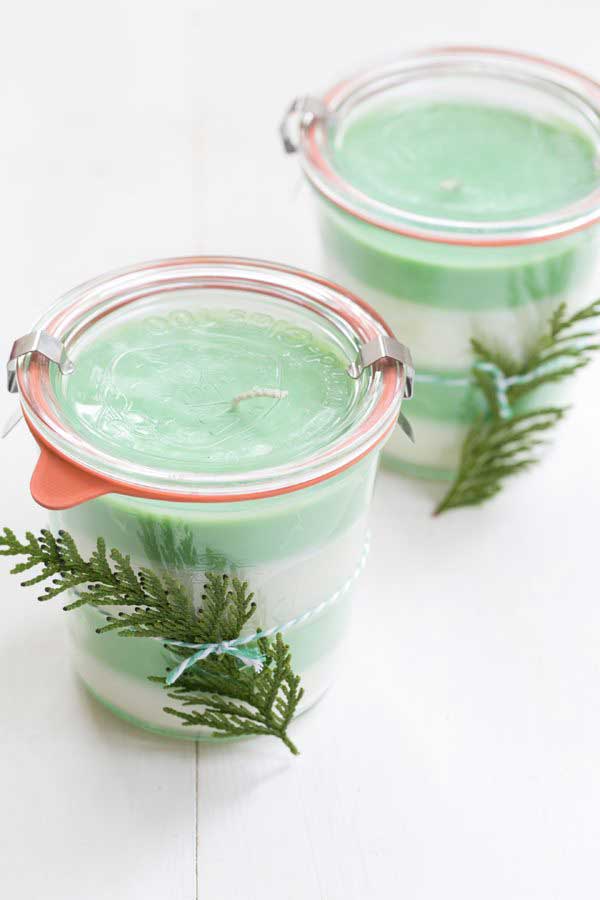 Another simple way to decorate a glass jar is with little pine boughs. It's a great idea for Christmas and gift giving. For added interest, you can also layer the colors of your wax. Just do smaller pours and let each layer cool before you add the next.