I like to decorate for Fall in general but seem to come up a little short when it comes to actual Halloween decorating.
Since I like book page crafts, I came up with this Edgar Allen Poe frame craft last year.   However, I usually stick to my neutral pumpkins, like the sweater or birch pumpkin I made and some candy corn in a jar and call it good as far as crafts go.  This is probably because I don't have any little kids left at home so Halloween can be easy to pass by.
But, when the actual holiday hits each year, I find myself scrambling for anything somewhat spooky and festive  because it is just plain fun!  And, even though my seventeen year old son and husband don't really show it, I think they must enjoy having a festive home.
I was saved last year when my husband brought home a stuffed crow (a real one) and I quickly snatched it from him to use as spooky mantel decor.
To get ahead of the ball game this year, I found some Halloween crafts that are quick and easy to get in the spirit of things in no time at all.  The full tutorials can all be found by clicking on the photos.
Here are my ten favorite finds:
1.  GOODY CONES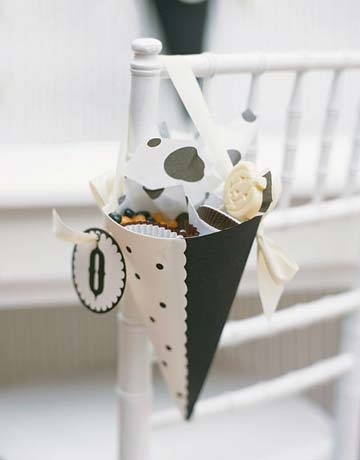 This is something I have no doubt my boys would love!  A goody cone tied to their dining chair would be the perfect festive treat for the holiday.
2.  SPOOKY BLACK AND WHITES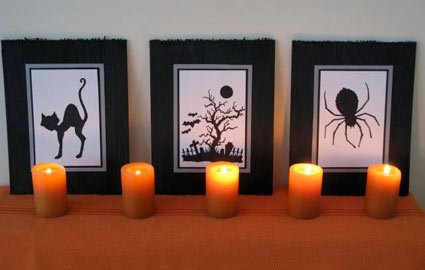 I love this look with the black, white and orange.  What gives the framing the cool ragged edge is actually spaghetti.  You have to check out this fun tutorial!
3.  EVIL EYES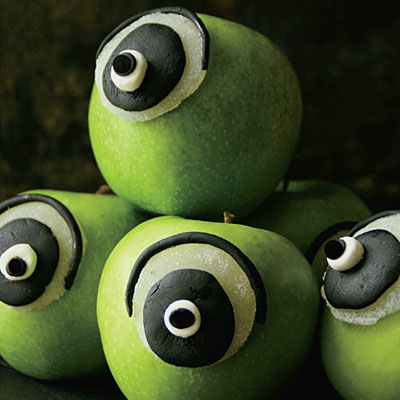 A bowl full of evil eyes will be sure to get a stare!
4.  GRAVEYARD GHOULS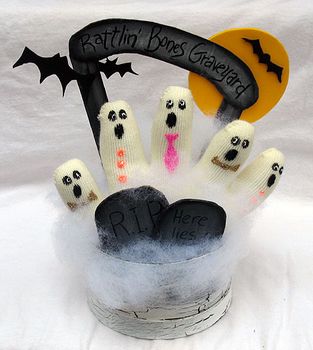 Turn a white glove into a scary centerpiece with this fun craft!
5.  SKELETON HANDS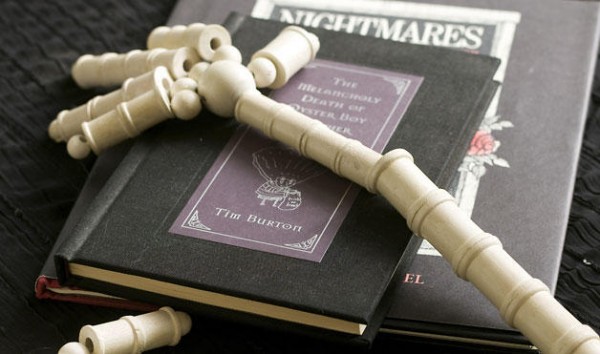 This may be my favorite and lucky for me I have a craft room full of thread spools and wooden beads!  I just need a couple of spooky books to place the hand over.
6.  DUCKY GHOSTS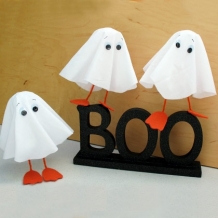 These just make me laugh, they are so adorable!  My kind of ghost is definitely a friendly one!
7.  WITCHES SHOES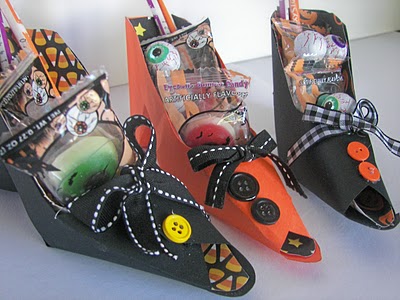 I am a shoe lover so it makes sense that I would love this craft idea!  What a fun way to display treats and all it takes is some craft paper, ribbon and buttons!
8.  MUMMIES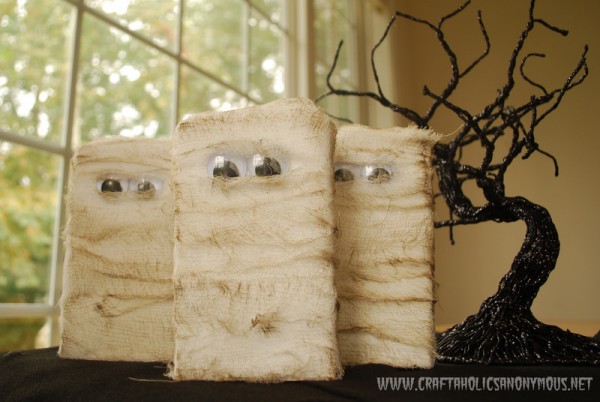 These mummies are also at the very top of my list.  They are just so cute and easy to make too – a perfect combination!
9.  BLACK CAT PILLOWS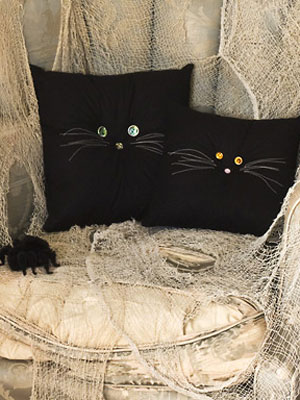 Here is a quick and easy way to add some fun holiday decor, especially if you already have a couple black throw pillows lying around.  I love the extra embellishments on the chair to add some spookiness to the setting.
10.  BAT-O-LANTERNS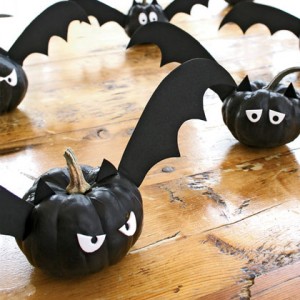 I am terrified by bats but these little guys are just plain cute – some more than others!  It just depends on how you place those eyes!
Happy Crafting!