I have been going through my house from top to bottom…..actually I started in the basement –  so from bottom to top, getting rid of what I don't like in the decor and doing some refreshing.  While I am on this spurt of sprucing things up, my mind has been going at top speed trying to conjure up some unique designs.  Our basement, especially, is quite rustic with lots of my husband's antique collections and trophy's (as in deer & elk heads, bear rugs, etc…).  The collections have gotten a little large and a bit disorganized and I want to clean things up but at the same time incorporate the antiques in a unique way.
He has this metal fishing basket which looks pretty cool but it needs to be hanging to appreciate the full affect – it just automatically folds flat otherwise.  My husband had it hanging from the edge of a shelf but it definitely looked plunked.  I like things to be placed and displayed with a purpose.  So I hid it behind an artificial tree in the corner – Ha!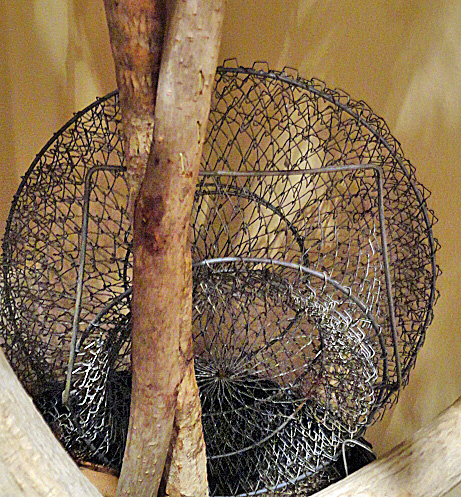 I did find what I really want to do with the basket though and it will be great!  I had been browsing on-line for some inspiration and found the perfect solution.  It is in the form of a light fixture.  We have a game table for playing cards, in this particular room, which could use a hanging light above it.
This is my inspiration: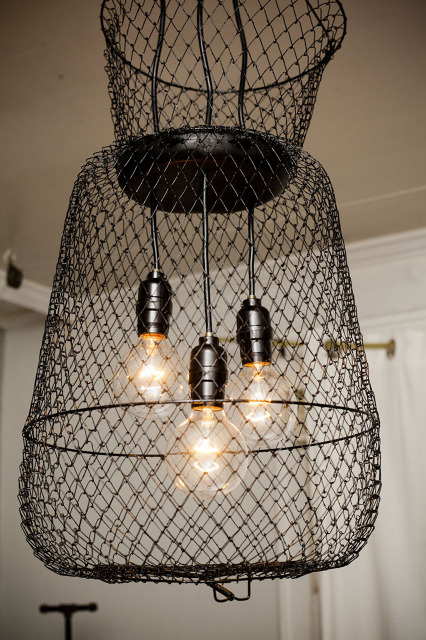 The only problem that I have is that we don't have a light socket above our table and instead have recessed lighting all around it.  So….I'm thinking we make a faux light and put candles in it.  It could come in very handy when we lose power!
While I was browsing for some inspiration, I found  some other unique designs that are so very rustic chic: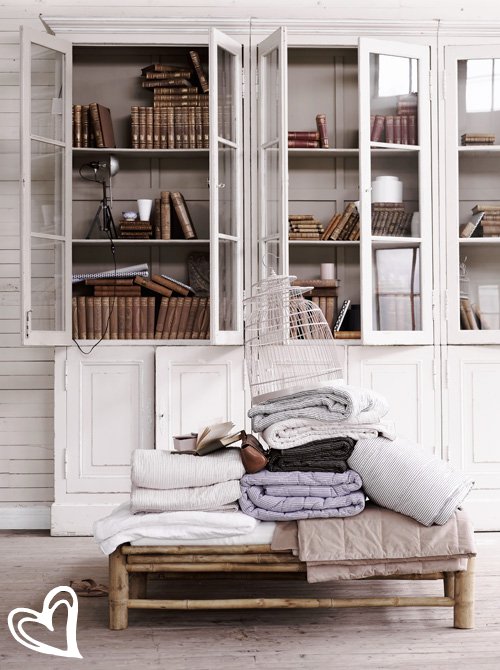 I love the mixture of white and tan along with the different textures of wood, books, metal and fabric.  This photo is meant to show how the elements work together.  The topsy turvy blend still looks somehow  soothing.  I think I am only going to allow my son to have light neutrals, old books and a few soft blankets in his room   That way when it is a mess – like always – it will still look okay!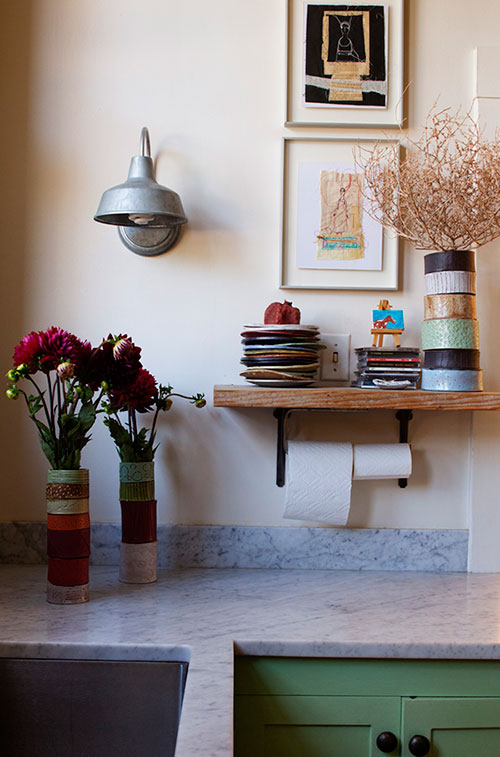 A unique idea here was to bring an outdoor galvanized light fixture inside.  It gives a cool industrial look to the space.  The reclaimed wood shelf adds a little bit of rustic to the colorful artsy kitchen.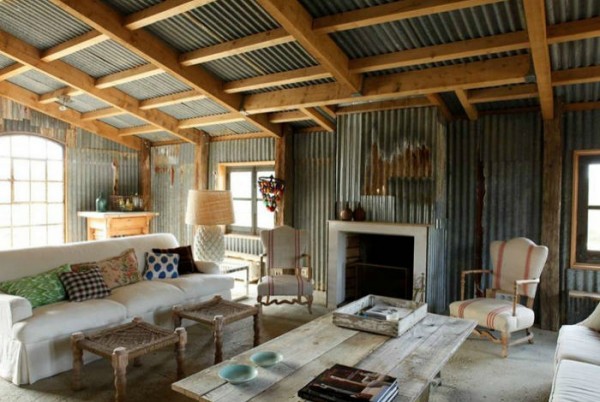 If you are trying to decide between paint and bead board, think again!  How about this idea for a corrugated iron wall or ceiling?  I notice that there aren't any pictures on the wall.  I wonder if you could just attach them with magnets!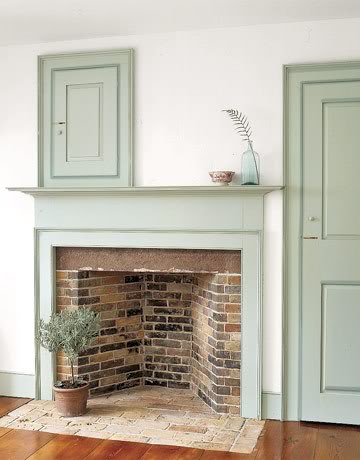 I could sit and stare at the fireplace all day.  The soothing paint color mixed with the earthy brick is a perfect combination.
Happy Decorating!