Collecting coffee mugs are one of those things that can get out of control fast. Not only are there so many cute designs but they are a popular souvenir item as well. Each mug can have a message or memory that is hard to toss out. If you simply can't part with any of your collection, there are ways to keep your cupboards from bursting at the seams. These coffee mug storage ideas will help you to display your mugs in a decorative way. Plus, you can clean out a cupboard and instead store those items that are best left hidden.
The following ideas for mug storage are things that you can make yourself. All of these tutorials offer step by step instructions that are easy to follow. After getting all of your coffee mugs organized, you may want to check out these other ideas for organizing a kitchen.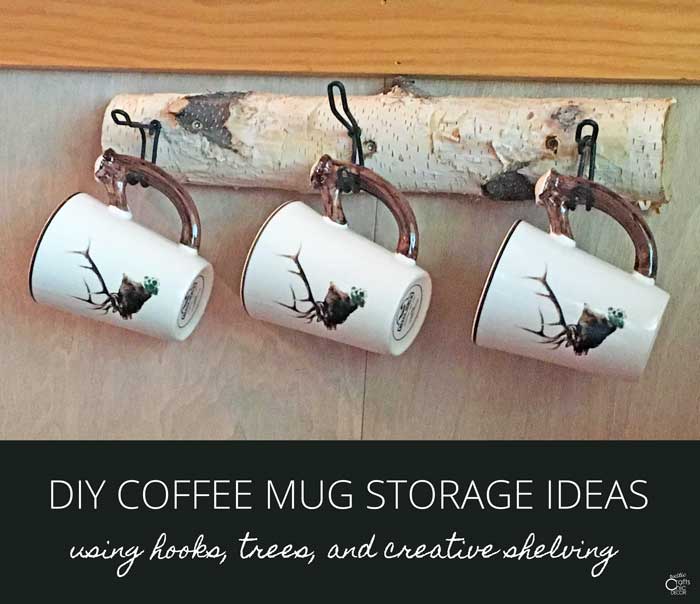 DIY Ideas For Coffee Mug Storage
Whether you make your own mug tree, creative shelving, or hang hooks in a fun way, there are lots of ways to store and display your coffee mugs. The key is to display them in a way that showcases the mug designs the best. Of course, you also want them to be handy for use. These DIY storage ideas will inspire you to find a new home for your mugs.
DIY Coffee Mug Storage House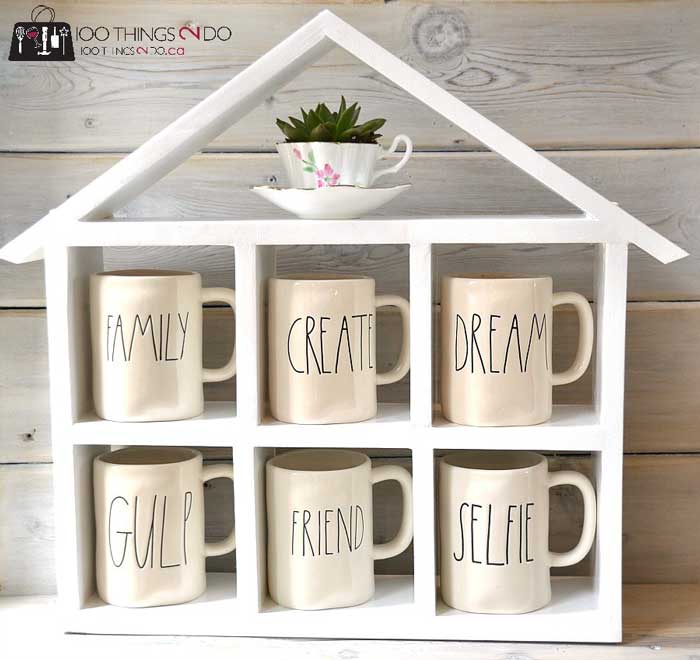 You could make a basic shelving unit to display mugs, or you could create something a little more fun. This house shaped shelving unit is home to a collection of Rae Dunn mugs. It sets the mugs off nicely and also creates a little bit of art for either the counter or the wall.
Make Your Own Coffee Mug Tree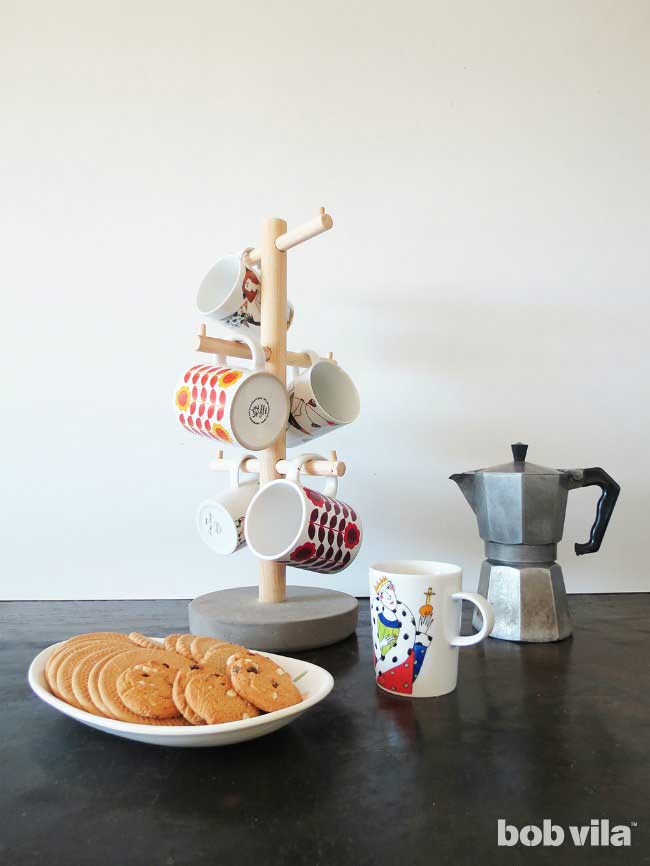 When you think of storing coffee mugs outside the cupboard, a coffee tree probably is the first thing to keep in mind. Although you can purchase these in a variety of styles, you can make your own unique style for more of a statement. I love the concrete base on this particular tree. You could also easily design your own style using things like rustic branches or industrial plumbers pipe. In fact, you will want to check out how you can easily manipulate plumbers pipe into decorative objects.
Rustic Coffee Mug Storage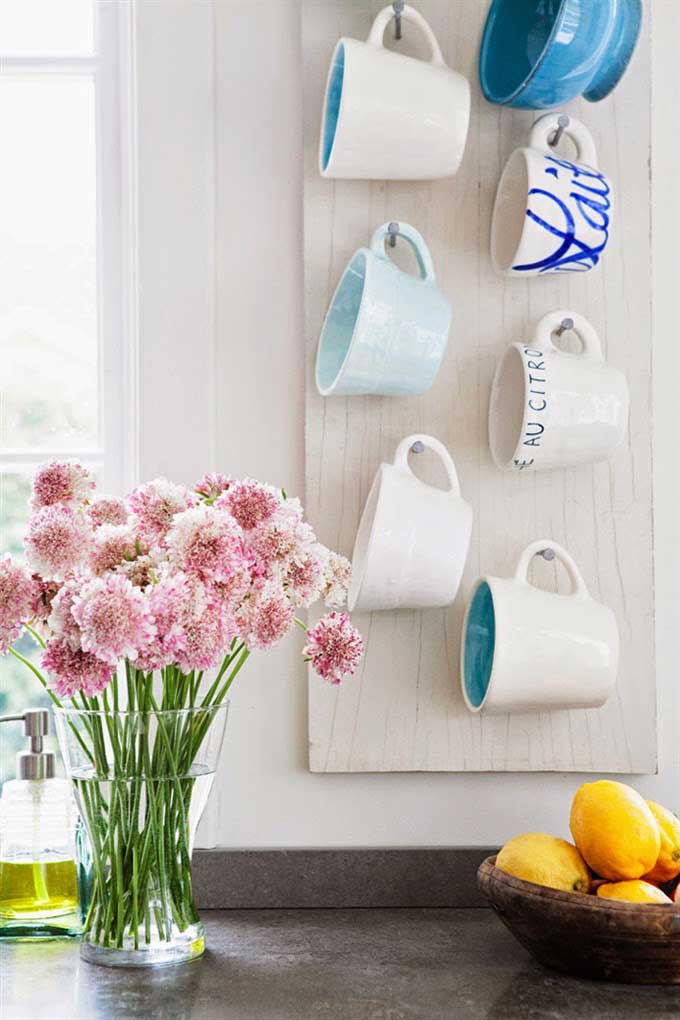 Because this coffee mug storage idea is so easy, it doesn't require a tutorial. Just use nails, with a large head, to pound into a piece of wood. The simple rustic styling is a great back drop for a collection of colorful mugs.
Birch Branch And Vintage Hook Rack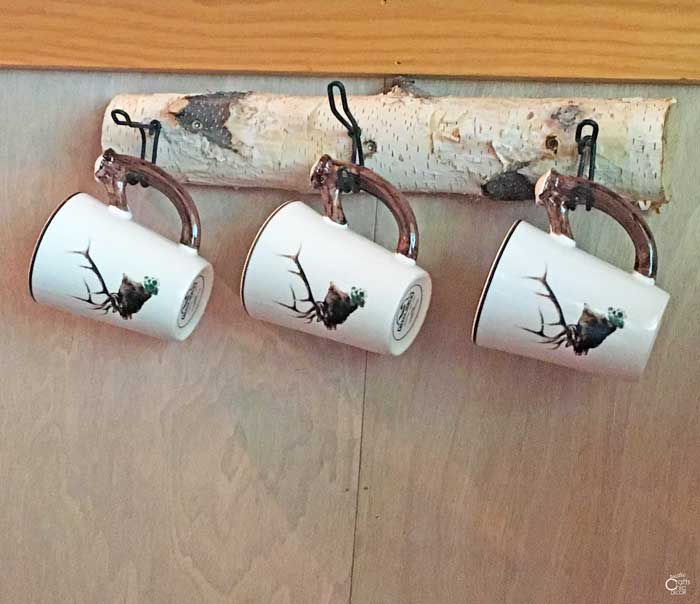 Another real easy idea is to attach hooks to a birch log which is one of my simpler DIY rustic decor projects. To make this mug rack, I used a birch log as the base. In order for it to fit tight up against the wall, the back of the log was cut flush. Then, the log was simply screwed to the wall. I used a collection of vintage hooks from an old farmhouse. You could use any type of hook or any type of log. For a cleaner look, you could peel the bark off a log first. It all depends on how rustic you want to be.
Repurpose Drawers For Mug Display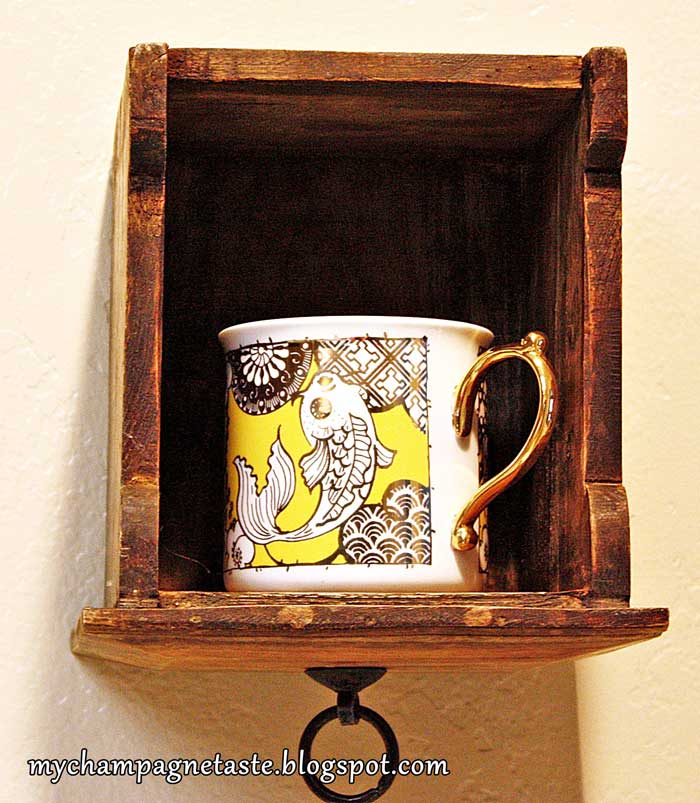 I love when you can repurpose something for another use! A small drawer makes a perfect display case for a coffee mug. Line up several drawers on the wall to display your favorite collection of mugs.
To see some more ideas for using drawers in fun ways, check out my post on how to repurpose drawers in ten creative ways. Also, you will want to see ideas for using old toolboxes to see another great idea for coffee mug storage.
It's All About The Hook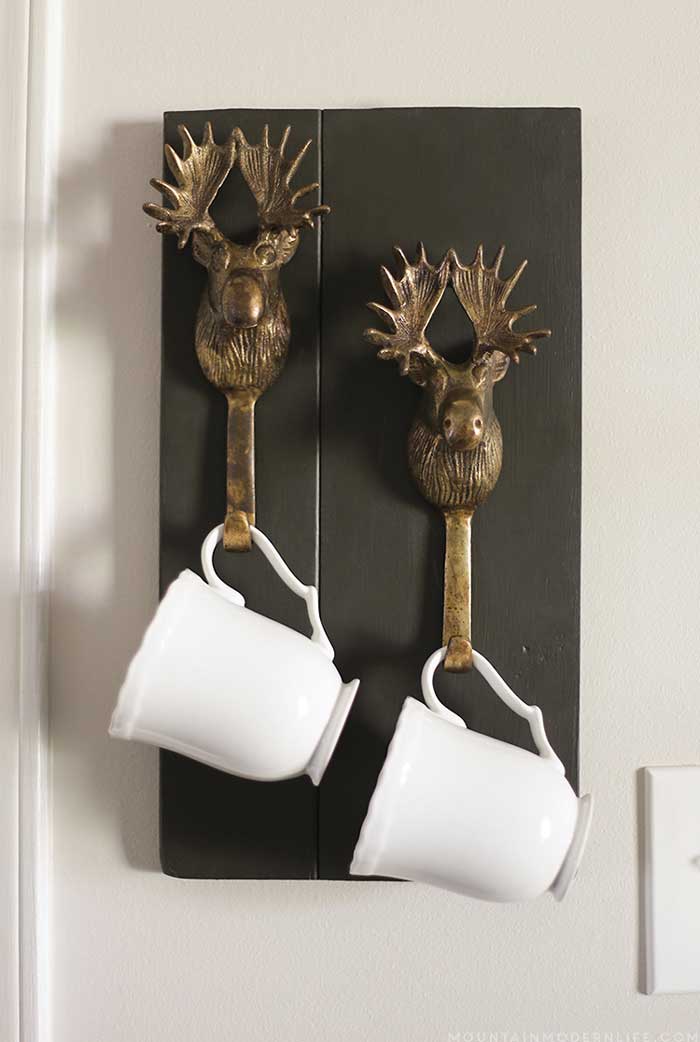 The hooks that you choose for your coffee mugs definitely do not have to be basic. Have fun and shop around. These rustic moose hooks create such a stylish display for mugs. I love the contrast of the rustic hooks with the white chic coffee mugs. Create small or large hook racks, depending on the amount of mugs you want to display. Attach them to wood, pallets, or branches depending on the look you are going for.