Garland is not just a Christmas decoration. It can add a pop of interest or color to lots of areas around your home. Things like mirrors, signs, chalkboards and mantels can all be enhanced with a little fun garland. These DIY garland ideas use a variety of different materials that make each garland unique.
Whether you want to use items from nature or from your craft room, there are plenty of creative ideas to try. I always get a little disappointed every year when I have to take all of my Christmas decorations down. All of the pretty garlands really enhance the rest of the decor and add a festive atmosphere. Well now, there is no reason to go completely back to the basics.
With all of the DIY garlands, using unique materials, it's easy to make a festive atmosphere any time of the year. Add pops of color with a felted ball garland or add a rustic touch with branches or pinecones. Pretty much anything that you can string together can make a creative garland. Here are my favorite ten ideas.
DIY Garland

DIY Branch Garland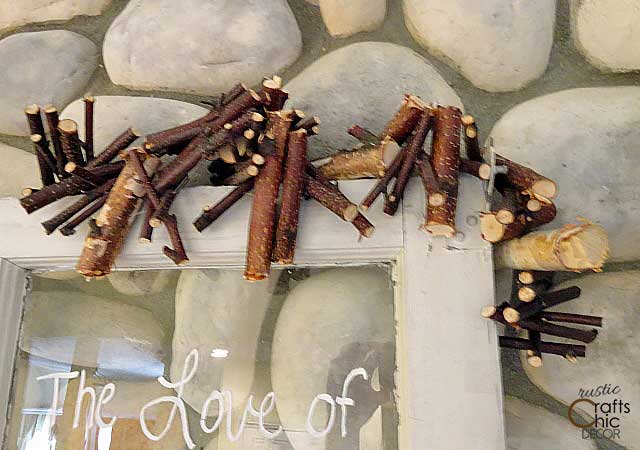 Since I love nature and anything rustic, one of my favorite garlands is this birch branch garland. I use a variety of branches in an assortment of colors. This garland is perfect for draping over signs or chalkboards for a little extra warmth. There are also plenty of ways to customize the look. If you don't like the natural colors, I also love to see these whitewashed. It gives a lighter look but you are still able to see the variations in shades. Other ideas are to paint them a solid color or strip off the bark completely.
Pine Cone Garland

I have seen a lot of pine cone garlands but this one has to be my favorite. The simplistic design is what makes it appealing and calm. Because wooden beads are added in between, the garland has a lot of interest. And, using the twine for stringing keeps the whole design cohesive and rustic. If you need something more colorful, just paint the pine cones or use colored beads.
Eucalypus Garland

Eucalyptus makes such a pretty and fresh garland. I like this type of garland especially for decorating a wall or mantel. It breaks up a white wall nicely by adding a little color and texture.
Rustic Recycled Paper Garland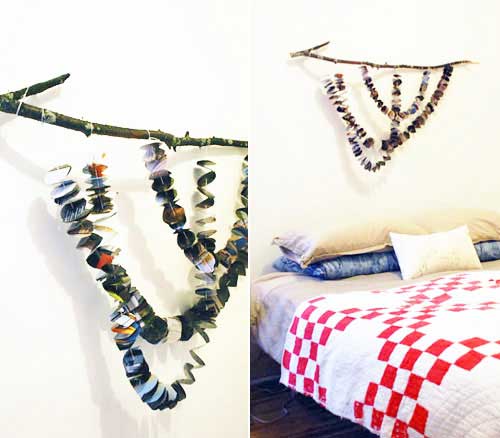 This garland is put together to look like creative wall art. The strands of garland are made out of recycled catalog. Because the catalog pages are colorful and glossy, the paper works great for adding artsy color. I love the idea of hanging multiple strands on a rustic branch.
Felt Ball Garland

Lately, I have been obsessed with felted wool balls. I have a couple of the balls on heavy wire that I put in small vases. The colorful balls have a way of making anything look more cheerful. Although the felt balls are easy to make, you can also purchase the colors that you want and then just string them into a garland yourself. Use a variety of colors, as shown, or pick one color to accent a room.
Pom Pom Garland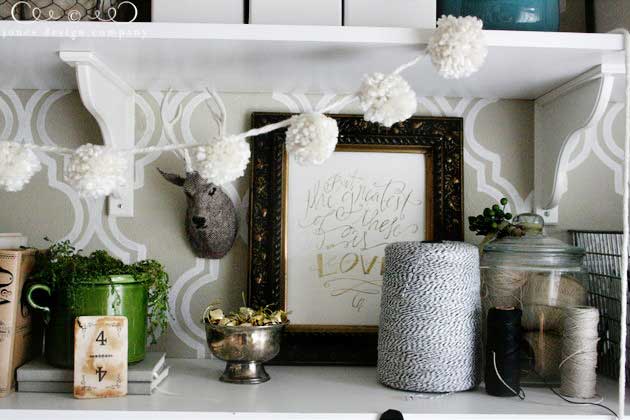 Here is a similar idea using yarn. The yarn pom poms are also super easy to make. You can see how a single color looks stranded together, in this example. I especially like the white for a clean and bright look but any color or colors would work.
DIY Rag Garland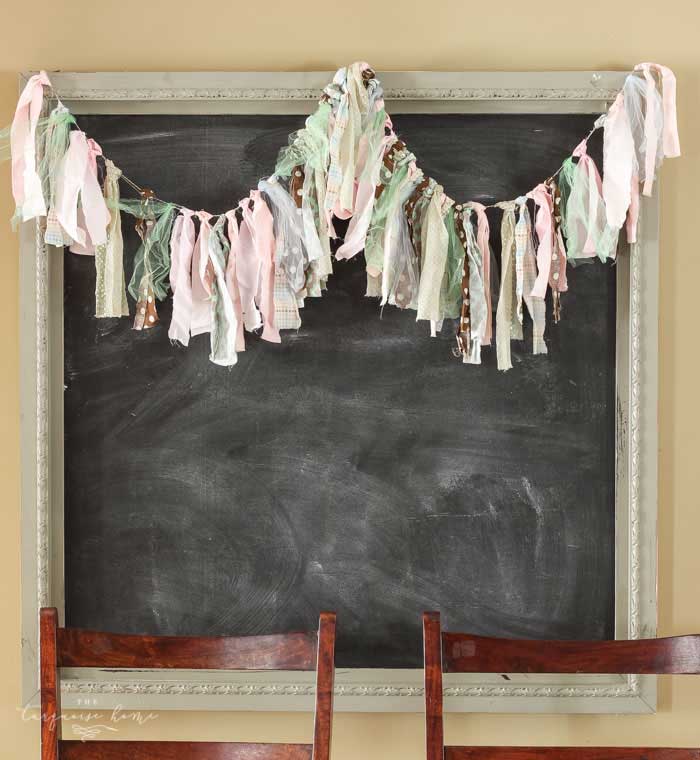 How many of you have lots of fabric scraps? I know I do! This is a great way to use up some of those scraps. Just pick colors and patterns that coordinate with your decor and start cutting and tying. If you don't have any fabric scraps, maybe you have some old clothes that have seen their better day. It's a fun way to recycle those clothes!
A Rag Swag Window Treatment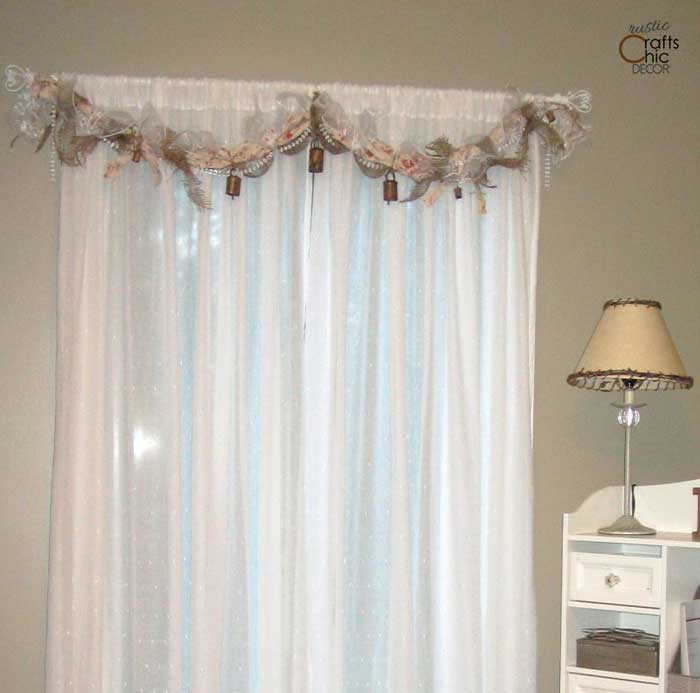 Using kind of the same idea to the rag garland, I made this shabby chic garland for my window. I used a combination of fabric scraps, burlap, faux pearls, and even vintage cow bells. It really didn't take long to put together and added a little pizzazz to my white curtains. The best part was that I was able to clean out some of my leftover craft room supplies.
Fresh Flower Garlands

For some temporary garlands, use your favorite fresh flowers. They don't always have to gone into a vase! If you pick flowers that dry well, you will be able to enjoy the garlands for a little more time.
Book Page Pinwheel Garland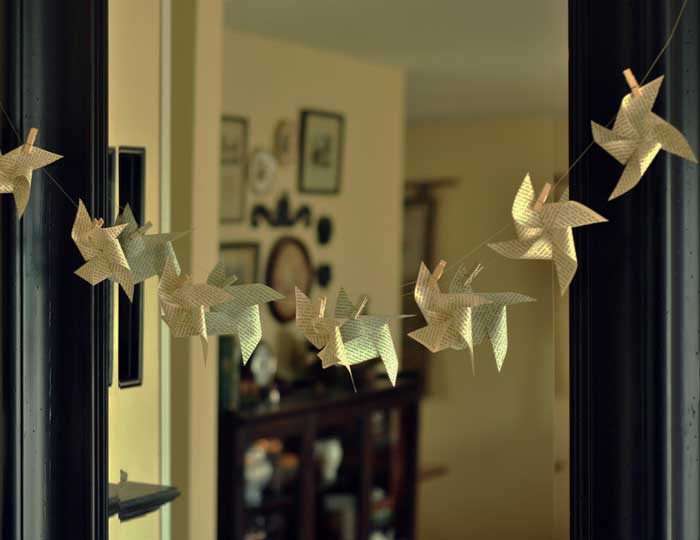 I had to end with a book page garland since I love crafting with old book pages. Here, the pages were made into fun pinwheels. To make them into a garland, they were simply clipped to a strand of twine with mini clothespins.