If you are looking to buy a new dresser, first see if you can makeover an old one for a totally different look. It's surprising what can be done with a little bit of paint and new hardware. Even if you don't need to use an old dresser for it's original purpose, you can transform it for a totally different use. These DIY dresser makeover ideas should inspire you to use what you have.
Creative Dresser Makeover Ideas
Since there are so many creative ways to makeover old dressers, you may want to purchase an old one to use. Just because you don't have one already doesn't mean you have to miss out on the makeover process. Thrift stores or garage sales are great places to look for dressers at budget prices. Not only do you save money but transforming something old is also very satisfying.
From Girls Room To Craft Storage
Although the best dressers to makeover are ones that were originally made well and have good bones, even cheap dressers can be more desirable after a makeover. I took this dresser off my parents hands with the thought of doing something creative with it. Plus, it was originally in my very own nursery! With three kids, there was always a need for more clothes storage.
I originally slapped some white paint on it, added cork board to the missing drawer area and added new knobs and decals. It was an okay fix for my daughter's bedroom. Over time, one of the knobs came off and a decal was ripped. It had served it's purpose and now needed a new life. Since I can never have enough storage in my craft room, I decided to use it to store craft supplies and photos. However, first it needed a new look.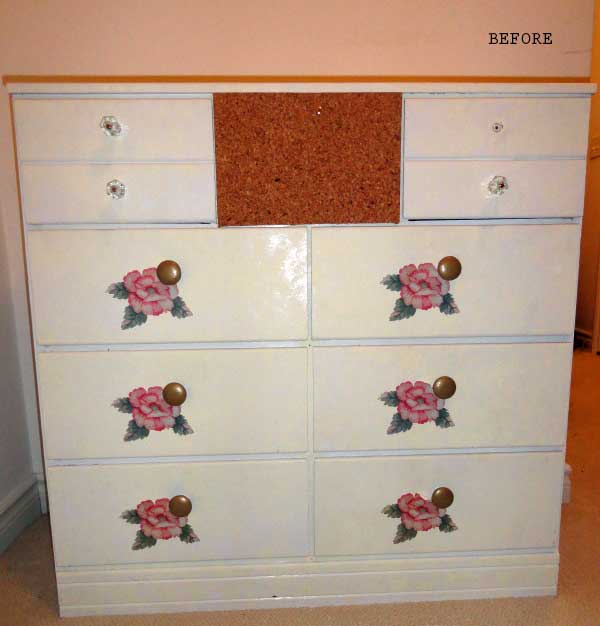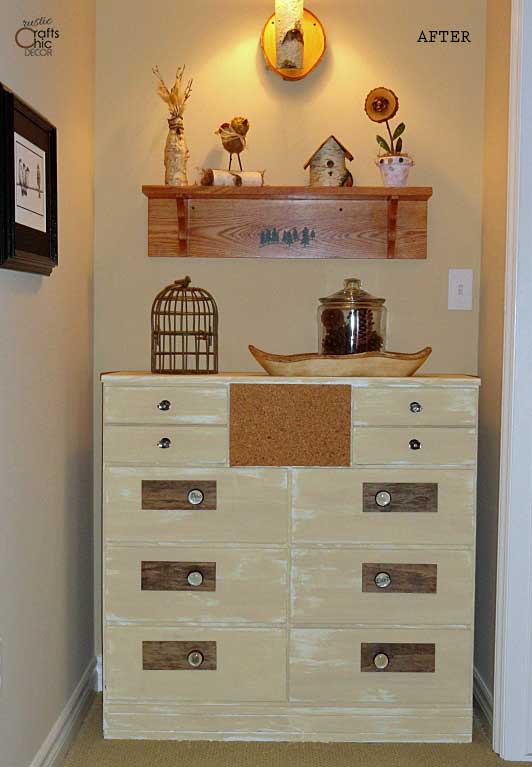 With some new paint, knobs, and wood slabs, I was able to give the dresser more of a rustic look. I tucked it into a little nook in our basement, just outside my craft room, for easy access. Because there was nothing in that little end of the hall before, I was glad that I kept the dresser.
Vintage Find To Fresh And Cheery
I love solid wood vintage dressers. Making over one of these can actually be better than purchasing a brand new dresser. You get so much character and can still change the look dramatically.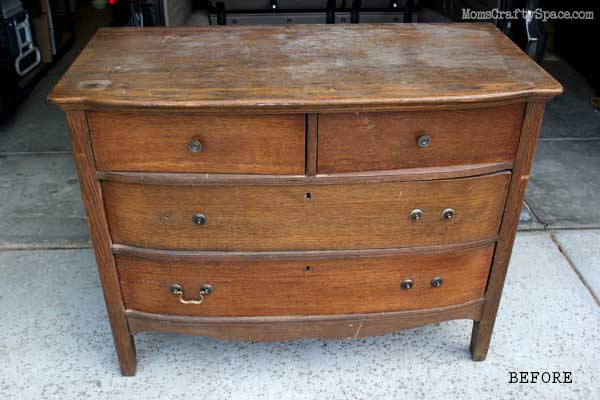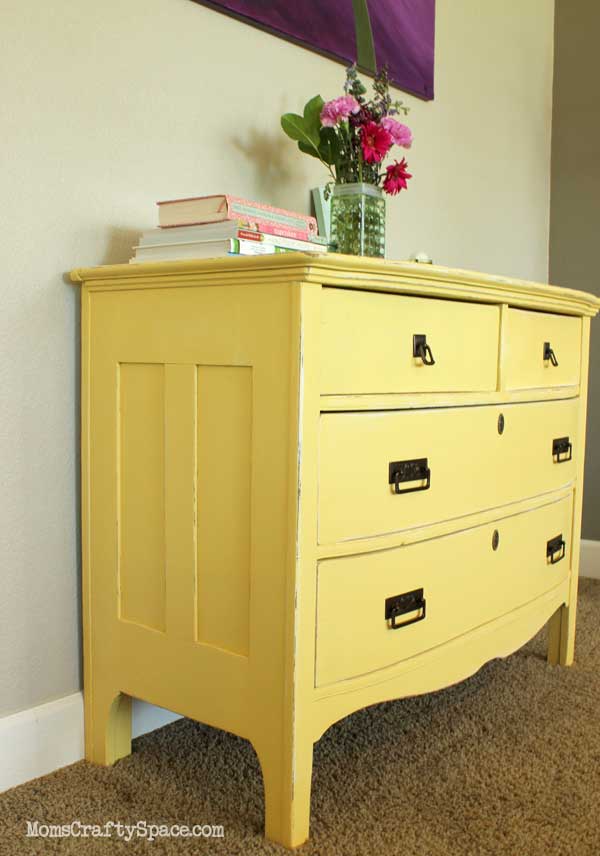 The cheery yellow paint and new hardware, make this dresser look like something you could pay top dollar for in a furniture store.
Old And Beat To New Farmhouse Style
Here is another great example of what paint can do to an old antique.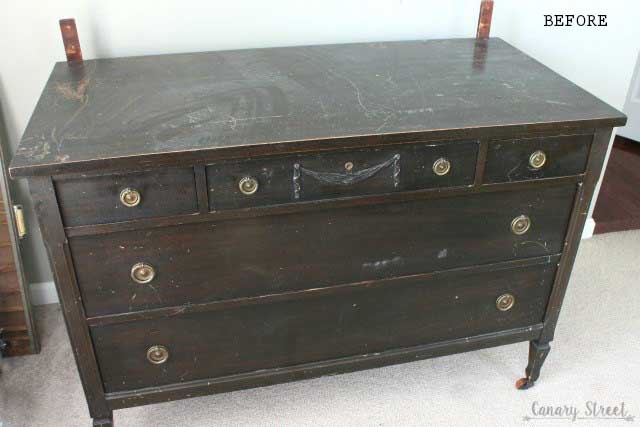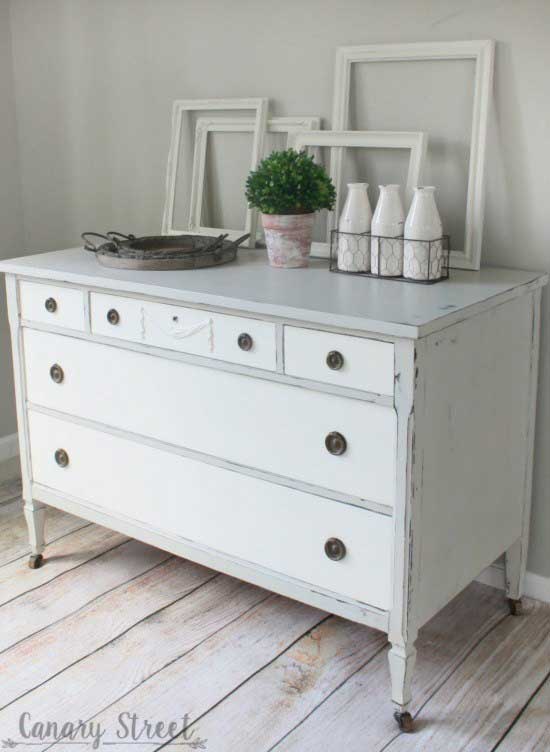 By painting and distressing a dresser in not just one but two colors, you get such a custom and high end look. The knobs on this dresser didn't even need to be replaced.
White Wicker To Faux Cargo
Even an old wicker dresser can get a super cool new look. Sometimes you just really need to look outside the box……….and into a crate!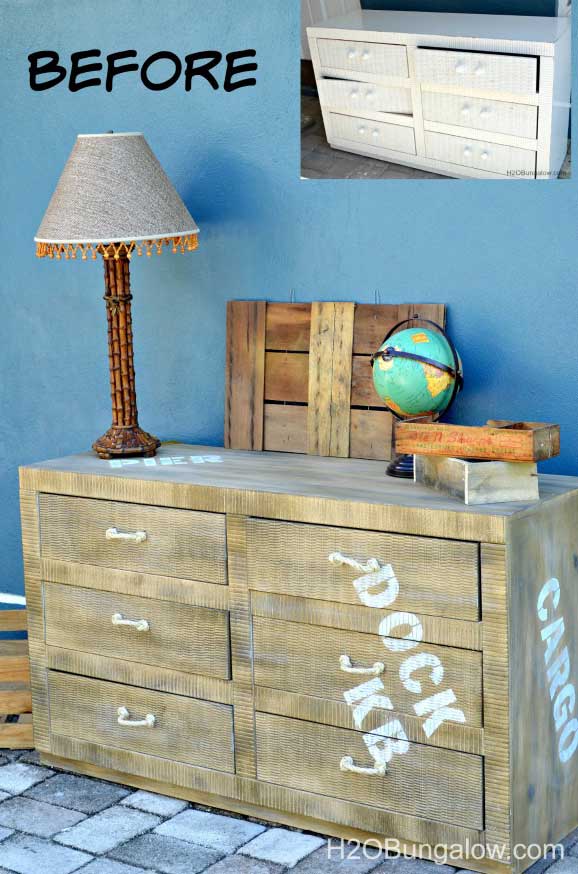 This old wicker dresser was made over to look like a shipping crate. The stencils and rope pulls really help to enhance the wood tone paint job. This DIY dresser makeover idea is chucked full of creativity.
Old Dresser To Kitchen Island
Although this old dresser could still look beautiful with some new paint, it can serve another function as well. Maybe you don't need another dresser but you do need something like a kitchen island. A dresser can totally work for that!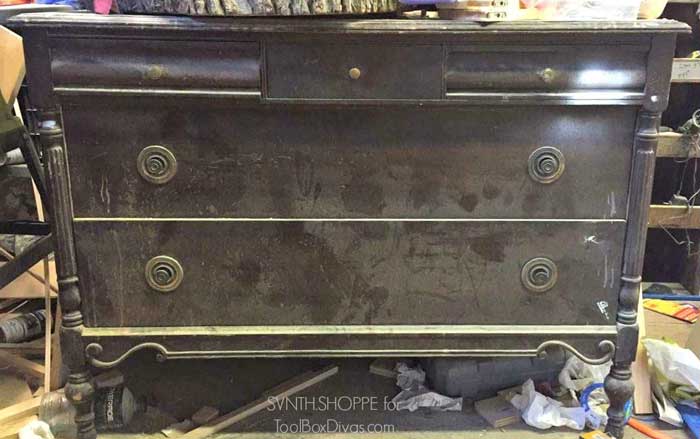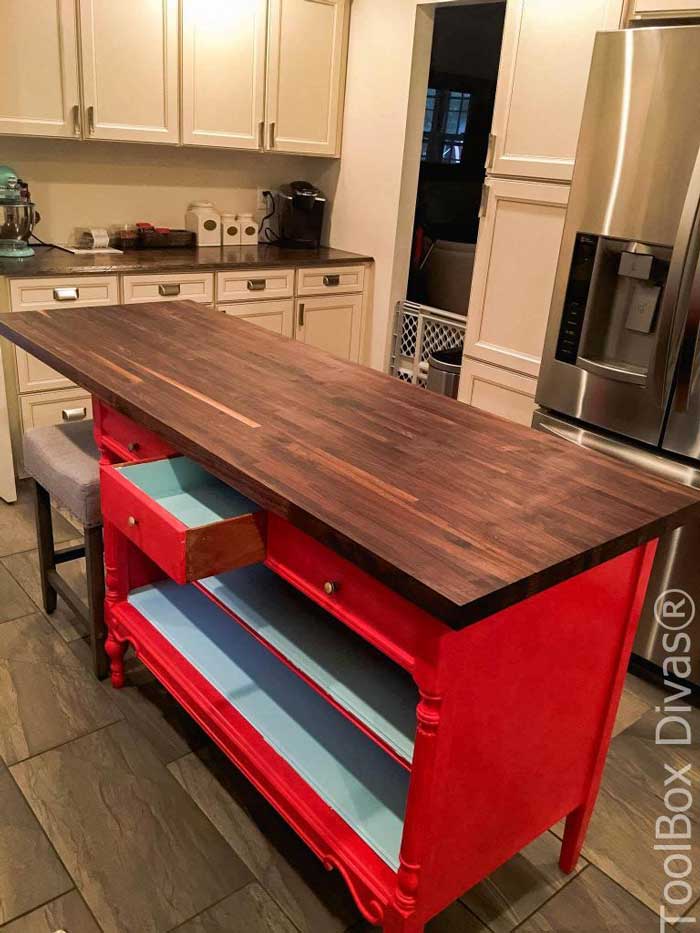 This kitchen island really doesn't look anything like the former dresser. The bright red paint is perfect for a kitchen. In this makeover, the bottom drawers were taken out for open shelving. You could also leave the drawers in and have it still work as an island. The added large wood counter is perfect for a large kitchen but you could also add a small top and even add locking wheels to the bottom for rolling around.
Dresser To TV Stand
Another easy repurpose idea is to transform a dresser into a new TV stand.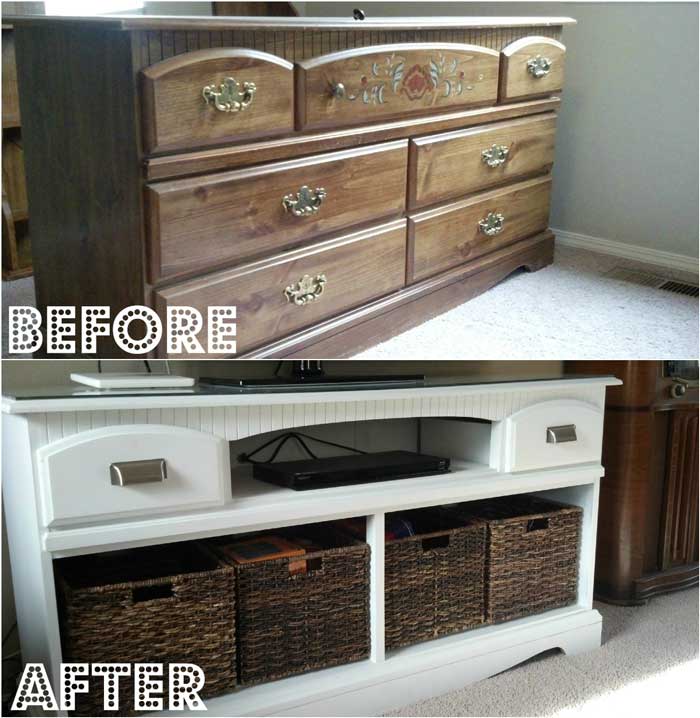 Taking out some of the drawers and adding new baskets is a great way to create a new look and function. This DIY dresser makeover looks like it was always a TV stand. I love ideas like this!
Turn A Dresser Into A Bathroom Vanity
Old dressers can transform easily into a stylish bathroom vanity. I did something similar in our cabin bathroom by using a vintage desk as the vanity.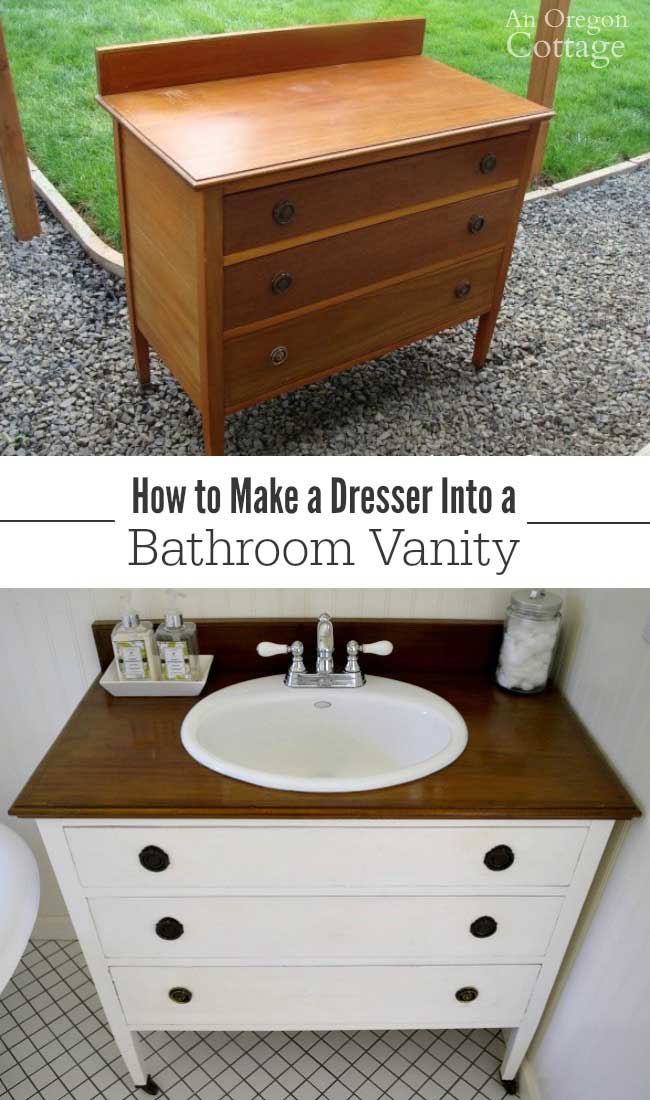 Making a vanity out of existing furniture is easier than it looks. You basically just need to cut out sections for the plumbing. It's also a good idea to varnish the top well for easy cleaning.
Paint Over Stain Pattern
There are also ways to just add to the original dresser finish.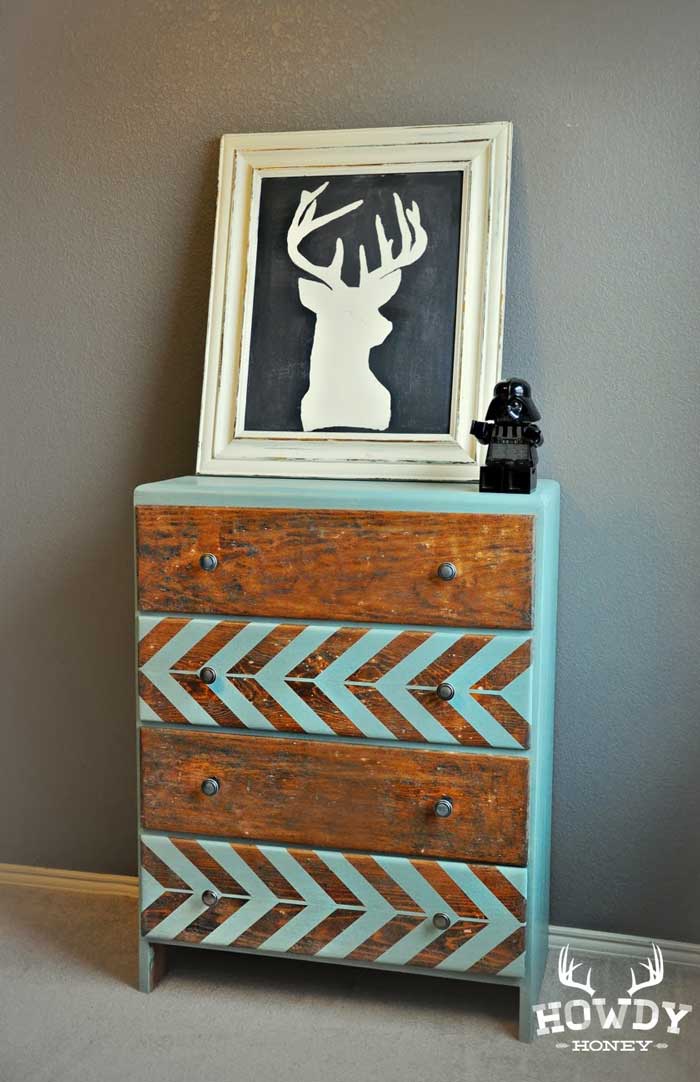 This dresser has a whole lot of modern style. By simply painting a pattern over some of the original stain, you get such a fun and unique look.
Half Paint Half Stain
Or, you could just paint the dresser and leave the drawers stained.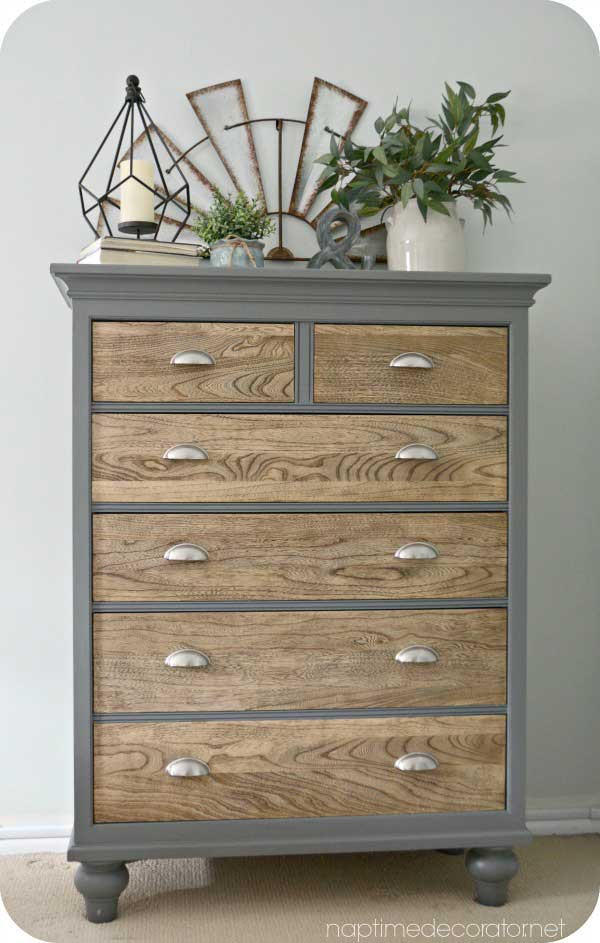 The contrast of the wood grain with the gray paint is beautiful. A nice thing about solid wood is that if you don't like the original finish, you can simply sand it off, revealing the grain.
New Paint And Chic Glass Knobs
Although original dresser knobs can have a lot of character, sometimes a change offers a huge style impact.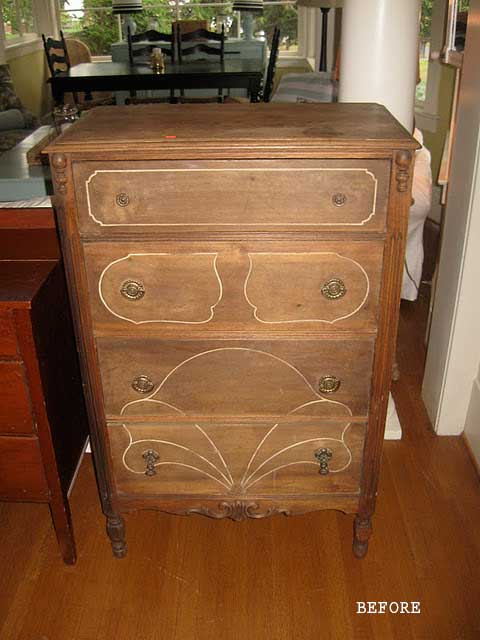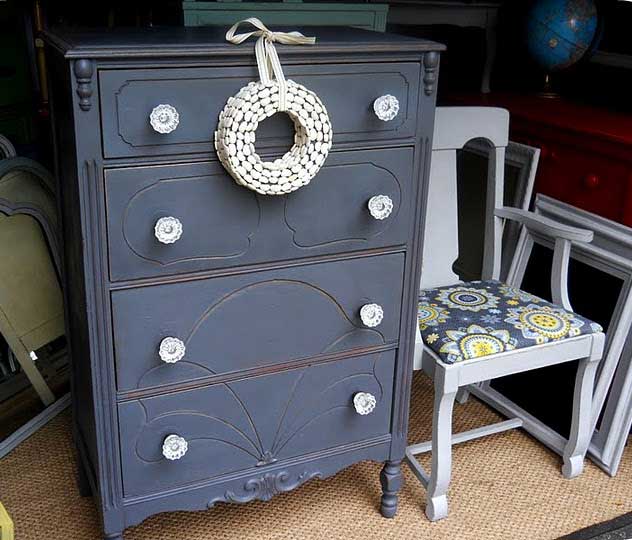 This dresser was given a chic new look with not only the paint but also those big glass knobs. Changing the hardware is such an easy way to flip the style.
Missing Knob Solution
So, what do you do if you love the original knobs but one knob is missing? Just take out the whole drawer for an open shelf!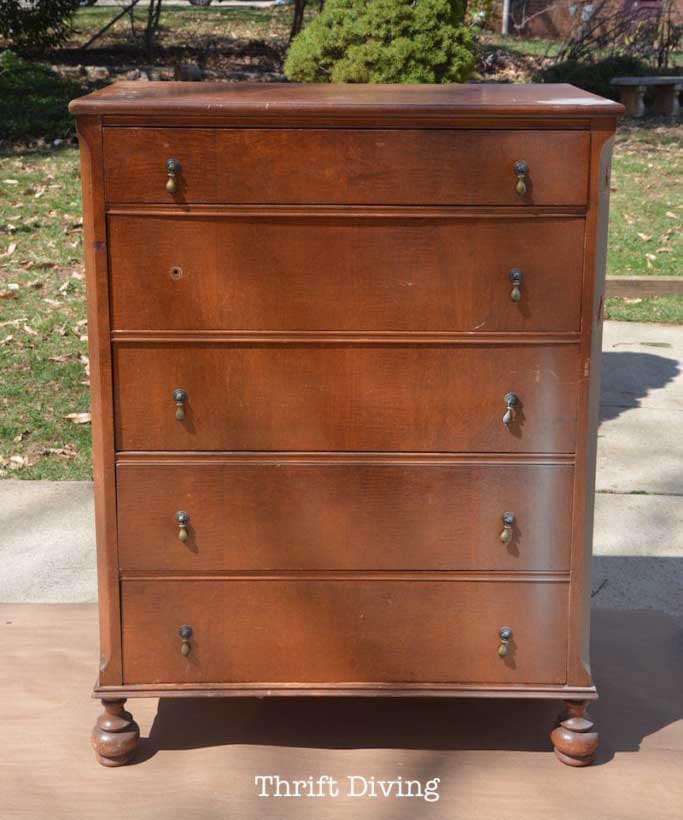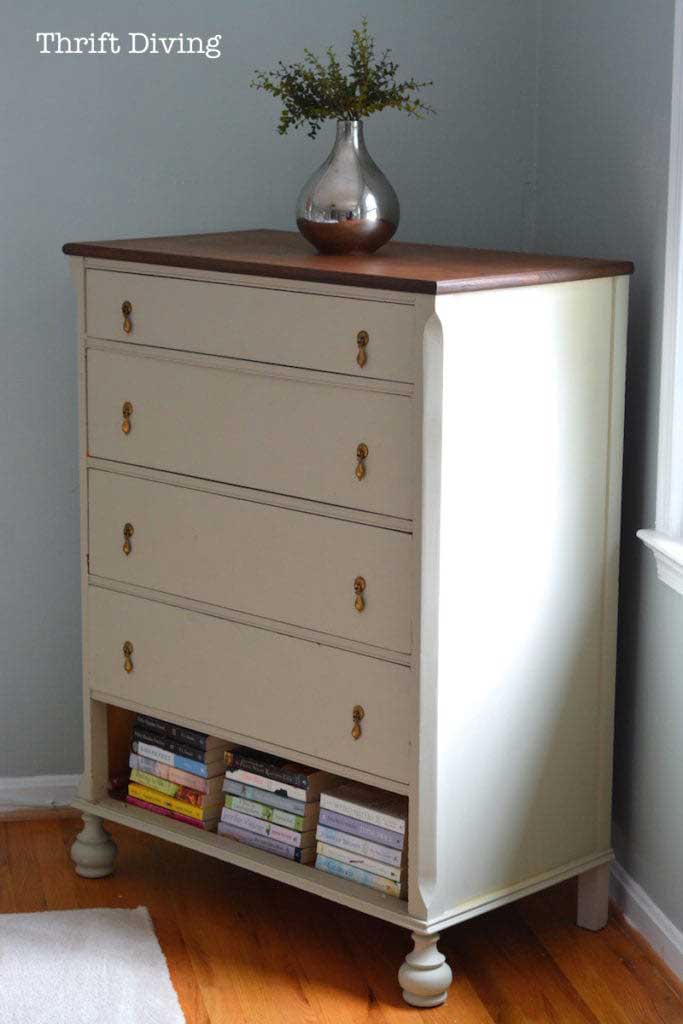 The open shelf at the bottom looks totally natural. No one would look at it and think missing drawer. This dresser looks so much more chic with the white paint. Leaving the dresser top stained gives the perfect amount of contrast.
Add Legs For More Style
Create a new style by adding legs to a dresser without any. You can take legs off another piece of old furniture or purchase some vintage ones from an antique or resale shop. Of course, you can also buy new legs or make your own as well.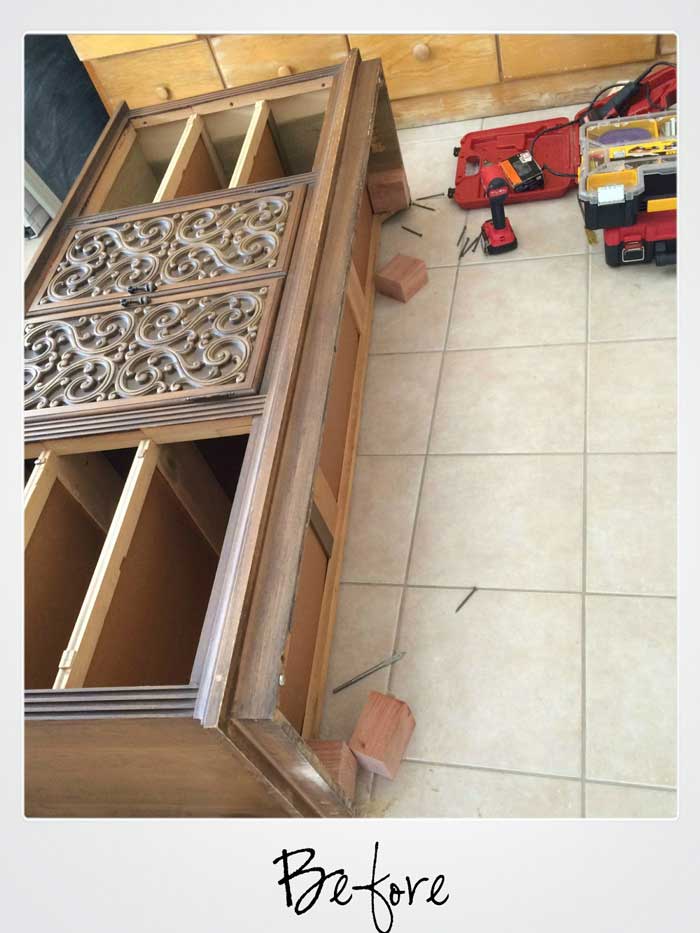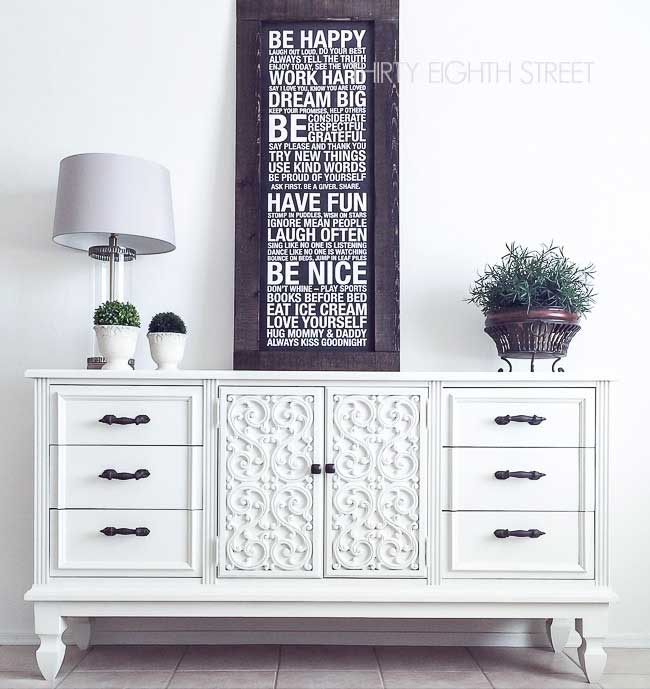 A little lift gave this old dresser a new and classy look. The legs look like they were always a part of the dresser.
Make It Rustic
Even ornate dressers can be made rustic with some special paint techniques. An oxidizing iron paint was used for this project.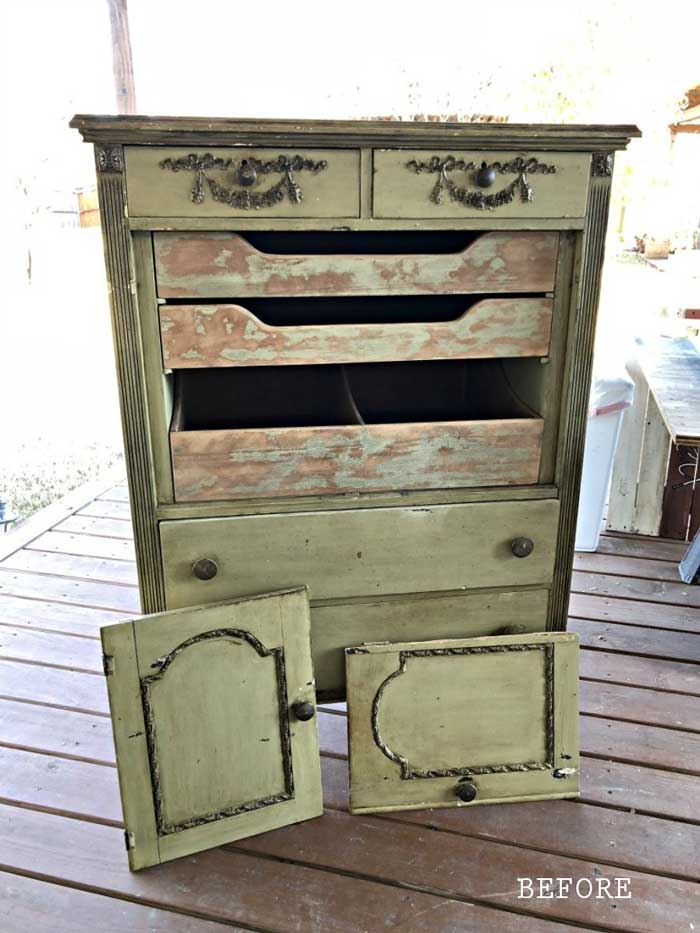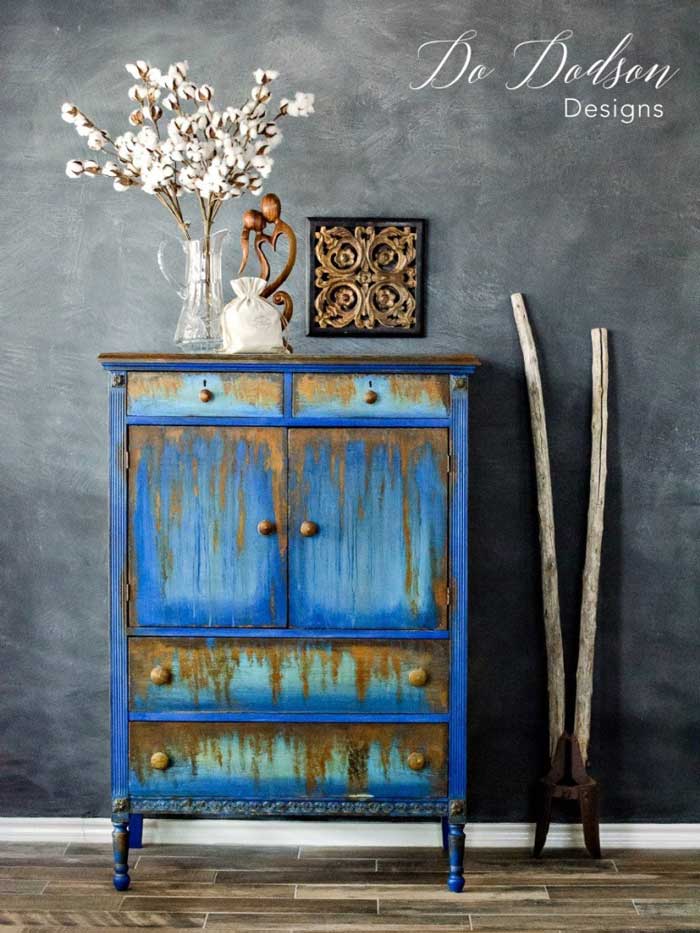 This new rustic look is totally different than the original dresser. By removing some of the ornate detail and adding the rust, the dresser now makes a great accent for rustic decor.
Chalkboard Painted Dresser Idea
Instead of using regular paint to makeover a dresser, use chalkboard paint for a fun style. This is especially nice for a kids room or wherever you want storage with labels.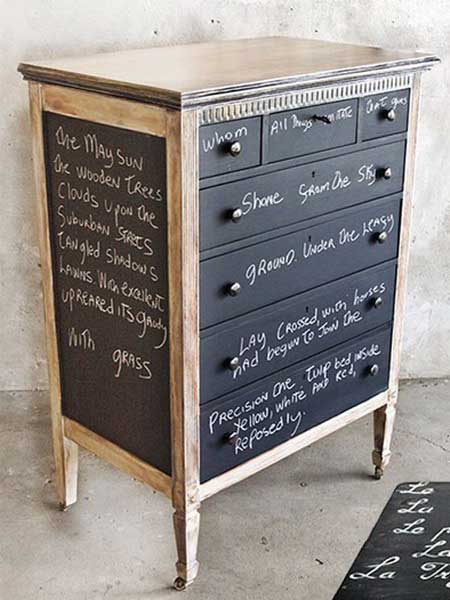 By only painting the drawers and sides, you get a fun contrast with rustic styling.
Make It Grainsack
One of my favorite ways to create a rustic look is to paint on some grain sack stripes. I actually did this with my craft room floor. Here, a dresser is updated with some fun rustic stripes.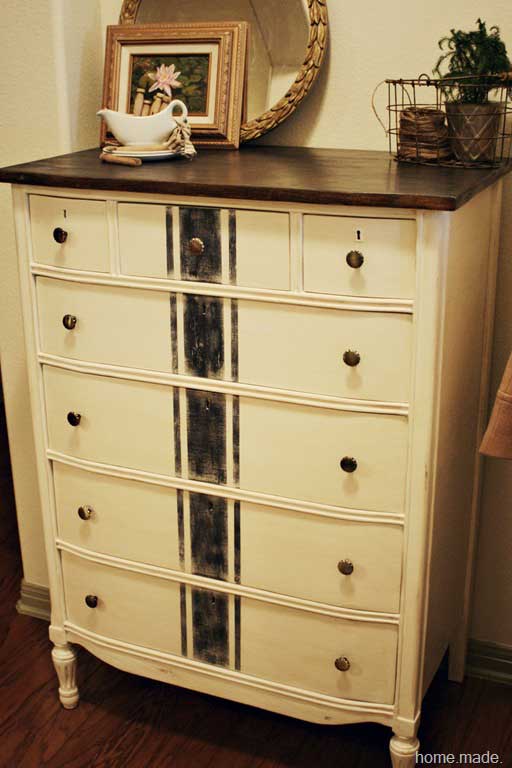 All you need to do to create grain sack stripes is to first tape off where you want them. Then, simply dry brush the paint on for a faded weathered look.
More DIY Dresser Makeover Ideas
With all of these DIY dresser makeover ideas, hopefully you have been inspired to start your own project. The simplest projects only require paint or new hardware!