If you are a wine drinker, you may have found yourself saving those decorative wine corks. I know I have! Since they have an appealing look, there is always the possibility that they could be used in another way. In fact, simply displaying your collection in a glass vase or jar can be decorative enough. However, there are lots of other ways to use those leftover wine corks in creative ways. I'll show you exactly what to do with leftover wine corks in a variety of fun and easy projects. You may even have enough corks to do all of these projects. No matter how many wine cork crafts that I do, I never seem to run out of available wine corks to use!
Creative Ways To Use Leftover Wine Corks
All of these ideas are easy enough for anyone to do. Whip up some decorative accessories for your home in minutes. You'll get a sense of appreciation for using up the old corks and making new items in the process.
Make A Trivet

SOURCE: Canadian Living
Wine corks make a great trivet when set in a square frame! I love the fact that this frame is trimmed with small branches. Its rustic and recycled – a perfect pair! Check out another idea for a hot pad using a vintage coffee sack.
Makeover Canape Knives

SOURCE: Yarni Gras
This project shows what to do with leftover wine corks as well as old canape knives. If you have knives but no longer like the handles, simply update them with decorative wine corks. You get to recycle two things at once!
Create Rustic Letters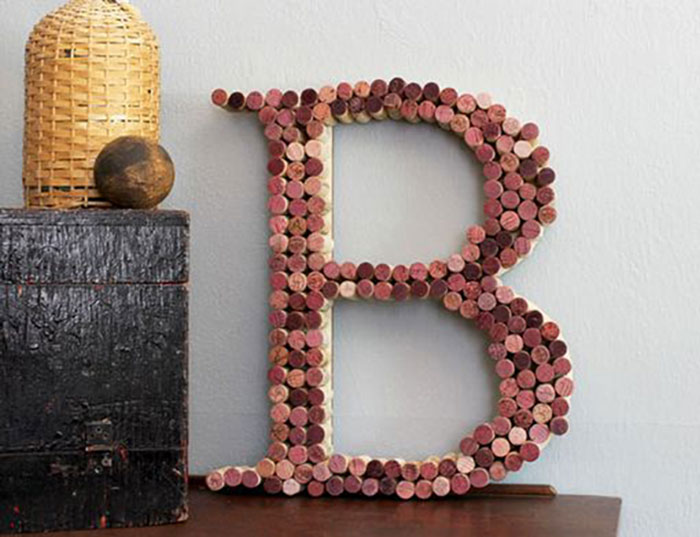 Monogram letters are a popular item to decorate with. Make one with lots of texture and interest by using wine corks. Depending on the color that you want displayed, use either the wine end or cork top. The variety of red wines give this letter an interesting array of reds.
Craft A Decorative Bulletin Board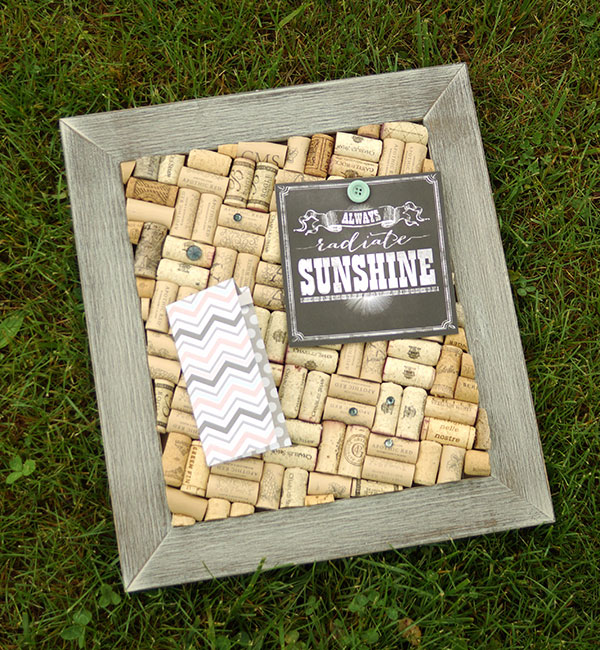 There are lots of ways to make a wine cork bulletin board. Anything that can be used as a frame will help to creative the boundaries. A picture frame, old window, or a metal tray are just a few ideas. You don't have to stick with straight lines either. A round tray or frame will also work. You just may have to do a little extra cork trimming to fit inside the frame. Luckily corks are super soft and easy to trim.
Turn Corks Into Herb Markers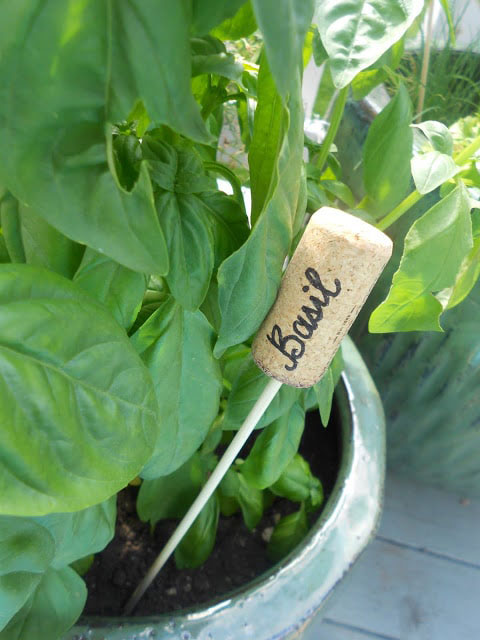 If you like to garden, then you will want to have some planter markers. Nothing could be easier than using a wine cork as a handy marker. Just write out your label with a sharpie and poke a wooden skewer into the bottom of the wine cork.
Build A Wine Cork Table Top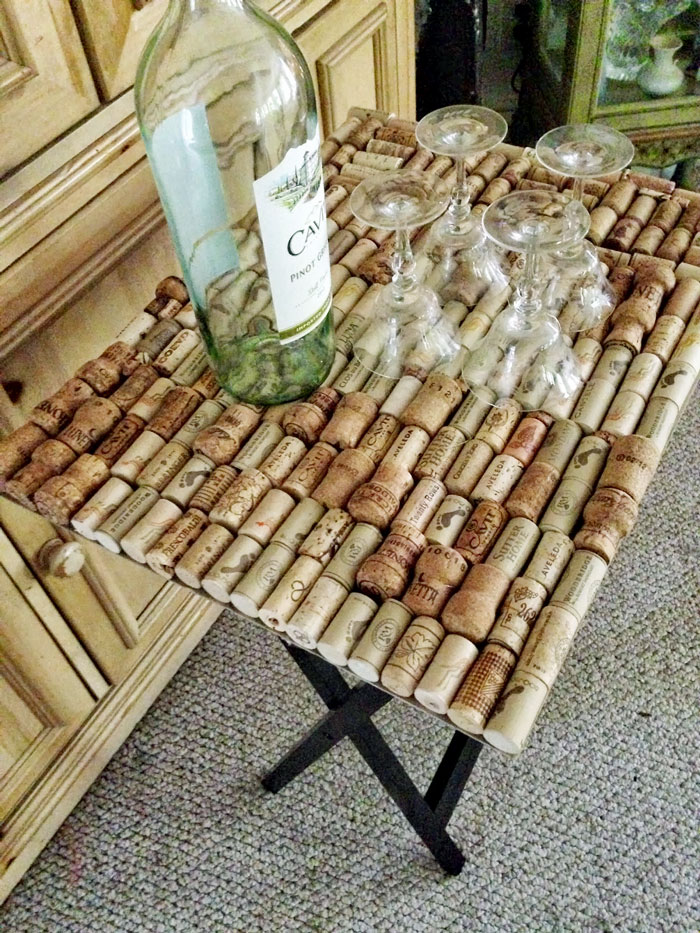 Here is a fun idea! If you have saved a lot of leftover wine corks, decorate a table top with them. This is a great way to makeover a small table that maybe has a damaged or scratched top. Or, make a complete new table like this one. An old tv tray, a section of plywood, some paint, and of course the corks is all you need.
Craft Some Planter Magnets

I may have thought to make magnets out of wine corks. However, I'm pretty sure I would never have thought to also make them tiny succulent planters! This idea is just too cute. It is also one refrigerator magnet that I actually like.
Make A Decorative Lampshade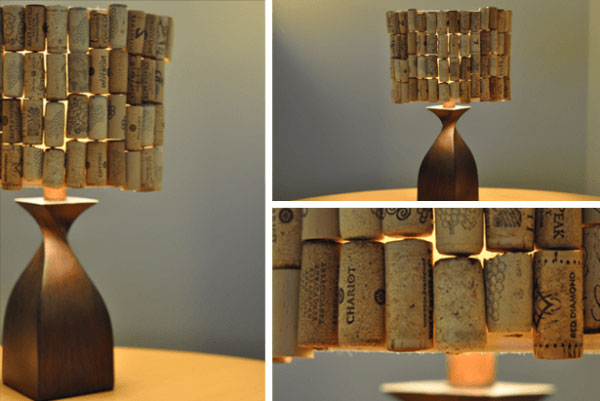 I love an interesting lampshade! Making one out of wine corks is especially creative. The new shade goes so well with the modern rustic lamp. Not only does it look decorative but it is sure to be a conversation piece. For more ideas on creative lampshades, see these DIY rustic lampshade ideas.
Update Glass Vases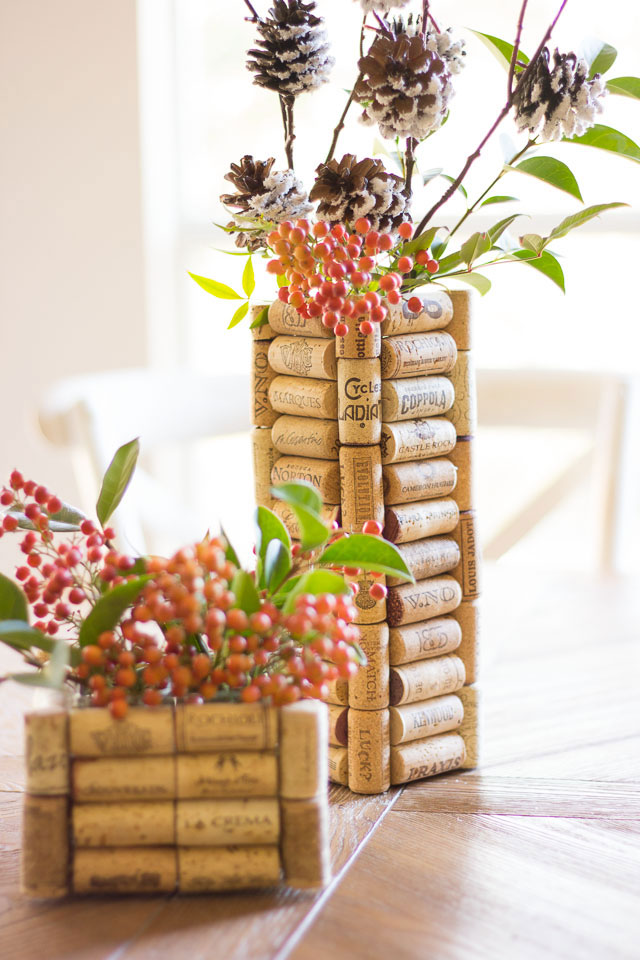 When glass vases seem a little too boring, update them with wine corks. The look is suddenly warm and interesting. Just glue them onto the glass in a pattern that fits. If you need some smaller sizes, wine corks are really easy to cut. I have an old steak knife just for this purpose. You can find more ways to decorate vases at my post on ways to recycle glass vases.
Wine Cork Napkin Rings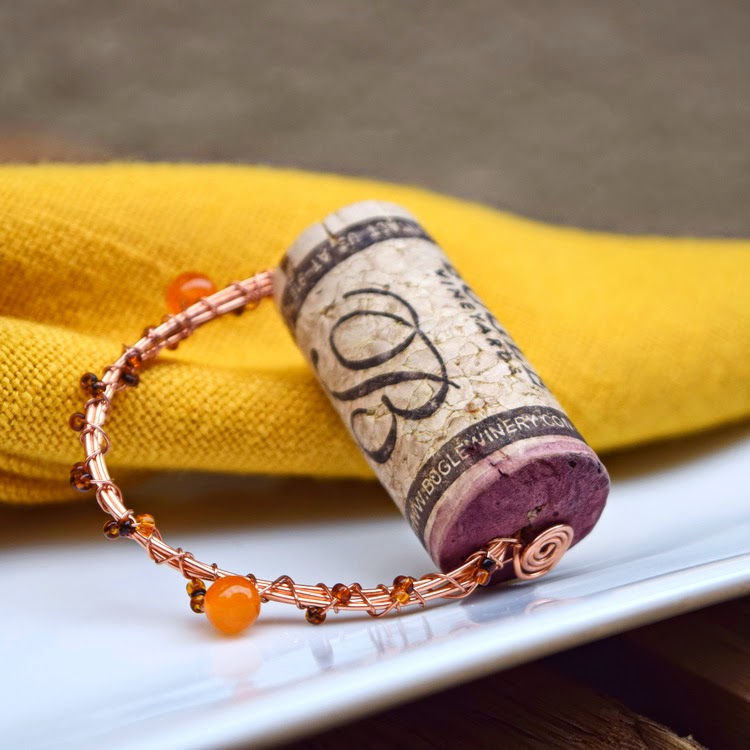 Make your own decorative napkin rings by just adding wire and beads to a wine cork. If you like beading, a similar idea is my tutorial on making wine cork keychains.
Use Wine Corks For Fillers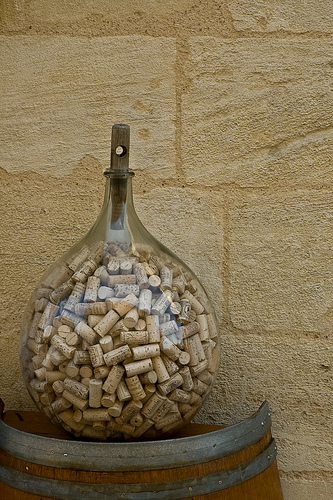 Again, the simplest idea is to just fill a glass vase or other glass container. If you don't have enough to fill an entire container, just use them at the bottom of a vase that holds stems.