If you have been the lucky recipient of fresh flowers, you may have a glass vase or two in supply. I know that whenever my husband brings me flowers, I keep the vase they come in for future use. However, you can have just so many vases. When my collection grew to more than I could use, I had to start thinking creatively. Although I could have put them in the recycle bin, I decided to make use of them around my house. I'll show you what to do with old vases to give them a brand new life.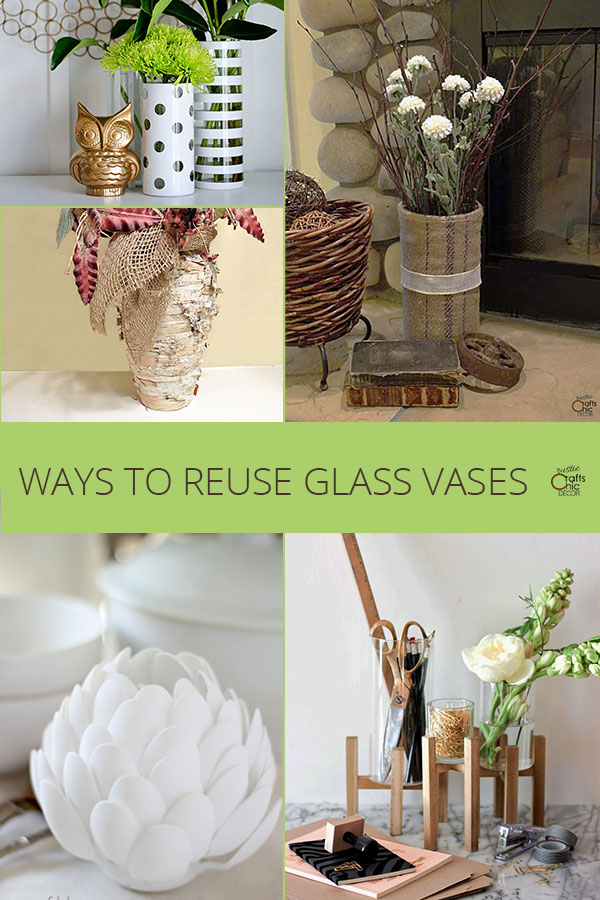 If you are in to repurposing your old stuff, you probably already have some ideas of what to do with old glass vases. Repurposed DIY projects tend to get your creativity going in ways that you might not otherwise think of. From old drawers to heat registers to old vases, there are creative ways to repurpose almost anything. Vases may be one of the simpler things to upcycle, but there are still a wide variety of ways to do it.
What To Make Out Of Old Vases
This post contains recommended product links. If you make a purchase through one of the links, I may earn a small commission at no cost to you.
The most popular way to reuse an old vase is to give it a makeover to use as a centerpiece or a more decorative flower vase. There are so many creative ways to do this that will help the vase to fit in with your own unique style. However besides updated vases, there are other ways to reuse them for organizing and storage.
A Modern Rustic Centerpiece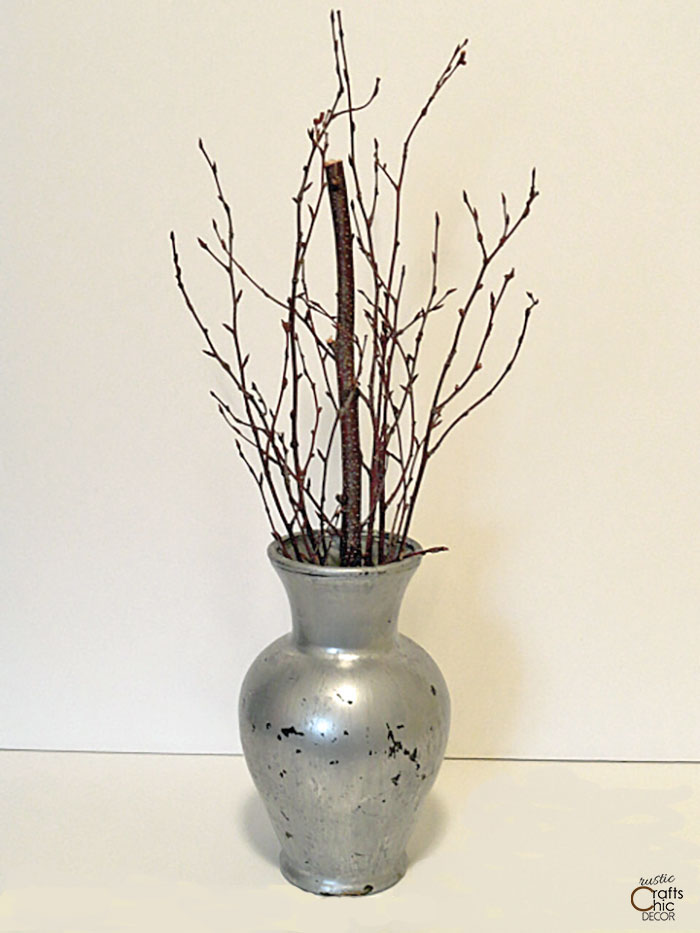 To give a glass vase a modern rustic look, just paint it with a metallic paint and then sand a little of it off for a distressed look. Then, fill the vase with a bundle of birch twigs for a unique non-floral centerpiece.
Rustic Birch Bark Centerpiece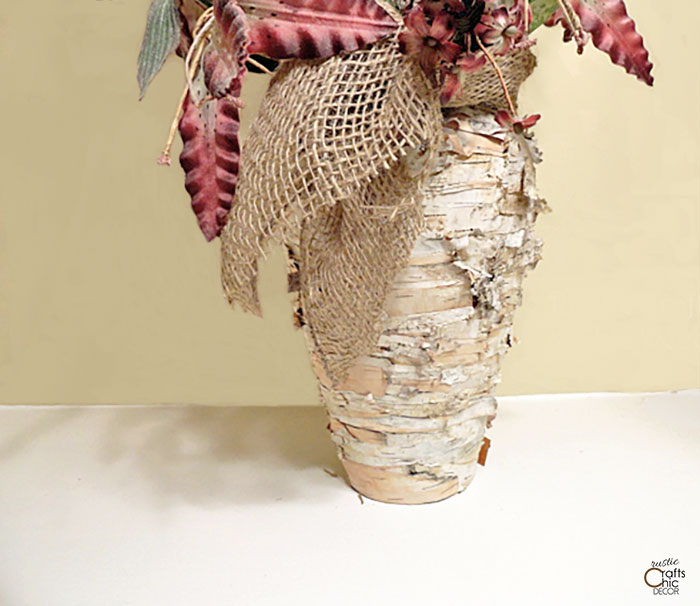 I love to take a vase and make it rustic in a variety of different ways. For this vase, I peeled strips of bark off of a fallen log. Then, I simply glued the strips to the glass with hot glue trying to make it look as natural as possible with the layering. Keeping some of the curled pieces gave the vase some natural dimension. If you don't have access to birch logs, you can also purchase birch bark for a project like this.
Grainsack Vase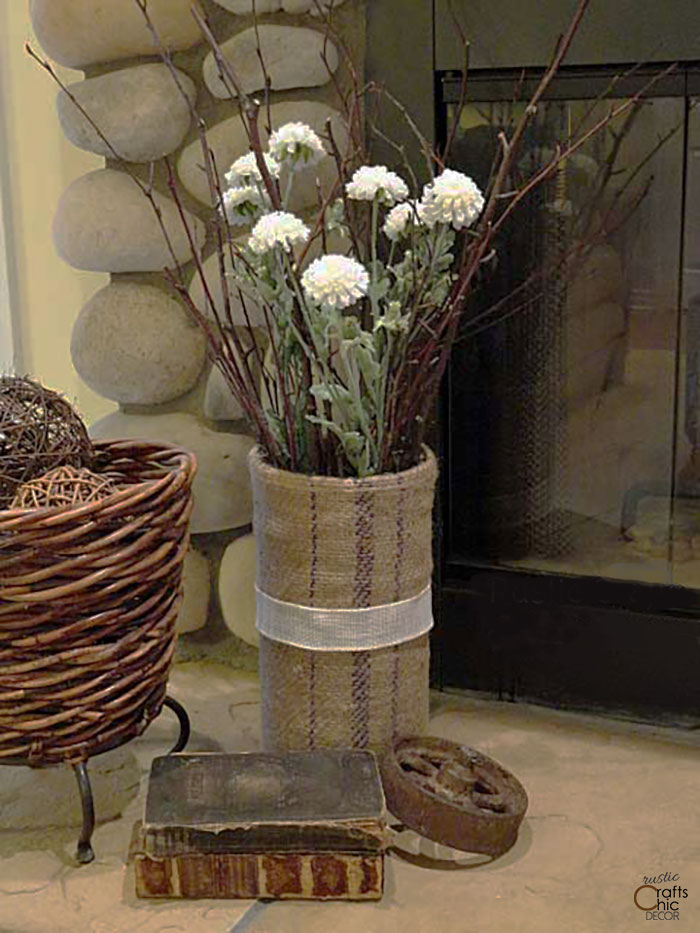 Another fun way to make over a vase is to cover it with an old grain sack or other fabric. There are endless ways to style a vase with fabric depending on the color, texture, and patterns that you use.
Craft Room Storage Container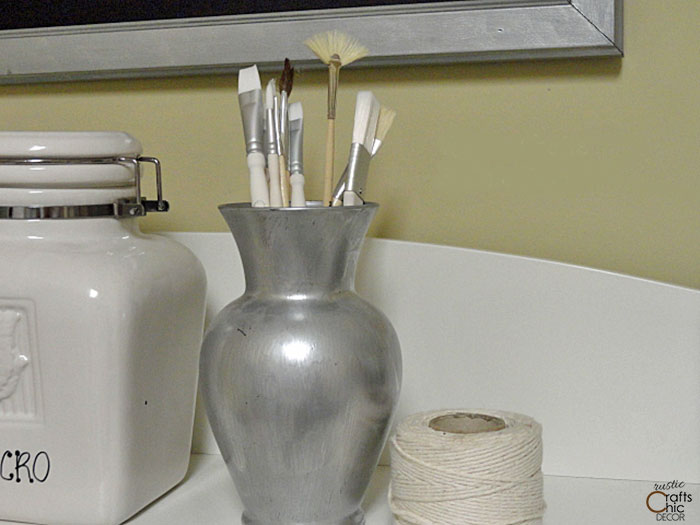 I love being able to organize my craft room with free stuff. A vase works great for holding long supplies like paint brushes. You could also use this idea in the kitchen for storing utensils like wooden spoons. Leave the vase as is or give it a coat of paint or fabric to go with your decor.
Stripes And Dots Vases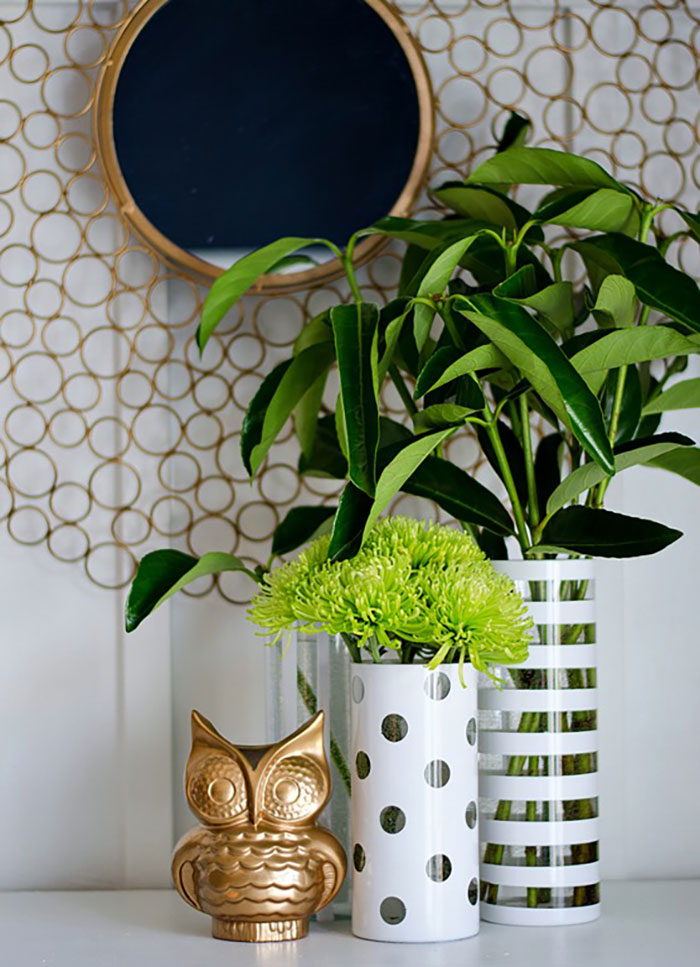 Besides painting a vase a solid color, you can also create fun patterns. I love these vases of dots and stripes. They were made by placing round stickers and washi tape on the vases before painting. Then when the paint was dry, the stickers are removed.
Using this same idea, you can get the look of etched glass by using etching cream instead of paint.
Glass Vase Desk Organizer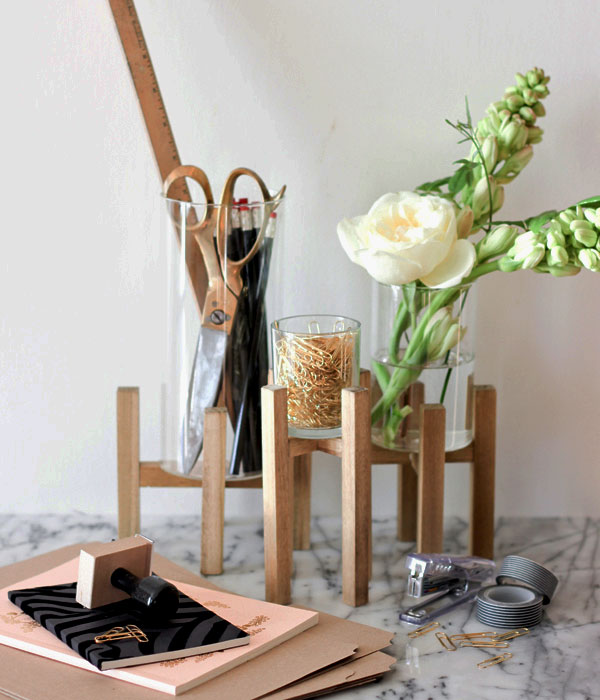 An assortment of vases make a decorative desk organizer. To give the collection more interest, build an easy stand at varying heights.
Turn A Vase Into A Candle Holder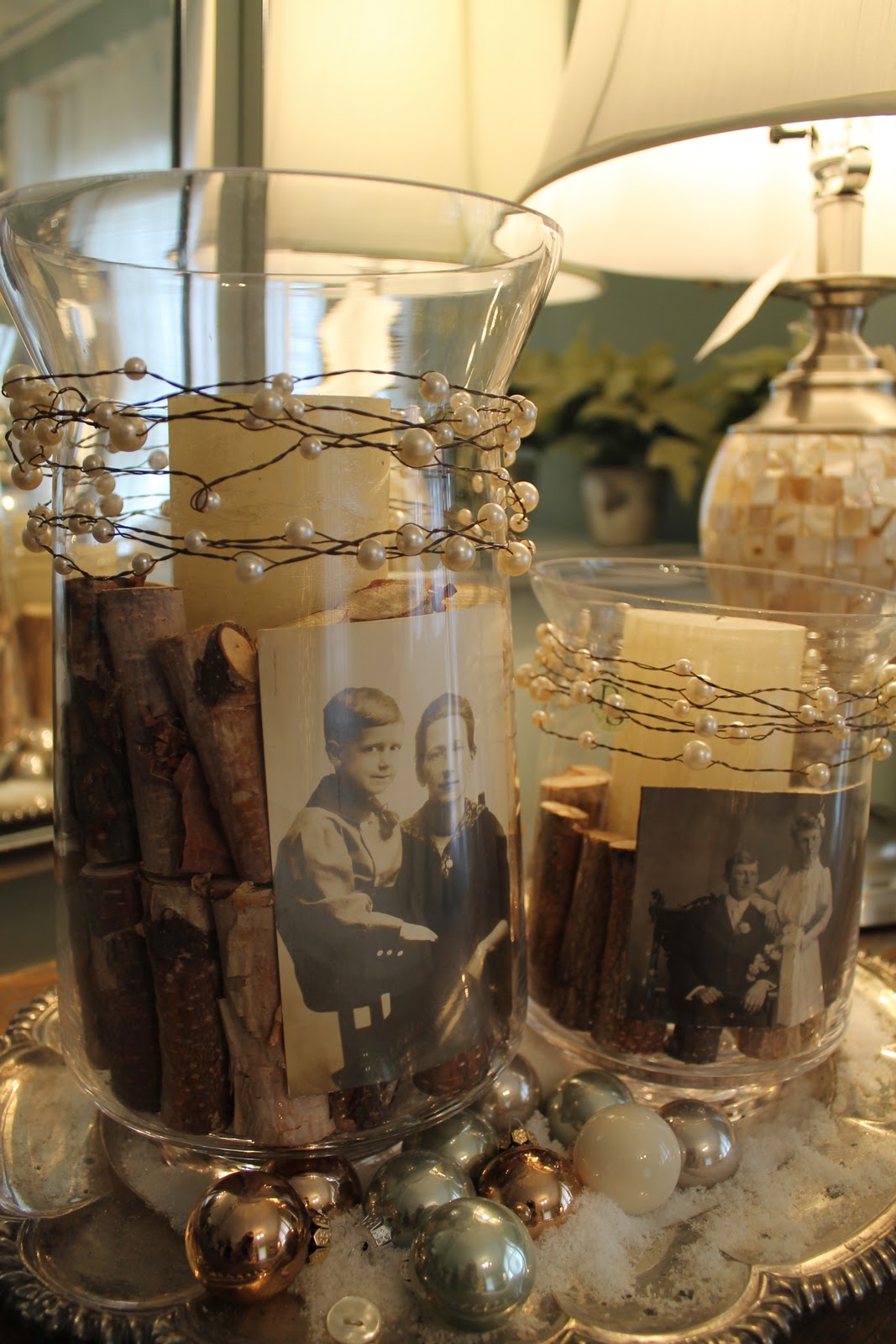 A glass vase is transformed in a rustic chic candle holder. By wrapping a pearl garland around the top and surrounding the candle with birch logs and vintage photos, you get an entirely new look.
A Decorative Spoon Sculpture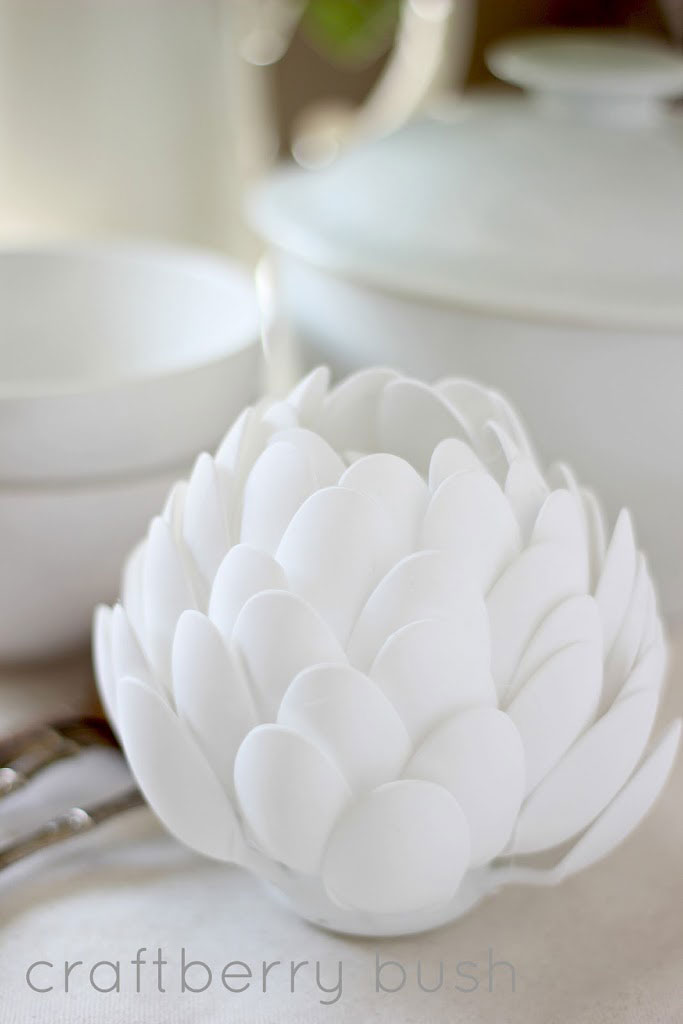 Here is an idea that I for one would never have thought of. By covering a small vase with layers of plastic spoons, you get a fun sculpture that reminds you of an artichoke. Use it to decorate your kitchen as is or continue to use it as a decorative vase.
Now you get the idea of how you can update and makeover a vase to fit your needs and style. Here is a list of more materials you can use to give your glass vase a totally new style.
More Ways To Makeover A Vase
chalkboard paint – Cover a vase with chalkboard paint so that you can write out words or messages with chalk.
Cover a vase with paper – Decoupage book pages, vintage song sheets, newspaper, or other decorative paper to the glass.
cement spray paint – Create the look of cement by spraying on cement paint. This is a great look for a modern rustic space.
Line tall thin branches around a vase and glue in place.
Glue plain or colored pencils to the outside of a vase.
Wrap a vase in twine.