Decorating a bathroom for a cabin can be a lot of fun. Since a cabin is typically more casual than a home, you have a little more license to experiment with some unique or budget materials. Since we were looking to decorate in a creative and budget friendly way, we tried some homemade and vintage options that fit right in with the rustic decor. For inspiration, see these ideas for rustic cabin bathroom decor along with some DIY projects for affordably getting the look.
Ideas For Rustic Cabin Bathroom Decor
Rustic cabin bathroom decor is all about the finishes, materials, and fixtures that you use. Any bathroom can be updated by using one or more of these ideas.
Choose A Bathroom Sink With Rustic Styling
My favorite style of rustic sink is one that is made from concrete. If you have ever shopped for these, you'll know that they are quite expensive.

One such sink is this concrete one from Socieadred.I love the styling of it but not the price tag. However, like most things, when you make something yourself, you can really save a bundle. Just find an inspiration piece and then figure out how you can try to replicate it.
Make Your Own Concrete Sink

Since I didn't want just a normal sink in our cabin, my husband made one to fit our small space. We could have just purchased a rustic concrete sink but we really wanted to keep our expenses low. Luckily, this project was super cheap and I got the look I wanted.
How To Make A Concrete Sink
Using a cement mixing tub, a kitchen mixing bowl and some plumbers pipe, my husband formed our sink out of cement. He placed the inverted mixing bowl into the mixing tub and inserted plumbers pipe where he wanted the holes for the faucet and drain. A cement mix with coarse gravel was used and then it was sealed with several layers of a gloss sealer. He made a wooden "counter" to place between the cabinet and the sink.
Use A Vintage Sink For Rustic Appeal

SOURCE: Elle Decor
I love the look of a vintage sink to bring nostalgia to a rustic bathroom. See how I repurposed an old kitchen farmhouse sink to be used in a bathroom.
Get Warm And Rustic With The Walls
Any time that you put wood on the wall, you get an instant rustic feel. Whether you use shiplap, beadboard, salvaged wood, or even plywood, the look is warm and cozy.
Make One Focus Wall

SOURCE: One Kind Design
This barnwood bathroom wall would be perfect in a rustic cabin. You don't have to do all of the walls in barnwood. Having an accent wall puts focus on one area without being too dark. Since this bathroom has a lot of different woods going on, it makes sense to just focus in on one area. I like all of the different wood tones together for added interest.
Warm Up The Entire Bathroom With Wood

We hung beadboard in both of our cabin bathrooms. I first thought about painting them white but ultimately decided on a warm stain for a more cabin feel.
Highlight Lighting For Rustic Cabin Bathroom Decor
Think about all of the accents and fixtures that you can use to give a cabin bathroom more rustic style. Light fixtures are an easy way to add a rustic feel.
Make Your Own Birch Wall Sconces

TUTORIAL: How To Build Birch Lamps
If you noticed in the bathroom with the barnwood walls, it had rustic sconces lighting the vanity. It's really not hard to make your own wall sconces out of birch. Plus, sconces work really well when put on each side of a vanity mirror.
Have Fun With Mirrors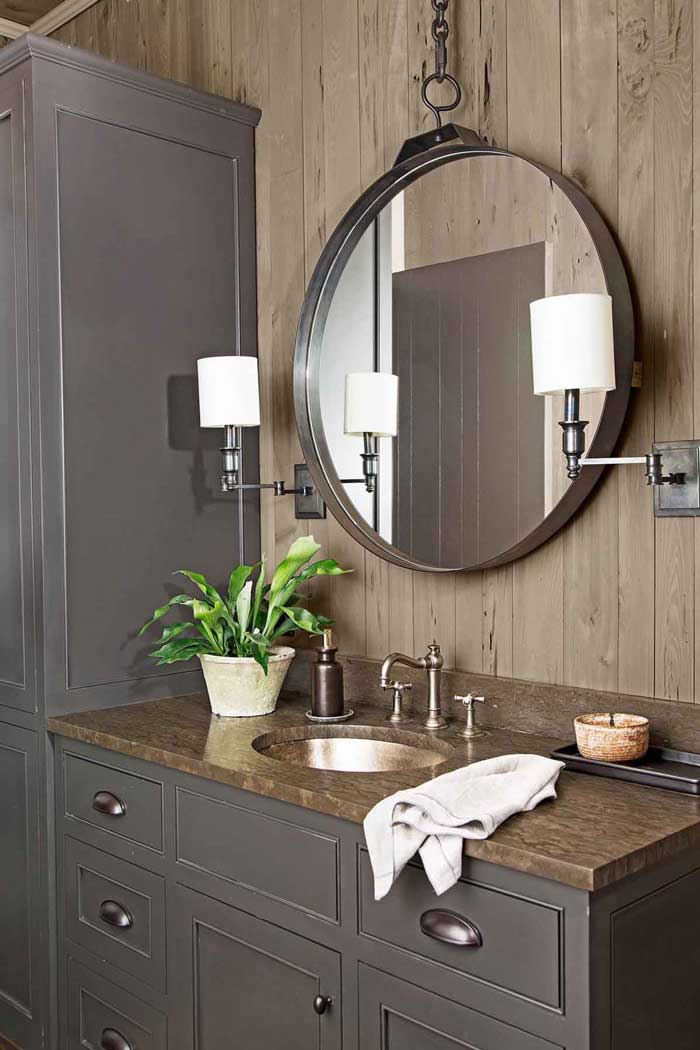 SOURCE: Country Living
This fun industrial mirror with the chunky chain is great for decorating a rustic cabin. And, of course, you can also make your own mirror. See these DIY mirrors for tutorials and inspiration.
Get Creative With Towel Hooks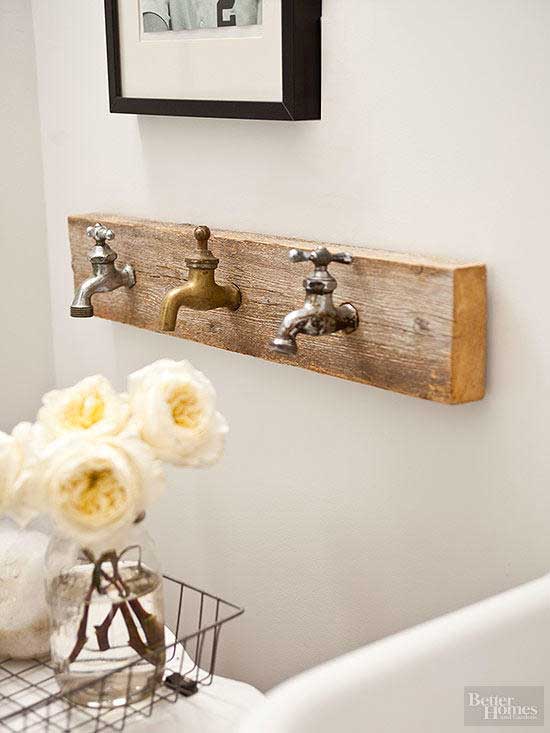 Even towel holders in a cabin bathroom should have some fun rustic styling. I love how this collection of vintage faucets was put to use as a creative and unique towel holder. Having the faucets mounted to a piece of salvaged wood just adds to the charm.