With a cabin on a lake and in the woods, there are so many enjoyable places to sit and relax outside. Whether we are gathering with friends and family at the fire pit or having dinner on the deck, every place seems to have a great view. Lately, however, I have found that one of my favorite places to sit is on the porch. It's a relaxing place to sit early mornings with a cup of coffee. Of course, whenever I sit and relax, I tend to think about how I want to decorate!
Because we have spent a little more time at our cabin this year than normal, I've decided to put some extra focus on our porch decor. I'm not saying that I go all out with fancy furnishings. I simply look for ways to make the area more comfortable and functional. Our porch actually wraps around to an outdoor shower which adds a lot of function – especially for my husband! Although our two year old granddaughter is really loving it now as well.
Since our porch is on the small side, I had to be careful with how much I put on it. That meant narrowing down the possibilities by quite a bit. But, I am pretty happy with what I decided on and I can still change things up for the different seasons. The biggest thing was starting with the basics. I needed comfortable seating!
This post contains recommended product links. If you make a purchase through one of the links, I may earn a small commission at no cost to you.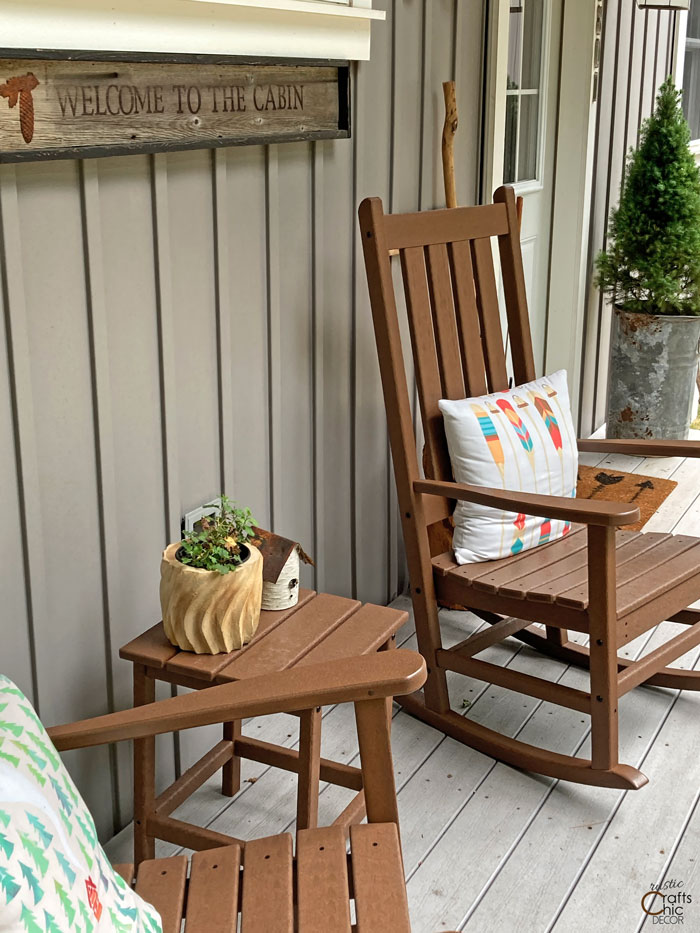 Polywood Porch Rockers
We previously had plastic adirondack chairs on our porch. They looked fine but sat low. I wanted something that sat higher for comfort. Rockers seemed like the logical choice especially since my husband and I are now grandpa and grandma!
Since we like maintenance free items, we were drawn to these rockers from Polywood. So far we LOVE them. Not only are they maintenance free but they are also comfortable and very well built. Even though there was some assembly required, it was super easy and minimal.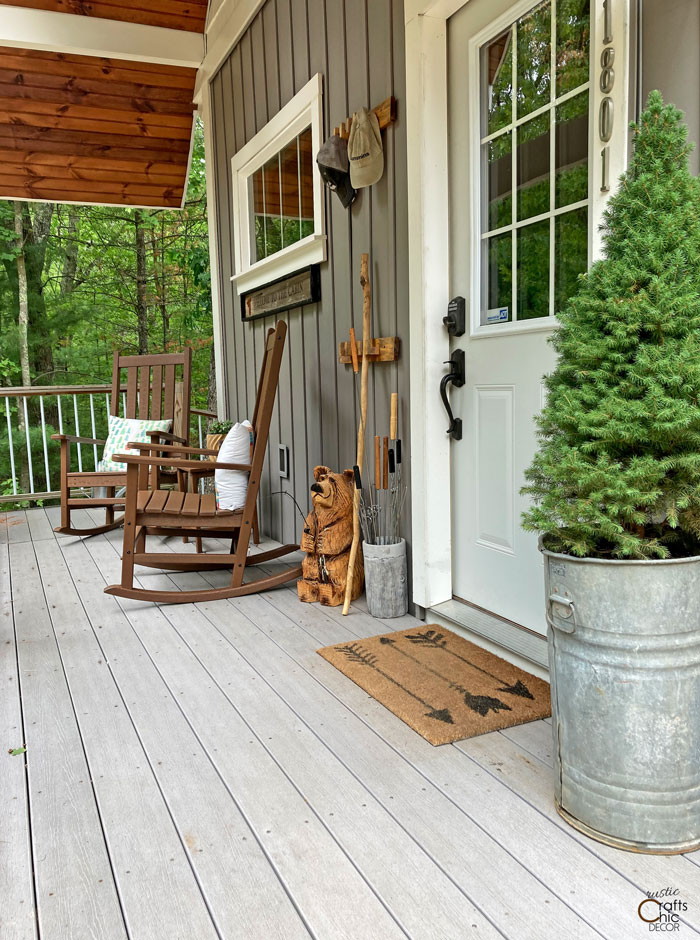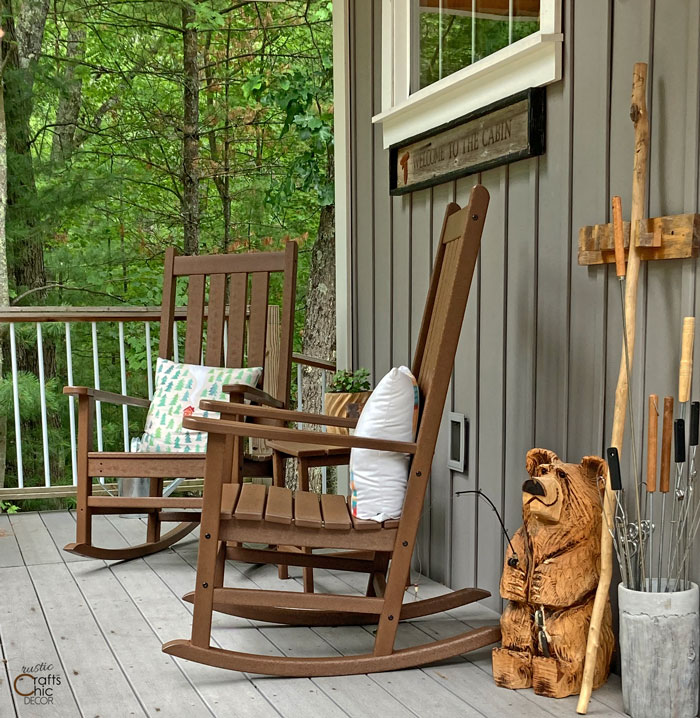 Right now I have summery throw pillows on the rockers but plan on switching them out for every season. For a girl who likes change, this is a perfect solution for keeping the decor fresh.
Useful Rustic Porch Accessories
I've always had an issue of where to store marshmallow roasting sticks. Inside the cabin was just a hassle and out by the fire pit left them exposed to weather. Since our porch is covered, I now keep a vase full of them right outside the door. Everyone can grab one before heading to the fire pit and return them before going inside. I don't know why I didn't think of this right away. It works out so conveniently.
SHOP MARSHMALLOW ROASTING STICKS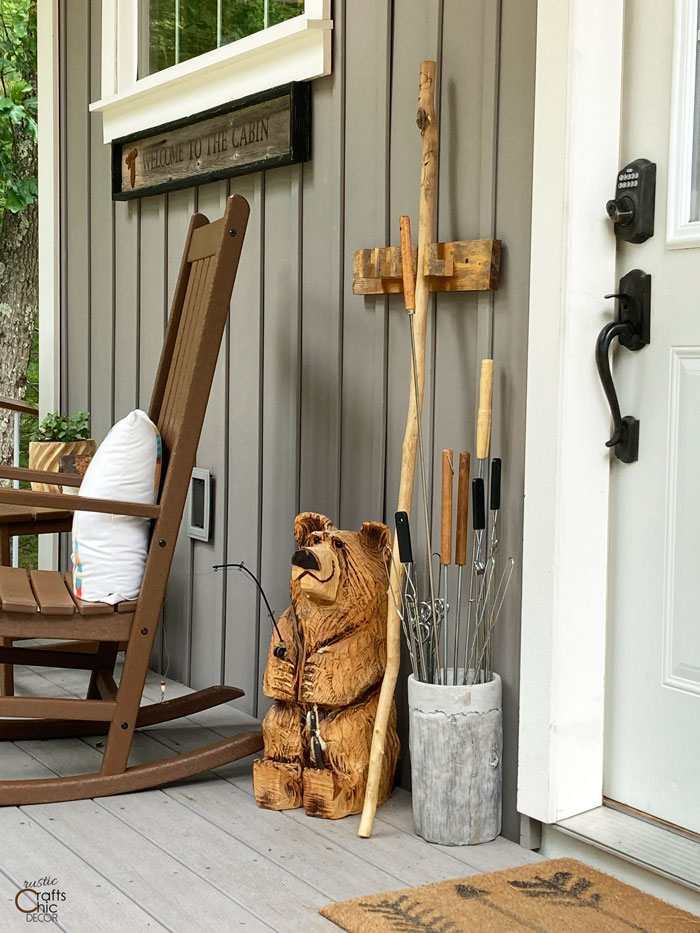 Now I also feel like my custom made hiking stick isn't just sitting all on it's own. I originally wanted a whole container full of hiking sticks. But, with all that height I would've needed a pretty tall container. The vase of marshmallow sticks is a better idea!
A Little Rustic Porch Greenery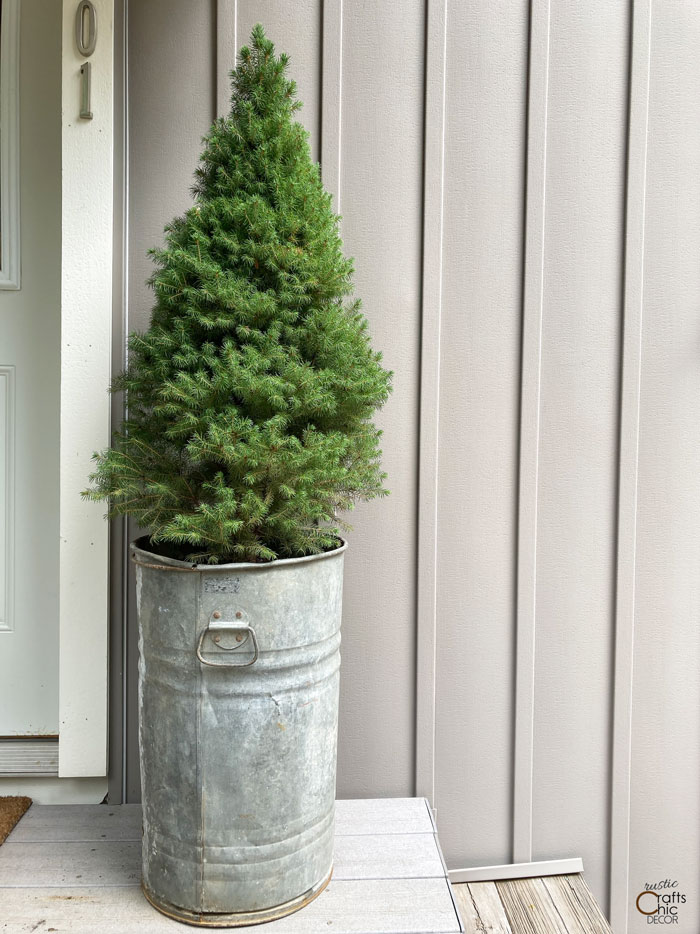 Also this year, I added a little greenery to the porch. I wanted something that I probably wouldn't kill…. A dwarf Alberta spruce is pretty hardy and since it is slow growing, a perfect choice for a container plant. Although I like the small size of the spruce, I did want some height. The solution was to put it in a tall container. To keep with my rustic theme, I chose an old partially rusted bucket.
I just filled the bottom of the container with crunched up empty plastic water bottles. This allowed for easy drainage. Plus it also meant that I didn't have to fill the entire container with potting soil. Since it is under a covered porch, I still have to water it. But so far it is still going strong!